Coeur Mining (NYSE:CDE)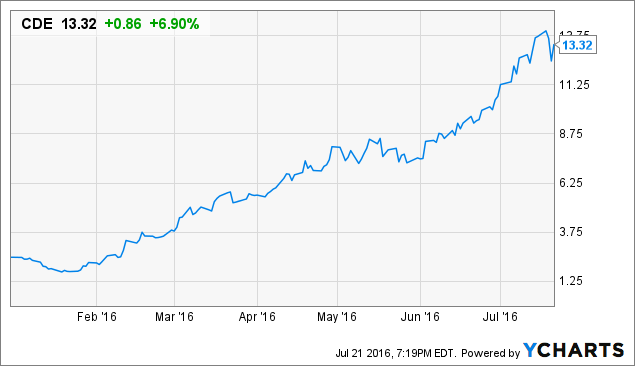 Recent Stock Price: $13.32
Shares Outstanding: 162.41 million
Market Cap: $2.16 billion
52-Week Range: $1.67 - $14.00
Coeur Mining is a diversified silver producer with owns and operates several producing mines, including the Kensington gold mine in Alaska (115,000 to 125,000 gold ounces estimated in 2016), the Wharf Mine in South Dakota (90,000 to 95,000 ounces), the Rochester Mine in Nevada (4.8-5.3 million silver ounces and 48,000-55,000 gold ounces, and the San Bartolome Mine in Bolivia (5.8-6.1 million silver ounces). The company recently reported solid Q2 production results, but I wouldn't recommend shares here for a few reasons.
First, I'll discuss the production results. Coeur said it produced million ounces of silver and 92,726 ounces of gold, or 9.6 million silver equivalent ounces, in Q2 2016. This represents strong growth over last quarter, when the company produced 8.1 million silver equivalent ounces.
The strong production results can be attributed to the Rochester mine, which contributed 2.03 million SEOs this quarter (up from 1.55 million in Q1), and an increase in production at the Wharf mine, which contributed 28,433 gold equivalent ounces (up from 21,186 ounces in Q1).
Overall, Coeur says it expects to produce 33.8-36.8 million SEOs in 2016, which would be in-line with last year's results. More importantly, the company was able to reduce its adjusted all-in sustaining costs per realized silver equivalent ounce down to $13.73 in Q1, which represents a 10% decline from last year.
Operating cash flow should also be much stronger in the upcoming Q2 financial results, as the company's realized silver price was $15.16 per ounce in Q1, and the price of silver has averaged between $16-$20 per ounce this quarter.
I do also have to commend the company for selling some of its non-core royalty assets. As I mentioned in a previous article, I felt that Coeur should sell off some or all of its royalties held in Coeur Capital, in order to raise some cash and pay off some of its $539.6 million in total debt. The company has sold five of these assets for a total of $24.8 million. The company has kept its Endeavor silver stream, its Zaruma NSR royalty and its portfolio of various equity investments. In the article, I said Coeur could manage to fetch at least $60 million for its entire portfolio, so this figure doesn't seem like a bad deal.
Still, I can't recommend shares here for a few reasons.
For one, the stock has been absolutely on a tear lately and I don't think the massive share price increase is warranted. Year-to-date, the stock is up 437%(!), compared to a gain of 385% in First Majestic Silver (NYSE:AG), 212.68% in Endeavor Mining (NYSE:EXK), and 166% in Great Panther Silver (NYSEMKT:GPL). In my opinion, this outperformance is mainly due to higher gold and silver prices and not financial or operational reasons.
Next, Coeur still has too much debt in my view. The company ended last quarter with $341.4 million in net debt, and this is barely down from last year (and up from Q4 2015). Any weakness in gold/silver prices can put the company at risk.
While the company says its has reduced some its leverage, I don't think this is the case. The company says its total debt/last 12 months (NYSE:LTM) adjusted EBITDA ratio has declined to 3.3X as of March 31, 2016, which is down from 6.5X in2 015, according to its corporate presentation. Sure, this is due to Coeur's net debt declining $12 million in that time frame, but its mainly due to increased EBITDA, as the company's LTM adjusted EBITDA has increased to $126.5 million.
The stock currently trades at an EV/EBITDA of 17.49 and a forward P/E of 24.22, according to Yahoo Finance.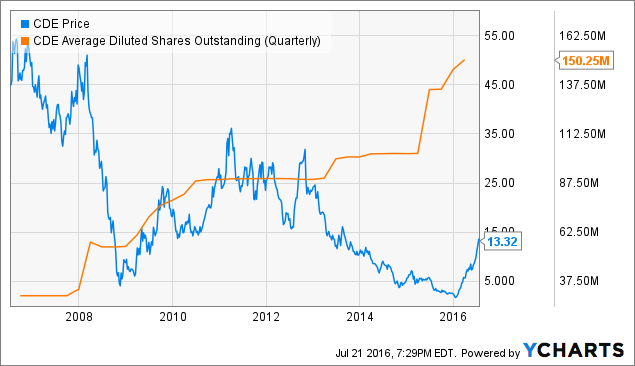 Coeur's share count has also crept higher over the past few years, from under 100 million shares outstanding to the current share count of 162.41 million. Part of this is due to Coeur's all-stock purchase of Paramount Gold & Silver Corp. back in 2014 for $146 million, as this added over 32 million shares to Coeur's share count. The stock was trading around $10 per share at the time of the transaction.
In conclusion, while Coeur's recent Q2 production results was a positive update, I don't think buying shares here is a good idea following the 400%+ share price run-up this year, and with a rising share count and high debt load, I'd recommend avoiding shares for now. Instead, I think Endeavor Silver is the best silver buy right now following Endeavor's revised operating plan earlier this month.
Disclosure: I/we have no positions in any stocks mentioned, and no plans to initiate any positions within the next 72 hours.
I wrote this article myself, and it expresses my own opinions. I am not receiving compensation for it (other than from Seeking Alpha). I have no business relationship with any company whose stock is mentioned in this article.