Increased Competitive Pressure
United Kingdom-based online grocery delivery company, Ocado (OTCPK:OCDGF), faces increased competition from Amazon (NASDAQ:AMZN), who will be initially operating its Amazon Fresh grocery delivery service in 69 east and central London postcodes. Amazon will begin operating in these limited areas to optimize the service before expanding throughout the U.K.
Even without Amazon expanding into the grocery delivery market in the U.K., Ocado competes with Tesco (OTCPK:TSCDY), Wal-Mart's (NYSE:WMT) ASDA, Sainsbury (OTCQX:JSAIY), Morrison's (OTCPK:MRWSY), The Cooperative and Waitrose for online grocery delivery. Tesco is the largest grocery store chain operator in the U.K. ASDA and Sainsbury are neck and neck between 2nd and 3rd largest U.K. grocers. The latest data from Statista.com shows that Sainsbury has a 0.7 percentage point market share lead over ASDA.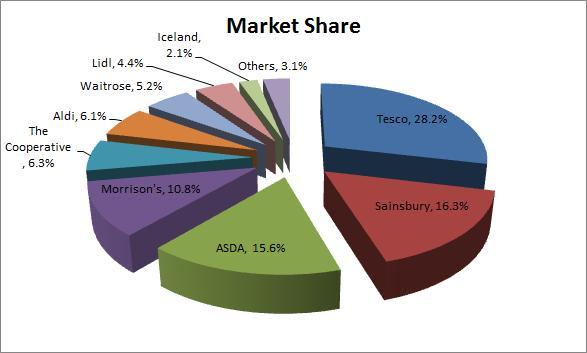 Data Source: Statista.com
Ocado is included in the Other category in the chart. Although the company's market share is low, Ocado did grow revenue at 16.7% in 2015 over the prior year. More recent results for 1H16 showed a 15.1% revenue increase. Although Ocado is achieving strong double-digit revenue growth, the problem for the company is shrinking margins. As the grocery market becomes more competitive, especially with discount grocers expanding in the market, the pricing pressure will continue to shrink margins. Ocado's pace of revenue growth is also likely to slow down with increased competition.
Grocery discount chains, Aldi and Lidl have been gaining market share. Together, Aldi and Lidl comprise 10.5% of Great Britain's grocery market. Their combined market share increased 11.7% from 9.4% a year ago. Aldi now sells wine and special buys online in Great Britain. Lidl hasn't announced online offerings or delivery service yet, but I think it is likely that the company will eventually add delivery service in order to remain competitive with the other players in the market.
The growth of Aldi and Lidl in the grocery market is putting additional pricing pressure on their competitors including Ocado. Consumers who value savings over the convenience of delivery are likely to physically shop at a low-priced grocery store such as Aldi and Lidl for overall savings on their purchases. This is likely to cause Ocado's margins to narrow as they lower prices to become competitive with the low-cost grocers.
Ocado's Revenue, EBITDA (GBP millions)
2007

2008

2009

2010

2011

2012

2013

2014

2015

1H16

Revenue

273

321

402

516

598

679

792

948.9

1107.6

584

EBITDA

(9.5)

2.2

9.2

22

28

33.5

45.8

72

81.5

40.4

EBITDA

Margin

(3.5%)

0.7%

2.3%

4.3%

4.7%

4.9%

5.8%

7.6%

7.4%

6.9%
Source: Company financial statements
While Ocado is achieving increased revenue year-over-year and the company is on pace to achieve an increase in revenue for the full year in 2016, the reversal in EBITDA margin has already begun. The reversal in EBITDA margin began in 2015 and is continuing in 2016. The company did state in its 1H2016 conference call that Ocado lowered prices and increased promotional activity to remain competitive.
The good news is that Ocado is achieving strong double-digit increases in revenue. However, profitability is likely to continue to be squeezed through the pressure of maintaining low prices due to competition. With discounters Aldi and Lidl expanding and Amazon increasing its presence in the U.K. grocery market, Ocado will face increased margin pressure.
I would like to point out that Ocado did form an agreement with grocery competitor, Morrison's. Under the agreement (which began in January 2014), Morrison's will use Ocado's Dordon facility for the order fulfillment of Morrison's grocery products. Ocado was paid an initial fee of £170m along with some other start-up fees from Morrison's. Ocado will continue to receive service costs from Morrison's on an annual basis.
This agreement does relieve some of the competitive pressure from Ocado. However, there have not been similar deals from other grocers to use Ocado's technology. So far, the other competitors are using their own technology for online grocery fulfillment.
Ocado has an agreement with Waitrose through 2020 to sell Waitrose branded products on Ocado.com. However, Waitrose is not using Ocado's proprietary equipment. Ocado pays Waitrose a sourcing fee under the agreement.
Ocado's Technology
Ocado has proprietary technology for the online grocery business. The technology is known as the Ocado Smart Platform [OSP], which is a combination of software and order fulfillment equipment. One of the company's goals is to have this system installed in other retailers' warehouses under an agreement where Ocado would service and maintain it.
Ocado markets the OSP as a scalable system, giving the customer significant operational cost benefits. However, Morrison's is the only company that has partnered with Ocado thus far. There was a rumor in April 2016 speculating that Ocado was making a deal with U.S.-based supermarket chain, Publix. However, no official deal has been announced.
It is not clear that other companies will want to use Ocado's OSP. Ocado has great visions that the OSP will be used by many companies. However, there is no backlog of companies lining up to use it.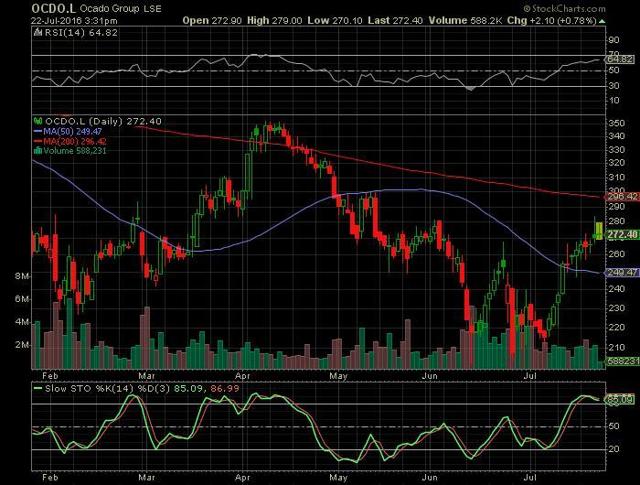 Click to enlarge
Ocado's stock is overbought as indicated by the stochastic oscillator at a level above 80 on the chart. So, the stock is likely to pull back in the short-term.
Significant Overvaluation
Ocado is trading significantly higher than its competitors with a PE of 118 TTM and an EV/EBITDA of 26.3. Here is how the company compares to its publicly traded competitors:
Ocado

ASDA

(Wal-Mart)

Tesco

Sainsbury

Morrison's

Amazon

PE TTM

118

16

69

10

19

308

EV/EBITDA

26.3

8.2

10.1

5.3

11.8

38.9
Data source: Company financial statements, Capital IQ
Ocado's EV/EBITDA is nearly 3x higher than the average EV/EBITDA of 9 for Wal-Mart, Tesco, Sainsbury, and Morrison's and significantly higher than the S&P 500's median average. I left out Amazon from the grocers' average because the stock has been an anomaly in the market and the company currently has a low market share in the U.K. grocery market.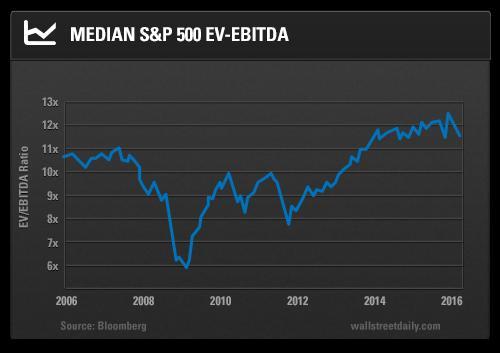 Ocado is being valued similar to Amazon with a high triple-digit PE ratio. However, Amazon has been increasing net sales at over 20% per year for the past 10 years and has grown into a global large-cap online retail leader with revenue of over $107 billion = £80.98 billion for 2015. Ocado has achieved strong double-digit revenue growth below 20% per year for the past five years. Ocado is still a small-cap company with 2015 revenue of £1.1 billion. Ocado is not likely to achieve the global success that Amazon has with the fierce competition in the grocery market.
Ocado could be challenged to maintain its pace of revenue growth with increased competition from a large company like Amazon. Amazon already has an established network of 90 logistics partners that it will use to deliver groceries to customers in the U.K. Therefore, Amazon will just need to build, buy, or rent distribution (fulfillment) centers to expand its Amazon Fresh business in the U.K. Amazon has proven to expand quickly and effectively over time.
Would Amazon Acquire Ocado?
One potential risk to the investment thesis would be a potential takeover of Ocado. There have been rumors earlier this year that Amazon was interested in acquiring Ocado. Amazon already has millions of existing Prime customers in the U.K. to extend grocery products to. So Amazon doesn't necessarily need to acquire Ocado for its 541,000 customers (as reported in the 1H2016 report). Amazon could consider acquiring Ocado for its distribution facilities. Ocado currently has 3 fulfillment centers in operation with another one being built:
Ocado Distribution Centers
| | |
| --- | --- |
| Hatfield | 1.2 million square feet |
| Dordon | 350k square feet |
| Warwickshire | 350k square feet |
| Erith (under construction) | 563k square feet |
Amazon could build the 1.9 million square feet equivalent of Ocado's three distribution centers that are currently in operation for approximately £444 per square foot. This is based on the cost of Ocado's cost to build the new 563,000 square foot Erith facility for £250 million. That would cost about £844 million, much less than Ocado's market cap of £1.6 billion. Even if we include the Erith facility for a total of 2.46 million square feet, the cost would be less than £1.1 billion. This is still less than Ocado's market cap. We could even estimate a higher cost per square foot of $600 and Amazon could build 2.46 million square feet worth of grocery fulfillment centers for less than £1.5 billion. That is still lower than Ocado's market cap.
The fact that Amazon is introducing its Fresh concept in the U.K. which includes items such as meat, seafood, bread, bakery, yogurts, deli, cheese, etc. shows that Amazon is interested in expanding organically beyond its Pantry concept which offers dry goods such as cereals, snacks, soft drinks, coffee, beauty/grooming products, cleaning products, etc.
Overall, I don't see a clear reason why Amazon would want to acquire Ocado. Amazon's money would be better spent on expanding its own online grocery business. Amazon has proven to successfully expand its business organically in recent years. Amazon's acquisitions primarily took place early in the company's history. Therefore, I think there is a low probability of Amazon acquiring Ocado. So, I don't think the acquisition possibility of Ocado is a significant risk for the investment thesis. Since Ocado's valuation is significantly higher than average, I don't think that other companies would be interested in acquiring the company either.
Although it may not make sense for other companies to acquire Ocado, there might be interest in forming an agreement similar to the Ocado/Morrison's deal. However, no deals with other companies have been announced.
Weak Balance Sheet
According to the 1H2016 report, Ocado has £228.1m in current liabilities and £149.4m in current assets, giving the company a current ratio of 0.65, or 1.5X more current liabilities than current assets. With more current liabilities than current assets, Ocado is weak in terms of its short-term obligations. The company is more at risk of not being able to pay off its short-term obligations if the business faced a downturn. Ocado is more likely to borrow against its future earnings to pay off the short-term obligations. The problem with this is the competitive pressures in the grocery market could cause Ocado's rate of growth to slow. Therefore, if Ocado's revenue and EBITDA growth plateaued or declined, then the borrowings may not be sustainable and the company would be at risk of bankruptcy.
Weak Free Cash Flow
Ocado has been running with negative free cash flow [FCF] in recent years. Although the company was left with a positive £3.9m in FCF for 1H16, it is not clear if Ocado will achieve positive FCF for the full year or in future years. The company has high CapEx which has exceeded its operating cash flow for the past few years. Ocado is likely to continue to have high CapEx as the company continues to grow. If FCF continues to be negative on an annual basis, there will be no funds for share repurchases or to implement a dividend. The company stated in early 2015 that it doesn't have any intentions of implementing a dividend for the foreseeable future. This makes sense as Ocado is more interested in investing its operating cash flow to grow the business. Since Ocado has a high valuation, share repurchases wouldn't be prudent.
With the increased competitive pressure, Ocado may not be able to sustain the strong revenue growth that it has in recent years. Add in the pressure to maintain competitive pricing and margins are likely to narrow. Therefore, the company's operating cash flow may grow at a slower pace going forward. That is not a positive scenario for investors since the company might be limited on the available funds used for CapEx to continue the expansion efforts.
Increased Input Costs
CEO Tim Steiner stated on the 1H16 conference call that the company faces increased input costs. This includes increased costs for food, fuel, and other items. Steiner's statement is consistent with the situation among U.K. retailers who have hedged against currency risk, insuring against a decline in the pound. These hedges will begin to unwind next year. Since the U.K. imports 40% of its food, the cost of the U.K.'s food supply is likely to increase. The percentage of imported food is expected to rise in the U.K. over time. Therefore, the combination of increased input costs puts further pressure on the prices that Ocado and its competitors charge. The industry players will have to increase prices or allow their margins to be squeezed further.
Risks to the Investment Thesis
1. An unexpected takeover of the company at a premium of the current price.
2. Ocado could find ways of increasing productivity and reducing costs to offset the effect of narrowing margins as a result of increased competition and input costs.
3. The competitive environment may not affect Ocado enough to significantly hurt its revenue, margins, or EBITDA.
4. Ocado could establish agreements with one or more of its competitors for its proprietary technology, which could help the business of all parties under the deals.
Conclusion
Ocado's valuation is still high with more room to fall further. Although Ocado achieved strong revenue growth in recent years, the increased competition from Amazon Fresh and others looking to expand online grocery services is likely to cause further pressure that will limit Ocado's growth. Therefore, the rate of Ocado's growth is likely to slow down.
Ocado also faces margin pressure from discount grocers in the market, which has caused the company to offer lower prices to remain competitive. Increased input costs will squeeze the margins further.
There hasn't been widespread adoption for Ocado's OSP. Potential companies are most likely not seeing a benefit to using Ocado's technology over their own.
All told, Ocado's stock is likely to be under further downward pressure. The stock is overbought in the short-term and it is priced for perfection. The stock will be under continued downward pressure over the long-term as increased competition is likely to slow the pace of revenue growth and squeeze margins, thus slowing the EBITDA growth rate going forward.
Disclosure: I/we have no positions in any stocks mentioned, and no plans to initiate any positions within the next 72 hours.
I wrote this article myself, and it expresses my own opinions. I am not receiving compensation for it (other than from Seeking Alpha). I have no business relationship with any company whose stock is mentioned in this article.
Additional disclosure: If you like my analysis, click on FOLLOW at the top of the article near my name. That will allow my articles to display on your homepage as they are published. The article is for informational purposes only (not a solicitation to buy or sell stocks). Investors should do their own research or consult a financial advisor to determine what investments are appropriate for their individual situation.
Editor's Note: This article discusses one or more securities that do not trade on a major U.S. exchange. Please be aware of the risks associated with these stocks.