By Luciano Siracusano, III,

Sometimes it's easy to forget the pivotal role small caps play in a well-balanced portfolio. Take the MSCI ACWI Index, for example. Billions of dollars are currently tied to that index, just within the exchange-traded fund (ETF) industry. But ACWI is predominantly a large- and mega-cap index, weighted toward multinational companies whose fate ebbs and flows with the vagaries of the global economy. As a result, investors looking to maximize the benefits of global diversification may need a nutritional supplement to ACWI to complete their asset allocation. That's where global small caps come in.
Once again, in 2016, global small-cap stocks are outperforming global large caps. As illustrated by the table below, through the first half of the year, that differential was about 100 basis points (bps) on a cap-weighted basis. However, on a dividend-weighted basis, using the unhedged WisdomTree Global SmallCap Dividend Index as a proxy, that differential was approximately 750 bps through June 30, and nearly 8 percentage points since WisdomTree launched the Index in July, 2015.


Click to enlarge
The WisdomTree Global SmallCap Dividend Index measures the performance of dividend-paying companies with smaller market capitalization around the world, rebalanced and weighted once a year based on the U.S. dollar value of the regular cash dividends companies pay to shareholders. While only the hedged version neutralizes the effects of foreign currencies, both WisdomTree Indexes seek to maintain regional allocations similar to global benchmarks such as the MSCI ACWI Index. But unlike the MSCI ACWI Index, 96% of which is composed of large-cap stocks, 75% of the weight in the WisdomTree Global SmallCap Dividend Index is tilted toward small caps, with roughly 25% of the weight presently allocated to global mid-caps.
What's driven the outperformance? We believe the answer has two parts: company size and company weight. Small-cap stocks tap into the "size premium," a well-studied factor that explains the tendency of small-cap companies to outperform large-cap companies over time. As illustrated in the table, on an annualized basis, the MSCI ACWI Small Cap Index has outperformed the MSCI ACWI Index by 46 bps over the past five years and has beaten the broader benchmark by 164 bps since its inception in 2007.
If we divide the MSCI ACWI Small Cap Total Return Index" by the MSCI ACWI Total Return Index, we can see that the relative outperformance (denoted by a ratio value higher than 1.0) has persisted for much of the MSCI ACWI Small Cap Index's history. Note, too, how the 50-day moving average on that ratio crossed above the 200-day moving average in April, signaling renewed relative strength for global small caps relative to ACWI.
So, selecting global small-cap stocks and owning the asset class cap-weighted has added value over time. But selecting small caps that pay dividends-and then weighting them by the dividends they pay-may add additional alpha over time, above and beyond what can be achieved by accessing small caps based on traditional beta indexes. The brief track record of the WisdomTree Global SmallCap Dividend Index supports that thesis. Another advantage of weighting by dividends typically is that WisdomTree is able to raise the dividend yield on the market. In the case of global small caps, the WisdomTree Global SmallCap Dividend Index exhibited a dividend yield of 3.5%, versus 2.6% for the MSCI ACWI Index as of 7/12/2016.
MSCI ACWI Small Cap Total Return Index Divided by MSCI ACWI Total Return Index,
June 2007 - June 2016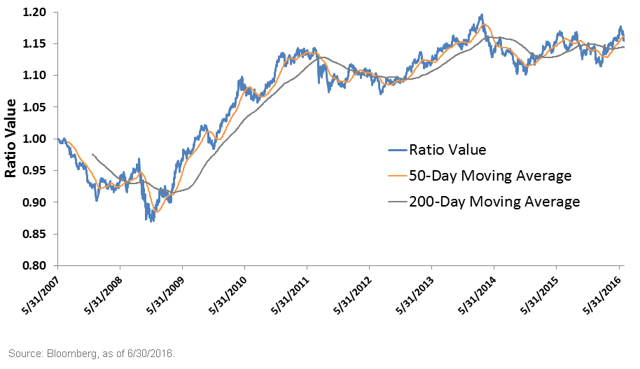 Click to enlarge
Conclusion
Global small-cap exposure fills a void that continues to exist in many globally diversified portfolios. By providing more direct exposure to economic activity in local economies, such exposure may also offer diversification benefits compared to owning just U.S. stocks. For investors looking to complement their current ACWI exposures, WisdomTree has developed global small-cap strategies on both an unhedged and a currency-hedged basis.
Important Risks Related to this Article
Foreign investing involves special risks, such as risk of loss from currency fluctuation or political or economic uncertainty.
Investments focusing on certain sectors and/or smaller companies increase their vulnerability to any single economic or regulatory development. This may result in greater share price volatility.
Dividends are not guaranteed, and a company currently paying dividends may cease paying dividends at any time.
Diversification does not eliminate the risk of experiencing investment losses.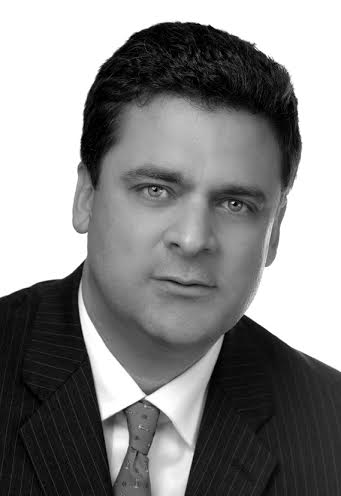 Luciano Siracusano, III, Executive Vice President-Head of Sales and Chief Investment Strategist
Luciano Siracusano, III has served as our Executive Vice President-Head of Sales and Chief Investment Strategist since March 2011. Prior to serving in those positions, Mr. Siracusano served as our Director of Research from 2001 until October 2008, and as a research analyst and editor of our various media publications from 1999 until 2001. Mr. Siracusano, together with Mr. Steinberg, was responsible for the creation and development of our fundamentally weighted index methodology.