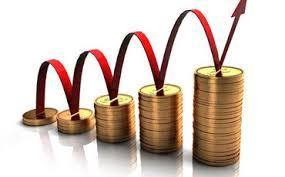 Preferred Apartment Communities Inc. (NYSEMKT:APTS) is a REIT that acquires and operates multifamily properties in targeted markets throughout the United States. It enters into forward purchase contracts or purchase options for to-be-built multifamily communities. It makes mezzanine loans, provides deposit arrangements, or provides performance assurances in connection with the development of multifamily communities and other properties. It also acquires or originates senior mortgage loans, subordinate loans or mezzanine debt secured by interests in multifamily properties, membership or partnership interests in multifamily properties, and other multifamily related assets. It invests not more than 20% of its assets in other real estate-related investments such as grocery-anchored necessity retail properties. APTS pays a 5.4% annual dividend with a dividend growth rate of about 11.5% since June 30, 2011.
Preferred Apartment Communities Inc. has been churning out great results for some time. A good part of the reason for this is the low rate of home ownership compared to the long term average (see chart below).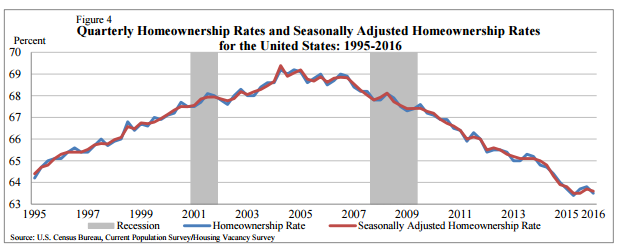 From the look of the above chart it seems unlikely that there will be a quick reversal in the percentage of home ownership in the US in the near future. That situation should translate into good news for the apartment ownership and management industry.
The chart below in which the top line is the apartments vacancy rates further substantiates this.

In Q1 2016 national vacancy rates were 7% for rental housing and 1.7% for homeowner housing.
To complete the picture the chart below of rental rates for vacant units over the longer term shows a steady, rapid climb.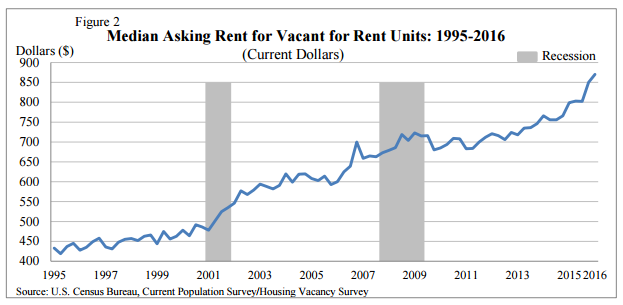 It appears that the rental rates may be currently a bit above their long term average rising line. However, the trend in rising rates is still strongly upward for the long term. Plus the rental rates do not appear to go down very much, if at all, in recessions. This should make APTS a very stable stock to own over the long term. It could be a great way to ensure income through a recession as long as you are willing to hold the stock for the long term.
APTS is still a Micro Cap stock with a Market Cap of only $351.2 million. That probably means it is a bit unstable in a BEAR MARKET. However, it does have a Beta of only 1.0. That indicates much more stability than the norm for a Micro Cap stock. In other words investors should probably expect it to go down in a bear market; but if investors hold onto it, it should bounce back up reasonably quickly as the market and the economy recover. Meanwhile it should pay investors good dividends. Further with a possible recession again staring the US in the face, home buyers may be more reluctant than normal to stretch their finances to buy a home in the next couple of years. This should be a positive for apartment owners and managers.
APTS did well in Q1 2016. Normalized FFO increased +$0.06 per share (+25%) year over year to $0.30 per share. AFFO results increased $0.16 per share (+72.7%) year over year to $0.38 per share. FFO results were less appealing at $0.17 per share compared to $0.18 per share a year earlier. However, much of this difference was due to the following extra expenses:
Additional depreciation and amortization expense of $7.4 million.
Additional real estate taxes of about $3.1 million.
Additional acquisition costs of about $1.6 million.
From the above it is easy to understand the large difference between the AFFO ($0.38 per share) and the FFO ($0.17 per share) in Q1 2016.
Total Revenues in Q1 2016 were $41.7 million. This represents a gain of +$20.4 million (or +95.5%) year over year. Total assets at Q1E 2016 were about $1.5B compared to about $788.9 million at Q1E 2015 (+94.8%). Cash Flow from Operations for Q1 2016 was $13.4 million compared to $7.736 million in Q1 2015 (or +73.1% year over year). The quarterly common stock dividend was $0.1925 per share compared to $0.1725 per share in Q1 2015 (+10.0% year over year). Leverage (or the Debt to Undepreciated Book Value) was 56.6%. Average Occupancy was 94.2%. APTS' payout ratios were quite reasonable at 64.9% of NFFO and 51.0% of AFFO.
FY2016 Guidance (as of May 2, 2016):
APTS estimates that NFFO will be $1.24-$1.32 per share for FY2016 (a midpoint of $1.28 per share).
APTS estimates total revenues will be $175-$200 million for FY2016.
With the above guidance in mind the Price to NFFO metric comes out to about 11.7. Admittedly APTS is a micro cap stock; but it should still merit a Price to NFFO of perhaps 15. Investors may be scared of the overall market. They may be scared of a recession and a BEAR MARKET. However, APTS seems to be positioned for that already. Plus it pays a healthy 5.4% annual dividend that should allow investors to stay invested even through troubled times. The stock is a new one (an IPO date of April 2011), so there is no previous recession or BEAR MARKET history. However, it appears likely to quickly recover any stock price losses it incurs, if investors are willing to wait. This makes it a buy on value, growth, and dividend. Notably APTS increased its common stock quarterly dividend to $0.2025 on May 5, 2016 (from the Q1 2016 quarterly dividend of $0.1925/share).
APTS is growing fast. Remember its asset base nearly doubled in the past year; and that growth does not seem to be abating. In Q2 2016 APTS announced the following acquisitions and dispositions:
APTS acquired a $9.4 million real estate loan for student housing project near Texas Tech.
APTS acquired a portfolio of six grocery anchored shopping centers with 535,232 GLA in various southeastern US markets for $68.7 million.
APTS acquired The Market at Victory Village -- a 71,300 sq. ft. grocery anchored retail shopping center near Nashville.
APTS sold a 300-unit multifamily community in Hampton, VA (Trailcreek) for $10.5 million.
APTS acquired a 487-unit Class A multifamily community in Orlando, FLA. It financed this with a $65.0 million loan with interest of 30-day LIBOR + 2.45%. It is an interest only loan; and it matures in May 2019.
APTS acquired Campus Circle (a 219 unit and 679 bed facility) within walking distance of Florida State University in Tallahassee, FLA.
As investors can see, APTS is not standing still even in this worrisome economic environment. Further APTS ensured its future management capabilities in Q1 2016. It extended its management agreement with its external adviser -- Preferred Apartment Advisers LLC -- for three years. The acquisitions listed above should add nicely to revenue growth. The above are expected to benefit AFFO, NFFO, dividends, etc.
For investors this signals that the growth seen from Q1 2015 through Q1 2016 is likely to continue. Q2 2016 earnings are likely to give investors more good news. APTS' stock is poised to grow further if there is no overall market downturn. APTS is a buy on the above items.
The two year chart of APTS provides some technical direction for a trade/investment.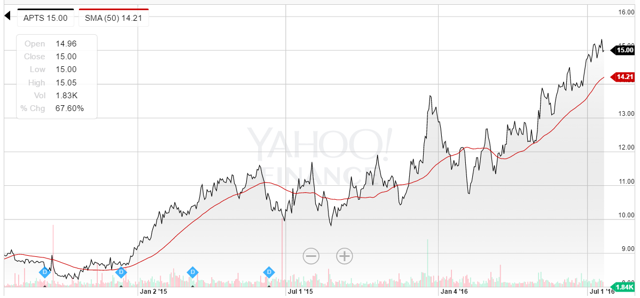 Click to enlarge
The uptrend in the chart above is strong. The Price to NFFO of 11.7 means APTS is lowly or under priced. A rise in the P/NFFO ratio to 15 implies a 28% gain in the stock price. In addition APTS pays a 5.4% dividend. Between these two items APTS appears to be an attractive stock. The Interest Coverage is only 0.93x, so APTS is a bit fiscally worrisome. However, the problem does not seem to be an acute one; and it could be corrected as soon as the Q2 2016 earnings report.
For the moment the fiscal worries would lower my BUY rating to a LOW BUY rating. Still it is hard to think APTS has overly much to worry about. Rather it seems that APTS should be a good to great stock to own for the long term. As a current Micro Cap stock, it has a lot of room to grow; and it should be able to continue growing at a good rate for some time. Further its Beta is only 1.0, which is low for a Micro Cap stock. Short Interest (as a percentage of the float as of June 30, 2016) is only 3.7% -- not a worrisome level for a Micro Cap stock. These metrics should allay investors worries. APTS is a low buy. For aggressive investors, it should be a very interesting stock.
Note: Some of the above information is from Yahoo Finance and TD Ameritrade.
Good Luck Trading/Investing.
Disclosure: I/we have no positions in any stocks mentioned, but may initiate a long position in APTS over the next 72 hours.
I wrote this article myself, and it expresses my own opinions. I am not receiving compensation for it (other than from Seeking Alpha). I have no business relationship with any company whose stock is mentioned in this article.