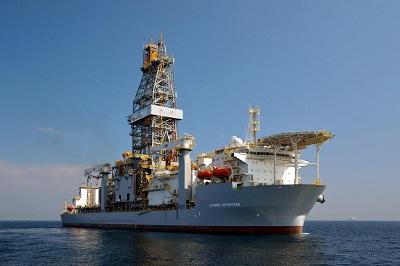 Image: UDW Atwood Advantage.
This article is an update of my preceding article on Atwood Oceanics (NYSE:ATW) published on May 8, 2016.
Today, Upstream announced the following:
US independent Noble Energy has halted operations after running into downhole pressure problems midway through drilling the first appraisal of its Katmai discovery in the deep-water Gulf of Mexico.
Noble Energy (NYSE:NBL) has contracted the Atwood Advantage from ATW.
Drillship
Atwood Advantage
2013
12*40

9/16

9/16-12/16

12/16-8/17

581

240 (120-day)

581

[Noble Energy]

US Gulf of Mexico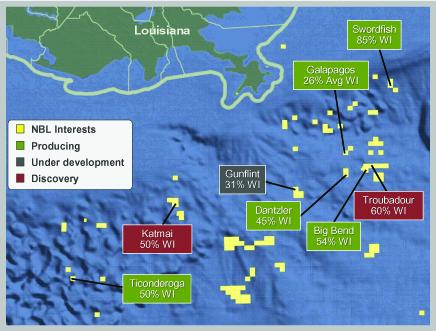 Courtesy NBL presentation 6/16
Katmai Appraisal Drilling - Discovered 40 - 60 MMBoe, testing upside to 100 MMBoe gross resources.
So what does "running into downhole pressure problems midway through drilling" mean? I am not a specialist and will link to an article explaining the technical situation.
this situation arises from a combination of poor fluid selection for the geology encountered and poor drilling practices. One or both of these factors can lead to increased downhole pressure. If the pressure exerted by the overburden above the bore is less than the pressure exerted inside the bore, the fluid will seek to balance this pressure imbalance by taking the path of least resistance. This path is almost always going to be the ground surface.
The BOP is preventing a serious problem. It is called a warning "kick" which is the entry of formation fluid into the wellbore during drilling.
My first conclusion is that this incident is unfortunate, and may have unknown financial consequence for Atwood, depending on the problem and who or what has created this situation?
On December 11, 2015, Atwood and Noble Energy agreed to a contract extension (blend & extend) for the Atwood Advantage.
The agreement is to extend the contract for the purposes of a four-well P&A program in the Gulf of Mexico. The program has an estimated duration of 120 days during the contract term and is anticipated to occur in 2016.

This extension adjusts the operating day rate to about $240,000 only during the four P&A wells and makes the new contract expiry date August 2017.
Atwood doesn't need this new headache, and I hope this situation will not have serious financial consequences. We will have to wait for more information from Atwood.
Furthermore, the company is expecting taking delivery of the Atwood Admiral on September 2016, and the drillship is still without a firm contract, despite what CEO Saltiel said in the last conference call on May 8, 2016:
Finally, we continue to progress our opportunity for the Atwood Admiral to drill for a consortium of operators in Brazil. This has admittedly been a longer process than we had hoped, due primarily to the difficult market conditions, but we still expect to bring this important contract to closure.
Conclusion:
Atwood Oceanics has had a really good run since early March, following oil prices momentum, and the company's better-than-expected fiscal 2016 second-quarter financial report.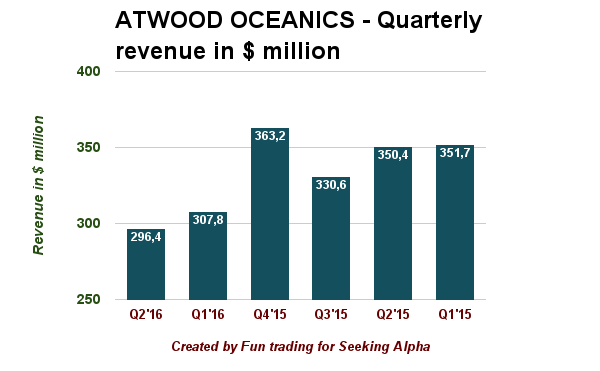 However, ATW is lacking of catalyst now and oil prices are weakening again.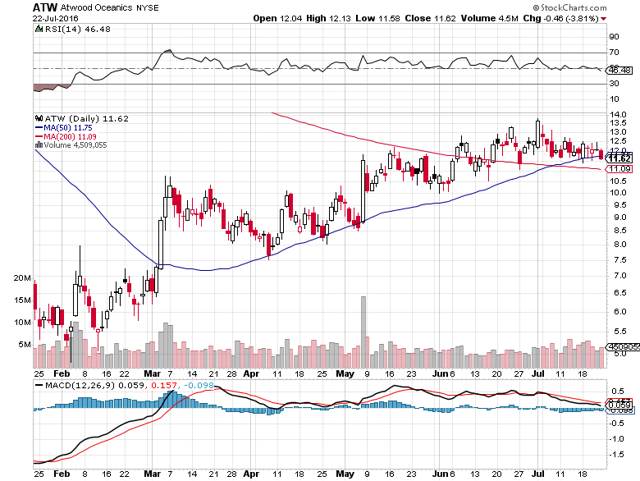 Click to enlarge
I believe the stock may be about to re-test the $8 support, if the company cannot deliver on the Atwood Admiral. I recommend to take some profit off the table above $11.
Note: Do not forget to be one of my followers on ATW and get updated on the most recent ATW news (contracts, sales and earnings results).
Disclosure: I/we have no positions in any stocks mentioned, and no plans to initiate any positions within the next 72 hours.
I wrote this article myself, and it expresses my own opinions. I am not receiving compensation for it (other than from Seeking Alpha). I have no business relationship with any company whose stock is mentioned in this article.
Additional disclosure: I trade occasionally ATW.