There's no secret that the world iron ore production is mostly controlled by just three companies - Rio Tinto (NYSE: RIO), Vale (NYSE: VALE) and BHP Billiton (NYSE: BHP). During previous years, they managed to put enormous pressure on their key market - a textbook example of value destruction. Skeptics have been pointing to further possibilities for downside. Yet, iron ore still manages to hold ground as we enter the second half of 2016.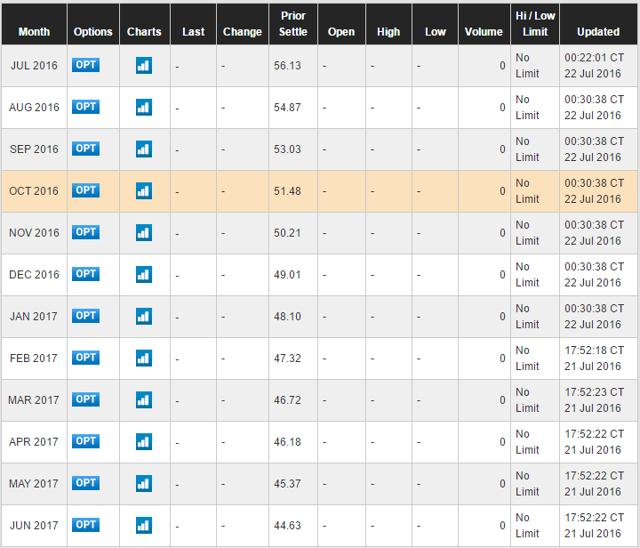 Click to enlarge
Source: cmegroup.com
The futures market has been skeptical of iron ore price perspectives all the year and the spread between the front-month contract and longer-dated contracts has been significant. The strongest bearish argument is that the startup of Vale's S11D project will put additional pressure on an already weak market and crush prices. Let's look at recent production reports from major players to see how the situation is developing right now.
Rio Tinto: iron ore production is increasing

Click to enlarge
In its production report, Rio Tinto showed that second-quarter iron ore production increased both in comparison with the second quarter of 2015 and in comparison with the first quarter of 2016. This year, the company expects shipments of 330 million tons and guides for shipments of 330 million-340 million tons in 2017.
The years of rapid expansion are finally behind, but the company is still likely to increase its iron ore production in the next year. The good news for the iron ore market is that Rio Tinto recently put its giant Simandou project on hold. Simandou was not going to affect the iron ore market in the near term, but was a serious threat to pricing stability in the longer timeframe. The psychological impact of the move is even more important - Rio Tinto finally acknowledged the severity of oversupply problem.
BHP Billiton: another production increase expected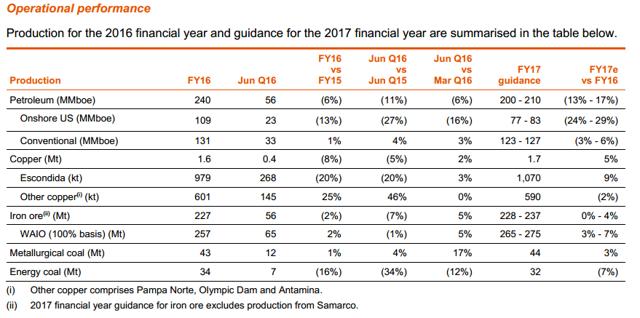 Click to enlarge
BHP Billiton's iron ore production was 257 million tons in 2016 financial year, and the company expects to produce between 265 million and 275 million tons in 2017 financial year. Samarco disaster put pressure on production numbers for FY 2016, but next year will benefit from prior improvements. According to BHP Billiton, the company's mines were producing ore at an annual rate of 275 million tons in June.
Going forward, BHP Billiton believes that it will be able to produce 290 million tons per year in 2019 financial year. Inertia is strong, and BHP Billiton might continue to raise production without initiating major projects.
Vale: the key variable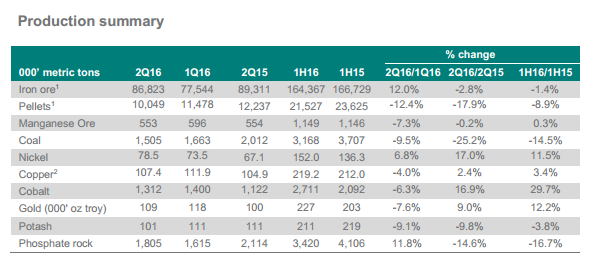 Vale has produced less iron ore than in the second quarter of 2015, but one should not forget about Samarco's impact. This year, the company expects to produce at the lower end of its 340 million-350 million tons guidance. However, the moment of truth will come in the first half of 2017, when the impact (or lack thereof) from S11D will be evident. This is the logic of the futures market, which implies that prices in June 2017 will be more than $10 lower than current iron ore prices.
Despite the fragile situation in the iron ore market, Rio Tinto and BHP Billiton are likely to increase their production next year. In light of this, I don't see why Vale will give up market share after several years of following the "lower cost" mantra. I believe that this situation is dangerous for iron ore price stability.
Bottom line
The era of rapid expansion is over, but iron ore majors continue to battle for market share. I see no signs of major supply rationalization. The world economy is in a fragile state, and whether China will be able to consume the new iron ore that comes to the market remains a big question. Bearish calls on iron ore are not without merit, so shareholders of iron ore majors and Cliffs Natural Resources (NYSE: CLF), which produces iron ore in Australia, should follow iron ore prices closely.
Disclosure: I am/we are long CLF.
I wrote this article myself, and it expresses my own opinions. I am not receiving compensation for it (other than from Seeking Alpha). I have no business relationship with any company whose stock is mentioned in this article.