I was recently asked my thoughts on Cliffs Natural Resources (NYSE:CLF), especially with regard to earnings. As CLF trades at under $20, I refuse to include it as a target for analysis in Exposing Earnings, but I can make my thoughts on the stock public here. Coincidentally, last month we looked at a similar stock, Nucor (NYSE:NUE), opening a long position on June 28 to capture the predicted pre-earnings drift into earnings a month later.
Now, as CLF reports on July 28, we have already missed that pre-earnings drift. I would say that CLF is a bit overpriced at the moment and will likely pull back after earnings. But let's take a more in-depth look.

Note that the expected EPS is $0. Analysts, in other words, are expecting a comeback from four straight quarters of negative earnings. This is a bold statement: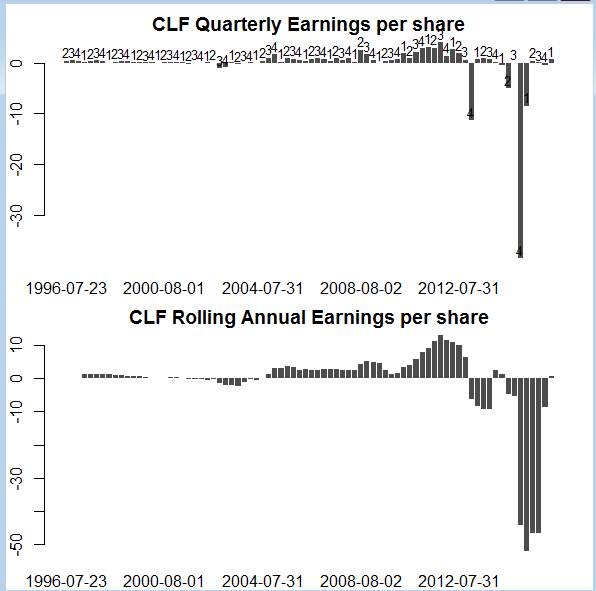 The rolling average of CLF's earnings shows a pattern typical of a leadup to bankruptcy. The macro environment is certainly not helping, with iron ore prices falling from $200 per ton to $50 over the course of five years. This has forced miners, such as CLF, into a paradigm in which the primary method of boosting earnings is cost-cutting.
In the Yin-Yang template of the market, CLF should be in the Yin stage, in which fixing the balance sheet takes priority over maximizing profits. For CLF, this is a not a fun game, as their debt mountain cannot be tackled with a negative cashflow.
The long argument is that CLF has managed to survive this far despite a weak macro environment and should do quite well when the market recovers. Indeed, steel prices have rebounded to a considerable extent if we are to consider only short-term time periods: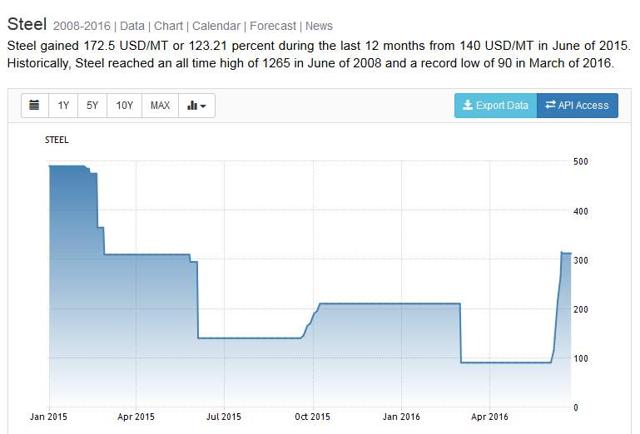 In regard to CLF's earnings, this could equate to stronger-than-expected forward guidance. Any earnings trader knows, guidance can trump earnings in determining the stock's directional move. Thus, insight into the possible guidance CLF could give is important if you plan on buying or taking profit before CLF reports:
We also have the US government supporting the US steel industry by placing a 500% tariff on Chinese steel. This should put downward pressure on inventory levels and upward pressure on prices, which are both tailwinds for CLF. However, these factors apply to all other iron ore miners and steel stocks; indeed the long case for CLF seems to be a long case for the steel industry and not for this particular stock, which is one with many balance sheet problems.
Yet another take on CLF's position in the industry is that an improving macro environment (in the short term) alleviates much of the risk on investing in CLF. Thus, we can buy it up at rock-bottom prices without too much immediate concern. The keyword here is "immediate," nonetheless, as CLF has a long way to go in improving its balance sheet.
If your decision is driven by risk, stay away from CLF. Shareholder equity, which allows the calculation for a lower limit of a stock price, has severe implications here. Investors, more than the company, should be concerned, as shareholder equity has hit negative levels: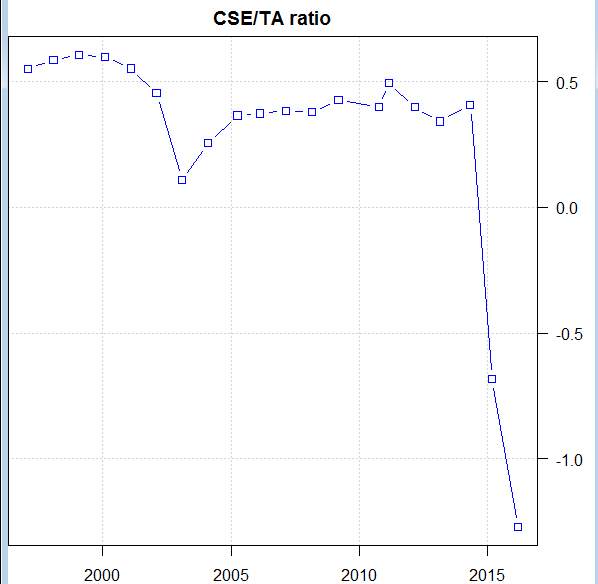 That is, in the event of a bankruptcy, CLF's investors receive no compensation. And keep in mind that CLF falls fast and hard during a market crash. This is not a safe stock to place any amount of capital: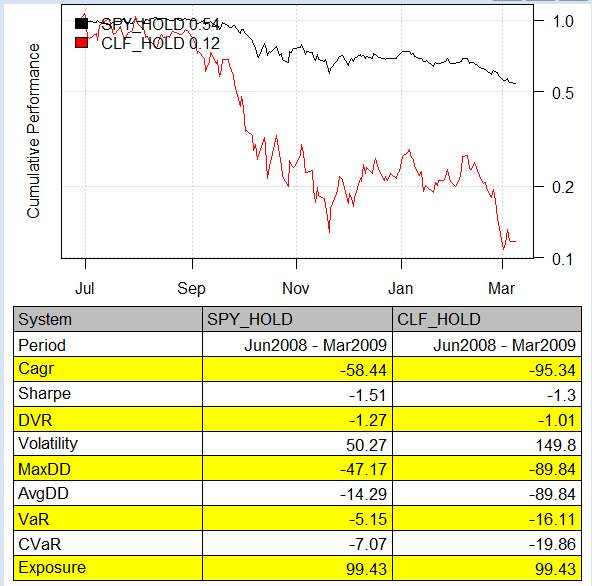 The macro environment should be your go-to source of information for investing in any steel stock at the moment because of the price tug-of-war between the US, which is pushing the price of US steel up, and China, which is pushing commodity prices down. While CLF may very well be on the rebound, we have better choices in the steel market at this time. Remember, CLF is a business with mines that can produce for another 50 years or so - you have no reason to rush into this investment.
Learn More about Earnings
My Exploiting Earnings premium subscription is now live, here on Seeking Alpha. In this newsletter, we employ both fundamental and pattern analyses to predict price movements of specific companies after specific earnings. I offer specific strategies for playing those earnings reports. To-date, we are 94% accurate on earnings report predictions.
Disclosure: I/we have no positions in any stocks mentioned, and no plans to initiate any positions within the next 72 hours.
I wrote this article myself, and it expresses my own opinions. I am not receiving compensation for it (other than from Seeking Alpha). I have no business relationship with any company whose stock is mentioned in this article.