Click to enlarge
Source: Weyerhaeuser Corp.
2016 has been a fantastic year so far for REITs, including certain timber names such as Rayonier (NYSE:RYN) and Potlatch Corp. (NASDAQ:PCH). Meanwhile, CatchMark Timber Trust (NYSE:CTT) and Weyerhaeuser (NYSE:WY), while beating the S&P 500, have lagged behind their peers.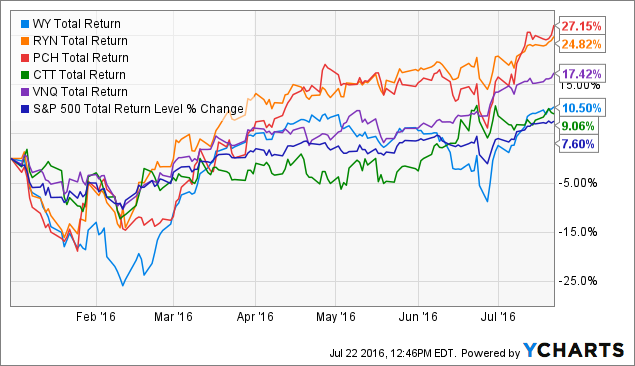 WY Total Return Price data by YCharts
In this era of overpriced REITs and ultra-low yields, this underperformance might actually mean that Weyerhaeuser might make an attractive long-term dividend investment, especially relative to its higher-flying peers. However, before you invest your hard earned money, there are three important factors you need to consider.
Plum Creek Timber acquisition is a game changer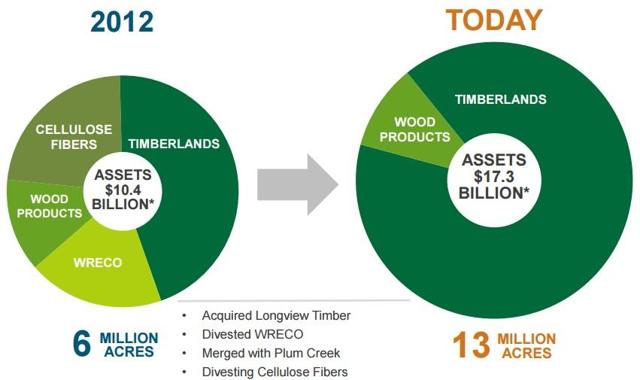 Click to enlarge
Weyerhaeuser closed on its $8.4 billion acquisition of Plum Creek Timber in February, creating a mammoth timber REIT that is far less diversified than it was a few years ago. While the 70% stock/30% cash deal did add considerably to Weyerhaeuser's debt, management believes the deal is still beneficial to shareholders due to at least $100 million in expected annual synergistic cost savings.

Click to enlarge
Source: Weyerhaeuser Q1 2016 presentation
However, be aware that Weyerhaeuser has a history of growth through acquisition, and some of its previous purchases failed to deliver on management's full cost savings promises.
In addition, management recently announced the sale of its cellulose mills to International Paper (NYSE:IP) for $2.2 billion. Net of taxes this will provide $1.6 billion that will go to paying down debt Weyerhaeuser incurred as part of its $2.5 billion share buyback program. This was an effort to offset some of the shareholder dilution that resulted from the Plum Creek purchase. Better yet, on June 15, 2016, Weyerhaeuser announced it was selling its liquid packaging board business (the last remaining remnant of its cellulose segment) to Nippon Paper for $285 million in cash. All of which will also go to debt reduction.
Investors should cheer this as the Plum Creek deal resulted in an above average leveraged balance sheet.
Sources: Morningstar, FAST Graphs
| | | | | |
| --- | --- | --- | --- | --- |
| REIT | Debt/EBITDA | EBITDA/Interest | Debt/Equity | S&P Credit Rating |
| Weyerhaeuser | 6.19 | 3.72 | 0.81 | BBB- |
| Rayonier | 4.68 | 5.62 | 0.69 | BBB- |
| Potlatch | 7.12 | 3.18 | 3.3 | BB |
| CatchMark Timber | 7.72 | 6.25 | 0.48 | NA |
| Industry Average | 5.10 | NA | 0.93 | NA |
I applaud management for this wise and conservative approach to debt reduction, despite interest rates being at all-time lows. A stronger balance sheet will protect the company's investment grade credit rating, thus ensuring future access to cheap debt capital. It will also increase financial flexibility that means a more secure dividend in the event of an economic downturn.
Dividend secure... at least for now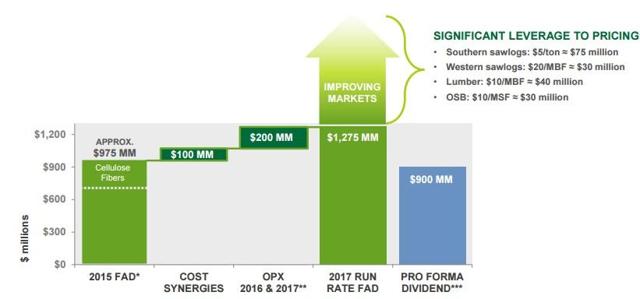 Click to enlarge
Source: Weyerhaeuser investor presentation
Management believes its dividend is highly secure. What's more, a recovering housing market could offer a potential dividend growth catalyst due to higher timber sales and stronger pricing.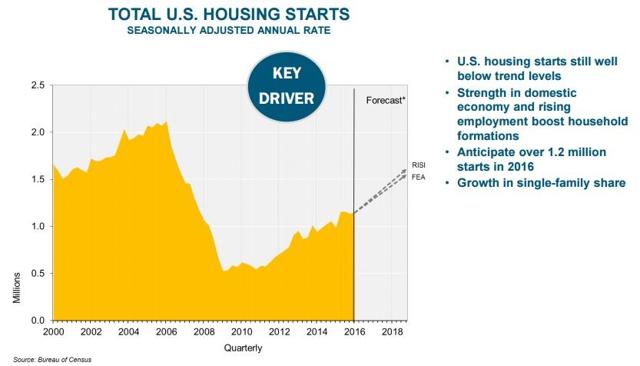 Click to enlarge
BUT before you get too excited about the prospect of future dividend hikes, you need to keep in mind a few things. First, Weyerhaeuser's cellulose business accounted for 17% of its Adjusted EBITDA in Q1 of 2016. Assuming a proportionate decrease in funds available for distribution, or FAD, Weyerhaeuser's current FAD run rate would be around $810 million, which isn't enough to cover its dividend.
Now, management is confident that its synergistic cost savings, increased operational efficiencies, and better market conditions can provide a $300 million FAD boost, which would secure the payout. Management expects a housing recovery to increase timber prices and further boost FAD over the next two years. However, that optimistic view assumes that America's seven-year-old economic recovery will continue. In addition, don't forget that "significant leverage to pricing" can swing both ways, and might end up hurting FAD in the coming years rather than help it.
If that proves to not be the case, then Weyerhaeuser's dividend could once again be at risk. That's especially true given that management has proven it's willing to cut the payout in times of challenging economic conditions, such as the 91.8% dividend cut investors faced during the financial crisis.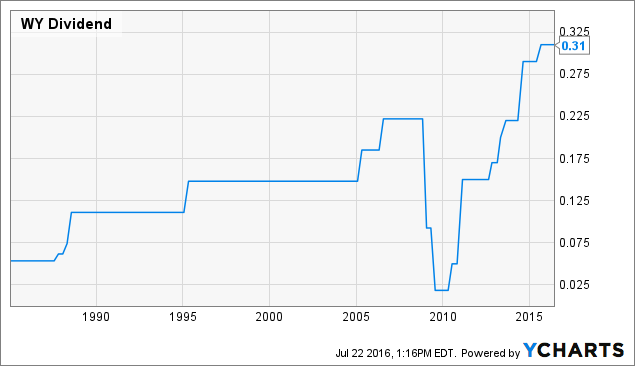 WY Dividend data by YCharts
Don't get me wrong, as a long-term dividend investor, I actually like that management was willing to make the hard call and ensure the company's survival rather than cling to a dividend that wasn't covered by cash flow. BUT this means that investors might need to consider Weyerhaeuser a variable pay REIT. Which means you should be willing to use a future dividend cut, and the share collapse that is likely to follow, to add to your positions at far lower prices.
Weyerhaeuser is indeed undervalued... BUT perhaps for good reason
Speaking of valuations, as you can see, the stock is indeed trading at a discount to its historic norms.
Sources: Yahoo Finance, Gurufocus
| | | | | | |
| --- | --- | --- | --- | --- | --- |
| REIT | Yield | 5 Year Average Yield | P/NAV | Historical P/NAV | Average Historical Premium |
| Weyerhaeuser | 3.8% | 3.0% | 2.40 | 2.43 | -14.0% |
| Rayonier | 3.7% | 4.1% | 2.63 | 2.35 | 10.9% |
| Potlatch | 4.1% | 4.1% | 7.88 | 1.91 | 156.3% |
| CatchMark Timber Trust | 4.5% | NA | 1.16 | 1.06 | 9.4% |
This means that now might be a good time for long-term, higher-risk dividend investors to initiate a position. That's especially true given that Weyerhaeuser may be trading at a reasonable 17% discount to intrinsic value based on its likely 20-year growth prospects.
Sources: 10-Qs, 10-Ks, Morningstar, Gurufocus, FAST Graphs
| | | | | | |
| --- | --- | --- | --- | --- | --- |
| REIT | TTM Operating Cash Flow/Share | 10 Year Projected Growth Rate | DCF Fair Value Estimate | Reverse DCF Implied Growth Rate | Margin of Safety |
| Weyerhaeuser | $1.88 | 5.0% | $38.73 | 0.6% | 17% |
| Rayonier | $1.24 | 5.0% | $26.90 | 5.0% | 0% |
| Potlatch | $1.91 | 5.0% | $30.35 | 8.3% | -22% |
| CatchMark Timber Trust | $0.86 | 6.0% | $22.74 | -28.6% | 47% |
Now don't get me wrong, a discounted cash flow analysis shouldn't ever be the sole basis of a buy decision. After all, it's predicated on long-term growth assumptions and an arbitrary discount rate (the market's historical 9.1% CAGR since 1871).
That being said, if you are willing to accept the potential for cash flow, and thus dividend volatility, then Weyerhaeuser's shares purchased today as part of a diversified dividend portfolio could do very well for you in the long term.
Bottom line: Weyerhaeuser's latest moves make it a solid high-yield timber asset, BUT a SWAN stock this isn't
Please don't misunderstand me, there is a lot to like about Weyerhaeuser's latest changes to its business model. If management can deliver on its promised synergies, and the US economy and housing market continues to improve, then further sustainable dividend growth may be in the cards.
That being said, investors need to realize that Weyerhaeuser's pivot to a more focused timber based business model could mean even higher cash flow volatility in the future. Combined with its historic willingness to slash its payout means that dividend investors concerned primarily with rock steady income might want to look elsewhere.
On the other hand, brave and patient investors willing to buy on potential future dividend reductions might do very well initiating or adding to positions at the current price.
Disclosure: I/we have no positions in any stocks mentioned, and no plans to initiate any positions within the next 72 hours.
I wrote this article myself, and it expresses my own opinions. I am not receiving compensation for it (other than from Seeking Alpha). I have no business relationship with any company whose stock is mentioned in this article.