After the market closed on July 21st, the management team at Trinity Industries (NYSE:TRN) released financial results for the firm for the second quarter of its 2016 fiscal year, sending shares up about 4.7% for the day. Just two days prior to the release, on July 19th, I published an article here on Seeking Alpha detailing what analysts were expecting and giving my own thoughts on what investors should probably expect moving forward. In what follows, I will look at the data and see how my thoughts lined up with reality and what it likely means for investors moving forward.
Analysts missed... big time
According to management, Trinity reported sales for the quarter of $1.18 billion. This represents a massive decrease of 29.8% compared to the $1.68 billion the firm reported the same quarter last year and was driven by all of its segments except for its Railcar Leasing & Management Services Group, as you can see in the image below. Nominally, the largest hit came from the firm's Railcar Group, which was slammed by lower railcar orders year over year.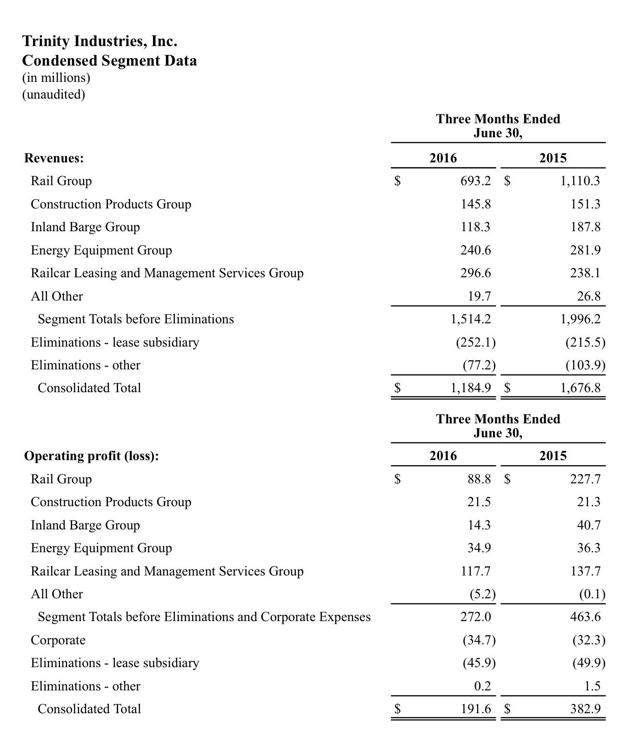 Click to enlarge
Furthermore, while deliveries totaled 6,065 railcars during the quarter, new orders were just 2,910. This is certainly bad but with 40,205 railcars in its backlog, valued at $4.29 billion (compared to $4.72 billion last quarter), management still has a lot to work with. Interestingly, only 50 railcars were canceled during the quarter. Though this performance sounds negative, the fact of the matter is that results were in line with expectations from analysts as well as myself.
On the bottom line, however, management far outperformed what others anticipated. During the quarter, Trinity generated earnings per share of $0.62. This represents a meaningful decline from the $1.33 per share the firm earned the same period a year ago, but was well above the $0.48 per share that analysts anticipated for the quarter. In my article on the company, I made the simple observation that profits should be about the same as they were in the first quarter on a per-share basis since the year-over-year drop in sales was similar. I did not state a specific number, but I did say that, if sales composition didn't change all that much (it did thanks to strong performance in its leasing operations), then profits should be higher than what analysts were hoping to see.
So far, I count myself two for two here, but one area I was clearly wrong on was Trinity's Construction Products Group. I actually thought that, with U.S. construction spending up 2.8% through May (no more recent data was available at the time) of this year and with a strong performance in the first quarter, it wouldn't be unreasonable to see growth this quarter as well. While the decline was only 3.6% year over year, the smallest of any of its segments that saw sales contract, the Construction Products Group still shrank nonetheless so I have to count that as a loss. I did indicate that the Energy Equipment Group may surprise us (it didn't, with sales down 14.7% year over year), but I did say that investors shouldn't hold their breath on that one.
A discussion regarding backlog and other matters
With the railcar industry, which makes up the bulk of Trinity, down so much this year compared to last year, it's hard, if not impossible, to predict what the financial condition of a company will be from quarter-to-quarter but with two out of three predictions proved correct, the smaller of the three being the one I missed, I have to say I'm quite satisfied. Having said that, there are a few other updates that management provided.
For starters, backlog actually rose this quarter compared to where it was in the first quarter of this year. According to management, backlog came out to $5.64 billion, an increase over the first quarter's $5.30 billion. However, all of this is due to a $940 million award granted to it for wind towers, without which backlog would have dropped to $4.70 billion. Either way, backlog is a positive for the firm but I long for the day when the increases come from its primary operations.
Despite earnings falling year over year, operating cash flow was up. Management's release showed that second-quarter operating cash flow totaled $200.3 million, an increase over the prior year's second quarter of just $172.6 million. Add to this the fact that cash and cash equivalents, plus marketable securities, totaled $997.3 million (including $183.3 million in restricted cash), a modest decline from the $1.07 billion (with $195.8 million restricted) seen at the end of 2015, as well as the fact that total debt during this time frame fell by $65.8 million, and I'd say that's a win.
Finally, we should look at the firm's leasing fleet's utilization. In its release on the topic, Trinity's management team stated that the utilization rate of the leasing portfolio fell from 97.7% at the end of last year to 96.4%. This may seem bad given the high margins that leasing activities grant shareholders, but this drop was driven by an increase in the number of railcars held in the segment. Total leased railcars (these are the ones on contract) during the quarter came out to 77,467, an increase from the 74,999 railcars on contract at the end of 2015.
Takeaway
Overall, I really liked what I saw with Trinity. I'd ideally like to see more railcar orders come in, but that will come in due time, and I'd also like to see earnings expectations rise from the $2-$2.30 range expected by management for all of 2016, but besides these issues, I have no qualms with the earnings reported released. If anything, this makes my own personal conviction that the company makes for an attractive opportunity that much stronger.
Disclosure: I am/we are long TRN.
I wrote this article myself, and it expresses my own opinions. I am not receiving compensation for it (other than from Seeking Alpha). I have no business relationship with any company whose stock is mentioned in this article.