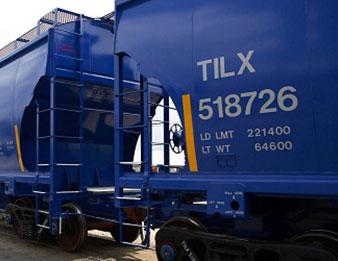 I expected Trinity's (NYSE:TRN) demise would continue in Q2. Nothing could have been further from the truth. While Q1 revenue fell 23% sequentially, Q2 revenue of $1.2 billion was practically flat in comparison to Q1 results. The company's largest segment - the Rail Group - experienced a 15% sequential decline in shipments to 6,045. Railcar revenue fell 18% sequentially due to lower shipments.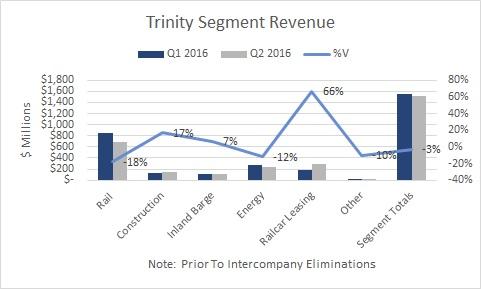 Besides Energy (16% of total revenue) every other operating segment experienced an increase in revenue. Most-impressive was Railcar Leasing (20% of total revenue) whose revenue ticked up 66% after falling off a cliff last quarter. This revenue stream might not necessarily be apples-to-apples compared with that of Q1, however. This quarter Trinity sold $149 million worth of railcars from its lease fleet. Of that amount, $118 million was reported as revenues due to certain railcars having been in the lease fleet for less than one year. The remaining $31 million was reported on the cash flow statement. Sales from the lease fleet were probably the main reason the Railcar Leasing segment outperformed this quarter.
Operating Profit Margins Remain Steady
The out-performance of Leasing is important because at 40%, it has the highest operating profit margins. Construction and Inland Barge are next at 15% apiece. Of note is that Rail's margins declined from 19% in Q1 to 13% in Q2 due to a loss of scale. However, Trinity's blended margins were 16% versus 17% as growth in other segments helped mute the decline in Rail.
Trinity's EBITDA margins declined from 23% in Q2 to 21% this quarter. Cost of sales (76% of revenue) and SG&A (9%) of revenue both ticked up slightly. The company has engaged in a cost-cutting program, but I don't believe it can cut expenses at the same rate of future revenue declines.
In my opinion, the diminution in the Rail segment is a foregone conclusion and bulls cannot count on $118 million in sales from the lease fleet every quarter. Falling revenue and declining margins portends that Trinity's demise is inevitable. Investors should continue to avoid TRN.
Disclosure: I am/we are short TRN.
I wrote this article myself, and it expresses my own opinions. I am not receiving compensation for it. I have no business relationship with any company whose stock is mentioned in this article.