Omega Healthcare Investors (NYSE:OHI)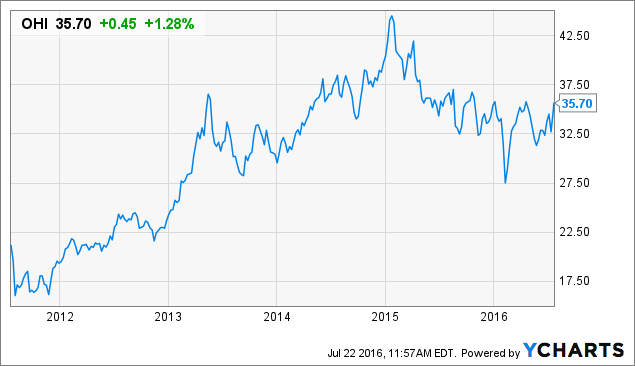 Omega Healthcare is a real-estate investment trust that owns over 900 operating healthcare facilities located in 42 U.S. states plus the U.K.
As of Dec. 30, 2015, Omega owned 932 operating healthcare facilities, investing over $8 billion in such facilities since its inception. Approximately 90% of its facilities are skilled nursing/transitional care facilities, while 10% are senior housing. The company has spent $4+ billion over the past decade on new investments and continues to pursue new acquisitions to further drive its growth.
Based on the stock's current valuation, the company's long-term growth potential due to industry fundamentals, its dividend track record and the potential for future dividend increases, and a discount on dividends when enrolling in Omega's stock purchase plan, I think OHI is a solid buy here.
Finally, I'll also explain to investors why I'm buying shares in a Roth IRA instead of a traditional brokerage account.
Long-Term Growth Potential
Omega has a real solid business model that has pretty excellent growth potential over the long term due to the rising number of Baby Boomers reaching retirement over the coming years. Omega also benefits from a high occupancy rate at its facilities of 82.1% as of 2015, which is higher than the industry average of 81.6%.
According to figures by the U.S. Census Bureau, the number of citizens over the age of 85 is expected to hit 19 million by 2050, up significantly from 5.5 million in 2010. And skilled-nursing facilities (which make up 90% of Omega's assets) are the primary site for hospital post-acute discharges.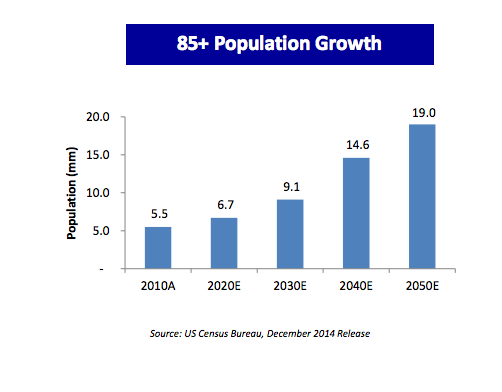 Shareholders have already seen pretty solid growth and returns. Since 2005, the company has grown its revenue and adjusted EBITDA at a compound annual growth rate of 21.6% and its adjusted funds from operations has grown at 26.9% - compared to a nice 17.3% CAGR in Omega's share price since then.
Over the past 10 years, shares have gained 446.2%, which is more than double the performance of the average total returns of Healthcare REITs, according to the company.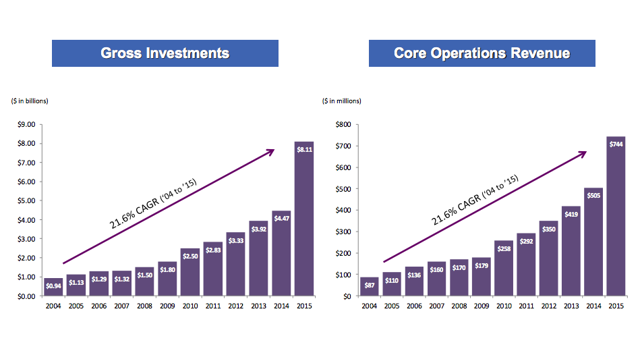 Click to enlarge
I think this kind of growth can be maintained as the company benefits from the aging trend and makes new investments, such as the $3 billion takeover of Aviv REIT back in 2014. This year, the company has completed over $700 million in new investments (including the $233 million acquisition of 21 skilled nursing facilities in Virginia and North Carolina) and closed on a $350 million senior unsecured term loan to fund its growth.
Dividend Track Record
From 2005 to 2015, this company was the #3 overall best performing REIT for total shareholder return, and it has increased its dividend every quarter since June of 2012.
In fact, Omega just raised its dividend by $.02 to $.60 per share, quarterly. Based on its annual payout of $2.40 and EPS of $3.23, the payout ratio is 74.3% and the stock currently yields 6.72%, which is higher than peer Welltower (NYSE:HCN), which yields 4.36%, and Ventas (NYSE:VTR), which yields 3.94%.
This dividend is supported by Omega's strong funds from operations (FFO), which grew to a record $.83 per share in Q1 2016.
Discount on Dividends
The company's stock purchase plan allows both existing and new shareholders to receive a discount on dividends (if you choose to re-invest them). The dividend discount is currently set at 1%. For example, investors that receive $5,000 in annual dividends from OHI stock would receive a discount of $50. It's a small discount, but it's still a nice benefit to owning the stock.
You can enroll in Omega's stock purchase plan online at Computershare, or you can request to receive an Enrollment Form using the contact information on Omega's website.
Solid Balance Sheet
Compared to peers, the company is less leveraged; the stock trades at a net debt/EBITDA ratio of 4.7X, which is lower than peers HCN, HCP, HR, HTA, SNH, and VTR, according to Omega's corporate presentation. While Omega ended Q1 with $4.2 billion in debt, the company also has no long-term debt maturities until 2024.
Insider Buying
According to SEC Form 4, Omega Healthcare insiders are buying shares hand over fist lately. Insiders have made 60 purchases of stock on the open market over the past year compared to 18 sell trades.
The last purchases came on June 9, when multiple insiders bought shares at $33.09 per share. On May 23, director Thomas Franke bought 6,000 shares at $31.01 per share, increasing his total holdings to 82,135 shares. Franke also bought 16,000 shares at $28.58-$28.66 per share back in February of 2016. Numerous other insiders also bought shares on May 17.
Although there are many reasons insiders may sell a stock, there's is only one reason for insider buying - the insider expects the share price to rise.
Good Fit for a Roth IRA
Investors that are saving for retirement with a long timeframe (10-20+ years) are much better off owning shares in a Roth IRA than a traditional brokerage account due to the tax benefits.
Roth IRA contributions are made with after-tax dollars, but when you withdraw funds at retirement, you don't owe a single dime in taxes, so all dividends and capital gains you've earned are tax-free. Since Omega pays a substantial dividend (shares currently yield close to 7%), this makes owning the stock in a Roth IRA a much more attractive option that owning shares in a brokerage account.
A Roth is different from a traditional IRA, which is funded with pre-tax dollars and contributions may be fully or partially deductible in the year you contribute. Dividends and capital gains are tax-deferred, and you can lower the amount of taxes you owe and potentially net a larger tax refund. However, you'll pay taxes on your earnings and capital gains when you make withdrawals at retirement, so you can be facing a pretty huge tax bill in the future (you can compare the differences further here).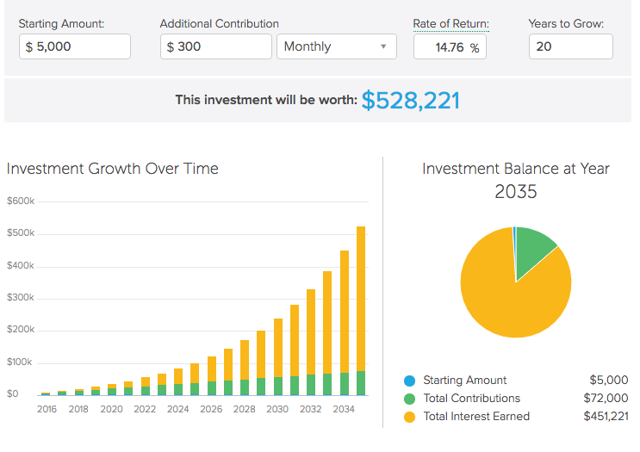 Click to enlarge
What kind of gains are possible? Here's an example. Over the past 10 years, OHI's stock has a total return of 14.76% annually, when you include all dividends, according to Morningstar.
If we assume the same type of returns in the future and we start with an initial $5,000 investment, with $300 added monthly, then in 20 years, the investment will be worth $528,221, and your capital gains and dividends would be completely tax and penalty free if you withdraw after turning 59 1/2 from a Roth IRA (check out the numbers here for yourself, and please note that this is just a rough example and these types of gains may not be attainable in the future. This calculation also doesn't factor in trading fees).
In conclusion, Omega Healthcare has excellent long-term growth potential and pays a solid dividend, which I expect to increase over time as the company continues to grow its business. I have purchased shares in a Roth IRA to eliminate taxes in retirement, and I think the stock is a good fit for a Roth due to its excellent long-term potential and its dividend.
Disclosure: I am/we are long OHI.
I wrote this article myself, and it expresses my own opinions. I am not receiving compensation for it (other than from Seeking Alpha). I have no business relationship with any company whose stock is mentioned in this article.