Oil prices reversed losses on July 20th after news broke that the EIA (Energy Information Administration) reported a drop in crude oil stocks and some other favorable oil-related data for the prior week, but they ultimately fell lower toward the end of the week. In what follows, I will analyze this data and give my thoughts about what it will likely mean for investors in companies like Memorial Production Partners (NASDAQ:MEMP), Approach Resources (NASDAQ:AREX), and Legacy Reserves (NASDAQ:LGCY), as well as for the United States Oil ETF (NYSEARCA:USO) and other oil-related ETFs.
Inventories were mixed
According to the EIA, crude oil stocks for the week came out to 519.5 million barrels. This represents a drop of about 2.3 million barrels from the 521.8 million the organization estimated just one week earlier. In addition to being the ninth week in a row in which crude stocks fell, the decline matched the 2.3 million barrel drop estimated by the API (America Petroleum Institute) and was slightly better than the 2 million barrel drop analysts had been forecasting for the week. In the graph below, you can see the overall trend that oil inventories have taken in the U.S. over the past 52 weeks.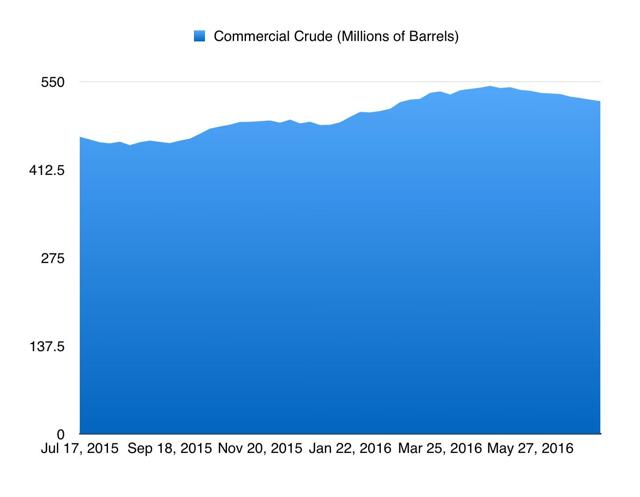 Click to enlarge
Unfortunately, there was some negative news for the week. If the EIA's estimates are correct, motor gasoline stocks rose by 0.9 million barrels from 240.1 million to 241 million. Meanwhile, fuel ethanol stocks grew by 0.1 million barrels from 21.1 million to 21.2 million, residual fuel popped up 0.8 million barrels from 41.3 million to 42.1 million, and kerosene-type jet fuel inventories increased by 1.3 million barrels from 40.6 million to 41.9 million. The single largest build, however, was in the "other" category of petroleum products, which grew by 2.2 million barrels from 277 million to 279.2 million.
There were two slightly positive pieces of news besides crude stocks, however. According to the EIA, distillate fuel stocks dipped by 0.2 million barrels from 153 million to 152.8 million, while propane/propylene, a category that had been rising not long ago, stayed flat for the week at 87.4 million barrels. In spite of these categories, however, total crude plus petroleum stocks managed to rise by 2.7 million barrels for the week, climbing from 1.3823 billion barrels to 1.3850 billion.
Production and demand are looking up
Though inventories were certainly mixed for the week, production and demand figures were positive in my opinion. According to the EIA, oil production for the week came out to 8.494 million barrels per day, an increase of 9 thousand barrels per day (or 63 thousand for the week) over the prior week's 8.485 million barrels. This looks bad at first glance, especially since this is the second week in a row that production has risen. However, in the prior two weeks, output was down far larger than it should have been due to an abnormal fluctuation in Alaska, which caused a temporary downturn in production.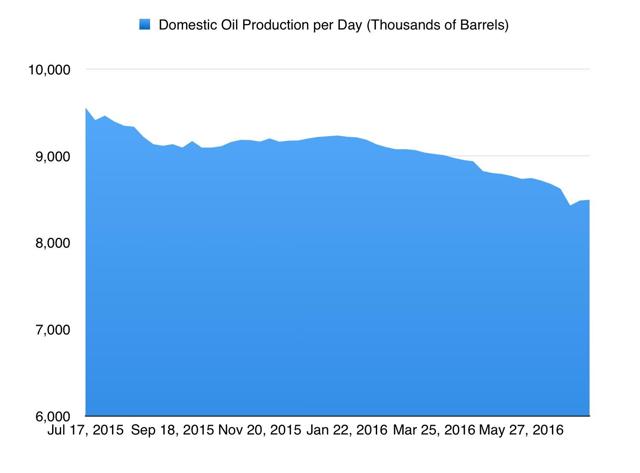 Click to enlarge
Since publication of those two articles, Alaskan oil production has risen again (something I said would very likely happen), so these increases have reall been nothing more than a reversion to the mean for output there. Looking solely at the Lower 48 states, where the decline truly matters, crude production dropped by 29 thousand barrels per day (or 203 thousand barrels for the week) over the prior week, falling from 8.074 million barrels per day to 8.045 million. In the graph above, you can see the overall trend that crude production has taken over the past 52 weeks.
Demand has also been quite strong. If the EIA's numbers are accurate, motor gasoline demand averaged 9.785 million barrels per day last week, an increase over the prior week's 9.671 million barrels per day and up 0.4% from the 9.749 million barrels per day seen the same week a year earlier. Using the four-week average, demand is up to 9.730 million barrels per day, an increase of 1.3% year-over-year, when demand came out to just 9.604 million barrels per day. Distillate fuel demand surged during the week but, unfortunately, the four-week average figure for it is at 3.764 million barrels per day, a drop of 0.7% compared to the 3.792 million barrels per day seen the same period last year.
The one kinda bad indicator
Overall, I'd say that the data provided by the EIA was certainly mixed but titled slightly more to the bullish side. Having said that, there was one piece of data, provided by Baker Hughes (NYSE:BHI), which was bad. According to the company, the oil rig count in the U.S. grew by 14 units to 371. Although this is a fairly sizable gain, it is still 43.7% below the 659 units seen the same time a year ago. The good side to this is that gains in high-yielding locations was limited. Based on the data provided, the total rig count (oil plus gas since oil is not provided alone) grew by just 2 units in both the Niobrara and the Eagle Ford, while staying flat in the Williston (which is synonymous with the Bakken). Most of the gain came from the low-yielding permian, which reported an 8 rig uptick. Meanwhile, in Canada, the oil rig count grew by 4 units to 48 but was still down 51% (from 98 units) year-over-year.
Takeaway
Based on the data provided, it's clear that not everything is great with the oil market but we are seeing some nice signs of improvement. With crude stocks continuing to fall, production dropping after adjusting for Alaskan crude, and demand in motor gasoline strong (though we could see stronger distillate fuel demand to make matters better), the overall trend here for oil appears to be positive and should only continue to improve in the long run.
Disclosure: I am/we are long AREX, MEMP, LGCY.
I wrote this article myself, and it expresses my own opinions. I am not receiving compensation for it (other than from Seeking Alpha). I have no business relationship with any company whose stock is mentioned in this article.
Additional disclosure: I own LGCYO, not LGCY.
Editor's Note: This article covers one or more stocks trading at less than $1 per share and/or with less than a $100 million market cap. Please be aware of the risks associated with these stocks.