Robert W. Baird cut their outlook to neutral on Chicago Bridge & Iron Company (NYSE:CBI) due to concerns related to a newly filed lawsuit from Westinghouse and headwinds that remain throughout the oil & gas subsector. We find this action to be appropriate given that cash flow uncertainty stands at a new high. One thing that investors need to recognize is that regardless if this company can build itself a solid back-log portfolio, it doesn't mean that it will automatically return value to shareholders. It remains apparent that even after three years of the acquisition debacle, investors have yet to realize a return.
Analyst Downgrade
We saw a mixed bag of ratings action on Friday and some consensus was that this litigation may not materialize in the courtroom. However for us, it comes as no surprise that more issues are following the disposal of the nuclear division. The reason is that CBI management appeared to dispose of considerably weak assets (i.e. bad projects) fairly easily, and even for a pretty penny (disregarding the attached non-cash impairment charge). We have no legal experience, but thinking intuitively here, it's hard to see a lawsuit involving a potential claim of 2 billion dollars as being regarded as "frivolous". Cutting to the point, even if there is a settlement at just a fraction of Westinghouse's proposed claim, CBI's balance sheet will be severely weakened. If it is worse than expected, management will be forced to draw down on its credit revolver without otherwise facing a liquidity problem.
Balance Sheet Review
For a management team that continuously states it will hit cash flow targets, we have yet to see that day come. During this time frame, debt to capital has increased dramatically relative to peers: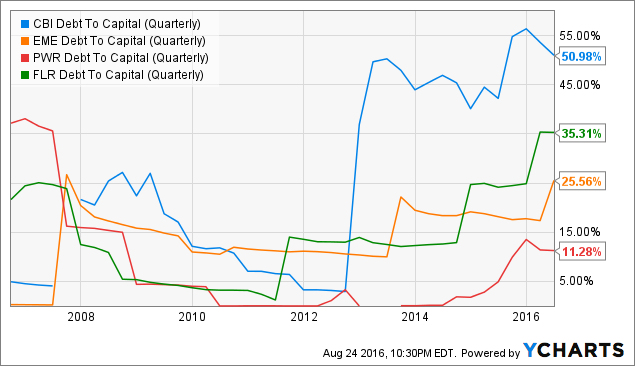 CBI Debt To Capital (Quarterly) data by YCharts
The Big Boys Left
Initially, the entire investment community became enthralled with this company because Berkshire (NYSE:BRK.A) (NYSE:BRK.B) and Greenlight Capital (NASDAQ:GLRE) took fairly large positions in the stock. Of course, no one foresaw any big issues popping up like the one's revealed by Prescience Point. We were initially skeptical of their claims, as we thought it was just a run of the mill short attack. Unfortunately, it held water and many sold out.
More recently, David Einhorn's portfolio showed a complete liquidation of his position since the first quarter of 2016. We can only speculate as to why he bought into the stock only to likely sell it for a loss. One thing is for certain, however - himself and the team at Greenlight are filled with forensic accountants and seasoned corporate lawyers. The fact that he was willing to dump all of it means that he thinks the opportunity for capital preservation and/or return on capital is weak.
Where's The Cash Flow?
Next year's estimates have CBI running a net income figure of about $525 million. Chances are that free cash flow will not come close given working capital requirements. It has actually never pushed higher than $400 million on any given year, but given more competitive bids and difficulty to properly estimate project cost inputs, it appears that a normalized average could conservatively stand at just $300 million: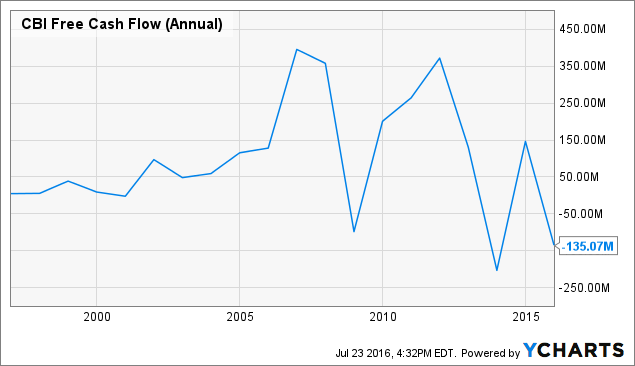 CBI Free Cash Flow (Annual) data by YCharts
That effectively has the business priced at 18.6x earnings which is modestly above industry peers. Although this multiple does not include an adverse ruling related to the nuclear overhang. Moreover, if management for whatever reason does not deliver on cash flow, investors will undoubtedly run for the exits. There is no point in holding a stock that cannot offer a reasonable buyback or dividend within say the next few years.
Weak Technicals
We do not use technical analysis often, but it does hold some merit. We think current pricing is due to the market not believing in management's "story" any longer. It's simple to understand that weaker performance deserves a lower valuation until results show otherwise.
Moving onto the chart. Momentum is bearish for the last 2+ years. The latest trading week just finished what is called a "bearish engulfing" candlestick. According to day traders, this and the "gravestone candle" are by far the last things you want to see on a chart if you hold a long position: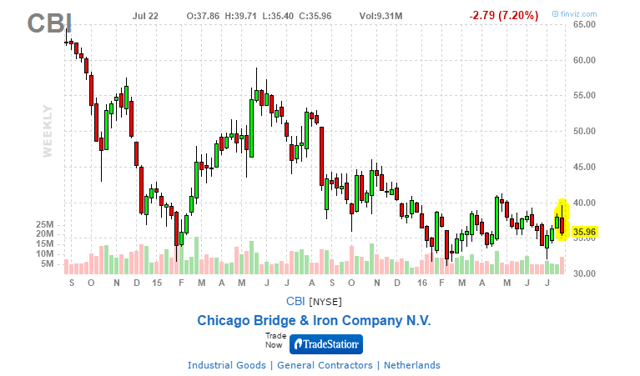 Click to enlargeFrom a market sentiment point of view, it tells us that the upper side of the candle only existed temporarily and pressure remained until the end of the trading week. A reversal could certainly happen this week, but again, if anything materializes from the litigation, then fresh lows will likely be in the cards. Most will agree that this is a pretty ugly chart.
Bottom Line
CBI has been a very interesting stock to trade because it's clearly a battleground stock. Personally, we don't believe this is an investable business, at least for now. The valuation is okay, but underlying risk could be higher than currently assumed, and catalysts are hard to fathom. Perhaps the earnings report will introduce some positives, but we wouldn't be too optimistic here. Please comment below, and thank you for reading.
Disclosure: I/we have no positions in any stocks mentioned, and no plans to initiate any positions within the next 72 hours.
I wrote this article myself, and it expresses my own opinions. I am not receiving compensation for it (other than from Seeking Alpha). I have no business relationship with any company whose stock is mentioned in this article.