On July 5th of this year, I published an article here on Seeking Alpha about India and the impact that the nation has had on growing demand and in helping to solve the global oil glut. Now, however, fresh data has come out, courtesy of the EIA (Energy Information Administration) that suggests the picture may be even better moving forward than it was in the past so, in this piece, I decided that it would be a wise idea to dig into this data and determine what it likely means for investors in companies like Memorial Production Partners (NASDAQ:MEMP), Approach Resources (NASDAQ:AREX), and Legacy Reserves (NASDAQ:LGCY), as well as for the United States Oil ETF (NYSEARCA:USO) and other oil-related ETFs.
A look back at my old research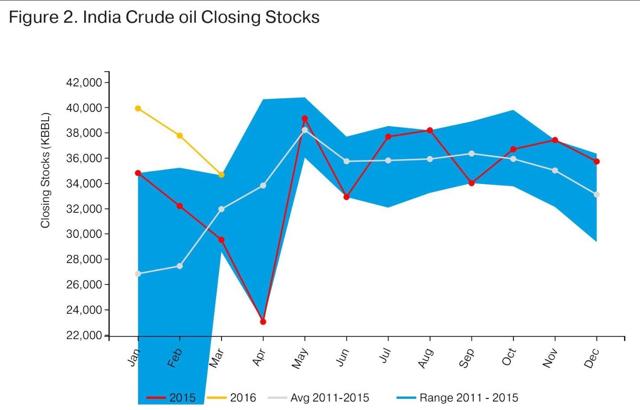 Click to enlarge
My goal here is not to do a complete rehash of my prior research but, instead, to build upon it. Having said that, I do believe revisiting the core thesis is imperative. In my article, I showed that, through March (no data that is more recent is available), crude stocks in the nation have dropped, falling from 39.94 million barrels in January to 34.69 million barrels. In addition to suffering from a drop in production this year that threatens to take aggregate production through 2016 down below the five-year average ending in 2015, I showed, as you can see in the image below, that demand for oil has soared.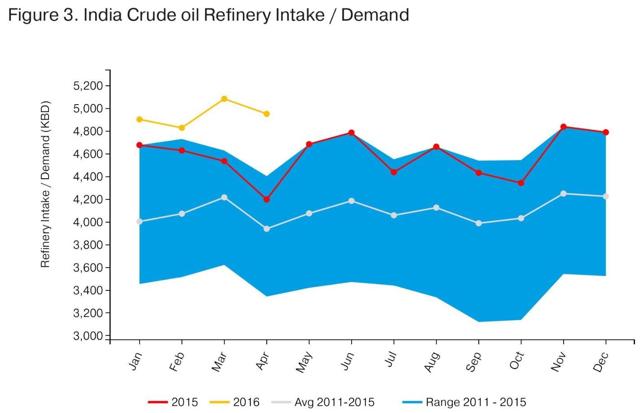 Click to enlarge
If the data provided is correct, through April of this year, demand in India has averaged 4.94 million barrels per day, an increase of 9.6% over the 4.51 million barrels per day seen the same period a year earlier. Using all of last year as an indication, production through April of this year is up about 7.7%. What all of this implies is that strong demand, coupled with low production, is likely to prove beneficial for oil bulls in the long run.
New data makes the picture better... much better
Just the other day, the EIA released a report showing that the picture in India is better than even I anticipated. This is driven by the fact that India, which imported 75% of its oil needs last year, is looking to expand on its SPR (Strategic Petroleum Reserve), which is the government's oil that is stored for emergency use should war or a natural disaster or some other negative event make oil scarce. You see, last summer, the nation began filling up its caverns in Visakhapatham with government oil but, throughout this year, its facilities in Mangalore and Padur are also due to open. Collectively, filling these facilities will take 39.1 million barrels of oil.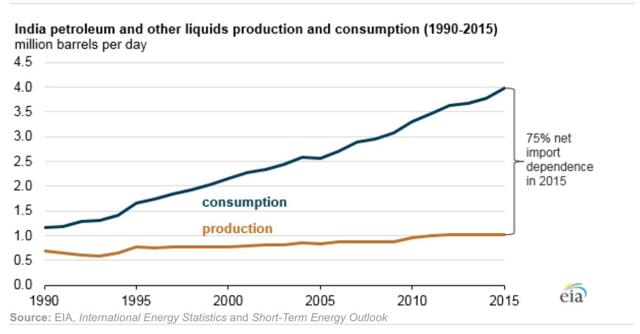 Click to enlarge
In doing so, India will have made an important step in the right direction for one of its goals: to have at least 90 days of crude oil available in the event that an emergency occurs. Using 2015 demand data, however, these facilities will only bring India's net consumption coverage to around 13 days, according to the EIA. This means that the nation has a lot more work to do if it wishes to reach its goals.
Based on the data provided, the government is in talks with the UAE (United Arab Emirates) about getting their government-owned oil company to invest in building another 91 million barrels worth of reserves that they wish to get launched and filled by 2020. The goal is to offer the nation access to 5.5 million barrels worth of reserve space, two-thirds of which would go toward sales inside India and the rest sold any way or any place that the UAE desires. This would be a major change for India that would require a change in its long-standing law that prohibits oil exports, and which also hinges on tax incentives being put into place for the UAE and, possibly, other oil producers.
Takeaway
Given how low oil prices are today and given the fact that the supply/demand imbalance is improving at a nice clip, I suspect that India will likely move quicker on its plans to put these storage facilities into place. This seems to be hinted at by the fact that, in February of this year, a bill was proposed in India to tackle some of the tax consequences that would otherwise make their approach to funding their SPR financially difficult. Should this come to fruition and the country accelerate plans to establish their SPR sooner, the move would help to take care of the glut which, in OECD nations, is about 300 million to 400 million barrels in size. However, even if the SPR is not accelerated but is added gradually, this should help to alleviate the global glut to some degree as time goes on.
Disclosure: I am/we are long AREX, MEMP, LGCY.
I wrote this article myself, and it expresses my own opinions. I am not receiving compensation for it (other than from Seeking Alpha). I have no business relationship with any company whose stock is mentioned in this article.
Additional disclosure: I own LGCYO, not LGCY
Editor's Note: This article covers one or more stocks trading at less than $1 per share and/or with less than a $100 million market cap. Please be aware of the risks associated with these stocks.