If you like electricity and money, you probably have taken a look at General Electric (NYSE:GE) as an investment. Now, with the recent earnings report adding a handful of new information to investors, the market has repriced GE at a lower number. The truth is that GE investors tend to be… well… investors.
That is, GE longs are more concerned with the long-term performance and the dividend than the bumps and jumps after earnings reports. Still, investors should keep an eye on earnings, as new information can teach them whether to add to or subtract from their positions. The report released last Friday was not all that informative but did cast GE in a slightly weaker light in both fundamentals and transparency.
The most important metric from an earnings report is the earnings per share, or EPS. In its report, GE stated four different EPS numbers, possibly to confuse investors away from problems in the company. We've seen this before, such as in Alcoa (NYSE:AA), who - if I recall corrected - actually retroactively changed a high reported EPS to a lower, more realistic EPS well after the market had forgotten about the earnings report.
In recent earnings seasons, we have seen many companies engaging in shady accounting; to see what I mean, check out my articles on Caterpillar (NYSE:CAT) and Pepsi (NYSE:PEP). GE also seems to be downplaying the recent numbers. They gave four EPS numbers because "year over year comparisons are difficult."
In essence, they gave enough metrics to allow the bulls to feel confident and be able to state an EPS beat. The expected EPS was 35 cents. The reported EPSs follow:
51 cents - wow, GE beat by almost 100%!
39 cents - wow, GE beat by a bit!
30 cents - it's just a small miss…
13 cents - oh, this looks worrying.
So many interpretations here. The market seemed to go with a more bearish interpretation, and not without reason. The non-GAAP EPSs, while looking bullish, were correctly interpreted as GE explaining that things really aren't as bad as they appear on paper.
Alstom, GE's recent acquisition, was the main contributor to good news in the report. GE's orders were down by 16%, so including Alstom's orders allowed the company to report a less concerning picture for demand for the company's equipment. Ironically, the company has blamed the market for the decline in orders but still attempted to paint a rosy picture by including another company affected by the same pressures:
" The resource sector remains tough, putting pressure on our Oil & Gas and Transportation businesses. Meanwhile, the rest of our markets have plenty of growth available."
-CEO Immelt
If the problem is the market, why bother saying, "We're doing bad, but our acquisition is doing great?" And if the rest of the markets are doing well, how do they explain the huge drop in orders in these other markets, mentioned as a mere sentence far away from the beautiful graphs and charts of GE's earnings presentation? GE is in damage control.
Aviation orders are down 37%. Organic equipment orders are down 30%. Power orders are down 27%.
Why is no one talking about this? The wordplay in the earnings call matched the accounting in the earnings report:
" I would just say first half more or less what we expected, positioned for a strong second half of 2016 with what we have in backlog. I think looking forward, we are again confirming the bridge to $2.00 a share by 2018. And it's really driven by real strength in Power and Aviation…
-CEO Immelt
But hey, at least GE isn't Alibaba (NYSE:BABA), a company that just plows through and ignores investors' questions: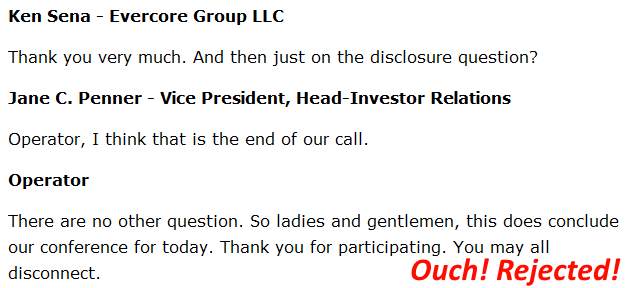 It's time for this to stop. Investors should vote with their money and call these companies out. We are being misled by management.
GE does not look good on paper right now. They might look better in the future, and long-term investors might choose to hold here. But the lack of honesty and transparency in combination with the weak earnings- meant to drive the stock- is concerning and should be factored into the opportunity cost of holding GE versus other stocks in the same sector or of the same dividend safety.
Learn More about Earnings
My Exploiting Earnings premium subscription is now live, here on Seeking Alpha. In this newsletter, we employ both fundamental and pattern analyses to predict price movements of specific companies after specific earnings. I offer specific strategies for playing those earnings reports. To-date, we are 94% accurate on earnings report predictions.
Disclosure: I/we have no positions in any stocks mentioned, and no plans to initiate any positions within the next 72 hours.
I wrote this article myself, and it expresses my own opinions. I am not receiving compensation for it (other than from Seeking Alpha). I have no business relationship with any company whose stock is mentioned in this article.