Rumor generation surrounding iPhone 7 has reached a new phase in which videos have surfaced of people handling the alleged iPhone 7. Are these rumor-videos any more credible than the myriad rumor-stills of the iPhone that have been released? Not really. In this article I'll explain why I think that, as well as my take on what credible information there is concerning Apple's (NASDAQ:AAPL) next iPhone.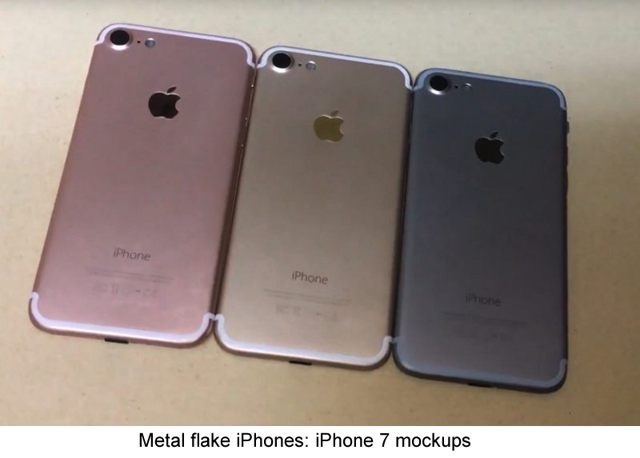 Click to enlarge
Source: MacRumors
Cottage Industry
In 2014, a number of fairly accurate mock ups of the iP6 appeared in the weeks before launch, as I discussed in my article Thinking Critically About iPhone 7 Rumors. One of the most convincing is embedded below:
The producer of this video and sites that carried it acknowledged that what was being shown was a mock up and not an actual device. What is the purpose of generating these mock ups? So that videos can be made of them and posted on YouTube. Such videos generate a significant amount of interest. The above video has over 1.4 million views.
In the past few years, a veritable cottage industry has sprung up for the purpose of creating mock ups of the next iPhone. And some, like the one above, have been surprisingly accurate.
What's different this year is that the creators of the mock up videos are giving the impression that these are real devices. Almost certainly, they are not. The two most interesting videos are embedded below:
Why do I not think they're real? The most important feature that the two videos have in common is that they never show the front of the phone. They don't show the phones functioning.
They don't show the screen side of the phone because that would be much more difficult to duplicate convincingly. Apple's iPhone screens make extensive use of glass machining. The screen has holes and slots machined into it for the Home button, etc, as well as a gentle curved bevel around the edge. This would be much more difficult and expensive to reproduce convincingly.
I'm not even convinced that the mock iPhones are made out of metal. They appear to be spray painted with metallic paint, in colors that are a ghastly mockery of the finishes Apple achieves in its aluminum bodied phones.
The message of the videos seems to be: look how inferior and derivative the new iPhone 7 is. Whether deliberate or not, the videos fit neatly into the ongoing narrative that iPhone 7 will lack innovation.
A Load of Chaff
Is there anything worthwhile to be gleaned from the rumors? I think there is, and for that reason I decided to write another in my series of Sifting the Apple Rumors articles. However, separating the wheat from the chaff seems to be especially difficult this year, and there's a lot more chaff than in the past.
Screen
One of the examples frequently cited for lack of innovation is the iPhone 7 screen. Poor pathetic Apple is still using LCD screens when everyone knows that OLED screens are superior. In fact, I've pointed out that OLED has a number of drawbacks, including serious screen color and brightness non-uniformity, as well as image burn in and life limitation for the blue pixels.
The main advantage of OLED is that it supports a wider color gamut, and this is something that consumers notice right away about the screens. This makes for great "counter appeal" - the smartphone analog of curb appeal. Undoubtedly, it helps sell phones.
Apple took that advantage away from OLED with the smaller iPad Pro. It offers a color gamut comparable to OLED, without the disadvantages of OLED. How Apple achieved this isn't exactly clear, but it probably involves modifications to the design of the LCD back light.
There's nothing that keeps Apple from offering it in its new display products going forward, and I expect it to be in the iPhone 7 generation. In addition, Apple will probably also offer its True Tone feature (also in the smaller iPad Pro), that adjusts color temperature to fit background lighting conditions.
All of these changes I consider to be significant innovations, and that's just in the screen.
Antenna Lines
Removal of one of the antenna lines has been a feature of the rumor-images of iPhone 7 from the beginning of the year. After looking at antenna design, I've concluded that elimination of the antenna line is feasible.
However, in June 2015 news emerged of an Apple patent for a material that would hide antenna lines altogether. The material is transparent to radio waves, but has the appearance of anodized aluminum. So I think it's likely that whatever antenna lines remain on iPhone 7 will be barely noticeable, and not the thick stripes shown in the mock ups.
No Headphone Jack
Yes, the classic 3.5 mm headphone jack is going away in the new iPhone. There are a number of reasons for this. Deletion of the jack will save space and allow the phone to be thinner. I consider this one of the key arguments for the iPhone 7 being thinner.
Consumers shouldn't mourn the passing of the audio jack. The ugly fact is that the sound quality of the iPhone and Apple's other iDevices such as iPod was not particularly good when compared to really high quality (audiophile) sound reproduction. It was good enough for the MP3 era, but the need to compress drastically audio files has been reduced by the massive storage now available in portable devices. Furthermore, now that genuine ear phones such as Apple's Beats are becoming more popular than ear pods for music, the limitations of the electronics in the iDevices is becoming more noticeable.
The advantage of using the Lightning port or Bluetooth is that now the audio comes out of the device as pure digital data. The user can choose the quality of Lightning or Bluetooth equipped audio reproduction that is desired. With a suitable choice of headphones, audio quality will be far better than it ever was through the headphone jack.
This is a change akin to the improved color gamut of the screen, that has a direct impact on the quality of the user experience.
Improved Processor
Apple has been on a yearly cadence for processors for the iPhone and iPad for many years now. There's no reason to think that the next generation system on chip (SOC) won't follow this cadence. Every year, Apple's SOCs have gotten faster and more computationally powerful. In addition, the built in graphics processors in the SOC have also improved and become capable of handling higher resolution displays.
Last year, Apple moved its SOCs to the new 14-16 nm processes of Samsung (OTC:SSNLF) and TSMC (NYSE:TSM). This year, Apple is expected to use TSMC exclusively, but will continue to use a variant of TSMC's 16 nm FinFET process. Much of the performance gain last year was due to the new process, so I don't expect as big a jump this year. Most likely, the performance improvement will be on the order of 30%.
I expect the biggest change that will come this year will be in support for 4K video output. The iPhone 6s camera already supports 4K video capture, but only 1080p video playback through the Lightning Digital AV adapter or through Airplay. I expect a new Lightning adapter that will support 4K and possibly a faster data interface for Lightning itself (USB 3.0 equivalent).
Thinner Case
I expect the case to be noticeably thinner this year, although not as thin as I originally expected. I now expect Apple to be able to shave about a half a millimeter off the thickness based on the audio jack deletion and some circuitry reduction. Since the SOC process is basically the same as last year, there won't be any great improvement in power efficiency for the device, and therefore the battery requirements stay about the same.
Improved Cameras
Apple is known to have acquired LinX Imaging in 2015, which specialized in multiple aperture camera systems that could provide a number of benefits. These benefits included stereoscopic imaging and optical zoom capability.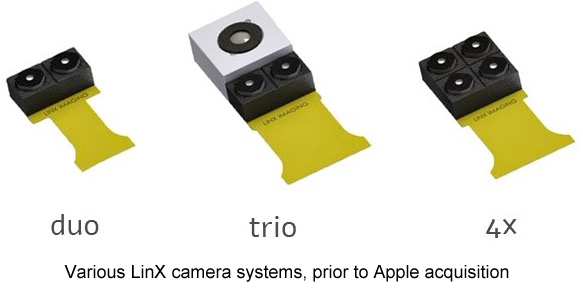 Apple also has needed to improve its camera's low light capability, presumably with image sensor and optics changes to make it more sensitive. These changes are likely reflected in the larger camera aperture shown in the mock ups. However, I expect Apple to continue to use sapphire cover plates to protect the camera optics. Although not quite as transparent as glass, sapphire is much more durable.
Although some have complained about this, using sapphire can result in better image quality compared to cameras without it. This is because as a normal smartphone is used and handled, the exposed optics of the camera lens becomes scratched, often microscopically. These scratches contribute to "lens flare" which can occur most often out of doors when a strong light source like the sun shines on the lens. Apple's sapphire lens protector completely eliminates this.
Although I'm still a little dubious about what the mock ups are showing in terms of size of camera bumps, I think the basic conclusions from them are correct. The iPhone 7 will have a single larger aperture camera and the iPhone 7 Plus will sport the dual lens camera.
iOS 10
I couldn't conceal my disappointment with the lack of multitasking features for the iPhone Plus in the forthcoming iOS 10. Given what's coming with Android N, I think this could be a serious miscalculation on Apple's part.
Or not. After thinking about it and trying to understand Apple's decision process, I concluded that Apple chose to avoid multitasking not because the processor couldn't handle it, but because it would be too much of a battery drain. Most of the changes in iOS 10 amounted to offering "the next best thing" to multitasking, without actual multitasking.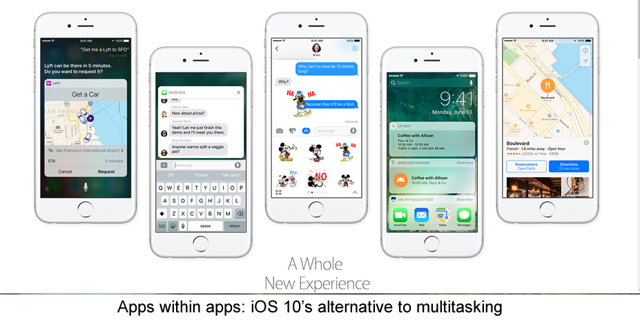 Click to enlarge
As one can see from the developer page, the big feature that Apple is pushing in iOS 10 is enhanced App widgets that can be embedded in things like the Notification panel, and even in other Apple provided apps such as Maps and iMessage. This affords some of the functional feel and convenience of multitasking, without going all the way.
For the 2017 iPhone, Apple's foundry partners (either Samsung or TSMC) will have moved to the 10 nm FinFET node, which will offer some inherent power savings compared to the 14-16 nm nodes. As a result, Apple will probably elect to offer multitasking on iPhone for 2017. But this will have been a year after Android, and I wonder about the impact of that year.
Investor Takeaway
All told, the changes I've summarized above certainly qualify as a new design. The idea that Apple is moving to a multi-year design cadence is just nonsense. The exterior changes may be subtle, but there's so much more to the design of the iPhone than just what the case looks like.
Obviously, the most important question facing investors is what's the market potential of iPhone 7, assuming it turns out more or less as I expect. I think there are a lot of "user facing" improvements in the screen, video output, audio output and cameras that consumers will warm up to.
My main reservation is in the area of iOS 10. Apple's decision not to include multi-tasking in iOS 10 for iPhone may prove a critical blunder. It really depends on how good the experience turns out to be on competing Android N devices. At the very least, this will become a major marketing lever that Android device makers will keep pulling for the next year.
I think it's a little too early to offer sales projections for iPhone 7, especially for the all important December quarter, but I'll be very anxious to hear Apple's guidance for the September quarter when it reports fiscal Q3 earnings next week. I remain long Apple and recommend it as a buy for investors with a 3-5 year investment horizon.
Disclosure: I am/we are long AAPL.
I wrote this article myself, and it expresses my own opinions. I am not receiving compensation for it (other than from Seeking Alpha). I have no business relationship with any company whose stock is mentioned in this article.
Editor's Note: This article discusses one or more securities that do not trade on a major U.S. exchange. Please be aware of the risks associated with these stocks.