XOMA Corporation (NASDAQ: XOMA) is a Berkley, California, based biotechnology company with a focus on developing monoclonal antibodies for various diseases using proprietary technologies like ADAPT, ModuleX and OptimX (link to details).
This company has been around for about three decades and has been unfortunate to bring any product to the market yet despite promising technology that has attracted recent collaborations with large companies like Novartis (NYSE:NVS) and Novo Nordisk (NYSE:NVO). The company had some setbacks when its pivotal clinical trials for Gevokizumab, a monoclonal antibody against interleukin-1 beta, a proinflammatory cytokine, failed in Behcet's disease-related uveitis (an inflammatory eye condition) and pyoderma gangrenosum (an inflammatory skin condition). We have seen some positive developments regarding this company like shifting focus to endocrinology and partnerships/collaborations with larger companies which could be worth hundreds of millions of dollars. Currently, the company's common stock is trading at a level where investors seem to be attributing almost no value to its remaining product pipeline.
An explanation for the failure of Gevokizumb in inflammatory diseases could be that the inflammatory pathways involved in the pathogenesis of uveitis and pyoderma gangrenosum are complex and involve various mediators and receptors. Thus, blocking a single target was not enough to stop the inflammation. XOMA has now shifted its focus to endocrinology. Its monoclonal antibodies are being tested to block receptors to hormones like prolactin, insulin, parathyroid hormone and ACTH. Since each hormone is expected to act through a single receptor, XOMA expects that its monoclonal antibodies may be successful in treatment of clinical conditions where these hormones are in an excess.
The common stock is currently trading at an attractive level considering multiple upcoming catalysts like results of Phase 2 pivotal trials in hypoglycemia due to congenital hyperinsulinism, post-bariatric surgery-related hypoglycemia, and hyperprolactinemia. In addition, the company has signed collaboration agreements for some early stage product candidates that could be worth several hundreds millions dollars. We are initiating coverage on XOMA Corporation with a Buy rating and long-term price target (intrinsic value based on risk-adjusted NPV/enterprise discounted cash flow method) of $1.79/common share. We consider it a speculative buy for aggressive investors and would not recommend allocating more than 0.5% of capital to this micro-cap stock.

Investment Highlights:
Common stock price target = $1.79
Current stock price = $0.56
52-week stock price range = $0.44 to $2.03
Market Cap = $67.4 million
Average daily stock volume = 1,142,285
Cash/cash-equivalents/marketable securities = $46.6 million
Cash enough to last till = Q1 2017
Debt = $46.2 million
Short Interest = 7.7%
Short Interest, days to cover = 3.6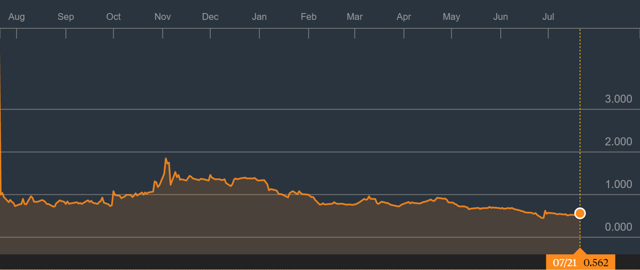 Figure 1: XOMA common stock price chart (from Bloomberg.com)
Investment Thesis: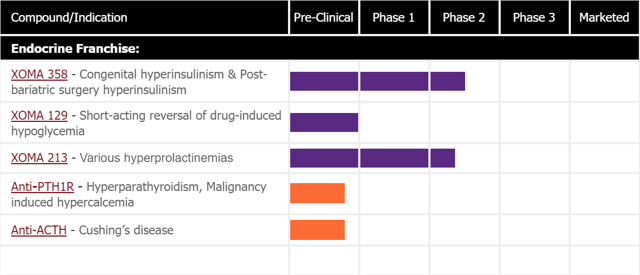 Figure 2: XOMA product developmental pipeline
What is congenital hyperinsulinism and why we need better therapies for it?
Brief overview of congenital hyperinsulinism:
Congenital hyperinsulinism (CHI) is a debilitating disorder that is the most common cause of persistent hypoglycemia (dangerously low blood glucose levels) in neonates and infants. This is a genetic disorder with both familial and sporadic forms. The incidence of CHI is about one in 30,000 to 1 in 50,000 live births and persons with North European ancestry (source: 10-K). The incidence is increased in populations with high prevalence of intermarriage. According to XOMA's estimate, there may be about 6,000 patients with CHI in the U.S. and an equal number in Europe.
Normally, when the blood glucose falls below 60 mg/dL on the small amounts of insulin are secreted. However, in patients with CHI, high levels of insulin are released even in response to low blood glucose levels (due to an abnormality of feedback relationship between the plasma glucose concentration and insulin secretion). This feedback abnormality can arise due to various genetic mutations in about 50% of cases.
Infants with CHI present with symptoms of abnormally low blood glucose levels like lethargy, poor feeding or even seizures within the first few hours to days of birth. Persistently low blood glucose levels can even lead to cognitive dysfunction. A child with CHI due to genetic mutations needs to be differentiated from other causes of hypoglycemia like maternal diabetes, intrauterine growth retardation, and birth asphyxia that may resolve after few months.
CHI is diagnosed by measuring inappropriately elevated plasma insulin level and C-peptide level during episodes of hypoglycemia. An improvement in blood glucose in response to octreotide can also be used to confirm the diagnosis and as a therapy for hypoglycemia. Measurement of various hormones like growth hormone and cortisol may be necessary to rule out hypopituitarism as a cause of hypoglycemia. Genetic testing may be necessary to identify the specific mutation type since some common mutation types may not respond to diazoxide therapy. Hypoglycemia due to CHI needs to be differentiated from intentional exogenous insulin administration, accident or malicious ingestion of antidiabetic drugs like sulfonylureas and insulin secreting tumors.
In patients who fail medical therapy, the next step is removal of the pancreas, which is the site of insulin secretion. Radiographic tests may help to determine if only a small portion of the pancreas or the whole pancreas needs to be removed. Removal of the pancreas results in diabetes, thus adding to the comorbidity and ongoing treatment costs.
The primary goal of therapy in this disorder is to maintain the blood glucose level within the normal range through oral administration or IV administration of glucose. Continuous IV infusions of glucose or frequent high carbohydrate meals may be needed. Diazoxide is a specific ATP-dependent potassium channel agonist. It blocks the sulfonylurea receptors on the beta islet cells in pancreas, opens the potassium-ATP channels and reduces insulin release. Clinical response to diazoxide depends on the specific mutation type of CHI. Diazoxide has side-effects like retention of water and salt that could lead to heart failure. Few common mutations might not respond to dioxide therapy.
Octreotide may be useful in some cases of CHI that do not respond to diazoxide. Surgical resection of the pancreas is used in cases not responding to medical therapy; however, up to 96% of these cases develop insulin-dependent diabetes by 11 years after surgery. Patients with CHI have poor prognosis. About 21% of patients develop psychomotor retardation, and 16% patients develop seizure disorder. These patients may also develop cognitive disorders like disorders of short-term memory. Clearly, there is a need for more effective and safer therapies for this debilitating disorder affecting infants and children.
XOMA-358 in treatment of CHI:
XOMA-358 is a monoclonal antibody that is negative allosteric modulator of the insulin receptor. The treatment is safe and its effects can be reversed by addition of insulin. Results of a Phase 1 study were presented at Endo scientific conference in 2015. The product has a long half-life of about 15 to 26 days and has potential for once or twice monthly dosing. This allows for ease of administration since these infants have to just get these infusions once or twice per month. This is much more convenient than other medications which might not be as effective and have more side effects.
In the Phase 1 study, XOMA-358 was safe and effective. It has Orphan Drug designation from the U.S. and E.U. for treatment of CHI. The product is being studied in a Phase 2, proof-of-concept study in CHI at Children's Hospital of Philadelphia and two more clinical sites in London and Germany. About 12 CHI patients are expected to be enrolled. There is no separate placebo arm in this study, and the company's testing the concept of improvement of hypoglycemia after administration of the study drug as a proof of its clinical efficacy.
Competitors:
Biodel, S-cubed Ltd. And Xeris Pharmaceuticals are developing formulations of glucagon for treatment of hypoglycemia in CHI which may compete with XOMA-358.
Valuation of future revenue due to XOMA-358 in CHI:
Due to orphan indication, we estimate the annual price for XOMA-358 in this clinical indication is $100,000. We input market size in the U.S. and E.U. as 12,000 patients (adding 180 new cases per year), and peak market penetration of 40% at patent expiry. We did not include potential revenue outside the U.S. and Europe. We expect XOMA to license commercialization rights outside the U.S. and Europe to another larger company in exchange for milestone payments and royalties. Patents for XOMA-358 are pending and we expect these patents to last till 2034 in the U.S. and Europe.
Using these inputs, we forecasted peak risk-adjusted revenue (30% probability of reaching the market) of about $183 million in the U.S. and E.U. from this indication. This could translate to peak revenue of about $610 million if the risk is removed after drug approval.
Using these revenue estimates, discount rate of 15% initially, then decreased to 12% and 10% over time, and undiluted share count, we calculated contribution to intrinsic value per common share of $0.70 from this clinical indication (risk-adjusted NPV or enterprise DCF method). Link to spreadsheet.
XOMA-358 in treatment of post-bariatric surgery hypoglycemia:
XOMA-358 is also being studied in a Phase 2 study in post-bariatric surgery hyperinsulinism. The condition may be observed up to three years after bariatric surgery. According to the company's estimate, about 0.2 to 11% patients undergoing gastric bypass surgery may develop symptoms of hypoglycemia. However, there is a spectrum of disorders causing hypoglycemia after bypass surgery. Most early cases are due to dumping syndrome or early gastric emptying. There have been recent case-reports of some patients who develop hypertrophy of insulin-reproducing islets of pancreas (nesidioblastosis) after few years of Roux-en-Y-bypass surgery. This procedure is increasingly being replaced by less-invasive procedures and this condition appears very rare.
The Phase 2 study in post-bariatric surgery patients is ongoing and up to 20 patients will be enrolled. There is no separate placebo arm and each subject acts as its own control. The clinical efficacy of XOMA-358 will be measured by improvement in hypoglycemia induced by a high glucose meal after the study drug administration.
Since this condition is very rare and there is no specific epidemiological data of prevalence of nesidioblastosis after gastric bypass surgery, we will skip inclusion of future revenue from this clinical indication in our valuation for now.
XOMA-213 in hyperprolactinemia:
Hyperprolactinemia is a condition of excess secretion of prolactin hormone from the pituitary gland. The condition may be caused by reversible causes like medications (some antipsychotic drugs) or prolactinoma (a benign pituitary gland tumor secreting excess prolactin).
Symptoms of hyperprolactinemia include sexual dysfunction, infertility and osteoporosis. Currently, the first-line medical therapy of prolactinoma is treatment with dopamine agonist medications like bromocriptine and cabergoline. About 10% of patients with hyperprolactinemia due to a pituitary adenoma do not respond or cannot tolerate the first-line medical therapy with a dopamine agonist
Surgical removal of the pituitary gland may be required in cases that do not respond to medical therapy. However, supplementation of hormones like cortisol and thyroid hormone may be needed after surgery and other complications like diabetes insipidus (lack of urine concentrating ability of kidneys) may occur.
XOMA-213 is a monoclonal antibody that blocks the prolactin receptors. It was initially licensed to Novartis, but XOMA has bought all worldwide rights back. It might be useful in treatment of excess prolactin level in medically refractory cases and may help to avoid the complications associated with pituitary surgery.
Valuation of future revenue due to XOMA-213 in treatment of medically-refractory prolatinoma:
We estimate the annual price for XOMA-358 in this clinical indication of $50,000 in line with similar drugs. We input market size in the U.S. and E.U. as 6,000 patients (adding 1300 new cases per year), and peak market penetration of 15% at patent expiry in 2028.
Using these inputs, we forecasted peak risk-adjusted revenue (30% probability of reaching the market) of about $116 million in the U.S. and E.U. from this indication. This could translate to peak revenue of about $387 million if the risk is removed after drug approval.
Using these revenue estimates, discount rate of 15% initially, then decreased to 12% and 10% over time, and undiluted share count, we calculated contribution to intrinsic value per common share of $0.63 from this clinical indication (risk-adjusted NPV or enterprise DCF method). Link to spreadsheet.
Contribution of non-operating assets minus liabilities to fair value per share:
Adjusting for operating loss carry-forwards, employee stock option liabilities, warrant liabilities, etc., the contribution of non-operating assets like cash/cash equivalents minus liabilities was calculated at $0.46 per common share (Link to spreadsheet).
Other early stage programs in endocrinology:
These include: XOMA-129, a monoclonal antibody to treat acute cases of hypoglycemia, and monoclonal antibodies against receptors for parathyroid hormone (treatment of hyperparathyroidism) and adrenocorticotrophic hormone (ACTH, treatment of Cushing's disease due to ACTH excess). These are common clinical conditions and may be significant revenue drivers in future. These programs are still in preclinical stage and we did not include their future revenue contribution to our valuation. We will update the valuation according to further developments in these programs.
Partnerships: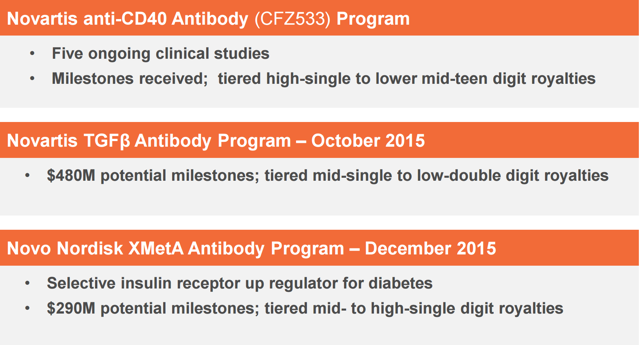 Figure 3: XOMA Corp. existing partnerships and collaborations (source: investor presentation)
Multiple larger companies have shown confidence in XOMA's monoclonal antibody technology by licensing it for various indications (figure 3). Due to high degree of uncertainty due to early stage, we do not assign significant value to these programs for the purpose of our stock valuation. We would watch out for further developments in these therapeutic areas and update our valuation as needed. A link to spreadsheet with calculation of the risk-adjusted NPV of future milestones from Novartis TGF-beta program is here.
Near-term catalysts:
Results of Phase 2 trial of XOMA-358 in hypoglycemia due to congenital hyperinsulinism may be released later in 2016.
Management and Board of Directors:
John Varian, CEO: He has more than 25 years of experience in senior leadership roles in the pharmaceutical and biotechnology industry. In the past, he has served as the chief operating officer and chief financial officer of Aryx Therapeutics, chief financial officer of Genset S.A., senior vice president at Elan Pharmaceuticals, and chief financial officer at Neurex Corporation.
James Neal, senior vice president and chief operating officer: He has served as acting CEO of Entelos Inc., CEO at Iconix Biosciences, and worked at Monsanto Company.
Paul Rubin, chief medical officer and senior vice president, research and development: He has served as the chief medical officer at Funxional Therapeutics, CEO of Resolvyx Pharmaceuticals, and Critical Therapeutics, Inc. He has also worked in senior leadership positions at Sepracor, and Glaxo-Wellcome Pharmaceuticals and Abbott.
Board of Directors: The Board of Directors includes a former chief counsel for the FDA, current CEO and President of Gradalis, Inc. Dr. Patrick Scannon, M.D., PhD, XOMA's founder and chief scientific officer is a member of the University of California-Berkeley's Chancellor's community advisory board. He serves on the Boards of several companies and institutions, and is currently a member of the Defense Sciences Research Council. He is also an inventor or co-inventor of several issued US patents. Current chairman, president and CEO of Horizon Pharma is also a member of the board. Another board member was the Executive Vice President and chief financial officer at Schering-Plough in the past.
More details about the management team and Board of Directors can be accessed here.
Sum-of the parts valuation:

Risks in the investment: Various product candidates mentioned above might fail to succeed in clinical trials, side effects might limit their use, regulatory agencies might not approve them and healthcare insurers might not reimburse them. The company also holds significant debt. Future capital raise may dilute existing shareholders and put downward pressure on the stock price.
Conclusion: In conclusion, we are initiating a Buy rating on XOMA Corporation with long-term price target (intrinsic value) per common share of $1.79 using sum-of-the parts DCF method of valuation (risk-adjusted NPV). We are including it in our firm model portfolio. This is a speculative investment more suitable for aggressive investors and we recommend allocating no more than 0.5% of capital to it. Patient, long-term investors may be rewarded by buying this investment at its current stock price.
Note: To get more investment ideas like this as soon as they are published, click on my profile and hit the "Follow" button and choose the real-time alerts option.
Disclosure: I am/we are long XOMA.
I wrote this article myself, and it expresses my own opinions. I am not receiving compensation for it (other than from Seeking Alpha). I have no business relationship with any company whose stock is mentioned in this article.
Additional disclosure: This article represents my own opinion and is not a substitute for professional investment advice. It does not represent solicitation to buy or sell any security. Investors should do their own research and consult their financial advisor before making any investment.
Editor's Note: This article covers one or more stocks trading at less than $1 per share and/or with less than a $100 million market cap. Please be aware of the risks associated with these stocks.