All eyes will be on Apple (NASDAQ:AAPL) when the company reports its fiscal third quarter results after the bell on Tuesday. Overall expectations remain low as the technology giant will likely report sizable declines in its three main product categories. Interestingly enough, analyst estimates for fiscal Q3 almost mirror the results we saw back in April. Apple shares closed Friday about one percent above the post-earnings day close from then as well. Today, I'll look at some of the key items to look for in Tuesday's report.
Overall, the street is just above the midpoint of Apple's $41 billion to $43 billion revenue range, currently looking for $42.11 billion. That would represent a decline of 15.1% over last year's period, while earnings per share are forecast to drop from $1.85 to $1.38. As I mentioned above, forecasts for unit sales declines in the three major products almost mirror declines seen in the Q2 period:
Mac - 4.35 million. 10.3% decline vs. 11.6% in Q2.
iPhone - 40.0 million. 15.8% decline vs. 16.3% in Q2.
iPad - 8.86 million. 18.9% decline vs. 18.8% in Q2.
The biggest difference this time around is that iPhone average selling prices are going to fall thanks to the cheaper SE model. Whereas Apple netted $642 in Q2 (and $660 in last year's Q3), we could see the ASP fall below $600 in this period if SE sales represent a large enough percentage. The new phone will likely impact margins a bit, which is why Apple guided to gross margins of 37.5% to 38.0%, compared to 39.4% seen in Q2.
We are again likely to hear Apple management continue to stress the sizable revenue gains being made in the company's services segment. Part of that is due to Apple Music, which has obtained over 15 million paid users in less than a year, which means the service is nearing a $2 billion annual revenue run rate. I'm also curious to hear how Apple Pay is doing, as more adoption of the service around the globe can help contribute to the long-term picture. Finally, how much did management step in to buy back stock given the fall in shares after last quarter's results? With interest rates this low, Apple can realize a cash flow savings when the dividend yield of shares the company retires is higher than the after-tax cost of debt.
With the next version of the iPhone expected in September, analysts are expecting the usual sequential rise in revenues for the company's fiscal Q4 period. However, we've seen forecasts continue to come down, even after the initial drop on Q3's weak guidance. In the table below, you can see a history of Q4 revenue estimates. Earnings per share for Q4 are forecast to decline from $1.96 to $1.61, but that's not as bad as the projected Q3 fall.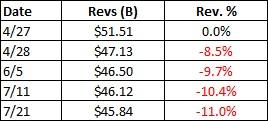 (Data sourced from Yahoo Finance analyst page linked above)
The quarter we are in now will finish off what has been a very disappointing fiscal 2016 period for Apple. Current, expectations are calling for a return to revenue growth in fiscal 2017, but which quarter will the topline again show an increase? That remains to be seen and is most likely dependent on how strong this year's iPhone launch is, along with what product refreshes we get. If the company finally launches a second edition Watch, along with a number of new iPads and Macs for the holiday season, the company may be able to overcome a tough iPhone comparison in the holiday Q1 period. As seen in the chart below, Apple shares are currently trading between their 50 and 200-day moving averages. This week's earnings report will set up the stock's next move into the iPhone 7 launch.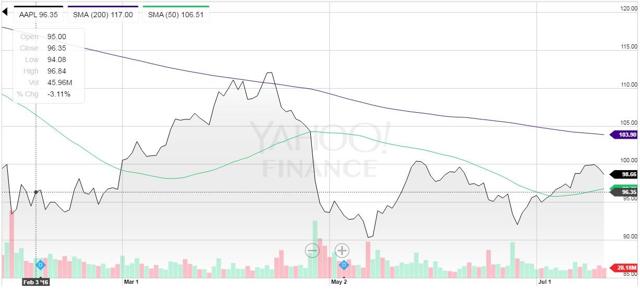 Click to enlarge
(Source: Yahoo Finance)
Disclosure: I/we have no positions in any stocks mentioned, and no plans to initiate any positions within the next 72 hours.
I wrote this article myself, and it expresses my own opinions. I am not receiving compensation for it (other than from Seeking Alpha). I have no business relationship with any company whose stock is mentioned in this article.
Additional disclosure: Investors are always reminded that before making any investment, you should do your own proper due diligence on any name directly or indirectly mentioned in this article. Investors should also consider seeking advice from a broker or financial adviser before making any investment decisions. Any material in this article should be considered general information, and not relied on as a formal investment recommendation.