The duel between the longs led by Carl Icahn and the shorts led by William Ackman has reached another impasse in spite of the US Federal Trade Comission (NASDAQ:FTC) ruling on Herbalife (NYSE:HLF). The argument has been ably covered by highly regarded Seeking Alpha authors.
Net, main arguments for the bulls are:
FTC has not ruled that Herbalife is a pyramid scheme.
HLF has a sound business model and even if the profitability of US business is constrained, most of HLF business is coming from large international markets.
I am long HLF, I enjoy their highly nutritious tutti-fruti shakes for breakfast everyday which I buy from the sweet neighborly lady and I don't like Ackman betting against my position.
The main arguments of the bears are
While the FTC has not used the "P" word, the consent decree pretty much guarantees that HLF business model is crippled. HLF will be forced to "open the kimono" to prospective recruits and instead of images of mansions, fast cars and leggy blondes lounging pool side, they will only see unglamorous underwear and hairy legs.
Other countries (from China to Canada) are going to pile in, following FTC's lead and put HLF's feet to the fire. Plaintiff & class action lawyers are going to have a feeding frenzy.
I am short HLF, my obnoxious MIL is always trying to sell us crap and I don't like Carl Icahn betting against my position.
While I have my personal bias on the bearish side, this argument will take a few weeks to months to resolve either towards the upside or the downside. What I am confident about is that HLF stock is not going to be $65 come 2018 but will be north of $100 or close to $10. Most people will leave HLF alone but I cannot. So how do I position my self on this volatile beast.
One way of doing this is to create a long straddle with options. Buying on or near the money calls and puts with a long expiry. If the stock moves by more than the combined premium amount + commission either way, you make money.
The following example illustrates my point:
This involves buying one put and one call contract with a strike price of $65 expiring on 19Jan2018.
A straddle involves buying a call and put of the same strike price. It is a strategy suited to a volatile market. The maximum risk is at the strike price and profit increases either side, as the price gets further from the chosen strike.
Underlying stock symbol (July 22, 2016)
Symbol:HLF
Current price:$66.13
Long Call
Option:19th Jan 2018 $65 Call
Price per option:$14.05
Contracts:# x 100
Total cost:$1405.00
Long Put
Option:19th Jan 2018 $65 Put
Price per option: $14.05
Contracts:# x 100
Total cost:$1405.00
Spread
Net debit/credit:$-2810.00 (net debit)
Estimated returns
HLF at $66.13 on 24th July 2016
Initial outlay: $2810 (net debit)
Maximum risk: $2810 at a price of $65 at expiry
Maximum return: infinite on upside
Break evens at expiry: $93.10, $36.90*
*If the HLF stock price goes over $93.10 or below $36.90 you make money. If the stock price remains in between $93.10 and $36.90 you are out of the money with a maximum loss if the stock price stays at $65 on 19Jan2018.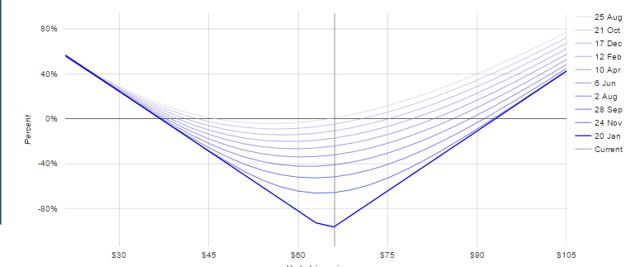 Click to enlarge
Of course one can close the position at anytime by, buying back the put and the call, if the trade is clearly going in a direction not to your liking or is exceeding your expectation and you want to lock in your profit or loss. Position sizing is critical in option trading and one should not risk more than one can afford to lose. The implied volatility of the stock is close to 50%. This strategy is not for the shrinking violet. Happy Hunting - now go and break a leg ... or not.
Disclosure: I/we have no positions in any stocks mentioned, and no plans to initiate any positions within the next 72 hours.
I wrote this article myself, and it expresses my own opinions. I am not receiving compensation for it (other than from Seeking Alpha). I have no business relationship with any company whose stock is mentioned in this article.
Additional disclosure: I plan to take a position similar to as described in the article, which I may or may not close at any time prior to expiry.