We have been bearish on oil (NYSEARCA:OIL) (NYSEARCA:USO)(NYSEARCA:UWTI) based on price and major aspects of supply and demand shifting. Major producing countries are increasing production while global GDP appears to be slowing. Major supply disruptions have also passed. The major risk to the bear case is war, whose clamor seems to be building. For the time being oil, which trades in trends, is moving down so we expect it to continue lower.
HIGH OIL SUPPLY GLOBALLY
Global Oil Supply Still High And Increasing From Top Producing Nations
For review the top global oil producers are all increasing production. Russia (13% of total world production), KSA (13%) and The US (12%) are all increasing production. With oil prices dropping further we guess that production will be biased higher as producers make up for the lost price.
There is no supply consensus in OPEC and their next meeting is not until November 30th. KSA we think is disappointed not to have consensus and so is back to push production to support their weakening economy (as we've reported).
We don't have anything telling us that supply is coming down from OPEC. We wrote last week that Iran, Saudi Arabia ("KSA"), the US, and the globe in general have higher production.
A recent report out from Goldman Sachs shows Russia increasing production every day for the next couple of years. The report states that the Russian cost is $10 per barrel so they have no problem pushing production (Bloomberg).
So we have the main producers all pushing supply.
US still has higher oil production with the risk for it to stay up.
US supply issues linger. While rig count is way down year-over-year (-414) it's stubbornly moving up of late (+15). This shows up in the chart below.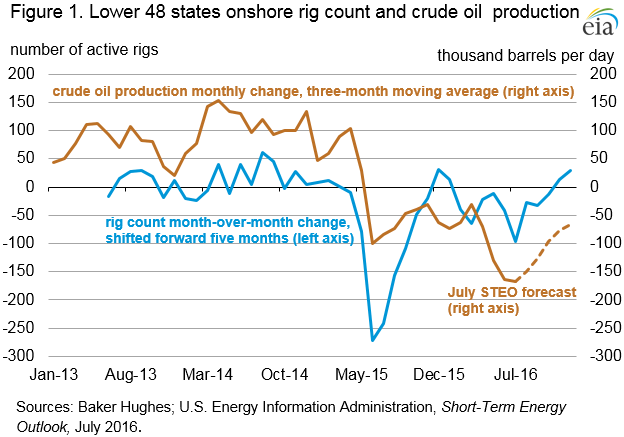 According to the EIA above it looks like rig count is expected to soon get back to overall growth again (in blue). That is in the face of prices coming down and already high production levels.
Here is a view of supply in the US versus the last few years.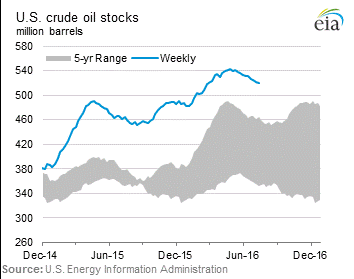 Supply is way above the last five years. As production growth remains stubborn, this chart has trouble getting back in the range (in grey). This is a constant weight on price.
Internationally sees the same supply story
KSA and OPEC
Two weeks ago, as we reported saw the OPEC report that production was up overall and at KSA and Iran (the two key countries).
| | | | |
| --- | --- | --- | --- |
| | April | May | June |
| Iran | 3457 | 3567 | 3644 |
| KSA | 10160 | 10242 | 10308 |
| Total OPEC | 32620 | 32594 | 32858 |
The level of June production was greater than it had been as far back as we see on the OPEC report (Page 61).
Supply Disruptions Waning?
There is a strike risk in the North Sea which needs watching.
That said it appears that Nigeria has made major headway in their fight against supply disruptions. Nigeria arrested one key militant and are in negotiations with another group.
SLOWING OIL DEMAND GLOBALLY
We've been showing that the global growth outlook is getting worse. The ECB and IMF both came out last week saying the globe is slowing.
If anything we've shown that global central banks are in a state of desperation. We think they are worried that the mounds of stimulus is not driving the desired growth.
As global growth slows so does the demand for oil which major oil players have talked about. In the last couple of weeks the KSA and IEA both made claims that weaker demand was coming.
The War Risk To Oil Is Building However And Needs Close Attention.
We recently reported that the US has found itself in a tough situation between Syria and Russia.
We also see multiple global hot spots building. China is strengthening its stubbornness in the South China Sea despite a recent UN ruling against it. Japan is changing its constitution to allow war.
We now have The US, Russia, The Middle East, and Asia all with building overtures of war.
It is somewhat intuitive because when economies fail and governments can't figure out a fix, the industrial war engine has helped countries get back to positive economic trends.
We found it interesting that Japan is looking to add fiscal policy to its monetary easing policy. Tie that to their goal to change their constitution to allow war and you have a green light to drive military spending. Fiscal policy will likely get voted on in September.
Slowing global GDP coinciding with a growing military murmur makes sense to us.
Oil chart is still in a downtrend.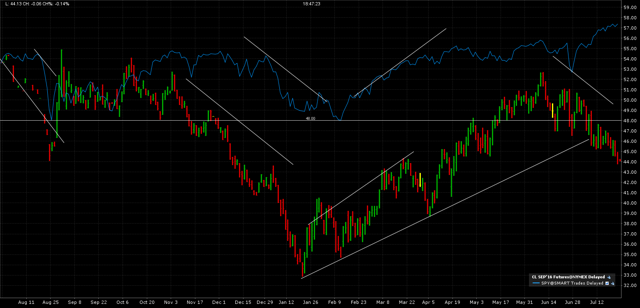 Click to enlarge
Here is oil (red and green) versus the S&P 500 (NYSEARCA:SPY) in blue.
You can see that the lines up and down in oil have led the market. Oil could be an early indicator for the market to head lower. As global demand slows it can be a weight on the S&P 500. If so that can cycle back to hurt oil demand.
Also you see that oil recently broke its uptrend. We think the downtrend is in motion and expect it to continue.
For now a key resistance is $48. If we were to hold above $48 the downtrend would most likely be over.
Dollar Strength Typically Means Weak Oil
Here's the chart of the euro (NYSEARCA:FXE) versus the dollar (NYSEARCA:UUP). Down in the chart below means the dollar is up (dollar is the denominator).
The dollar has been strengthening since Brexit. That is a key weight on oil's price.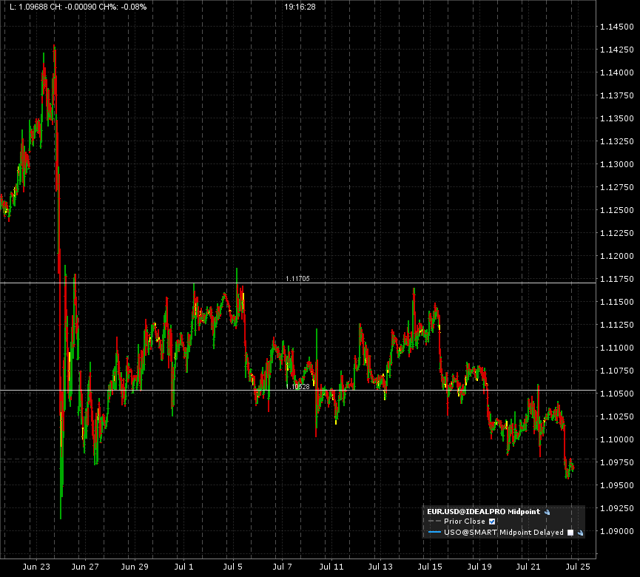 Click to enlarge
It took the dollar a little time to decide direction. That said, we are not sold that the dollar keeps strengthening. In the very near term though, with a Fed expected to get more hawkish this week, we'd expect short term dollar strength. That would help to push oil prices lower.
Conclusion
Growing supply and shrinking demand is weighing on oil. Supply disruptions have mostly waned despite the North Sea which needs watching.
The oil chart is in a downtrend which could predict the US markets. If US markets drop we think oil will have another cycle lower.
We are bearish on oil.
If you want Elazar's analysis on Seeking Alpha, scroll to the top of the article and hit "Follow." Elazar also writes real-time pieces as news is reported. If you want to be among the first updated check the box for "Real-time alerts on this author" under "Follow."
Disclaimer: All investments have many risks and can lose principal in the short and long term. This article is for information purposes only. By reading this you agree, understand and accept that you take upon yourself all responsibility for all of your investment decisions and to do your own work and hold Chaim Siegel, Elazar Advisors, LLC, bestideas, their related parties, and its authors harmless.
Disclosure: I am/we are short S&P 500 WHICH CAN CHANGE AT ANY TIME.
I wrote this article myself, and it expresses my own opinions. I am not receiving compensation for it (other than from Seeking Alpha). I have no business relationship with any company whose stock is mentioned in this article.