Medical conglomerate Johnson & Johnson (NYSE:JNJ) has been on a roll for the last couple years. The company has three businesses: Medical devices, consumer products and pharmaceuticals. Of those three, the pharmaceuticals business has been the one carrying J&J's earnings growth for the entire company, thanks to heavy research and development investments which have led to a rather strong pipeline.
Back on May 26th I wrote an article on J&J, and while I thought the stock was a bit expensive, I didn't see much of a reason to sell given the company's strong business prospects. That was with the stock 10% lower than it is today.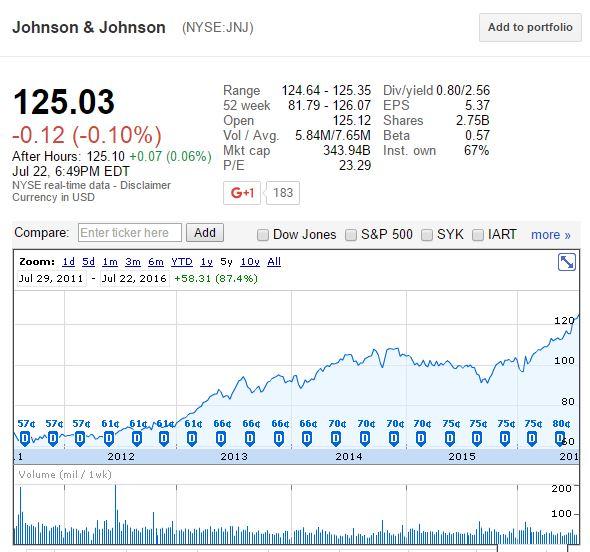 Courtesy of Google Finance.
J&J has continued higher and higher over the last few years, but earnings have usually followed this trend as well. This latest quarter continued a trend for J&J; high growth from pharmaceuticals and not much growth from the other two, with overall earnings and revenue weighed down by currency fluctuation. I actually had a small position in J&J and recently I sold all my shares. This article looks at J&J's quarter and its ongoing prospects and also the company's current valuation.
Currency effects abating
J&J's overall sales were up 3.9% year-on-year on an absolute basis, a nice improvement from previous quarters. Earnings per share improved 1.8%. However, with currency taken out and divestitures not included, worldwide sales increased a very nice 7.9%. Currency impact on overall sales were a negative 1.4 percentage points. That's still a significant impact, but the impact on earnings of a higher US dollar is easing off as the dollar has stabilized for several quarters.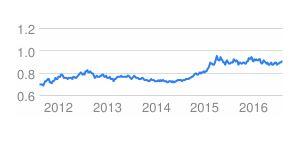 Exchange of US dollar to euro, perhaps the most relevant currency comparison for J&J. The US dollar is at a high, but as you can see, the rate has stabilized and so comparisons will be easier going forward.
Consumer medical sales declined 1.8% year-on-year, but in constant currency, sales increased 1.3%. Medical devices saw a sales increase of 0.8%, with constant currency sales up 1.8%. Both consumer and devices appear to be pretty stable businesses and should continue to be.
The Pharmaceuticals business seems to be where most of the growth is going to come from. Revenue jumped 8.9% year-on-year or 9.7% in constant-currency terms. Sales were led by very strong performances in Imbruvica, Zytiga, Xarelto, Darzalex and Invocana, all of which are fairly new, patented drugs on the market. Domestic operational sales increased an impressive 13.2%.
I fully expect this trend to continue. This quarter the FDA approved Invokamet for "first line" treatment of type 2 diabetes. There was also approval for extended use of Imbruvica.
The European Commission approved Darzalax for a type of multiple myeloma and Imbruvica for "untreated CLL." The EC also gave an approval for Trevicta for schizophrenia and Simponi for a type of juvenile arthritis. Everything I can see points to continued strength from the pharmaceuticals business.
I found some of CEO Alex Gorsky's comments quite insightful. He expects global medical expenditure to grow 3-5% through the decade. J&J's revenue should grow a bit faster and earnings per share should grow faster yet. Let's be conservative and assume 4-6% revenue growth, and 5-7% EPS growth, and by proxy, the same thing from dividends. That's some good, solid growth, but is J&J an equally good value? I would argue that it is not.
Valuation
J&J is actually pretty expensive. According to data from FAST Graphs, J&J has averaged a price-to-earnings of 15.3 times over the last ten years. But right now, J&J is about 19.7 times trailing earnings. That's a premium of about 29% to the average ten-year valuation. And as I showed before, the stock continues to coast at a multi-year high. At such a premium, now is actually a good time to take some profit off the table.
In fact, that's what I've already done. Until Friday, I used to hold a small position in the stock and I decided to lock in a substantial capital gain. J&J is a great company, and I've liked it for almost a decade now. However, I believe there will be a better time to own this one.
If you're interested in Johnson & Johnson, feel free to follow me here on Seeking Alpha. While I am not long this stock anymore, I do still like the company and will continue to follow it and write update articles when material and relevant.
Disclosure: I/we have no positions in any stocks mentioned, and no plans to initiate any positions within the next 72 hours.
I wrote this article myself, and it expresses my own opinions. I am not receiving compensation for it (other than from Seeking Alpha). I have no business relationship with any company whose stock is mentioned in this article.