It has been a long two weeks for gold investors and those investing in precious metals. Gold GLD made a new 52-week high in early July of $1,377/oz and has since pulled back nearly 5% to the $1,320/oz level. While the decline is modest considering gold's 30% gain this year from its lows at $1,060/oz, several top callers have come out to proclaim the gold bull market dead. Statements like this are completely unwarranted and show how hated this rally is by those who have not participated or sold out early. A 5% pullback after a 30% rally is nothing out of the ordinary and very routine as far as retracements go.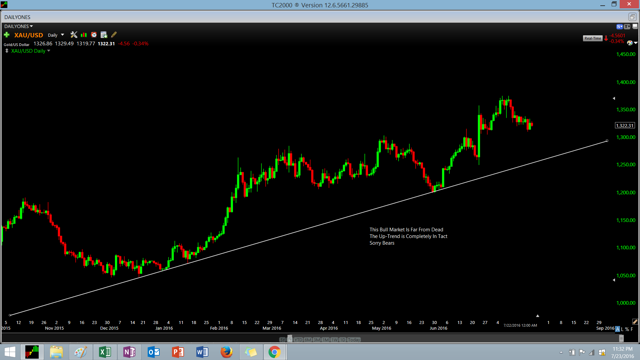 Click to enlarge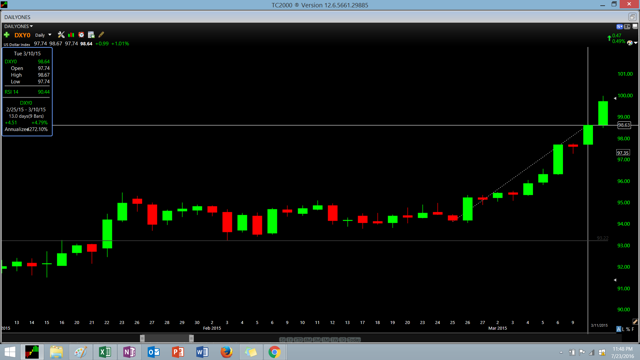 Click to enlarge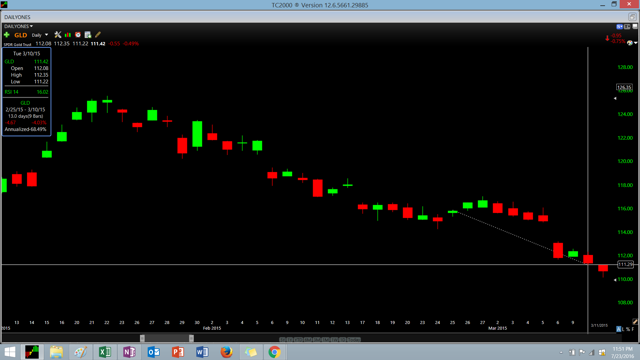 Click to enlarge
Most bears on gold are ignoring the fact that most of gold's decline has been on the back of a very strong advance in the USD. If we look at this gold move since the Brexit vote, the USD is up a whopping 4.9%, while gold has gained 6.35%. The last move of this size in such a short period for the USD was between February 26th and March 10th of 2015. The USD soared 4.8% during this 9-day period and sent the gold price tumbling from $1210 / oz to $1160 / oz. This drop in the price of gold represented a 4.1% decline over 9 trading days and was almost symmetrical to the gain in the USD. This massive difference in character from the price of gold during a period of massive strength in the USD tells us one of two things and both scenarios are bullish. The first scenario is that gold is so strong that it is completely shrugging off the USD strength and would be up 10% or more had the USD been flat. The second scenario is that gold is in its own world and has disconnected from the price of USD and no longer shares this correlation. I find the fact that gold has even been positive over the past two weeks remarkable, given the fact that this is the strongest 3-week performance for the USD since early 2015. If the USD can rally 5% over three weeks and can't manage to take the footing out from under gold, the USD may finally be a mismatch in terms of being a contender with gold. In the past the USD was the George Foreman to gold, delivering the knockout punch to the metal on any advances it made. Currently the USD is putting up a George Foreman like fight and throwing haymakers, but gold is sidestepping these shots like the butterfly, Muhammad Ali. Time will tell if gold can continue to dodge the blows by the USD, but as of now gold's resilience is something to take note of.
Gold entering its strongest two consecutive months seasonally
Gold had a remarkable start to July recording a 3% advance over the first week of the month. Its sluggishness to follow was not surprising as July is historically the 3rd weakest month of the year for the metal. Dating back to 1969 gold averages a gain of only 0.23% during July, only slightly better than the 0.26% average monthly gain in June. Gold bugs should welcome weakness in July as a buying opportunity going forward as the precious metal heads into its strongest two consecutive months of the year. Since 1969, gold prices have averaged a monthly return of 0.6% in August, and a massive 2.51% average monthly gain in September. On a cumulative basis this represents a 3.11% gain over the 2-month period. Currently gold is down 0.1% for the month of July and hovering above support, and those looking to position themselves long gold should note we are only one week away from gold's strongest seasonal period. Looking out to the end of the year, gold averages a gain of 5.36% from August to December, which at current prices represents a gain of nearly $70.00 / oz. Assuming gold finishes the month where it sits currently, a $70.00 advance would still put the precious metal at new 52-week highs near $1390/oz to finish the year.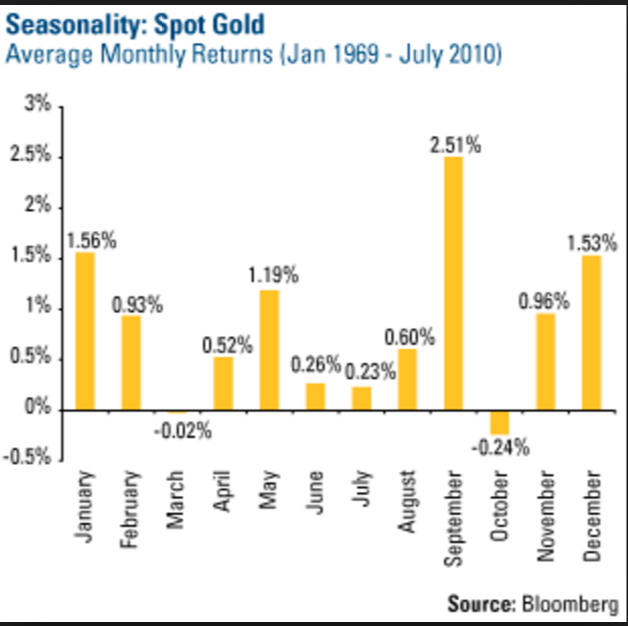 Sentiment data on Gold has washed out to neutral levels
All you hear about these days is how everyone is so bullish on gold that it can't possibly go higher. Some bears have gone as far to call gold a bubble currently, which is absolutely insane given the fact gold's last bull market ran for over 9 years and only ended after a 650% move. The current gold bull market has moved less than 35% off the lows and if it was even half as powerful as the 2002-2011 bull market, this bull market would not top until we hit $3,380/oz. I am not predicting for gold to see $3,000/oz or even $2,000/oz, I am simply trying to point out how foolish it is to call gold a bubble when it is 35% off the lows after a 4-year bear market. While some may argue that this bull market should not be expected to be as powerful as the past bull market, I would completely disagree. The 2002-2011 bull market that gained 650% before topping followed a 4-year bear market which shaved 40% off the price of gold. The most recent bear market from 2012 through 2015 was also four years in duration and eroded 45% off the price of gold. Both bear markets were nearly identical in size and length and one would expect this bull to act similarly to the most recent bull market.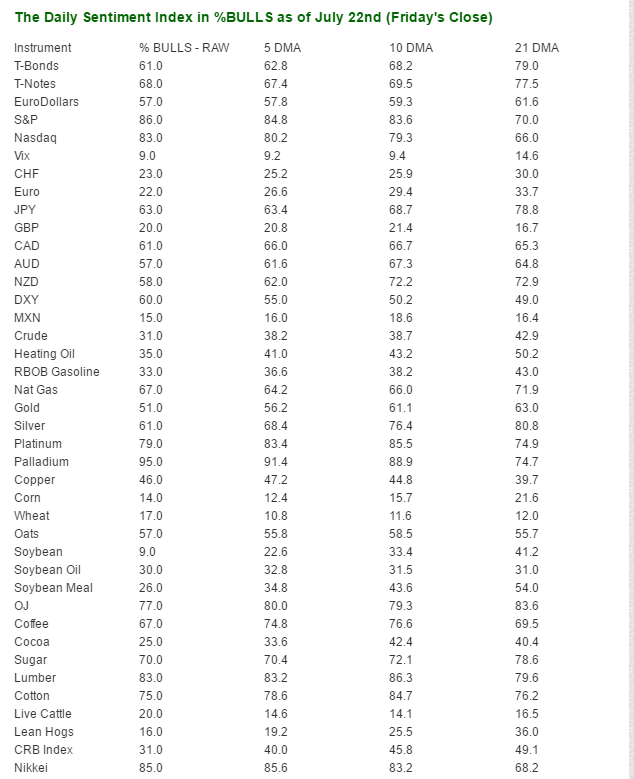 Looking at sentiment data for gold, we are nowhere near the bullish levels that many naysayers on the metal continue to conjure up. Gold ended last week at a bullish sentiment reading of 51%, which is almost completely neutral as it attempts to find support at its past breakout level of $1,300/oz. This sentiment reading is below the sentiment readings of SPY, platinum, T-Bonds, T-Notes, Oats and several other asset classes. If the bears are looking for a near-term top in a metal, maybe they should take a look at palladium instead which currently has a 95% bullish reading, over 40% more bulls than the current gold reading. The long line-up of skeptics trying to find any reason to say this bull market is over can be chalked up to the fact that these same people missed this whole rally this year and are not willing to change their stance now. It must be painful to watch the GDX and GDXJ rally 140% over five months without you, but that's no reason to call for tops just because you're jealous you didn't participate. Instead, those calling for tops should be looking for entry points to get long, as this bull market is still young and has lots of room left to run if it can hold the $1,190/oz level.
2016 Gold Bull Market starting off very similarly to 2002 Bull Market
While many people are calling a top as gold declines less than 5% from its 52-week highs posted earlier this month, the below charts show this is nothing out of the ordinary. In 2002, gold finally exited a 4-year bear market and began its new bull market with a sharp 21% advance over 6 months. This year, gold also exited a 4-year bear market and began its new bull market with a sharp 23% gain over 5 months. The 2002 bull market then went on to fall 9% from its new 52-week highs over the course of the next 7 weeks. The 2016 bull market similarly fell 8% over 4.5 weeks after making its new 52-week highs up over 20% from the lows. The 9% fall was quickly regained in 2002 when the market soared higher and gained back 9% over the following month. The current bull market acted very similarly and snapped back off the 8% pullback to record a 13% rally off the lows in the period of 1 month. After this gold staged one final correction to shake out the "late to the party" bulls and fell 5% over the following month. Currently gold has followed a similar pattern once again, falling 5% from the highs at $1,377/oz, to the overnight lows at $1,310/oz last week. Almost instantaneously after this 5% decline occurred in 2002, the real bull market began as we saw gold soar 24% over the following five months with almost no draw-downs at all during that period.
I believe the current gold bull market could be setting the stage for something similar as sentiment is washed out and we now have top callers lurking around every corner. This recent pullback has served to shake out any weak hands from gold and has added fuel in the form of potential short covering as many are lining up to short the precious metal. If we were to continue with a similar analog to the 2002 bull market, gold would complete the below pattern and finish the year above $1,600/oz. While I believe this may be a stretch and well above my target of $1,470/oz for gold this year, I am open to an overshoot as I did not expect to find so many people bearish on gold after a measly 5% correction. Those short gold currently should be aware that they are fighting price and a powerful up-trend that is currently unwinding its previous overbought condition. Fighting price has never paid, and it especially is not a good idea when you are shorting the most volatile asset class in the world. While I am open to another 1-2% decline in the metal or a lulling period over the next couple weeks, I expect to see new 52-week highs before the summer is over.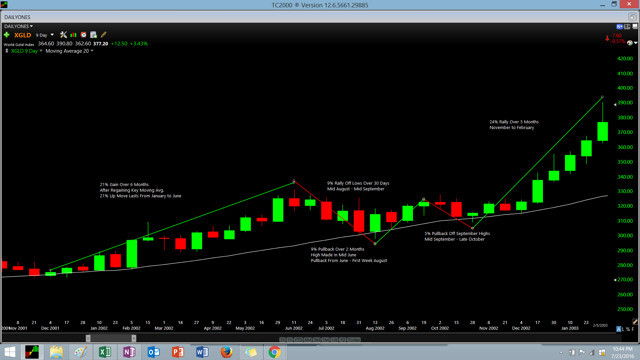 Click to enlarge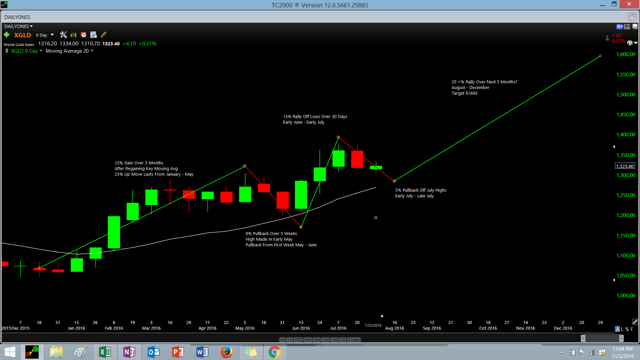 Click to enlarge
Technical Outlook and Summary
I am currently over 30% long gold miners and not selling any of my positions despite holding significant gains in both of my investment accounts. I have included my investment accounts below to show that my money is where my mouth is as I continue to hold massive percentage gains in most of my miners. I am holding these profits and riding these winners with the expectation of larger gains down the road.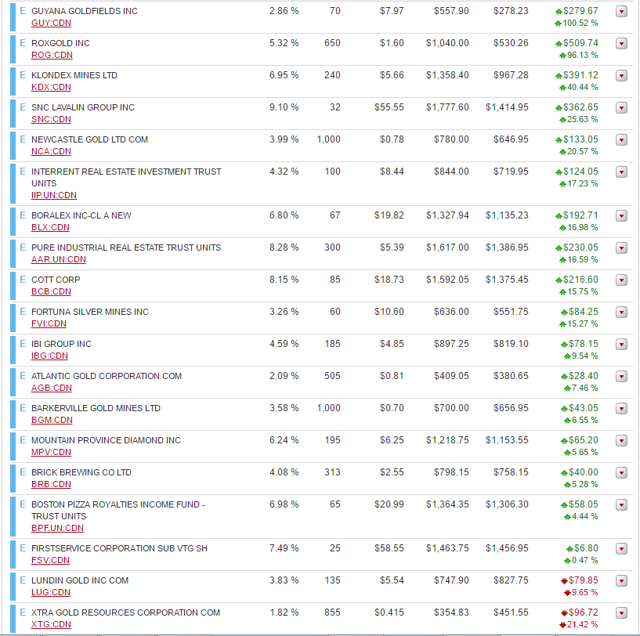 Click to enlarge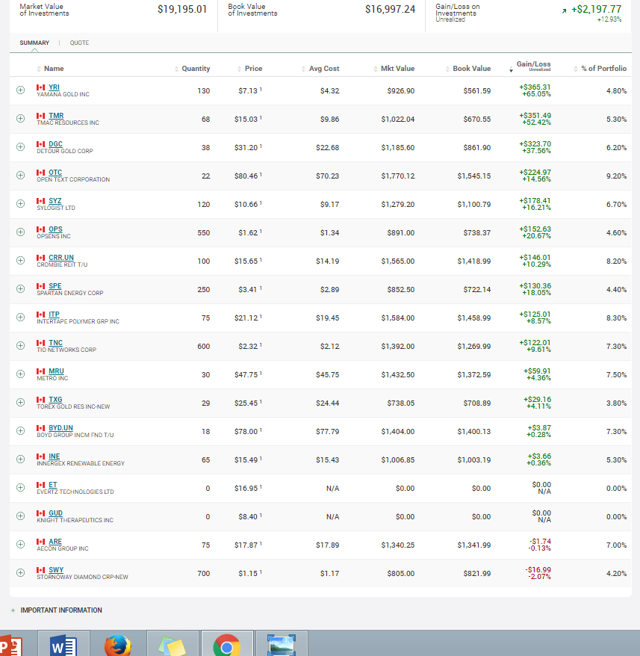 Click to enlarge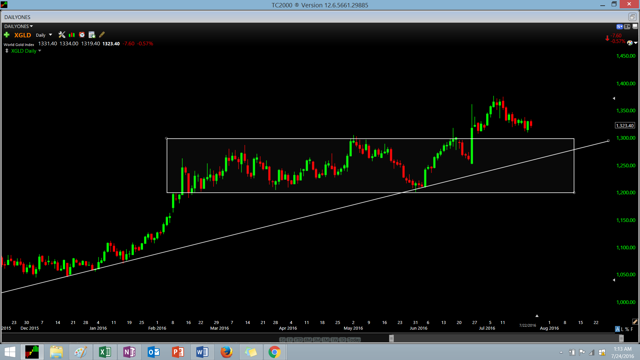 Click to enlarge
Looking at the daily view on the gold, price continues to digest its recent breakout while hanging out above the $1,300 resistance level. Due to the fact $1,300 was resistance for nearly three months, we can expect this level to provide strong support going forward on any dips. I would add to gold if I get an opportunity to do so at the $1,295-$1,300 level, but have still not been given an opportunity. My current gold position was recommended from this article in May when I stated that gold should bounce at roughly $1215/oz. I was early by just over 1% as it sank to $1200/oz, but since have been right on the past $150/oz move. I shared the below chart on May 26th of this year (as shown by the date in the corner) and believe we are nearing a similar buying opportunity on any more weakness.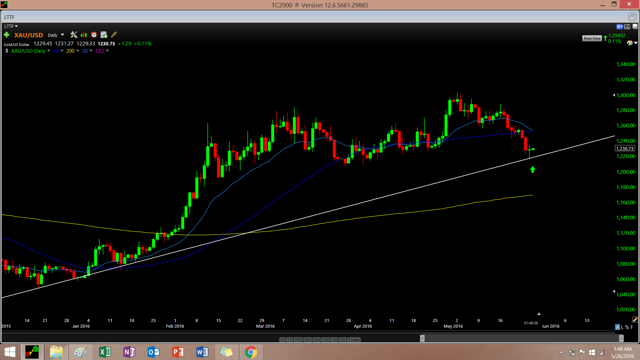 Click to enlarge
From a trend following perspective, there continues to be positive developments on the gold daily chart. The 200-day moving average continues to move higher with a positive slope at a rate of nearly $1.00 per day currently. If the price of gold were to trade completely sideways over the next month, we could expect to see the 200-day moving average move up to the $1,225/oz level by the end of August providing a significant floor under this new bull market going forward. While I don't believe we see a dip to the 200-day moving average, it is nice to see it sloping higher as it is the floor underneath this current bull market. Bull markets begin when price moves back above the 200-day moving average and just as gold was capped by a declining 200-day moving average the past 4 years, it will now be supported by a rising one. The 50-day moving average continues to trend higher and is currently sitting at the $1,290 level, just below strong support at $1,300/oz. The 50-day moving average and the horizontal support line of the past breakout (new support) are about to intersect with each other and should provide a buying opportunity if price dips here. Gold continues to make higher lows and higher highs and this is indicative of how a bull market acts, therefore there is no reason to be bearish on gold currently.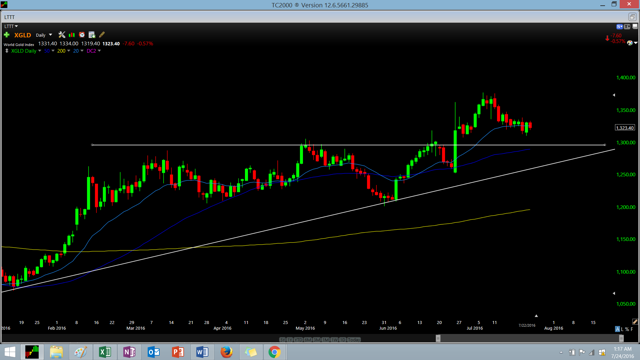 Click to enlarge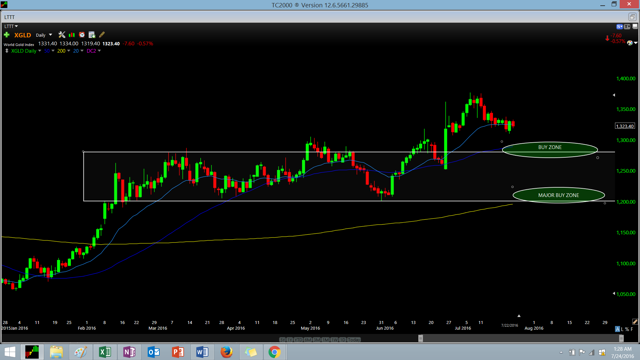 Click to enlarge
Looking at buy points, the most logical place to add to gold longs would be at the $1,295/oz level and at the $1,200 level if we should see a sharp correction. I believe a dip to the $1,200 level at past support and also at the 200-day moving average would provide an absolutely massive buying opportunity and do not expect to see price dip here. If we do dip to this level I will add my final tranche to my gold position and believe this would be the best buying opportunity we will get on gold for at least the next 12 months.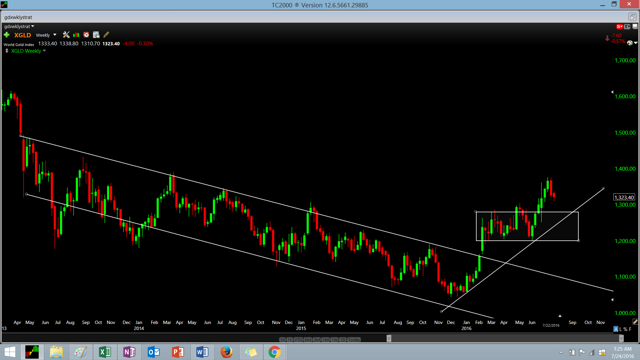 Click to enlarge
Moving out to the weekly chart, gold continues to hold its weekly breakout and looks very impressive. The descending channel it was locked in for three years has been exited and we are now in the process of building a new base and beginning a fresh bull market. Gold continues to make new weekly higher closing lows and its uptrend remains very obvious in the above image. While many bears are focusing on every tick for gold, there is no denying that gold is in a clear uptrend based on this chart.
I believe gold should see a very strong finish to the year, and while a dip to $1,270 to $1,280 is very possible for some digestion, I ultimately expect to see $1,420/oz at some point this year. Seasonal strength in gold should help its current uptrend going forward and neutral sentiment is providing lots of room for this rally to run. Gold is the furthest thing from a bubble currently, and those warning it's in a bubble need to zoom out on their chart and look at the past uptrends in gold.
Disclosure: I am/we are long GDXJ, GDX, GLD.
I wrote this article myself, and it expresses my own opinions. I am not receiving compensation for it (other than from Seeking Alpha). I have no business relationship with any company whose stock is mentioned in this article.
Additional disclosure: If you liked this article and found it useful, please feel free to follow me by clicking on my name next to my name at the top of this article. I also invite you to check my performance at TipRanks.com, where my average return on equities this year is 60% on new long positions. My current performance ranking on TipRanks is in the top 3% of financial bloggers writing from all finance websites currently.