By Scott Tzu
We have found a unique way to play the Pokémon Go phenomenon that may even be far better than owning Nintendo (OTCPK:NTDOY). If you are looking for value to capitalize on the Pokémon Go craze, look no further than GameStop (NYSE:GME), which trades at a 7x PE and pays out a dividend, all the while maintaining a balance sheet with little debt.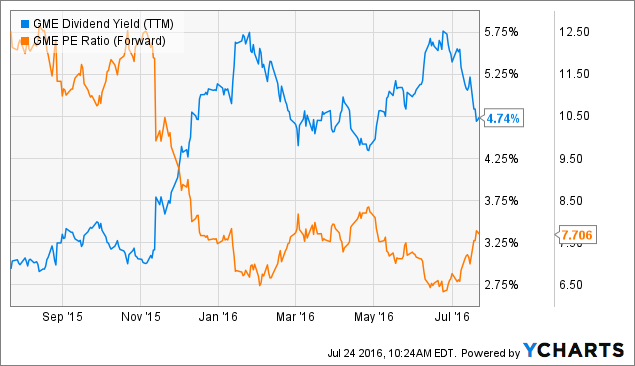 GME Dividend Yield (TTM) data by YCharts
GameStop is a video game retailer that has locations peppered across the United States. Its CEO has already come out and stated that Pokémon Go is going to make a huge impact on their stores, but the world is so concerned with GME being a retailer that they don't seem to care. He told CNBC,
Nintendo's viral success Pokémon Go has sent merchandise sales rocketing at GameStop, the CEO told CNBC's "Squawk on the Street" on Monday.

Sales were up 100 percent in stores - highlighted as "gyms" or "stops" in the augmented reality game - that did Pokemon-related events, said J. Paul Raines, GameStop CEO. Raines said GameStop is one of the largest distributors of Pokemon games and collectibles in the world.

"We are very much in the game, and are taking advantage of it now," Raines said.
The "problem" with GME is that it is a brick and mortar retailer. Brick and mortar retail has been assigned such low PE ratios because many feel that the industry is in collapse. We actually wrote an article a couple of weeks ago, citing Amazon (NASDAQ:AMZN) as our reasoning, explaining why we don't think brick-and-mortar retail is dead just yet.
We feel like GME fits into this 'not being dead' argument even more so than traditional clothing retailers, because streaming games online in order to buy them has not yet become anywhere near as mainstream as using Netflix (NASDAQ:NFLX) or Hulu to stream your cable. In other words, GME is still on the early end of the adoption curve, and with its yield and great balance sheet, it makes for a good value play, especially for those looking to play the Pokémon craze.
We are not sure why people are going out and scooping up tons of shares of Nintendo, when they only get a third of the profit from Pokémon Go. Even though the CEO came out and stated that GME was seeing a marked improvement in its fundamentals due to the game, nobody really bid the stock up. Actually, there has been bearish options activity over the last week for GameStop. The company is expected to print its earnings in late August.
We have found that in situations like these where a company simply looks unbelievably cheap and is mostly unlevered that something usually comes along to find a way to unlock value. Whether it is an activist investor, or synergies with other companies that it can merge with, companies like GME will not stay this cheap forever. They will either change their business model in order to allow for multiple expansion, or they will get to a point where they are forced to review strategic options going forward.
One thing is for sure, GME is not a potential bankruptcy scenario like it is being priced as.
Everybody laughs at GME as a way to play the Pokémon Go craze simply because it is brick-and-mortar. People always cite Blockbuster and other media companies that went under as streaming became more and more popular. While online playing of games is likely at its highest popularity it's ever been, gamers are still going in the store to purchase not only hardware, but games, when they don't want to wait to buy them.
In addition, GME is doing well now as a reseller of mobile phones and other electronics, which is a high margin business wherein they buy used products to turn around and resell.
The problem with trying to play the Pokémon craze is that it is everywhere. Your time to catch Nintendo early was two weeks ago, but now Pokémon is littered through the news headlines and everybody in the world is looking for a way to profit from it. GME seems to remain the lesser known secret with the most potential from this game. While people are out there looking to buy accessory makers and video game developers, GME has a brick and mortar retail base that sells all of these products, and more.
The downside, we believe, is extremely limited here and $30 per share. The valuation remains extremely attractive.
While GME doesn't technically sell Pokemon Go (it's a free app) that didn't stop us from witnessing several Pokemon-related purchases during our in store visit to a GameStop this weekend to test the waters. Both employees we interviewed said Pokemon Go has not only generated traffic, but has encouraged purchases of supplemental products.
The trick to playing a trend or a fad is to find the niche that the rest of the public has not found yet. If the public has found GME, you certainly can't tell from its share price. Its loyalty club and potential in the future as an augmented reality check point or stop for players continues to make it attractive. One lesser known benefit of augmented reality games that they get people up and out of their houses. This is great for retail. Companies like McDonald's (NYSE:MCD) saw a surge in traffic when they made McDonald's a check point for Pokémon Go. GameStop has the same opportunities, as reported in GameSpot,
The summer months are traditionally slower in terms of sales for video game retailer GameStop. So the company was no doubt happy when sales at its stores designated as PokeStops and Gyms for Pokemon Go surged by more than 100 percent recently. Now, the retailer has issued a formal invitation for Pokemon Go players to come to its stores in search of new creatures.

Almost 200 GameStop stores in the US are PokeStops while more than 30 are Gyms, the retailer said in a news release. You can visit GameStop's website to find a store near you that doubles as either of these. Additionally, this page lets you know the locations of the 50 stores that will use Pokemon Go "lure" items to attract Pokemon this coming Saturday and Sunday. Every two hours on those days, GameStop will release Lures to attract Pokemon at participating stores.

GameStop has no way of profiting directly from Pokemon Go, as it's a free-to-play game, but the company is now a mobile phone retailer. Additionally, this promotion may lead to more foot traffic and in turn greater sales.
While we do believe that streaming is certainly going to make an impact on in-store retailing, we don't feel it is going to be the death of the entire sector. We feel at this valuation GME is so cheap and offers such a value with its dividend that it would make for a great, low-cost, cheap and safe way to play the Pokémon craze and get some exposure to retail going forward.
Disclosure: I am/we are long GME.
I wrote this article myself, and it expresses my own opinions. I am not receiving compensation for it (other than from Seeking Alpha). I have no business relationship with any company whose stock is mentioned in this article.