There seems to be a lot of uncertainty revolving around Best Buy Co Inc (NYSE:BBY) as most equity research firms have given the company a Hold rating. A lot of this uncertainty stems from the Minnesota-based company's sporadic performance over the past few years, a concern which it can't seem to shake off so easily. But I believe there might be a short term rebound up ahead, or maybe it's already started, and with it there seems to be a chance to exploit this rebound.

To prove my point let's take a closer look at the firm's fundamentals. As of today the company share holds a healthy dividend yield of 3.48% and boasts a dividend payout ratio of 33.56%, a good indicator of how much cash flow is being generated by the investors' money. Some investors may argue that the company has a very uncertain pattern when it comes to earnings, and their point is valid. As seen in the graph below BBY's EPS hasn't exactly been stable in the past year, going from a high of 3.48 to a low of 2.53 and currently resting at 2.90. In fact if we take a look at the bigger picture long term investors are at a loss with BBY as EPS growth for the past 5 years stands at -7.70%.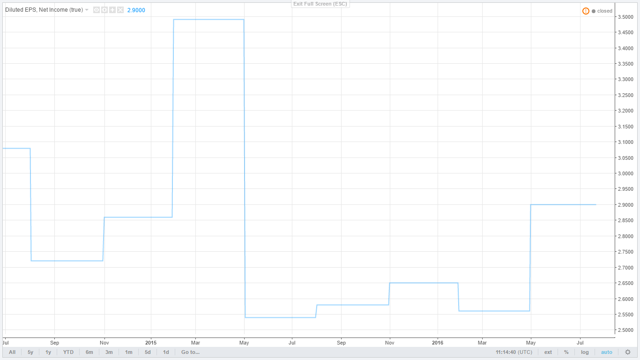 Click to enlarge
But here's my point: while sales have been on a downward trajectory since 2011, net income has actually been going up and currently stand at the brink of $1 billion. It seems like the company is excelling at figuring out where the hot trend is and then positioning itself to milk it till the last drop. Case in point, Best Buy is offering heavy discounts on Ultra HD TVs of up to 25%. This comes after last year's reports showed that big screen TV sales had slowed down while Ultra HD TVs saw sales skyrocket by 173% in the second half of last year, and will continue to grow in the upcoming years.
So what other trend is coming up soon? Well according to Jordan Golson of The Verge more than half of iPhone users have not upgraded to iPhone 6 or 6S. This shouldn't be taken as a worrying sign by Apple enthusiasts who might be seeing this as the beginning of the end, in fact it's more than likely that iPhone users are waiting for the upcoming iPhone 7 later this year. Best Buy has Apple stores within stores at many of its locations so Best Buy should be a natural beneficiary of strong iPhone sales later this year.
However I must warn investors that anticipations behind soon-to-be-released phones should be taken with a grain of salt as the smartphone industry is rather ruthless when it comes to judging new models. Market responses can be extreme and even though we might harbor a great deal of certainty behind the upcoming product, things can go either way. That being said the iPhone 7 does seem to be showing a lot of positive interest as expected, and if things go as planned Best Buy will be one of the subsequent gainers.
CONCLUSION
Now even though I could point out how the company is improving operational efficiency and experiencing growing margins, the point of this article is not to consider BBY as a long term investment opportunity. Because I don't think that BBY is a safe choice for the long term. It's too volatile for my taste. Sure, plans such as Renew Blue Phase Two are going to have a positive impact nonetheless on the company's financials, but their ultimate concern lies with those of long term investors.
Given the upcoming trends I believe there is enough evidence to suggest that the company is appropriately positioned to reap benefits till past winter holidays. The fact that the company has had a volatile last few years within which it has also experienced seasonal gains gives me hope that the upcoming 6 months are going to be fruitful for Best Buy Co Inc.
Disclosure: I/we have no positions in any stocks mentioned, and no plans to initiate any positions within the next 72 hours.
I wrote this article myself, and it expresses my own opinions. I am not receiving compensation for it (other than from Seeking Alpha). I have no business relationship with any company whose stock is mentioned in this article.