Biotechnology - Choosing Between Two Major ETFs
With the S&P 500 at all-time highs I was interested in looking at areas of the market that are not at all-time highs. The energy sector (NYSEARCA:XLE) is one area of the market that may be considered on sale. Another area is biotechnology. The biotechnology industry is an industry I would like to invest in but I want to buy shares in an ETF as opposed to individual stocks. The ETF gives me exposure to multiple companies in the industry. The two major ETFs are the iShares Nasdaq Biotechnology ETF (NASDAQ:IBB) and the SPDR Biotech ETF (NYSEARCA:XBI). The two ETFs - IBB and XBI - are about 30% and 35%, respectively, off of their all-time highs. This article will outline why I want some exposure to the biotechnology industry and some aspects of the two ETFs that I considered relevant when I made my investment decision.
The recent underperformance of the biotechnology industry makes the price of entry seem attractive yet there are other reasons for me to consider investing in this industry such as the industry's growth potential and its low valuations. According to a September, 2015, research report by Grand View Research, the biotechnology industry is expected to grow at a compounded annual growth rate of over 12%. According to a recent article from MarketWatch, the biotechnology industry is appealing because of four reasons: takeovers are likely; low valuations are common in the industry; research breakthroughs and drug approvals are continuing; and Hillary Clinton will likely tone down her rhetoric on drug pricing.
Twelve percent compounded growth is appealing. Better yet, the two ETFs being considered have even better track records for the past 10 years. XBI has returned an average of 14% annually during the past 10 years, while IBB has returned almost 14% annually during the past 10 years. While we all know that past performance is not a guarantee of future returns, starting a position in either ETF at these lower prices may prove to be a smart decision.
When it comes to takeover candidates I have no idea what stocks are attractive for joint ventures, partnerships and outright takeovers. I understand that companies like Gilead Sciences (NASDAQ:GILD) and many large pharmaceutical companies are constantly looking for companies to help them improve their drug pipelines or somehow compliment their present drug portfolio. Buying a biotech stock because I think it may be a takeover candidate is not a good strategy for me. However, buying an ETF with multiple companies that could be takeover candidates seems to be a better strategy. Both ETFs hold a large number of companies, many that are small cap in size and that could be candidates for the larger companies to partner with or buy outright.
The low valuations of many of the large capitalization biotechnology companies are compelling. Gilead Sciences sells for a forward P/E ratio of 7. Amgen's (NASDAQ:AMGN) forward P/E is 13.6, Biogen's (NASDAQ:BIIB) forward P/E is 14.3, and Celgene's (NASDAQ:CELG) forward P/E is 15.3. As a comparison, the forward P/E ratio of the S&P 500 index is 18.39, according to the Wall Street Journal. Buying either ETF gets me invested in a growth industry with its large cap constituents selling at lower valuations than the S&P 500 index.
Knowledge of research breakthroughs and drug approvals are frankly beyond my core competencies. Many other Seeking Alpha authors are more knowledgeable in understanding the science and technology of the industry. I believe investing in the industry is something I want to participate in but selecting individual companies in the biotechnology space is not something that I have been successful at doing in the past. My two holdings of Amgen and Gilead Sciences have not panned out so far, but I will continue to hold them. However, investing in a broad-based ETF that gives me exposure to both large cap and small cap stocks in the industry is more appropriate for me.
As for the pricing of individual drugs, I understand the argument that Hillary Clinton will not have to make the price of drugs as big a part of her general election campaign as it was during her primary campaign. I can see how that would benefit the industry as a whole, although I am uncertain how the industry may react if she is elected President in November.
Table 1 below shows some metrics for the two ETFs I am considering for investment.
Table 1 - IBB and XBI Metrics
| | | |
| --- | --- | --- |
| Metric | IBB | XBI |
| Current Price | $280.90 | $59.30 |
| Total Assets | $7.20B | $2.20B |
| Expenses | 0.48% | 0.35% |
| 12 Month Yield | 0.14% | 0.69% |
| Holdings | 144 | 103 |
| % Assets in Top 5 Holdings | 39.05% | 13.79% |
| % Assets in Top 10 Holdings | 58.08% | 26.29% |
| Forward PE Ratio | 20.00 | 21.73 |
| Strategy | Non-equal weight | Equal weight |
Source: www.morningstar.com
The biggest differences to me in Table 1 are the percentage of assets in their top 5 and 10 holdings. IBB has almost 40% of its assets in Amgen, Gilead Sciences, Celgene, Biogen and Regeneron Pharmaceuticals (NASDAQ:REGN). Contrast that to the equal weight XBI whose top 5 holdings are only about 14% and consists of Ionis Pharmaceuticals (NASDAQ:IONS), Sarepta Therapeutics (NASDAQ:SRPT), Tesaro (NASDAQ:TSRO), Biogen and Alkermes PLC (NASDAQ:ALKS).
The equal weight investment strategy of XBI is more appealing to me especially since I already own shares of Amgen and Gilead Sciences. While I won't have exposure to as many companies in XBI compared to IBB, I will still have exposure to many potential takeover candidates and many potential research breakthroughs. However, there are risks to owning XBI. According to Morningstar, "…almost half of the names in this ETF [XBI] are companies with no drugs on the market yet."
A second consideration for me is the share price. On occasion, I have sold covered calls against the stocks I own. Both ETFs have listed options; however, I am more likely to buy 100 shares of XBI versus 100 shares of IBB. I may want to write a covered call on XBI in the future or perhaps sell a cash covered put. See this article for my option writing on Merck (NYSE:MRK).
So due to the composition of the two ETFs and the current price of the two ETFs I will look to invest in XBI because of its equal weight portfolio and lower share price. Now that I have chosen XBI to be the ETF I invest in I will look at the technical picture of XBI.
In previous articles, I have outlined my propensity to use a moving average cross-over system to enter positions. As Chart 1 shows, there has not yet been a cross-over on the monthly chart but one can see on Chart 2 that XBI is now above its 200-day moving average and the 50-day moving average is trending higher. Since the 50-day moving average hasn't crossed above the 200-day moving average I don't feel comfortable taking a full position.
Chart 1 - XBI Monthly Chart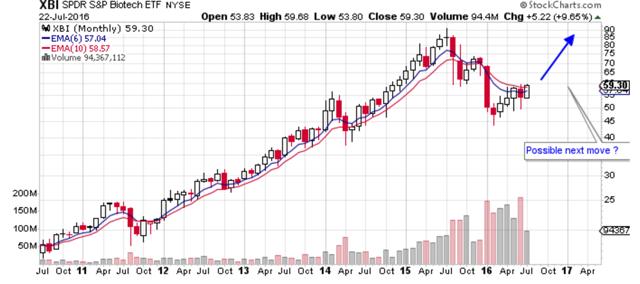 Click to enlarge
Chart 2 - XBI Daily Chart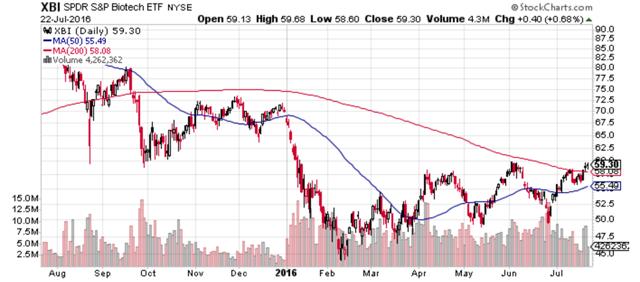 Click to enlarge
My plan is to take an initial position in XBI at current prices. Once there is a bullish cross-over on the monthly chart I will buy more shares to give me my full allocation to the industry. Additionally, I may consider selling covered calls on my initial position or even selling cash covered puts.
Disclosure: I am/we are long AMGN, GILD.
I wrote this article myself, and it expresses my own opinions. I am not receiving compensation for it (other than from Seeking Alpha). I have no business relationship with any company whose stock is mentioned in this article.
Additional disclosure: I plan on initiating a position in XBI in the next 72 hours.