August crude futures prices fell 3% in the week ending July 19th (to correspond to the data below), closing at $45.45. Prices softened later in the week, closing down another 3% at $44.19.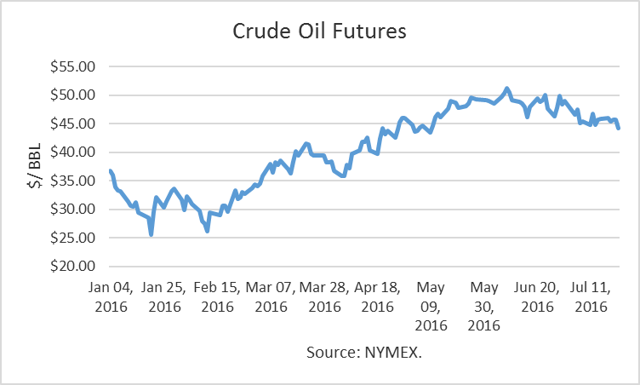 Click to enlarge
Over the past several months, I have been highlighted the fact that there is a relatively high (-61% now) negative correlation in weekly price changes to weekly changes in short speculators positions.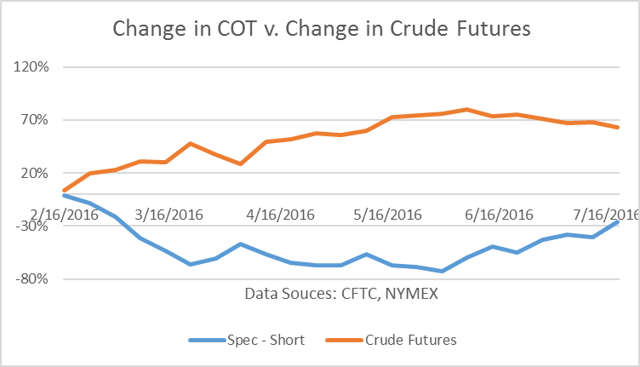 Click to enlarge
I have explained that the "freeze" concept had altered the risk-return of short speculators, who were responsible for driving prices lower. From mid-February through the end of May, 138 million barrels in speculative short positions were covered (bought), propelling prices higher.
Once the "freeze" concept was put to rest by Saudi prince Mohammed bin Salman, a different kind of "headline risk" emerged by coincidence. There were a series of outages worldwide, beginning with a strike in Kuwait, disruptions in Nigeria, and the wildfire in Canada.
Since early June, the "headline risk" premium has begun to deflate. Consequently, as noted specifically below, short speculators began increasing their short positions, causing prices to drop.
Contrary to popular belief, changes in U.S. crude stocks fail to explain crude prices changes since prices bottomed in February. In fact, cumulative crude stock changes have been positively (+61%) correlated to cumulative price changes, just the opposite of what would be expected were crude stocks driving price changes.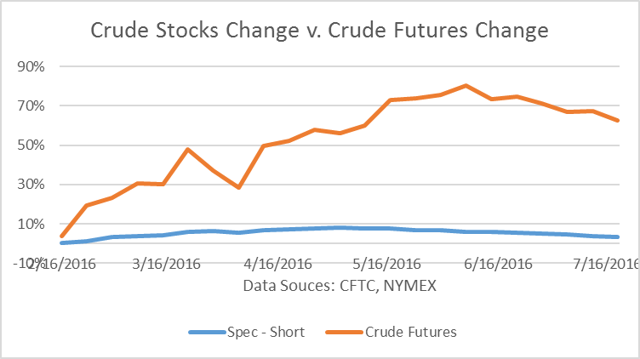 Click to enlarge
Commitments of Traders
Utilizing the Commodity Futures Trading Commission's (CFTC) Commitments of Traders (COT) reports for crude oil, I was able to dissect how traders were re-positioning last week.
The four groups I follow - Hedgers (Producer/Merchant/Processor/User) Longs and Shorts, and Speculators (Money Managers) Longs and Shorts - are defined below:
Hedgers: A "producer/merchant/processor/user" is an entity that predominantly engages in the production, processing, packing or handling of a physical commodity and uses the futures markets to manage or hedge risks associated with those activities.
Speculators: A "money manager," for the purpose of this report, is a registered commodity trading advisor (CTA), a registered commodity pool operator (CPO) or an unregistered fund identified by CFTC. These traders are engaged in managing and conducting organized futures trading on behalf of clients.
The latest data are for the week ending July 19th and include data for both options and futures combined for the New York Mercantile Exchange (NYMEX). All comments below pertain to each group as a whole, on balance, noting there are exceptions among individuals.
Findings
Short hedgers, primarily crude producers, decreased the size of their positions (bought) by 37,364 lots (over 37 million barrels) to 496,363 contracts. This is the first time hedge positions have dropped below 500,00 contracts since March 22nd. Taking hedge profits when prices drop is a signal that they expect higher prices down the road.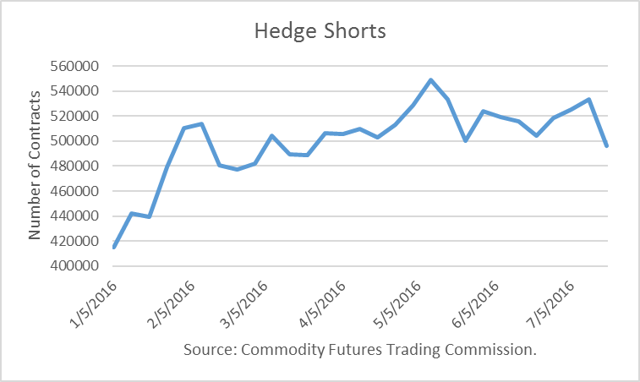 Click to enlarge
Long hedgers did just the opposite, selling 27,766 contracts last week, reducing their total to 243,151 lots. This group would include refiners who hedge crude purchases for processing, as well as large end-users, such as airlines. (Although the airlines buy jet fuel, they sometimes hedge their market risk by purchasing crude futures, due to the relatively high correlation between crude and jet fuel prices over large price moves.) Taking a hedge loss (from the prior week) is a signal that they expect lower prices.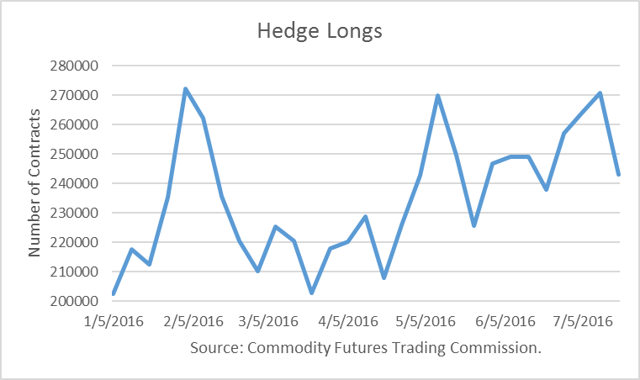 Click to enlarge
Short speculators increased positions (sold) 27,701 contracts, increasing their total to 141,237 contracts. This is their largest short position since March 1 st. As explained above, the trading activity of this group has been the primary mover of crude prices this year and so it is significant that they have been increasing their short positions and that prices have dropped since early June.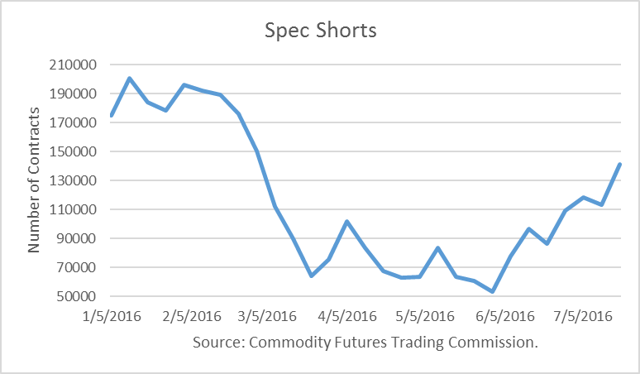 Click to enlarge
Finally, spec longs bought 4,036 contracts last week, ending with 298,041 lots. It is interesting that both longs and short speculators increased their bets, whereas both long and short hedgers decreased their positions.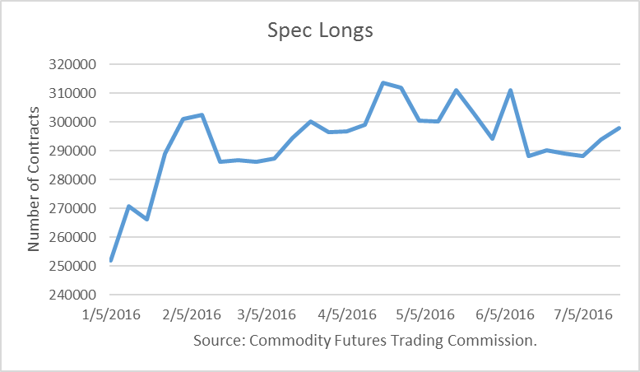 Click to enlarge
This begs the question of what is going on overall. I netted the long and short positions of both these hedgers and speculators since mid-June 2006, and he graph below shows the size of the net long positions peaking in July 2013.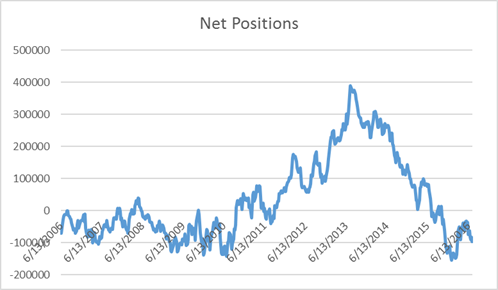 More specifically, I examined the period since June 2014, when crude futures prices had peaked. Net positions fell sharply then rebounded in the spring of 2015 and September 2015, corresponding to price recoveries. Net positions bottomed in January and February 2016, corresponding to the troughs in oil prices.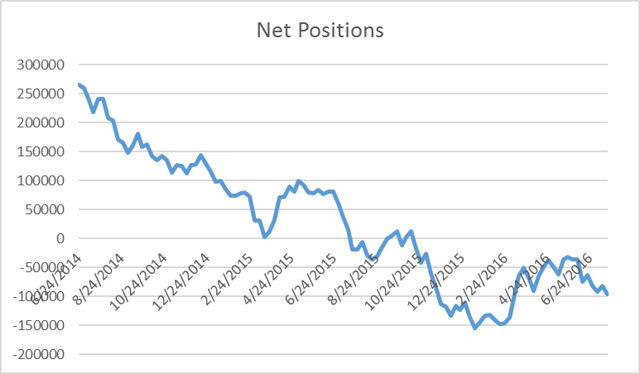 Click to enlarge
I ran a regression between crude prices and net positions and used it to "fit" prices since June 2014. The weekly r-squared was 81%, with highly statistically significant T-ratios.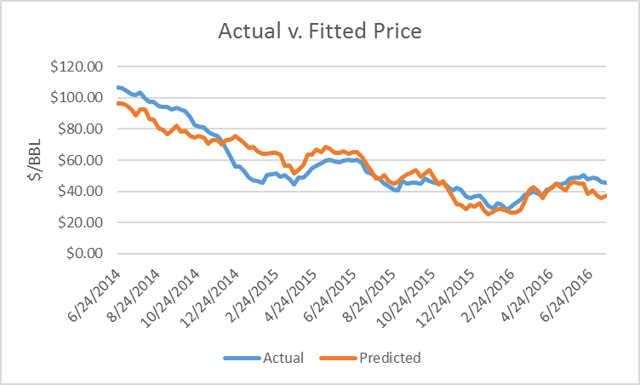 Click to enlarge
Trading Implications
Unfortunately, regressions do not provide evidence of how effective a strategy would be relying on the equations. The only way to measure that is through trading simulations, which can also calculate risks in addition to returns.
To test the value of knowing the Net Position in a trading strategy, it is necessary to use information that could have been known at the time. Accordingly, I performed another regression to obtain coefficients from the 52 weeks prior to the start of the trading simulation (June 20, 2014). I then used Net Position data that was released every Friday to take a position in the market for the following week.
For example, Net Positions for June 17, 2014 were released June 20, 2014, and a predicted price was made for June 27th. Based on the actual price on June 20th, compared to he predicted price for June 27th, the strategy would go short if the price is predicted to drop, long if the price is predicted to rise, or be neutral if there is no significant price change that is forecast. Finally, the trading strategy is compared to one of being long 100% all the time for perspective.
Over the period from the week ending June 27, 2014 and July 22, 2016, the constant long strategy produced a loss of 58.5%. The strategy following the price signal generated as explained above produced an 80.6% gain.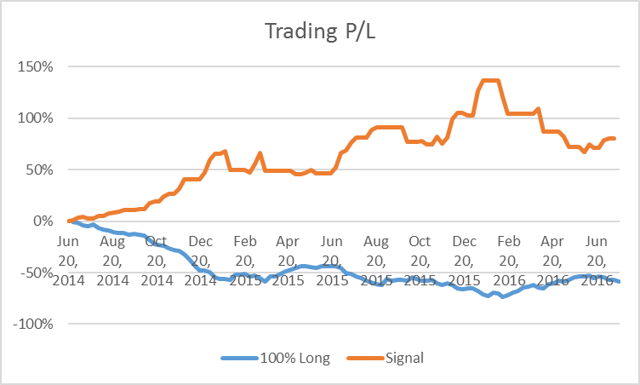 Click to enlarge
Equally as important is the risk calculation, which I measure as maximum drawdown from peak. For the 100% long strategy, this number was 74%, whereas for the Signal strategy it was 29%.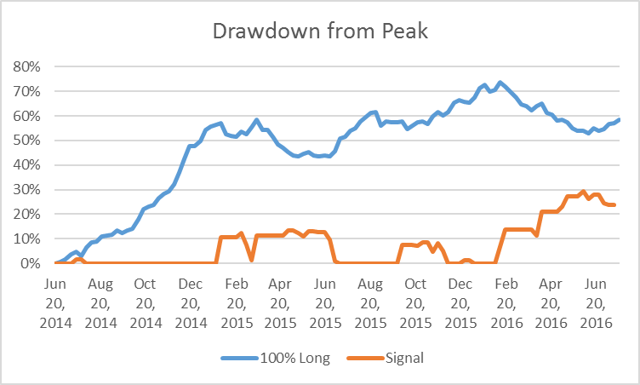 Click to enlarge
The data released on July 22nd imply a neutral position for the week ending July 29th.
Conclusions
Crude price changes cannot be explained by changes in crude oil stocks. I believe that the reason is the change in the risk-reward of being short, and the CFTC position data supports that view. It makes sense that the prices of futures contracts are directly related to the supply and demand for futures contracts.
But a key question is whether knowing this data in arrears can be using in trading moving forward. The above trading simulation implies that the answer is yes. However, please note the qualifying advisory brought to you by the SEC.
Important SEC Disclosures
This material is provided for limited purposes. It is not intended as an offer or solicitation for the purchase or sale of any financial instrument. References to specific asset classes and financial markets are for illustrative purposes only and are not intended to be, and should not be interpreted as, recommendations or investment advice. The opinions expressed in this article represent the current, good-faith views of the author(s) at the time of publication. The views are provided for informational purposes only and are subject to change. This material does not take into account any investor's particular investment objectives, strategies, tax status, or investment horizon. Investors should consult a financial advisor for advice suited to their individual financial needs. The author cannot guarantee the accuracy or completeness of any statements or data contained in the article. Predictions, opinions, and other information contained in this article are subject to change. Any forward-looking statements speak only as of the date they are made, and the author assumes no duty to update them. Forward-looking statements are subject to numerous assumptions, risks, and uncertainties. Actual results could differ materially from those anticipated. Past performance is not a guarantee of future results. As with any investment, there is a potential for profit as well as the possibility of loss.
The information presented in this paper relates to the creation and testing of investment models and the use of back-tested performance data. Back-tested results are calculated by the retroactive application of a model constructed on the basis of historical data and based on assumptions integral to the model which may or may not be testable and are subject to losses. Hypothetical performance results have many inherent limitations, some of which are described below. No representation is being made that any account will or is likely to achieve profits or losses similar to those shown. In fact, there are frequently sharp differences between hypothetical performance results and the actual results subsequently achieved by any particular trading program. One of the limitations of hypothetical performance results is that they are generally prepared with the benefit of hindsight. Back-testing allows the security selection methodology to be adjusted until past returns are maximized. In addition, hypothetical trading does not involve financial risk, and no hypothetical trading record can completely account for the impact of financial risk in actual trading. For example, the ability to withstand losses or to adhere to a particular trading program in spite of trading losses are material points which can also adversely affect actual trading results. There are numerous other factors related to the markets in general or to the implementation of any specific trading program which cannot be fully accounted for in the preparation of hypothetical performance results and all of which can adversely affect actual trading results.
Disclosure: I/we have no positions in any stocks mentioned, and no plans to initiate any positions within the next 72 hours.
I wrote this article myself, and it expresses my own opinions. I am not receiving compensation for it (other than from Seeking Alpha). I have no business relationship with any company whose stock is mentioned in this article.