If you have any challenges reading the charts in this article, check out the first article on quick and dirty discounts to book value for mortgage REITs. This piece is designed to be short and to emphasize providing easy charts that help investors identify opportunities for further inspection. Some of these mREITs recently reported their Q1 book value. The changes aren't worked in yet, but I'll reference some of them.
The mREITs
I put most of the mREITs, two corporations, and one ETF into the table because I wanted to get a more complete estimation.
| | | |
| --- | --- | --- |
| (NASDAQ:AGNC) | American Capital Agency Corp | |
| (NYSE:AI) | Arlington Asset Investment Corporation | Not a REIT |
| (NYSE:AMTG) | Apollo Residential Mortgage | To Be Bought by ARI |
| (NYSE:ANH) | Anworth Mortgage Asset Corporation | |
| (NYSE:ARR) | ARMOUR Residential REIT | |
| (NYSE:BXMT) | Blackstone Mortgage Trust | |
| (NYSE:CHMI) | Cherry Hill Mortgage Investment | |
| (NYSE:CIM) | Chimera Investment Corporation | |
| (NYSE:CMO) | Capstead Mortgage Corporation | |
| (NYSE:CYS) | CYS Investments | |
| (NYSE:DX) | Dynex Capital | |
| (NYSE:EARN) | Ellington Residential Mortgage REIT | |
| (NYSE:MFA) | MFA Financial | |
| (NASDAQ:MTGE) | American Capital Mortgage Investment | |
| (NYSE:NLY) | Annaly Capital Management | |
| (NASDAQ:NYMT) | New York Mortgage Trust | |
| (NYSE:ORC) | Orchid Island Capital | |
| (NYSE:RSO) | Resource Capital Corporation | |
| (NYSE:TWO) | Two Harbors Investment Corp | |
| (NYSE:WMC) | Western Asset Mortgage Capital Corp. | |
| (NYSE:ZFC) | ZAIS Financial | To be "purchased" in a merger |
| (NYSE:ARI) | Apollo Commercial Real Estate Finance, Inc. | |
| (NYSE:OAKS) | Five Oaks | |
| (NYSE:MITT) | AG Mortgage Investment Trust, Inc. | |
| (NYSEARCA:REM) | iShares Mortgage Real Estate Capped ETF | |
The goal here is to have a fairly large sample size so we can identify trends and similarities throughout the sector. The mREIT sector only contains about 25 total organizations but the investing and hedging strategies have very material differences.
It is also worth emphasizing that I opted to use the GAAP book value for each mREIT. Most of the time this was available from the earnings release.
I want to emphasize that GAAP book value is not necessarily the metric that I believe is most relevant. For CIM, I believe the "economic book value" provided by management is an excellent tool. CIM's economic book value was materially lower than GAAP book value.
Table 1
If you're primarily using this article for the quick discounts to book value, use the column with the red heading in this table.

Click to enlarge
Table 2
The next table demonstrates the change in discount to book value relative several other points in time.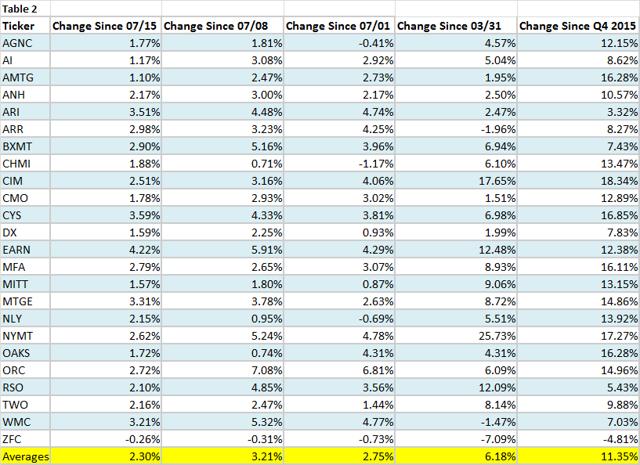 Click to enlarge
Things That Stand Out
Since the start of the month, interest rates have been moving higher. Consequently, agency MBS values will be down and swap values should be up. I have been predicting a flatter yield curve and rates staying low. However, the market is moving in the opposite direction. I expect that trend to end and the general theme of lower for longer to resume.
In addition to rates moving higher, there has also been an increase in tolerance for risk. Risky assets as a whole, including general equity markets, moved higher. It should be no surprise that the best performing mortgage REITs (regarding the portfolio, not necessarily the share price) should be the ones with riskier assets or with a tilt towards rates moving higher. In particular, this has been a great start to the month for New York Mortgage Trust. They have not been one of my favorite REITs, but July should have been good to their portfolio. ARI and CIM should also be doing quite well. Each of those REITs saw their share price climb by over 4% since 07/01/2016. BXMT should also be having some strong portfolio performance so far this month, and they were up just under 4%.
On the other hand, Two Harbors Investment Corp. should have respectable portfolio performance on the month, but only climbed 1.44%. Annaly Capital Management used long duration hedges and held some credit sensitive positions that should have held nice gains. It is interesting to see them having one of the weakest performances. Dynex Capital had a weak .93% since the start of the quarter. Their positions are very light on credit sensitivity, but the prepayment risk on the adjustable rate mortgages is declining as rates move a little higher. It is interesting to see them underperforming the average for the gain in price relative to book value. As of last summer, this was one of the REITs with a smaller discount to book value. I still like the way they position the portfolio, but I will need to dig in with some ball parking work on current estimated book values.
I do not track ZFC much since I was thoroughly disappointed in the buyout deal, but I may need to look in on them also. Their exceptionally poor performance has been interesting.
Pitch for Subscribers
Since the Mortgage REIT Forum is a new exclusive research platform, the first 100 subscribers will be able to lock in their subscription rates at only $240/year. My investment ideas emphasize finding undervalued mortgage REITs, triple net lease REITs, and preferred shares. With the market at relatively high levels, there is also significant work on finding which securities are overvalued to protect investors from losing a chunk of their portfolio.
Disclosure: I am/we are long MTGE, ARR, AND MAY BUY ANYTHING.
I wrote this article myself, and it expresses my own opinions. I am not receiving compensation for it (other than from Seeking Alpha). I have no business relationship with any company whose stock is mentioned in this article.
Additional disclosure: Information in this article represents the opinion of the analyst. All statements are represented as opinions, rather than facts, and should not be construed as advice to buy or sell a security. This article is prepared solely for publication on Seeking Alpha and any reproduction of it on other sites is unauthorized. Ratings of "outperform" and "underperform" reflect the analyst's estimation of a divergence between the market value for a security and the price that would be appropriate given the potential for risks and returns relative to other securities. The analyst does not know your particular objectives for returns or constraints upon investing. All investors are encouraged to do their own research before making any investment decision. Information is regularly obtained from Yahoo Finance, Google Finance, and SEC Database. If Yahoo, Google, or the SEC database contained faulty or old information it could be incorporated into my analysis.
Editor's Note: This article covers one or more stocks trading at less than $1 per share and/or with less than a $100 million market cap. Please be aware of the risks associated with these stocks.