Conflicts in Nigeria continue, and the Niger Delta Avengers (NDA) are at it again despite peace talks being held.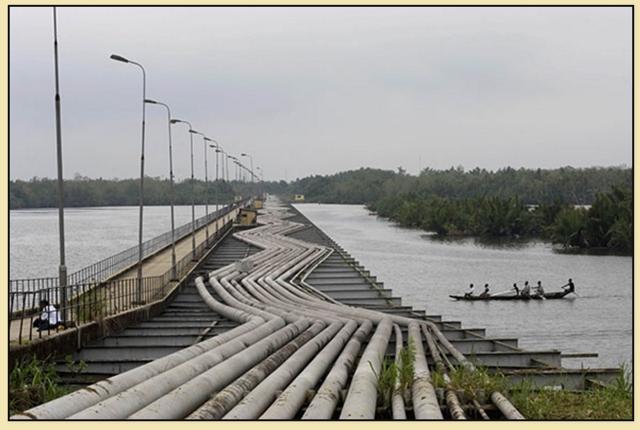 Click to enlarge
Source: NDA's website
Last week Thursday, President Muhammadu Buhari said that the government was negotiating with militant groups in the oil producing states. The President, however, did not say which militant groups they were discussing with. NDA quickly issued a statement saying that the Nigerian government was not engaged with the NDA in peace talks.
In response to this, NDA blew up the Nsit-Ibom gas pipeline.
Earlier this week, NDA claimed to have bombed another pipeline related to Qua Iboe, which forced Exxon Mobil (NYSE:XOM) to issue force majeure for at least a month. This oil terminal was exporting close to 250k b/d, and NDA is warning against any repairs.
These additional outages will greatly affect overall export volumes in August. Qua Iboe terminal is one of the largest terminals in Nigeria, and Exxon still has not issued a revised loading schedule for July.
Traders we talked to about this point to Nigeria oil exports potentially falling to 1.2-1.4 million b/d in August. The difference maker will be the speed of the recovery and whether or not NDA attacks other oil terminals.
Earlier this month, we started questioning whether what the NDA was doing was pure hoax. If the attacks were happening, just how did Nigeria's oil export rise to 1.8 million b/d in June? Traders we talk to point to Nigeria using storage to subsidize exports, or similar to what Saudi Arabia is doing. This in effect will likely show July export figures drop from June, and we think it will be even more affected for August.
Our expectation is that Nigeria's oil production is hovering around 1.2 million b/d now, and exports should drop to 1.3 million b/d or a 500k b/d drop from June.
What do you think is happening to Nigeria's oil (NYSEARCA:USO) production? What's your estimate? Let us know in the comment section below!
Thank you for reading our Oil Markets Daily. If you want to read more of our articles, please be sure to hit the "Follow" button above. We also write a weekly HFI portfolio update for premium subscribers. You can read a sample weekly update here and view our delayed one-month portfolio update here. We hope you can join the HFI community.
Disclosure: I/we have no positions in any stocks mentioned, and no plans to initiate any positions within the next 72 hours.
I wrote this article myself, and it expresses my own opinions. I am not receiving compensation for it (other than from Seeking Alpha). I have no business relationship with any company whose stock is mentioned in this article.