I have been bearish on the biotech sector since the start of this year. One of the main reasons has been the inability of smaller players to access capital markets. Only a year ago, Axovant Sciences (NYSE:AXON) completed one of the biggest IPOs in biotech history. The story has been different this year. Since April, several biotech companies have had to either withdraw their IPOs or price it at levels significantly below their initial range. In spite of all these, the iShares NASDAQ Biotechnology Index (ETF) (NASDAQ:IBB) has been holding up well lately. The question is for how long.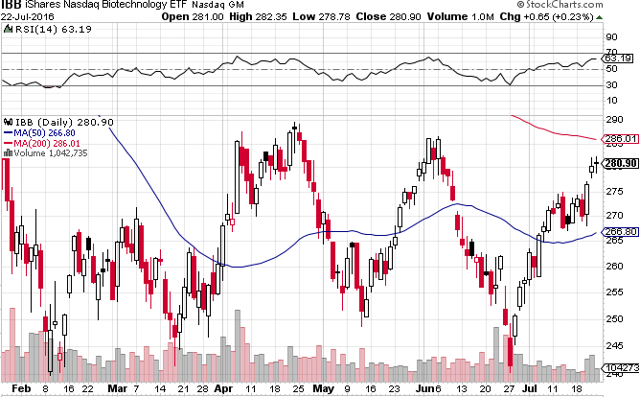 Click to enlarge
Stockcharts.com
As the chart above shows, IBB had been struggling to break through $275 recently. But earlier in the week, we saw a rally in the sector. The rally was driven by a spate of positive news. Some strong earnings from the likes of Biogen (NASDAQ:BIIB) and Johnson & Johnson (NYSE:JNJ) helped the sector. Also, FDA approval for Progenics' (NASDAQ:PGNX) oral formulation of RELISTOR. Finally, there was takeover news, with Relypsa (NASDAQ:RLYP) agreeing to be acquired by Galencia. These developments have had a positive impact. But IBB is now moving closer to $290, which has been a stiff resistance level.
Technicals though are not the only reason to be bearish on the sector. In terms of fundamentals, the sector continues to look weak. One of the arguments that bulls have made is the correction in the biotech sector from last year will lead to an increase in M&A activity.
M&A activity in the biotech sector has been steady this year. But one cannot definitely not say that animal spirits have been unleashed. This indicates that the companies with the cash are still cautious, most likely due to valuations. In fact, if we look at some of the deals announced in 2016 so far, we can see that acquiring companies are not prepared to pay lofty valuations. So much then for the theory that M&A activity will provide support to the biotech sector.
One such acquisition came earlier this week. Relypsa agreed to be acquired by Galencia in a deal that values the company at $1.53 billion. Galencia is paying $32 per share in cash to acquire RLYP, representing a 60% premium over RLYP's closing price a day before the deal was announced. But is actually around 10% below RLYP's 52-week high. It is also below what AstraZeneca (NYSE:AZN) paid to acquire ZS Pharma, which like Relypsa has a drug to treat hyperkalemia. More important, RLYP's drug is approved while ZS Pharma's was recently rejected. AstraZeneca had paid $2.7 billion for the acquisition of ZS Pharma last year.
Another example is the Medivation (NASDAQ:MDVN) bid. Sanofi (NYSE:SNY), the French drug maker, offered to acquire MDVN for $52 per share, an offer immediately rejected by MDVN. Medivation argued that the offer was below its 52-week high. SNY subsequently raised its offer but it was still below MDVN's 52-week highs.
Pfizer (NYSE:PFE) announced the acquisition of Anacor Pharmaceuticals (NASDAQ:ANAC) earlier this year. PFE offered ANAC $99.25 per share, representing premium of more than 50%. But the offer price was once again well below ANAC's 2015 highs.
The pattern is quite clear. Companies with the cash are not willing to go overboard. They are looking for deals but at the right price. Given this scenario, M&A activity could at best provide support to the sector. But I doubt it will provide a significant boost to valuations.
Disclosure: I/we have no positions in any stocks mentioned, and no plans to initiate any positions within the next 72 hours.
I wrote this article myself, and it expresses my own opinions. I am not receiving compensation for it (other than from Seeking Alpha). I have no business relationship with any company whose stock is mentioned in this article.