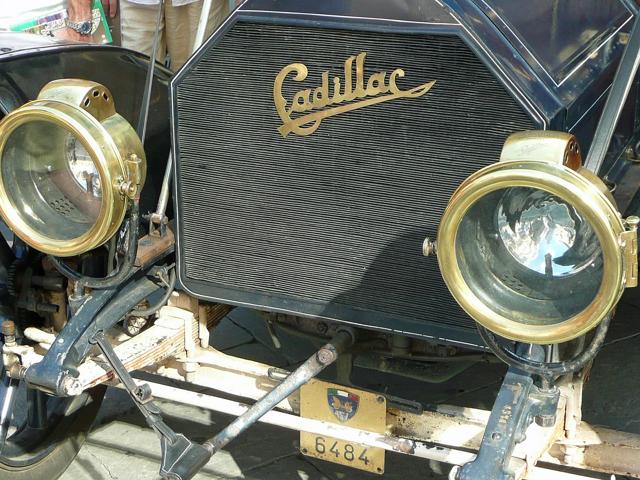 Click to enlarge
In a recent article I predicted that Warren Buffett (BRK.A, BRK.B) would be very interested in purchasing more of GM, possibly all of it. On July 21, GM released their second quarterly earnings report and their executives discussed it over a conference call. I've divided the news into three categories: Good, Ok, and Bad, in order to make it easier to digest. Overall I believe it confirms my thesis regarding GM being a good long-term investment. Also it provides more context regarding the risks that GM must overcome to do well in the coming years.
I don't ascribe too much importance to quarterly earnings, as frequently they can look good now and be restated later. Still, they are important as guideposts telling you which way the company is headed. Also, I believe the earnings call is very important, but not for the information it contains. That is usually already in the earnings release. Rather HOW management presents news is important. Do they focus only on good news (most likely)? How do they explain bad news? And how do they answer the questions posed by analysts at the end of the call?
Our strategic plan includes several major initiatives that we anticipate will help us achieve our goal of 9% to 10% margins on an EBIT-adjusted basis (EBIT-adjusted margins, calculated as EBIT-adjusted divided by Net sales and revenue) by early next decade: earn customers for life by delivering great products to our customers, leading the industry in quality and safety and improving the customer ownership experience; lead in technology and innovation, including OnStar 4G LTE and connected car, alternative propulsion, urban mobility including ride- and car-sharing through Maven and our investment in Lyft, active safety features and autonomous vehicles; grow our brands, particularly the Cadillac brand in the U.S. and China and the Chevrolet brand globally; continue our growth in China; continue the growth of GM Financial into our full captive automotive financing company; and deliver core operating efficiencies.
Good News
Like many, many others have already commented, earnings are up. $2.9 billion net income in Q2 2016 is a lot higher than $1.1 billion from last Q2. Simply put, they made more money.
One quarter isn't enough to judge a companies performance, no matter how much analysts want it to be. Here is a chart of GM's earnings, revenue, and free cash flow over the past 5 years: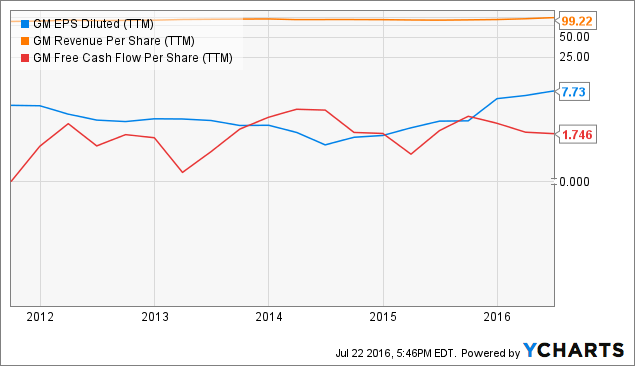 GM EPS Diluted (NYSE:TTM) data by YCharts
Yearly revenue is flat, but earnings are up recently. This implies margins are doing well. Here is a table of the most recent margin data:
| | | | | | | |
| --- | --- | --- | --- | --- | --- | --- |
| Margin | 2011 | 2012 | 2013 | 2014 | 2015 | TTM |
| Gross Margin | 12.71 | 7.1 | 11.62 | 8.86 | 12.01 | 13.18 |
| EBIT Margin | 3.76 | -19.94 | 3.3 | 0.98 | 3.21 | 4.97 |
| Net Margin | 5.05 | 3.19 | 2.43 | 1.8 | 6.36 | 7.87 |
Margins this year improved more than one percent, even from their elevated levels in 2015. This allowed GM to increase their earnings even while they lost market share in the United States. General Motors sold 16.3% of all cars in the US in the first 6 months of 2016 vs. 17.3% for the same period last year. They were able to do this by selling more cars to retail customers, and fewer to bulk customers (corporate fleets and rental car companies) who can negotiate volume discounts. I put this margin improvement down to skilled management focusing on the bottom line, and less on competitive statistics.
CEO Mary Barra and others have set an even higher bar to achieve in the future, noting a "goal of 9% to 10% margins on an EBIT-adjusted basis". Besides the US, China an integral part of this strategy. As some people may not know, GM now sells more cars in China than any other country. General Motors has several joint ventures with Chinese companies and claims to have good relations with the Chinese government. Net margins from these joint ventures are at 9.6% over the past 6 months, and sales are at record levels, so this part of the business is pulling its weight.
Ok News
Over the past 6 months General Motors Europe earned its first ever post-bankruptcy profit, bringing in $131 million EBIT at a margin of 1.3%. This is only "good" news because they were losing money before. Obviously this needs to improve in order to hit the 9 - 10% target.
Brexit is a threat to this new success. On the earnings call, CFO Charles Stevens said GM estimated the effect of Brexit at a loss of up to $400 million over the last half of 2016. When pressed for details, he said that it was still "very early days. But if I was sizing up the $400 million, I would say it's primarily the pound sterling. The UK market, our initial assessments for the second half, it could be up to 5% to 10% reduction." With all the effort put into Europe, getting hit with this headwind now must be demoralizing. There is already lots of competition in Europe; maybe that effort would be better spent on China?
Bad News
Surprisingly absent from the earnings call was any mention of the current and potential lawsuits GM is involved in. The latest news involves a potential recall of 4.3 million more vehicles with defective Takata airbags. GM has already recalled 2.5 million vehicles related to this issue. Fixing those may cost up to $320 million. This new issue could cost $550 million above that. Fortunately for GM (but unfortunately for anyone with a car), the airbag issue shouldn't have any impact on their brand. Most other car companies used the faulty Takata airbag inflator and are issuing similar recalls. This is chiefly a financial issue since the part is the cause of the problems.
GM's ignition switch recalls are a much bigger issue. That scandal is solely focused on GM and the actions it takes to solve the problem will determine how large the damage to its brand is. So far sales seem unaffected, but the longer a scandal lasts, the more damage it does. Also, a recent court ruling has opened GM up to $10 billion more in potential liability. Previously their 2009 bankruptcy shielded them from these damages, but the ruling partially rescinded their immunity. It would have been nice to hear something about Mary Barra's plans to address this on the earnings call, but GM has been mostly upfront about paying claims regarding this issue. An astute investor should watch those lawsuits in the future.
Valuation
GM's strategic plan to increase EBIT margin to 9 - 10% appears to be lofty but attainable. They raised their 2016 EPS guidance from $5.25 - $5.75 to $5.50 - $6.00. At $5.50 EPS, I value them at at least $50:
| | |
| --- | --- |
| EPS | 5.5 |
| Growth rate | 3% |
| Years | 10 |
| Terminal growth rate | 2% |
| Terminal years | 10 |
| Discount rate | 12% |
| Value | $50 |
| Undervalued | 36% |
They are currently up 13% since my last valuation of GM 6 months ago.
This is an excellent time to purchase them, even if they don't achieve their plan. As long as they can maintain current EPS, they will do well. To believe that GM is a bad investment you basically have to disregard all good news, assume sales will fall in most markets, and see the cloud around every silver lining. China, Europe, and North America may all see declining sales over the next year; demand can be cyclical. But unless you believe that will persist for at least 5 years, owning a well-run GM at these prices is a good investment.
Disclosure: I am/we are long BRK.B.
I wrote this article myself, and it expresses my own opinions. I am not receiving compensation for it (other than from Seeking Alpha). I have no business relationship with any company whose stock is mentioned in this article.