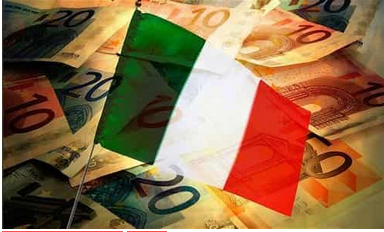 Courtesy of the Author
Introduction
To be sure, Brexit was an outlier event, and though negative economic consequences will surely follow in its wake, it is far too early to know the full gamut of chaos that will ensue. We can observe change at this stage and make educated guesses concerning future consequences. We can monitor banking sectors and observe what is being done to mitigate disruptive financial impacts as Britain continues to extricate itself from the EU. There is no quick resolution.
Of significant import is the survivability of the European Union in lieu of what can be considered a massively unexpected Black Swan event.
There is extreme uncertainty about Brexit's total impact and its potential to globally disrupt the political, economic and financial landscape of Europe and beyond. Time will tell.
Banking Industry
In a previous SA article, prior to Brexit, I speculated about profound changes within the banking industry should the British exit the EU. The inextricable relationship between the British banking sector and European Banks has now been severed, and this will surely impact weak banks within the EU and Britain.
Those dynamics are now in play and they will not be an easy fix. Keep your eyes on the banking industry; the key players.
MiFID
The MiFID is a policy framework designed to coordinate financial service policies among international banks within the EU. The Brexit decision has created uncertainty about how it might be applied, a condition that leaves British and European banks immersed in changing dynamics for the foreseeable future.
Of key importance are passporting rights which allow foreign banks to reside in the UK and sell products and services throughout the EU. This is vitally important to London's standing as a global financial hub.
Bank regulation looms large as many European banks took to London to function as hub operations. What remains unclear is what will happen to this expanded presence since Brexit will force virtually all of them to leave. This effect will surely result in wholesale staffing changes at European and British banks.
The head of JPMorgan's corporate and investment bank, Daniel Pinto, said, "the outcome of those negotiations will determine how many employees the U.S. bank moves out of Britain."
Banking Staff Exodus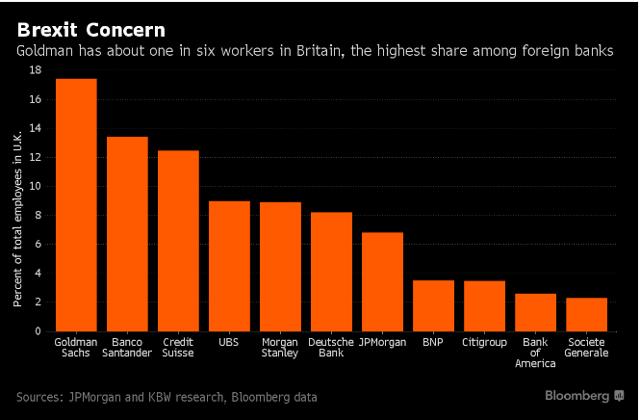 Click to enlarge
Courtesy of the Author
British banks Take A Hit
Equity performance of Britain's biggest banks took a major hit following the Brexit decision. The largest banks in London are center-stage in the ensuing bloodbath.
"London traded shares of Barclays PLC (NYSE:BCS) fell 17.4%, Royal Bank of Scotland Group (NYSE:RBS) slid 15.15% and Lloyds Banking Group Plc (NYSE:LYG) dropped 10.3%."
Analysts downgraded Barclays Plc, Royal Bank of Scotland Group Plc and Lloyds Banking Group Plc en masse, cutting their earnings outlooks as investors seek to comprehend the fallout. The average share-price estimate for these banks dropped more than 13 percent while all three lenders had ratings in their stocks cut by at least six analysts.
London's Wharf Financial District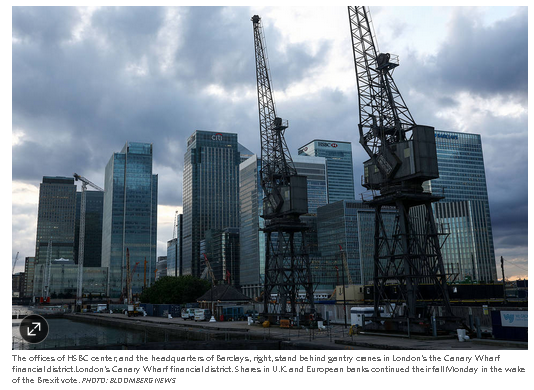 Barclays Bank

Click to enlarge
Courtesy of the Author Source Yahoo Finance
Royal Bank of Scotland

Click to enlarge
Courtesy of the Author Source Yahoo Finance
Lloyds Bank

Click to enlarge
Courtesy of the Author Source Yahoo Finance
The Bigger Picture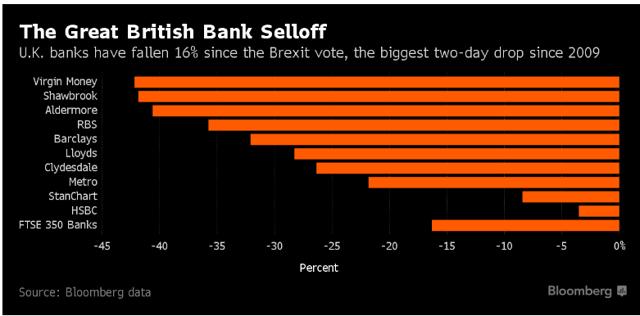 Click to enlarge
Courtesy of the Author Source Bloomberg
European Bank Default Risk Is Spiking
One Italian bank lost 80% of its value while others are holding about $400 billion in bad loans. A crisis looms as observers worry that some may be on the verge of collapse.
The British exit from the EU has posed a crisis for Italy's major banks including Banca Monte dei Paschi Siena (BMOPI) (OTCPK:BMDPY) which is straining because borrowers have stopped paying 17 percent of their loans.
Early ramifications are now spreading within the banking sectors and there is uncertainty and fear that Italy may spark a continent-wide crisis.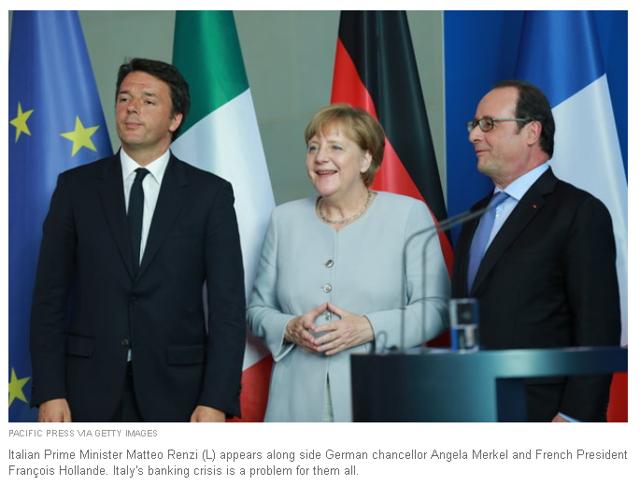 Courtesy of the Author
The Monte Paschi, the oldest bank in the world, is the weakest in Italy and is burdened with the greatest amount of bad loans. The ECB has insisted that a percentage of the deficits must be cut by the end of 2017 and 2018. A final decision is expected before the end of July, 2016.
This news took a toll on bank stock with Monte Paschi falling the hardest. The graph below shows the carnage.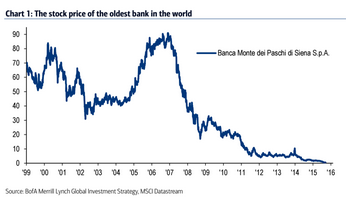 Courtesy of the Author
"CDS soar post the regulatory ban on short-selling stock. At over 1700 bps, this implies a 67% chance of default for the Monte Paschi bank."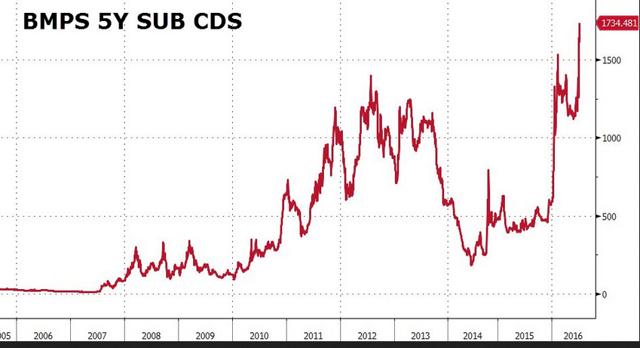 Click to enlarge
Courtesy of the Author
To compound matters, Bloomberg reports Monte Paschi's subordinated bonds fell to a five-month low following a deadlock by the Italian and European Commission on how to fix Italy's broken banking system.
Fixing Italy's Banks
Banking crises in Europe have been an ongoing problem long after the U.S. banking crisis ended in 2008. But Italian banks are facing a similar problem now. Loans have been made to people who are not paying them back.
Shares of Italy's largest banks have plummeted as bad debt on the balance sheets has become impossible to ignore. The EU faces the risk of contagion from these Non-Performing Loans.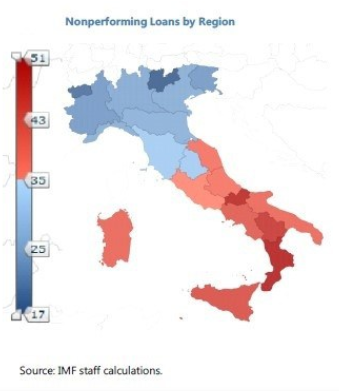 Courtesy of the Author
Between A Rock And A Hard Place
Italy and the EU disagree about who should pay. Italy's prime minister Matteo Renzi seeks to use $45 billion taxpayer funds to head off an economic crisis. However, new EU rules ban the use of state aid to protect taxpayers from socialized losses which would result from bailouts.
The bank creditors and banks' bond investors must take losses before taxpayers. Hanging in the balance is the fear of incurring a far more costly financial crisis if the problem is dragged out for too long.
So far, German Chancellor Angela Merkel has refused to consider a taxpayer bailout citing that this would set a bad precedent only two years after the new EU rules were established.
Future Risks
The focus on Italy's long standing banking sector has been magnified by the U.K.vote in June to exit the EU. Clearly, the situation has spilled over the rest of Europe and may be regarded as a major macro-political risk. Bear in mind that Italy is the third largest eurozone economy with well defined linkages between banks and government.
Consider the following:
If Italy bails in its bond and deposit holders under the new EU rules it will wipe out a host of Italian pensioners and savers savings, political suicide for any Italian leader. This does not auger well for Prime Minister Renzi's dream of re-election.
Italy has the 8th largest economy in the world, and unlike Greece, there is no possible way that Europe has the resources to restructure a meltdown of the Italian Financial System.
Amid all the risks facing EU members in 2016, the risk of contagion from Italy's troubled banks poses the greatest threat to the world's already burdened financial system."
A stealth run on the big Italian banks has already begun as Italians quietly have withdrawn billions of euros. With further deterioration, this could turn into a stampede run.
Finally, and most importantly, There are no greater risks for EU banks than a failure to easily move money or liquidity, which is essential for their existence. Money is drying up and lending money to other banks is precarious if they are holding the worst losses.
Takeaway
There is no clear pathway between the EU and U.K. that investors can see for resolving the current crisis and the political uncertainty surrounding it.
Don't let the recent new highs in US stock market indices make you complacent about the financial global risks out there.
A break up within the EU carries a dire threat concerning how the employment and legal landscape will change, now that Great Britain has withdrawn from the EU. Furthermore there is the threat of bank failure contagion that the U.S financial system cannot avoid.
Financial panic could spread rapidly to other eurozone countries like Portugal, Ireland, Greece and Spain.
Keep your eyes fixed on the banks.
NOTE: Thank you for reading and commenting. You can follow my articles on SA by going to the top page and clicking on the circle button directly after my name and preceding the word 'Follow'.
Disclosure: I/we have no positions in any stocks mentioned, and no plans to initiate any positions within the next 72 hours.
I wrote this article myself, and it expresses my own opinions. I am not receiving compensation for it (other than from Seeking Alpha). I have no business relationship with any company whose stock is mentioned in this article.
Additional disclosure: The information and data that comprise the content of this article came from external sources that I consider reliable, but they have not been independently verified for accuracy. Although I reserve the right to express points of view, they are my reasoned opinions, and not investment advise. I am not responsible for investment decisions you make. Thank you for reading and any comments you make.