Introduction
Honeywell (NYSE:HON) is one of those household names which rarely disappoint, either in terms of the quality of its products, or its financial performance. It's not very surprising to see the company's share price was trading close to its 52-week high before losing some ground after the announcement of its financial results, wherein it confirmed a lower revenue guidance. Does this jeopardize Honeywell's future? Or is the market overreacting, allowing investors to have another chance to get in?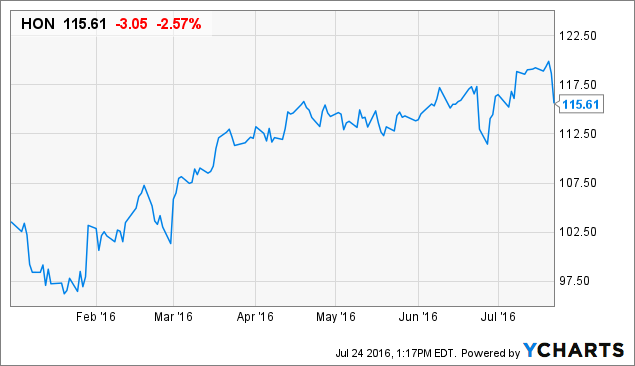 The first half of the year was very decent
Honeywell had a decent first half of the year and second quarter. The company's total revenue increased by 2% to $10B. That's very encouraging, but unfortunately this revenue increase was entirely caused by non-organic incremental revenue as the core organic revenue fell by approximately 2%. Despite the total revenue growth of 2%, the COGS increased by just 1%, and as the SG&A and interest expenses also remained within control, Honeywell's pre-tax income increased from $1.66B to $1.76B, a 5.6% increase.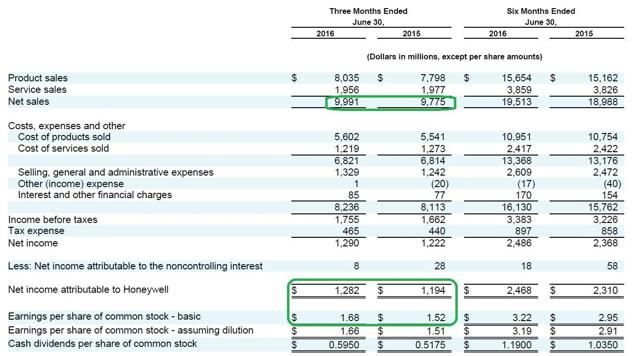 Click to enlarge
Source: SEC filings
Thanks to the higher pre-tax income, the company's net income also increased by approximately 6% to $1.28B, resulting in an EPS of $1.68, bringing the total EPS of the first half of the year to $3.22, which is almost a 10% increase compared to the first semester of last year. The higher net income also caused the company's board of directors to hike the dividend by approximately 15%, and Honeywell is now paying $0.595 per share per quarter, resulting in a dividend yield of approximately 2%. Indeed, Honeywell isn't a 'dividend king', but you can be sure the dividend is sustainable, as Honeywell is just spending a small part of its adjusted free cash flow on paying its dividend.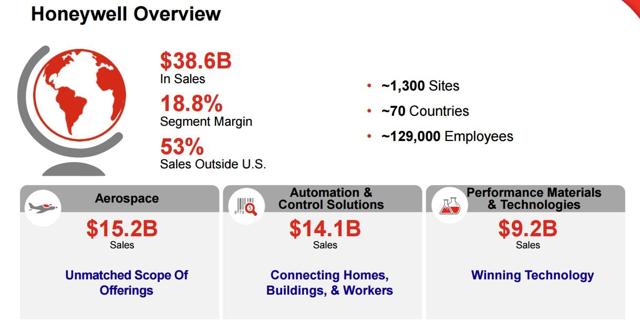 Click to enlarge
Source: Company presentation
Honeywell's unadjusted operating cash flow was quite comparable to the results of the first semester of last year, and even on an adjusted basis (which doesn't take the changes in the company's working capital into consideration), the difference is quite small. In the first six months of this year, Honeywell's adjusted operating cash flow was $2.8B versus $2.83B in the first half of last year. That's indeed approximately 1% lower than last year, so this could indeed mean Honeywell's cash flows are a little bit under pressure, especially as the total capex in the first half of the year increased to $475M.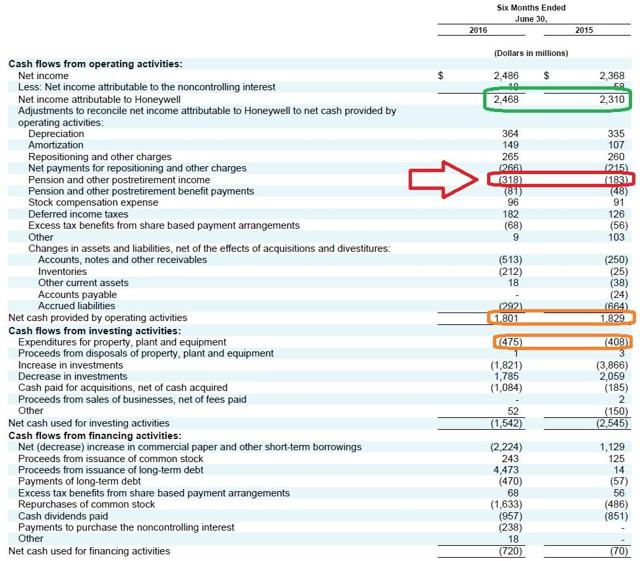 Click to enlarge
Source: SEC Filings
This capex increase does give you a better overview of how Honeywell's free cash flow has been decreasing. Whereas the company generated $2.42B in free cash flow in H1 FY 2015, this amount fell to $2.33B in the current financial year (still on an adjusted basis). Sure, a 4% drop in the adjusted free cash flow isn't anything to panic about, but keep in mind this year's first semester contained one additional day (February 29th) versus last year, so I would have been expecting a slightly better result than a 4% drop in the company's free cash flow.
Should the revenue warning worry you?
This doesn't mean Honeywell's dividend is in jeopardy, considering the total cost of the dividend was just $960M, and the more shares the company repurchases (and cancels), the lower the total cash outflow will be on the dividend payments. Even after the 4% decrease in the adjusted free cash flow, Honeywell's payout rate is still just 40%, so the margin of safety is still pretty high.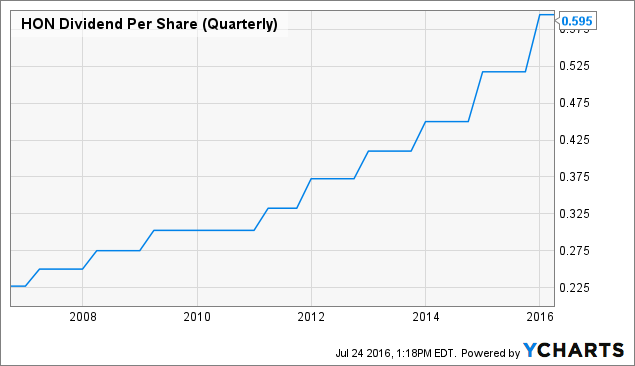 HON Dividend Per Share (Quarterly) data by YCharts
Honeywell has also repurchased a net amount of 10 million shares since the end of the previous financial year, which is approximately 1.3% of the total amount of outstanding shares. Should the company continue to buy back stock at this pace, it will be able to retire 2.5% of its share count, further reducing the cash outflow to be spent on dividends.
That being said, the company's revenue warning is interesting. Sure, a $300M reduction in the anticipated revenue could easily be dismissed if your total annual revenue is approximately $40B, meaning the guidance is revised by less than one percent, but the reduced operating cash flow and free cash flow does worry me a little bit. Keep in mind that last year, Honeywell generated approximately 54% of its full-year adjusted free cash flow in the first half of the year, so unless there will be some sort of 'catch up' move, I don't think Honeywell will be able to beat last year's results.
Investment thesis
Honeywell will have to perform very strong in the second half of this year (and I hope the company's focus on projects with a high ROI will continue to yield positive results), but it will be very tough to generate $4.5B in adjusted free cash flow. As the pressure on the revenue is going hand in hand with the lower adjusted free cash flows, it does look like Honeywell is facing increasing pricing pressure on its products.
This does create the need to diversify, and that's why the new acquisition of Intelligrated could be a good move, considering Honeywell's management team disclosed it's targeting a market that is growing at a high single digit percentage per year. From the conference call:
"Intelligrated serves the high-growth e-commerce industry, offering complete warehouse automation solutions, software and services. Intelligrated has a large and growing install base of customers that align well with our new Safety and Productivity Solutions business and they serve a highly attractive market that is forecasted to grow 8% to 10% a year."
Honeywell will very likely need Intelligrated to boost its free cash flow again, and with a current EBITDA of approximately $125M per year, this acquisition will immediately start to pay off. Sure, it's not a cheap one (HON is paying 12 times the EBITDA), but Intelligrated was able to increase its revenue by 13% on an annual basis.
Right now, Honeywell isn't expensive based on an anticipated free cash flow yield of approximately 5.4%, but the stagnating (actually decreasing) free cash flow in the first half of the year does hold me back on pulling the trigger. I will keep an eye on Honeywell, but I'd like to see the free cash flow result in the third quarter (with a special focus on the pension-related cash flows and the H2 capital expenditures) before making any decisions. I do think Honeywell is a good addition to a value portfolio on a potential pullback.
Disclosure: I/we have no positions in any stocks mentioned, and no plans to initiate any positions within the next 72 hours.
I wrote this article myself, and it expresses my own opinions. I am not receiving compensation for it (other than from Seeking Alpha). I have no business relationship with any company whose stock is mentioned in this article.