At the very end of June, Hess Corporation (NYSE:HES) and its partners Exxon Mobil (NYSE:XOM) and CNOOC (NYSE:CEO) announced that their exploration partnership in Guyana had struck a huge amount of liquid gold. Hess Corporation owns 30% of the venture, CNOOC has a 25% stake, and the operator Exxon Mobil owns the rest. The consortium is searching for hydrocarbons off the coast of the South American country that borders Venezuela in the Stabroek Block, which covers 6.6 million acres.
For some background, the Liza-1 well was spud back in early March 2015 and was drilled to a total depth of 17,825 feet through 5,719 feet of water. A triumphant announcement in May 2015 noted the Liza-1 well uncovered "295 feet of high-quality oil-bearing sandstone reservoirs," with initial estimates pointed towards the prospect housing ~500 million BOE of recoverable resources.
The Liza-2 well was spud in February 2016 and reached a total depth of 17,963 feet through 5,551 feet of water. At the end of June 2016, Hess followed up on that triumphant announcement with news that the Liza-2 well "encountered more than 190 feet of oil-bearing sandstone reservoirs in Upper Cretaceous formations." On top of moving forward with the Liza-2 well, the partnership initiated a 17,000 square kilometer 3D seismic mapping endeavor that was recently completed. Combined, all the information the venture has gathered so far points towards 800 million to 1.4 billion BOE of recoverable resources in the Liza prospect heavily weighted towards oil.
Below is a look at the Stabroek Block and where the venture is targeting its initial exploration & appraisal activities. The red box is for scale.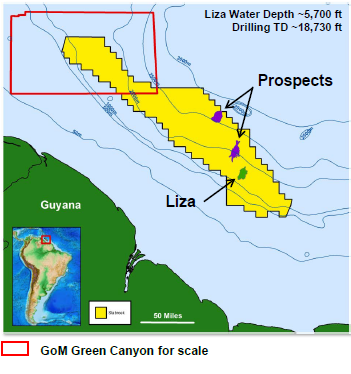 Source: Hess Corporation June Presentation
Hess Corporation is guiding for the venture to drill four wells this year (including the Liza-2), with new prospects already in its sights. The Liza-2 well proved that this was a top tier play which will represent a major part of Hess's value proposition going forward. The economics are greatly enhanced by a discovery of this size relative to smaller fields, especially as the find is primarily crude oil. A large natural gas deposit, even if located in a region where there is plenty of demand, generally requires a higher level of investment, from LNG complexes to long winding pipelines to reach an end buyer.
Investors and shareholders alike, which include myself, should look out for any commentary on this asset. On the exploration & appraisal front, management may highlight how many other prospects are there in the area and/or which ones the consortium plans to target next. If Hess sees another prospect with similar geological features as the Liza prospect, that could imply the venture sees a high probability of continued success.
On the development front, Hess Corporation may note what the venture has in store now that a second Liza well has confirmed the discovery. As global oil prices remain depressed, the consortium may push back the development stage. However, as the medium-to-long term outlook for crude prices has improved materially, the venture could capitalize on cheaper development costs by deciding to move quickly. A final investment decision isn't in the works, but signs that the venture wants to proceed swiftly would provide some color in regards to a timetable. On that note, any commentary on what kind of economics this project would support should also be monitored.
Financial situation
One of the most comforting things about Hess Corporation is its rock solid balance sheet. The upstream firm is in no way dependent on additional asset sales, debt issuance, or another secondary offering to cover its outspend. As the upstream player exited Q1 2016 with $4.95 billion in current assets, including $3.56 billion in cash, compared to $2.19 billion in current liabilities (including $94 million in debt maturities) and $6.5 billion in long-term debt, including $709 million from Hess Midstream, there is no real chance of Hess going under anytime soon. The company also has an undrawn $4 billion revolving credit line that matures in January 2020.
During the first quarter of this year, oil & gas prices were at their lows. Hess realized just $28.50 per barrel of crude oil sold globally ($26.94/barrel in the US), $7.44 barrel of NGLs ($7.20/barrel in the US), and $3.42 per Mcf of natural gas worldwide ($1.27/Mcf in the US as the Utica differential combined with low Henry Hub pricing pushed prices down to ridiculous levels).
Hess Corporation plans to spend $2.4 billion this year on its capital expenditures, on top of $320 million in dividend payouts and ~$340 million in interest payments. As the firm generated a paltry $148 million (excluding working capital changes) in operating cash flow during the first quarter of 2016, shareholders want and need to see that situation improve. When factoring in working capital changes of $208 million, Hess generated negative $60 million in operating cash flow.
That is a depressing picture, but one that should have changed materially during the second quarter as crude prices shot up. WTI averaged around $45/barrel with Brent coming in a couple of dollars higher than that, and Henry Hub moved several rungs higher during the quarter (stronger domestic natural gas prices will be felt more so in Q3). Investors should pay very close attention to Hess's ability to generate operating cash flow in a $45 crude pricing environment as one of the company's biggest weaknesses is its ability to self fund its growth endeavors.
Hess Corporation is spending $500 million on exploration and appraisal activities, $325 million on its operated Stampede development in the Gulf of Mexico (first-oil targeted for 2018), $375 million on the full scale development of its North Malay Basin asset (expected to be completed in 2017), and another $70 million for pre-development activities at the Liza prospect (highlighting the consortium's potential intent on moving forward) this year. This is a part of its $2.4 billion capex budget. Combined, that is $1.27 billion on projects that either aren't yielding cash flow or, with the North Malay Basin, are generating only a small amount relative to full field development.
Final thoughts
If the upstream player can show its cash flow streams firmed up materially in Q2 that would be very bullish, as it would remove the worry that Hess could have to eat a huge amount of cash to ride out 2016. As spending from its major development in the North Malay Basin rolls off starting sometime in 2017 and that asset turns into a cash flow cow, which will be followed up by the Stampede project coming online in the Gulf of Mexico a year later, Hess Corporation's budget will be given more latitude. The first quarter of 2016 was very dismal, ideally the second quarter will show Hess can hold its own in a $45/barrel of oil environment.
Other things to look out for include continued operational gains in the US, particularly out of its Bakken/Three-Forks asset up in North Dakota. Faster drilling/completion times and better completion designs would strengthen its drilling economics in a play that doesn't do well in a sub-$40 WTI environment.
Parts of the core of the Bakken/TF play can do alright in a low price environment on an incremental well basis but overall, higher transportation costs, tax rates, and minor pricing differentials hold the region back when compared to top tier areas like the STACK, Permian, or Eagle Ford plays. Being able to adjust, even if just along the margins, better to the current situation through lower well costs and/or higher levels of productivity would greatly benefit Hess Corporation's core unconventional asset.
Hess Corporation's Bakken/Three-Forks operations were running four rigs in Q1, which fell down to three rigs in Q2 and will move to two this quarter. In the Utica shale over in Ohio, Hess's JV with CONSOL Energy Inc. (NYSE:CNX) released the only operated rig in Q1 with no drilling planned for the remainder of 2016. The upstream firm has almost completely removed its foot from the unconventional gas pedal. Higher oil & gas prices are needed to justify ramping up activity, but when that time comes, the firm has the liquidity and expertise to do so.
Confirming the Liza discovery was a huge plus for the nation of Guyana and Hess Corporation. Unlike many of its upstream peers with primarily unconventional operations, Hess's asset base is far more conventional and internationally focused. Having a new long life, low decline asset with relatively low production costs provides a solid base for the company to build off of and for investors to bet on. For Guyana, the Liza find could fundamentally change the economic trajectory of the country as the surge in oil & gas related investment and future tax revenue streams propel the nation to new heights.
Disclosure: I am/we are long HES.
I wrote this article myself, and it expresses my own opinions. I am not receiving compensation for it (other than from Seeking Alpha). I have no business relationship with any company whose stock is mentioned in this article.