It seems that investors are expecting a higher bid for Joy Global Inc.(NYSE: JOY) than the cash bid of $28.30 from Komatsu Ltd. (OTCPK: OTCPK:KMTUY). (Merger agreement document) With the deal scheduled to be completed in mid-2017 and the last price on Friday, July 22 of $27.95, buyers would only get about 1.3% on their investment including the $ .01 quarterly dividend. After the announcement, the stock even traded as high as $28.55. Traders were aggressively bidding this stock up even prior to the announcement. Are investors correct in anticipating another higher bid?
Background Information
JOY emerged in 2001 from the bankruptcy of Harnischfeger Industries, which filed for Ch. 11 in 1999 partially because of non-payment of a note by Asia Pulp and Paper. APP claimed that they were sold faulty paper making equipment by one of Harnischfeger's subsidiaries, Beloit Corp. Harnischfeger bought Joy Global in 1994 for $700 million and other mining equipment manufacturers were added to Joy over the years.
The weak commodity prices in the mining sector, especially the coal industry, have really taken its toll on JOY. The results for the last two years have been terrible. Bookings for the last six months were down 24% for underground equipment from the prior year and total bookings were down 15%.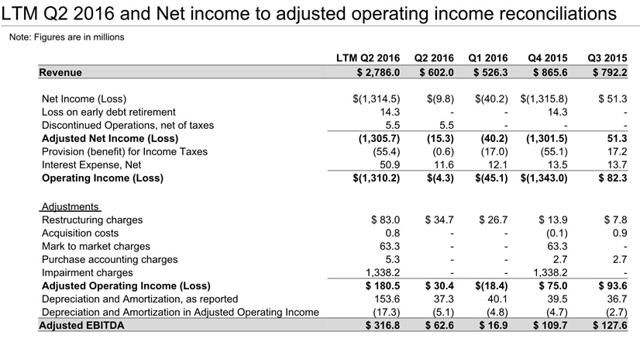 Click to enlarge

Click to enlarge
The purchase price enterprise value is $3.7 billion ($2.9 billion equity plus $1 billion debt less $0.2 billion cash). That would be 11.7x last 12 month's EBITDA and 16.4x consensus forecast by analysts for fiscal 2016 according to Joy. Komatsu must be looking past current results and expecting increased demand for mining equipment. I doubt, however, that they are expecting a return to the more robust period of a few years ago. In addition, they are expecting to leverage the sales force by adding additional products and to gain synergy from cutting duplicate costs. This aggressive stance could cut into competitors' sales. This raises the question: Is this purchase a defensive stance by Komatsu trying to defend their market share from aggressive competitors or a offensive ploy trying to gain market share?
About half of Joy's sales come from the coal industry. The domestic demand/production of coal has slowing risen from earlier in the year, but still remains weak. Komatsu may be looking at markets outside the U.S. for growth. India, for example, is planning to expand their domestic coal mining operations, but that expansion would have a negative impact on countries exporting to India, especially Indonesia. You need overall growth in mining to get overall growth in demand for equipment or you need to increase market share from competitors.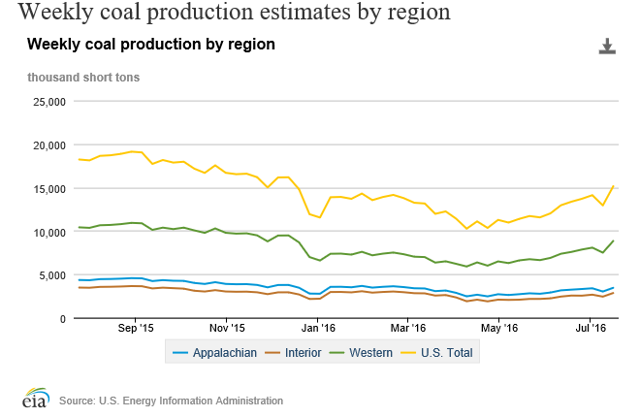 Click to enlarge
When Caterpillar Inc. (NYSE: CAT) announced it was buying Bucyrus International in 2010, many investors were expecting that Komatsu would try to buy JOY in order to respond to the formidable combined companies. A buyout offer never materialized because Joy's stock was trading at a very high level ( around $100) and was therefore, too expensive to justify making a bid. Instead of being bought, JOY made a major purchase of International Mining Machinery Holdings Ltd, a manufacturer of underground mining equipment, in late 2011/early 2012. This Chinese company gave JOY greater access to China and Asia. Yet ever since, there still have been rumors that they were in talks for a merger or that other companies were interested in making a bid.
Most of products sold by Bucyrus did not compete with CAT's extensive product line, but instead expanded their product line. CAT was, however, already selling to many of Bucyrus' customers and this enabled them to offer more products using the same sales force. At the time of the merger, the expected synergy savings was about $400 million.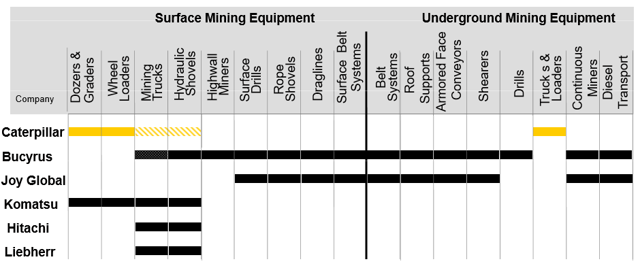 Click to enlarge
Who Else May Make a Bid?
Atlas-Copco. The Swedish firm, Atlas Copco AB(OTCPK: ATLKY) has been rumored in the past to have an interest in buying JOY and has the financial strength to make a bid. One reason for the rumors is that they have a long history of buying and selling companies, but not as large as JOY. Their largest purchase was Rental Service Corp at $29 per share or just over $700 million with 3,600 employees at the time of the purchase in 1999. They sold it 2006. (Here is a list of companies bought/sold since 1999.) Atlas-Copco had sales of over $12 billion in 2015 with 43,000 employees compared to Joy's 14,000 employees and sales of $2.8 billion LTM. It would be a major acquisition for them. I question if the Wallenberg family, who control Atlas-Copco, would be willing to make such a large purchase of a currently troubled company.
In addition, I do not think that there would be much synergy with their current portfolio of companies/products from a combination. Atlas-Copco's Mining and Rock Excavation Technique Div. includes a very wide product line. Their products may have same customers, but the actual company purchasing agents may be different. That would not enable the same sales person to sell more products; instead would just mean a larger sales force. Therefore, I do not think that they will bid.
Mining and Rock Excavation Technique Div-Atlas Copco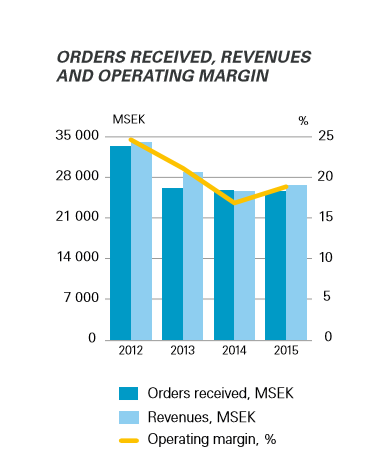 Liebherr Group. The Swiss privately held Liebherr Group had revenue in 2015 of $10.4 billion. Employees total 41,545 and sales in the earthmoving division total $2.314 billion and $0.812 billion for mining in 2015. Many of Joy's and Liebherr's products are not only often bought by the same customers but frequently by the same purchasing agents. The combination would enable leveraging the sales force and could result in significant savings from this synergy. Being able to pay cash should not be an issue.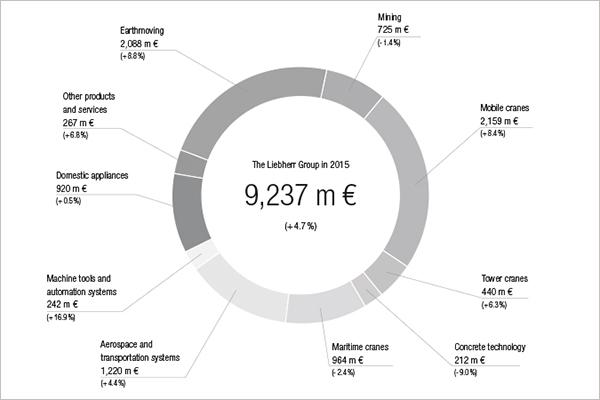 Hitachi Construction Machinery. Hitachi Construction Machinery Co. Ltd (OTCPK: OTCPK:HTCMY), which is controlled by Hitachi Ltd (OTCPK: OTCPK:HTHIY), has had uneven results over the last few years, but they have not had any losses. (10 year results.) Their market capitalization is smaller than some other potential bidders, but they are backed Hitachi Ltd., which means that they should be able to finance a cash bid. Their products and Joy's products compliment each other and would allow for leveraging their sales force. As an Asian company would they be able to market the combined products better to other growing Asian countries than American/European companies? (Not sure, but this was talked about in conversations I had the last few days with some Joy investors.)
Construction/Minining Sales Sector-Hitachi Construction Machinery

Click to enlarge
Komatsu Ltd
So how does Komatsu compare to these potential buyers? They have 47,017 employees and $12.9 billion in revenue for the last fiscal year. They have the capital to make the purchase and it is not subject to getting financing. Many of their products and Joy's products could be sold to the same purchasing agent, which would leverage their sales force. It would also expand their product line as mentioned in Komatsu's news release announcing the merger. Komatsu also sells many other products, such as machine tools and press systems, that are not used in mining and construction.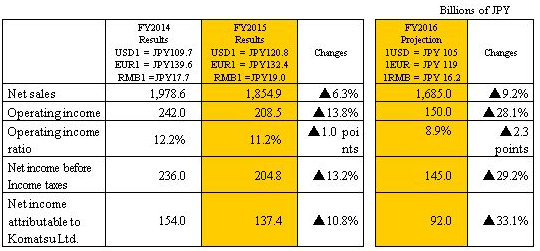 When energy and mining sectors stabilized after their plunge, investors began to re-look at Joy as a possible buyout candidate. The company does not have the extreme leverage that some other mining and energy companies have (balance sheet shareholder equity is $1.4 billion and debt is $1 billion.) so that the total purchase price of buying the stock and assuming the debt is not unreasonable.
Some shareholders may be disappointed in the buyout price of $28.30 that is far below the stock price of a few years ago when it traded over $100, but it is higher than the low of $8.35 within the last year. Any potential new bidder would also have to pay the $75 million termination fee to Komatsu, which is about $0.75 per share. (Komatsu has to pay a termination of fee of $150 million to Joy if they decide not to complete the deal.) The deal is expected to be completed in mid-2017, but a new buyer would be expected to make a bid, either cash or equity, sooner rather then later.
There are a lot of concerned workers and residents in Milwaukee, where Joy has their headquarters and some factories. With their factories being low-tech and old, many workers fear that local operations, including offices, will be closed. This could become a political issue, especially since the buyer is a Japanese company. Would a buyer from Sweden or Switzerland be more acceptable? I have been in their plants and they are not much different from decades ago. Oddly enough CAT's Bucyrus factories are only a few miles away within Milwaukee County. This has become an extremely important local issue. I am not sure if there will be issues raised by either the U.S. Dept. of Justice or the Federal Trade Commission regarding trade or anti-trust violations. I do assume, however, that JOY shareholders will approve the deal. (Komatsu shareholders are not required to approve the deal.)
Conclusion
Joy's bond holders seem content, as the bond prices have risen from trading below par to above par as the quality of the debt improves with the merger. Oddly, the call options are not trading with very large premiums that would indicate possible higher bids. Clearly buyers of JOY at the current price levels are expecting a higher bid from another buyer.
I do not think Atlas-Copco would bid because it would be a much larger purchase than their typical acquisition and there really is not much synergy. Liebherr is a realistic consideration for a potential bidder. There could be large synergy gained and they are large enough to absorb Joy. Hitachi Construction Machinery would be taking a very large bite given its size, but when considering the size of Hitachi Ltd, then it could make sense, especially since there could be some synergy.
Buyers at prices below $28.30 are assuming that their only risk is cost of capital versus the expected tiny return on their investment. Their potential gain is from a higher bid, but they are ignoring the risk that the deal does not close. The government still needs to look at the deal, which is always a risk. I am not convinced that a new buyer will appear and I do not think the risk-reward ratio justifies buying JOY at current prices. Some may think that the last trading price on Friday of $27.95 that results in a 1.3% annual return, including dividends, can be explained away as just reflecting the low interest rates in the money market. I strongly disagree. There were millions of shares traded on Friday only a few pennies away from the buyout price. There was a lot trading at $28.23, which would only result in a 0.35% return, including dividends. So those trades also reflect the low rates? I do not think so. If the stock declines as no new bidder comes forward, I would consider buying.
Disclosure: I/we have no positions in any stocks mentioned, and no plans to initiate any positions within the next 72 hours.
I wrote this article myself, and it expresses my own opinions. I am not receiving compensation for it (other than from Seeking Alpha). I have no business relationship with any company whose stock is mentioned in this article.
Editor's Note: This article discusses one or more securities that do not trade on a major U.S. exchange. Please be aware of the risks associated with these stocks.