Key Issues:
Dell Inc.'s (NASDAQ:DELL) $63.5 billion proposed acquisition of EMC Corp (EMC) was announced in October 2015. The largest tech company acquisition ever is on track to close within the next 2-3 months after receiving a 98% thumbs up vote from EMC's shareholders this past Tuesday 7/19. The merged entity, to be renamed Dell Technologies, would have pro forma FYE 1/29/16 revenue of $74.0 billion, gross margin of $19.2 billion, and an operating loss of $2.9 billion.
The rationale…? The deal diversifies Dell's product mix, merging its 4th place ranking and expertise with servers (14% market share) with EMC's number one position in data storage (and 24% market share). The combined company will have leading positions in servers, storage, virtualization and PCs and be well positioned in other fast growing IT segments: Digital Transformation, Software Defined Data Centers, Hybrid Cloud, Converged Infrastructure, Mobile, and Security. The merger also gives Dell control of EMC's 80% owned VMWare (NYSE:VMW). VMW is a lead player in data center virtualization and the cloud. Dell is paying EMC shareholders $24.05 per share in cash and issuing 0.111 shares of a tracking stock in VMW per share of EMC held. EMC's revenue and operating income highlights the importance of VMW within the company. In Q2'16 EMC reported $6 billion total revenue of which $1.68 billion (or 28%) was credited to VMW.
Each of the merged companies has its challenges and opportunities:
- Dell's core server business is facing tighter corporate IT hardware budgets affecting other parts of its hardware product line; the same applies to EMC and competitors Lenovo and Cisco; share gains at Hewlett Packard Enterprise Inc. (NYSE:HPE) are likely not sustainable since pricing for servers remains under pressure. See Denali Holding Inc. and Subsidiaries Financial Summary (Table 1) below.
- EMC's networked system storage business is being upended by competing cloud models, new direct-attached storage architecture and virtualization even as EMC beat Q2'16 estimates by selling infrastructure as a service and cutting costs; EMC's opportunities rest with Emerging Storage (e.g., all-flash xtremeIO and software defined ECS); still, EMC is a cash cow, generating about $4.5 billion of free cash flow in the LTM period. See EMC Corp. Financial Summary (Table 2) and EMC Segment Analysis (Table 3) below.
- VMW's core server virtualization product vSphere is fading as clients opt to rent rather than buy IT infrastructure on a public cloud but VMW's newer virtualization and hybrid cloud products are gaining acceptance; that allows VMW to resume growing its top line by expanding from the clients' servers into clients' networks and storage; VMW's 32% gross margins have remained stable throughout; in PCs, the multi-year declines in sales likely reached an inflection point this year as consumers are now swapping 4-year-old PCs for higher-end PCs and 2-in-1 laptops or getting forced to upgrade to new PCs after installing Windows 10. See VMWare Financial Summary (Table 4) below.
- After DELL is merged with EMC the company will be renamed Dell Technologies and its businesses will be reorganized into 5 segments: Enterprise Solutions (combining EMC Info Storage and Dell Enterprise), Client Solutions (Dell PCs, notebooks, tablets, branded peripherals), VMware (VMW virtualization and cloud products), SecureWorks (SCWX cyber security products), Emerging Cloud Solutions (includes Pivotal and Boomi) and Dell Software. Dell Technologies is expected to benefit from $2 billion of synergies within the first 1-2 years post close.
Michael Dell has a good track record of achieving synergies and de-leveraging. After Dell, Silver Lake and MSD Capital paid $20.1 billion to take Dell private in October 2013, run rate free cash flow improved from $1.5 billion (then) to $2.5 billion (LTM through Q1'17 ended 4/29/16). Dell Inc. was able to rapidly pay down debt. See Denali Holding Financial Summary below. The rating agencies reviewing the EMC deal were told that management planned to sell roughly $10 billion of non-core / non-hardware assets (including Quest Software, SonicWall, AppAssure, and Perot Systems) in order to reduce debt Dell has taken on to acquire EMC. Dell then booked a $3.1 billion sale of Dell Services to NTT Data International LLC in March. In April, it took 13.2% of SecureWorks (NASDAQ:SCWX)) public via a $112 million IPO.
The biggest Dell/EMC synergies, however, are projected by to come primarily from revenue increases - management says they could run 3x the $2 billion cost savings. How…? By letting Dell's sales force compete in enterprise versus the sales teams at IBM or Hewlett Packard Enterprise (HPE) by adding EMC's storage line to Dell's service and network products. Sounds simple, but Dell's sales force already offers small/medium business clients simple backup for $469 or, say, direct-attached storage for $3,400. Meantime, EMC's sales force offers storage products that run up to $40,000 per system. And there's overlap in the midrange products that will be on offer: EMC's VNX array is a market leader because it works all the way from entry-level to high-end configurations while Dell's SC Series (acquired via its Compellent acquisition) and PS Series (acquired when Dell bought EqualLogic) compete in the midrange also. The inevitable turf wars between Dell's and EMC's competing sales forces over pricing and products will become fiercer as new cloud products from outside competition limit Dell's overall enterprise sales. Chinese original design manufacturers already selling to massive public cloud companies Amazon/AWS (NASDAQ:AMZN), Alphabet/Google Cloud (NASDAQ:GOOGL), and Microsoft Azure (NASDAQ:MSFT) are now targeting potential private/hybrid cloud customers with cheaper high quality storage products than what either Dell or EMC may have on offer.
Dell Inc. booked $54.6 billion revenue and $3.4 billion adjusted EBITDA through the latest 12-month period ended 4/29/16. Although we don't have a 10-Q yet, we can estimate that EMC generated $24.9 billion revenue and an estimated $5.8 billion adjusted EBITDA through its latest 12-month period ended 6/30/16. Combined, that's $79.5 billion revenue and $9.2 billion adjusted EBITDA versus roughly $54.2 billion of pro forma total long and short term debt post close - a leverage ratio of 5.9x. That's high but not insurmountable. If just the expected $2 billion of cost synergies are achieved (i.e., not the $6 billion of revenue synergies), leverage drops to 4.8x. Chop the total debt figure back down by $5 billion of disposition proceeds and you've reduced leverage another half a turn to 4.3x.
Bond Technicals:
Dell Inc. has arranged just over $31 billion of debt to finance its purchase of EMC, including $6.4 billion of first lien senior secured bank debt at the Dell International LLC subsidiary level, $8.9 billion of senior unsecured notes issued by Dell International Inc. and Dell Inc., and $23.2 billion of senior secured note acquisition financing co-issued by Diamond 1 Finance Corp and Diamond 2 Finance Corp. See Denali and Subsidiaries Debt Issues (Table 6) below.
The Diamond Finance Corp 1/Diamond Finance Corp 2 bonds are not the most actively traded issues despite their larger outstanding principal amounts. The Diamond Fin 6.02 Senior Secured 1st Lien notes due '23 are the largest of all the Dell-related issues ($4.5 billion outstanding), but it's the two senior unsecured notes in that part of the complex that are trading much more frequently: Diamond Fin 5.875 Senior Unsecured Notes due '21 and the Diamond Fin 7.125 Senior Unsecured Notes due '24. The six Diamond Finance senior secured first lien note issues are provisionally rated Baa3 at Moody's and BBB- at S&P while the two Diamond Finance senior unsecured bonds are provisionally rated Ba2 at Moody's and BB+ at S&P. In other words, you are seeing demand for senior unsecured bonds that might catch an upgrade.
The outstanding Dell Inc. notes are all senior unsecured with Ba3/BB- ratings at Moody's/S&P. Moody's has these issues on watch positive for an upgrade. While the Dell Inc. 5.875 Senior Unsecured Notes due '19 have the most principal outstanding ($600 million), trading activity has focused on certain longer dated issues: Dell Inc. 6.5 Senior Unsecured Notes due '38 and Dell 7.1 Senior Unsecured Notes due '28.
EMC Corp also has outstanding $1.3 billion of outstanding commercial paper plus another $5.5 billion of senior unsecured notes at the corporate level. There are make whole calls but no change of control put at $101 which is why you are seeing EMC 3.375s due '23, the most liquid issue, trading below par. Their value is based on the expectation they will remain outstanding but the A1/A Moody's/S&P ratings are on watch at both agencies for a likely downgrade. VMW does not have public bonds outstanding.
Comments:
Combining Dell with EMC does not guarantee competitive success even if its combined share of the storage market moves to 31%. It doesn't resolve a significant issue for either company - hardware pricing isn't becoming less competitive. The new Dell Technologies will be a larger player, but on the hardware side it will grow by taking share from within a declining rate of corporate IT hardware capex spend. That implies an urgent need to focus on growing software and services revenue. VMW represents the future, but it has its own problems facing competitors willing to offer certain data-center operating system software for a fraction of VMW's contract prices.
After the Dell/EMC merger is completed, the only public and readily tradeable instruments remaining will be the VMW common stock, the VMW Class V tracking stock (which provides a 53% economic interest in VMWare), and the public bonds of the merged corporate entities (Dell Inc., Diamond 1 Fin Corp / Diamond 2 Fin Corp, and EMC). Institutions will still have access to bank loans and CDS, but the largest publicly tradeable securities will be the bonds. Dell Inc. 5 year CDS has already converged and moved through spread levels for generic high yield bonds. See Graph A below.
Investors not keying off the VMW common or tracking shares will want to focus on the Dell Inc., Diamond 1 Fin Corp / Diamond 2 Fin Corp., and EMC bonds. See Table 5 below for a breakdown of where the various debt issues have been trading in terms of price and spread. Alas, tech companies and public debt don't always mix well together - changes in tech are generally rapid while bond and loan investors need steady cash flow growth and leverage and coverage credit metrics which trend better over time. In the instant case, bond investors have two entities - Dell and EMC - throwing off stable cash flows but also facing rapid technological change which threaten core and flagship products. A piece of that technological threat is addressed via ownership of VMW, but not a complete solution.
Timing is everything. The basic bet presented to Dell Technologies' bond holders is whether the projected deal synergies and expected de-leveraging will quickly move most of the merged company's bond issues back toward investment grade ratings before competitors' technology and pricing prevents that from happening. Investors betting on the synergies and de-leveraging occurring first need to be careful about the rank of each debt issue they want to buy and at which subsidiary level that debt issue is resident within the entire debt complex.
Those willing to bet on realization of a portion of the expected synergies and de-leveraging should look at buying long end Dell Inc. senior unsecured 6.5s due '38 and 5.4s due '40 - those issues are already priced well below par and spread wide to other Ba3/BB- bonds (either inside or outside of the tech space). See Graph B below. Just to highlight the impact of spread tightening, a 100 basis point move tighter improves the price of either issue by roughly 10 points.
On the other hand, Diamond 1 / Diamond 2 Finance Corp senior unsecured 5.875s due '21 are multiple points above par and at spreads more or less equivalent to their BB/B+ rating. That's becomes more of a bet on the general level of interest rates.
The EMC senior unsecured notes are below par based on their low coupons and don't have change of control puts (typical of bonds issued under investment grade indentures). Their A1/A ratings were put on watch negative at Moody's when the merger was announced and the ratings will likely be brought in line with the ratings on other Dell Technologies senior unsecured notes post close.
Last, the Diamond 1 / Diamond 2 Finance Corp 1st Lien Senior Secured Notes are similarly priced to reflect their ratings with Baa3/BBB- type spreads on the front end. Spreads for these widen out toward the back end but that's a function of high price premiums.
Graph A: Dell Inc. CDS Has Moved Through Generic HY CDS:

Click to enlarge
Graph B: Diamond 1/Diamond 2 Fin Corp vs. Dell Inc. Long Bonds:

Click to enlarge
Table 1: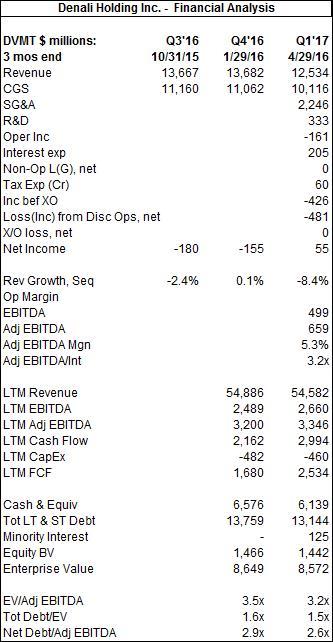 Table 2: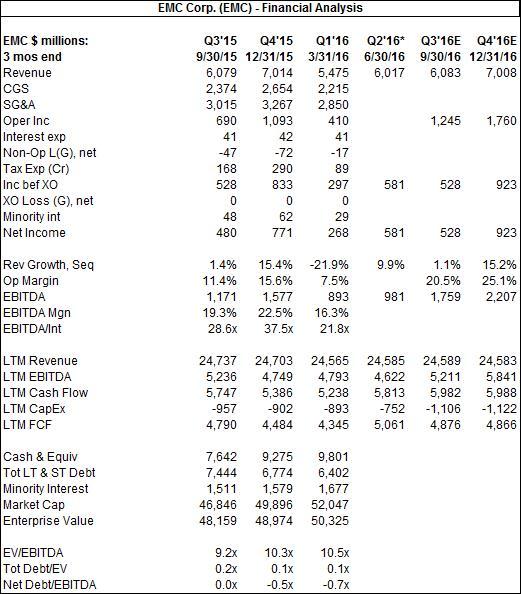 Table 3: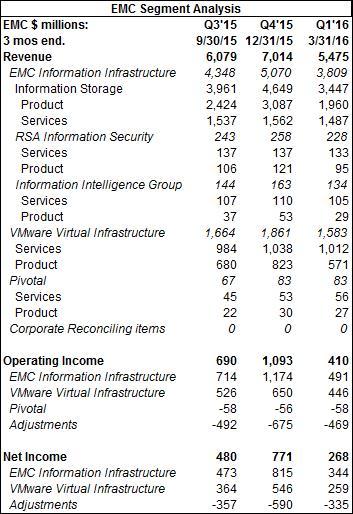 Table 4: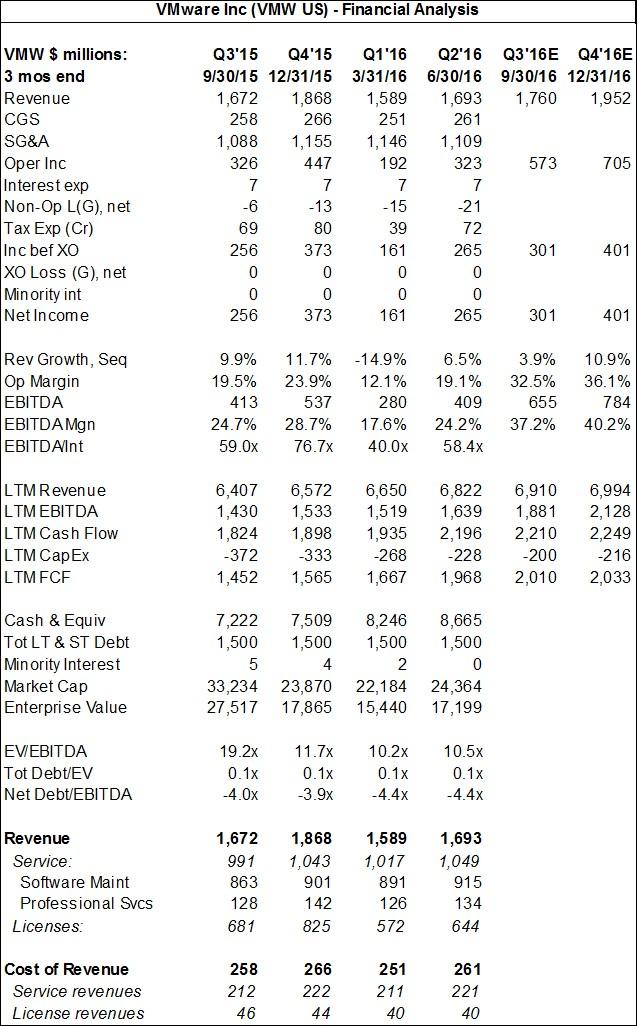 Table 5: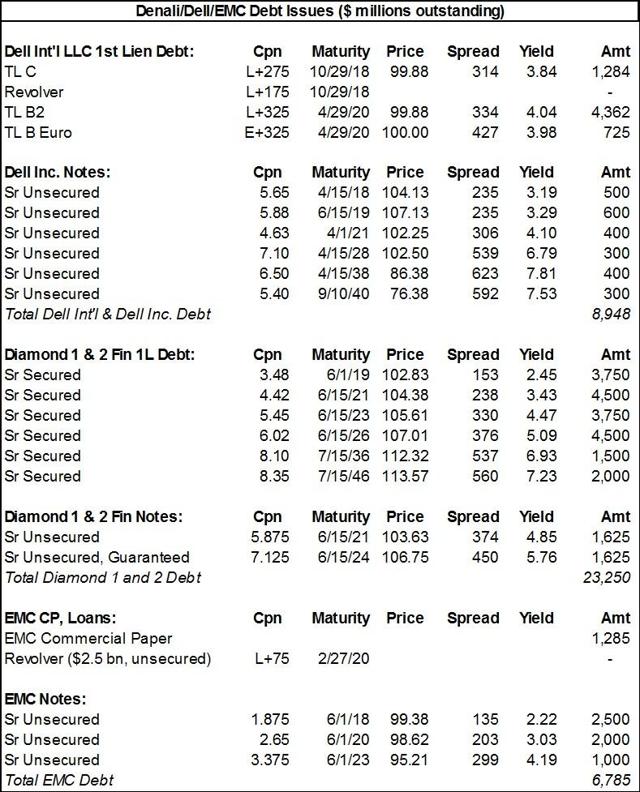 Click to enlarge
Disclosure: I am/we are long VMW.
I wrote this article myself, and it expresses my own opinions. I am not receiving compensation for it (other than from Seeking Alpha). I have no business relationship with any company whose stock is mentioned in this article.