Brick & mortar retail stocks have seen significant selling pressure from smaller market participants as easily startled investors begin to flee to the exits. Even long term, compellingly strong specialty retailers like Foot Locker (NYSE:FL) have been damaged during that move. Bottom calls to buy the company are everywhere on Seeking Alpha, and these calls appear solid at first glance as there is little apparent cause for concern. Margins have more than held up, despite what appears to be an aggressively competitive market as Foot Locker faces pressure from online retailers like Amazon (NASDAQ:AMZN) and other, more traditional competitors like Tilly's (NYSE:TLYS), Dick's Sporting Goods (NYSE:DKS), and Finish Line (NASDAQ:FINL). Does this mall-based retailer face a disastrous future, or are the risks involved both overstated and exaggerated?
Overview
The shoe business has been a bright spot in retail over the past several years, along with athletic wear in general. Comps have remained decent in the sector, and certainly well above retail on average. Nonetheless, I do think you have to be cautious in shoes. Secularly, there has been some concern over shoe sales moving online due to consumer tastes (consumer tendency to try before a buy) and stocking strategies (manufacturers holding back shoes from big online retailers like Amazon , instead sticking to their own direct-to-consumer channels or wholesale through distributors). To combat this, Foot Locker has touted their growing direct-to-consumer channel, which definitely has been a bright spot for the company: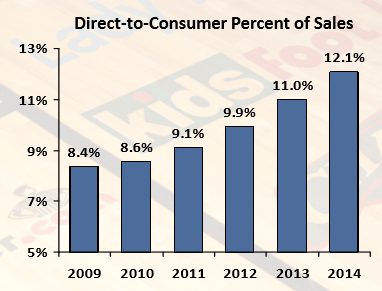 *Foot Locker, 2015 Investor Meeting
A strong and growing online presence is just one piece of the puzzle. The majority of sales still comes from actual retail stores, but investors have seen no weakness there as well. Both sales per square foot and inventory turn have been making markedly positive moves over the past several years:
While these infographics from Foot Locker are a bit dated, these trends have continued into more recent fiscal years. Both gross and operating margins continue to expand:

As mentioned earlier, margins have been strong, with especially strong improvement to be noted on the SG&A front. Despite 31% top line growth from 2012-2016, SG&A expenses have only risen 14%. Tight cost control (cutting of underperforming stores (especially in weaker brands like Kid's Foot Locker), new means of incentivizing sales staff to sell product, and usual operating leverage scale have all driven measurable improvements in sales. Overall, there isn't much to dislike or fault the company for when it comes to trends. Where many investors have grown concerned is where the company is headed, not where it has been.
Future Growth
Annual revenue growth of 7% is well above retail averages, but the runway to growth is a little cloudy. Shoe sales likely can't grow at that rate domestically forever, so the company does need to seek new outlets for growth. Beyond organic growth and new store builds (targeting roughly fifty annually), there are three areas the company is targeting as its real avenue for outsized performance above the rest of the shoe retail market:
- European expansion
- Apparel sales
- Women's products
Aside from France and Spain, the company deems itself "adequately penetrated" across most of western Europe. This leaves the company seeking growth across vast swaths of Eastern Europe: Poland, Czech Republic, Hungary, etc. These are all companies with less disposable income than Western Europe, which highly limits sales and overall market size potential. Tough competition and relative market saturation limit growth through store openings here as the low hanging fruit has already been grabbed.
Points two and three (Apparel sales and women's products) go hand-in-hand. Foot Locker has it right that if you want women to keep coming back to your store, "athleisure" is what you need to offer today. Tights, leggings, and other trendy apparel products are what keep women coming back to athletic-focused stores like Foot Locker.
Women, however, are a fickle bunch. They care deeply about brand perception and quality when it comes to what they wear: numerous studies show that. Getting them to switch their shopping habits around and into new stores is incredibly difficult. Does Foot Locker carry excellent shoe brands with stellar reputations? Sure. Can it do the same with athletic wear, while also maintaining similar margins to the shoe business? That remains to be seen, but it likely will be a struggle.
Brands like Lululemon (NASDAQ:LULU) have spent years carefully crafting a brand persona to win sales in this category, and that company's missteps in 2014 showed how fragile that relationship can be when quality gets questioned. I think Foot Locker is going to have a tough time making strides in this category, as it is essentially starting from a weaker position than even a pure startup.
Foot Locker has to overcome its reputation as just a shoe store, and it is going to take more than some redesigned stores with catchy displays to draw women past the doorway. Loyalty programs and promotional activity might be a way to get women in the store, but actions such as these will negatively impact margins, and costly store refreshes to re-appeal to females will dent free cash flow.
Why Has The Stock Dropped?
The stock has taken a nosedive in 2016 - why? Guidance has been solid, margin growth is still in the picture. For the reason why, investors need to keep in mind Foot Locker's heavy reliance on Nike (NYSE:NKE). 70% of the company's merchandise is pulled from Nike, so I'm not surprised that Foot Locker has essentially been acting as a tracking stock of Nike over 2016: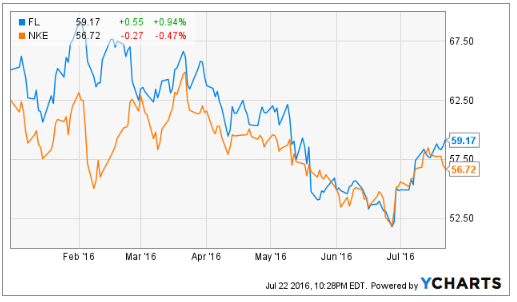 Nike has been under pressure throughout 2016 due to relatively muted reactions by consumers to new style offerings. As a result, guidance has been a little subdued relative to expectations, earnings estimates are coming down, and Nike, which has been one of the biggest winners in the Dow Jones Index over the past several years, is finally to start seeing some selling pressure. Don't expect Foot Locker to turn north without its much larger partner.
Valuation
These problems, however, are not insurmountable. Every company has a fair price, and Foot Locker certainly trades at a large discount to both the retail sector and direct comparables alike. While I don't disagree that the company does trade at a discount to its prior valuations that in itself doesn't make the company a buy just yet for me. We aren't in enough deep value territory for me to fill that buy order, and we certainly could be at some point. In my opinion, if you own Foot Locker, you could do much worse, but there isn't enough here for me to nibble.
For more research like this on small/mid cap companies perpetually under-followed by Wall Street and under-owned by retail investors, consider following me (by clicking the "Follow" button at the top of this article next to my name) to receive notification when I publish research. Feel free to ask any questions in the Comments section below.
Disclosure: I/we have no positions in any stocks mentioned, and no plans to initiate any positions within the next 72 hours.
I wrote this article myself, and it expresses my own opinions. I am not receiving compensation for it (other than from Seeking Alpha). I have no business relationship with any company whose stock is mentioned in this article.