I haven't written about Facebook (NASDAQ:FB) in a while. My last article was published in June 2014 and I have since made a nice profit (but do not have a position right now). However, I still think that the company has solid upside potential.
Many are arguing that Facebook's valuation is too high, and it is if you look at it in isolation. But those that are arguing valuation is high are neglecting the company's massive growth potential. Yes, Facebook's core social networking platform is maturing and the growth will inevitably slow down at some point. But I still think that the company has a lot of room to grow. Instagram has just scratched the surface monetization-wise and some very valuable assets are yet to be monetized (WhatsApp, Messenger, Oculus, to name a few). Facebook has evolved beyond anyone's expectations over the last few years and I am sure that the company is going places we cannot yet imagine over the next few years.
However, I want to focus on valuation and upside potential. Since Facebook started monetizing mobile in the second half of 2013, its TTM P/S ratio has been in the 15 to 20 range (it was slightly above 20 for some time during late 2013).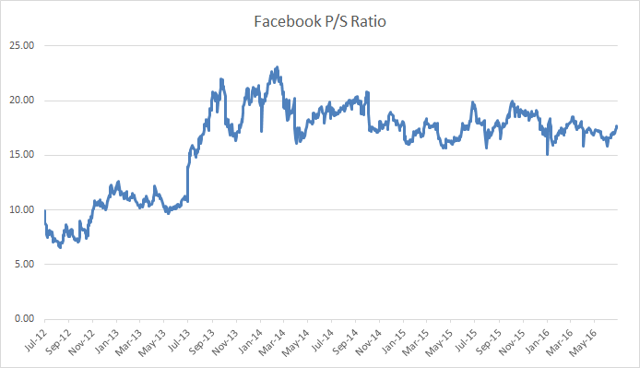 Click to enlarge
Source: Yahoo Finance (price history), Facebook earnings reports (other data points), author's calculations
And while a TTM P/S ratio of 15 or 20 seems very excessive at first glance, we have to take the following into account:
Margins. Facebook is not your usual low-margin company. It is hard to expect Amazon (NASDAQ:AMZN) to trade in such a high P/S ratio range despite its perpetually strong revenue growth because of its low-margin business model. But it is not unusual for Facebook. The company's non-GAAP operating margin was 52% in Q1 and the net margin was 41%. If a company has a P/S ratio of 5 and a net margin of 40%, its P/E ratio would be 12.5. Facebook's TTM P/E ratio is around 45 as of this writing.
Growth. Facebook has grown its annual revenues from just below $2 billion in 2010 (or from just $272 million in 2008) to almost $18 billion in 2015. Facebook's EPS rose from just $0.53 at the end of 2012 to $2.28 at the end of 2015 (and despite the share count doubling since early 2012). And, as mentioned above, this growth story is far from being over.
Future expectations have risen substantially over the past few years, and if the company continues to execute as in previous quarters, estimates should rise further. As of this writing, analysts expect 2016 and 2017 revenues to grow 46% and 34% respectively, while EPS for this year and the next should increase 56% and 30% respectively. Future growth expectations in their current state are enough the keep the P/S ratio in the 15 to 20 range over the next 12 to 24 months and the P/E ratio in a range of 40 to 50.
I am using the P/S ratio, since it has been a more reliable valuation metric over the last few years. Margins have contracted and expanded since 2013, making the P/E ratio less reliable, but looking at the P/E ratio chart, we can see that the stock has often bottomed when the P/E ratio hit 40. The TTM P/E ratio is around 45 right now, implying around 10% downside from the current price, and if the company matches the Q2 EPS forecast, the ratio should fall to around 41, making the stock very attractive by looking at historical valuation trends.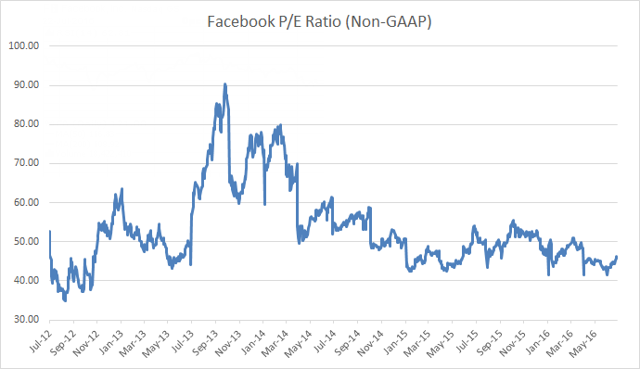 Click to enlarge
Source: Yahoo Finance (price history), Facebook earnings reports (other data points), author's calculations
Upside potential and downside risks
I expect the P/S ratio to stay in the 15 to 20 range over the next 12-24 months. Based on revenue growth projections, my year-end price target for Facebook is between $130 and $175. The low end of the range is below the analyst mean of $144 while the high end of the range is slightly above the highest price target of $170. The year-end 2017 range would be between $165 and $220.
The year-end 2017 PT range seems rather high, but it is longer-term focused and the high end of the range could materialize by early 2018. In the table below, you can see the price target projections and the upside potential based on the above-mentioned P/S ratio range. I have added a P/E ratio projection as well as a projection that calls for some multiple contraction for both the P/E and the P/S ratio.


Source: Yahoo Finance, author's calculations
Facebook also broke past resistance at $120 last week and post-earnings momentum could drive the stock higher over the next few weeks.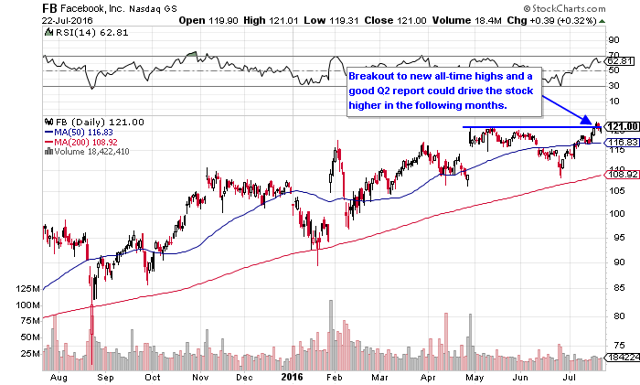 Click to enlarge
Source: Stockcharts.com
Earnings reactions and subsequent performance
Facebook has a solid history of beating EPS and revenue expectations.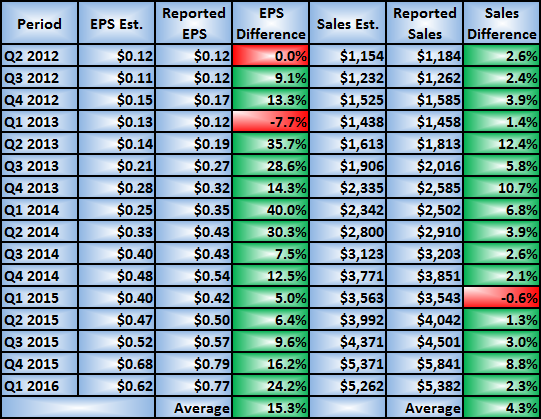 Source: Seeking Alpha, Facebook quarterly reports
Post-earnings reactions have been mostly positive, but it is worth noting that the performance on the next day is actually better on average than the performance one month later. Gains have averaged 17% three months following the report. The table below also shows the TTM P/S ratio the day before the quarterly report. Facebook's current TTM P/S ratio is around 17.5, which is a good starting point considering the historical averages since mid-2013.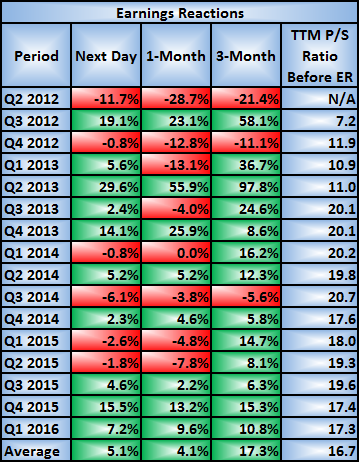 Source: Yahoo Finance price history, author's calculations
Risks
A significant growth slowdown is the most significant risk for my thesis on Facebook. I think that Alphabet (NASDAQ:GOOG) (NASDAQ:GOOGL) is a good indicator of future valuation trends for Facebook. Alphabet had Facebook-like multiples until 2008, and Alphabet has traded in a rather steady P/S ratio range of 5 and 8 over the last five years. However, since Facebook's margins are higher than Alphabet's (between 30% and 50% higher), I think that Facebook's P/S ratio in 4-5 years should probably be in the 7 to 10 range. However, it is hard to know what will happen five or more years from now, and even if Facebook's P/S contracts by 50%, its share price by then would probably be around 100% higher judging from the revenue growth expectations over the next five years.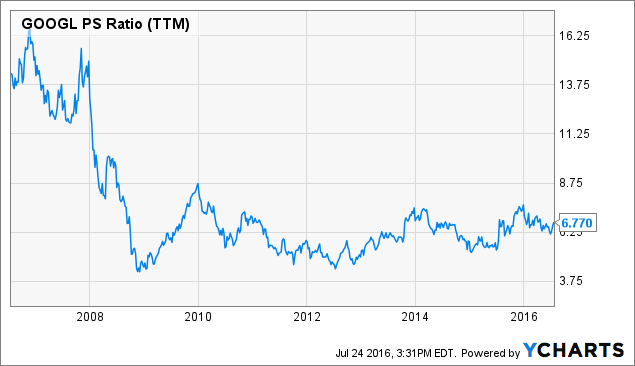 Source: Ycharts.com
I should note that these valuation trends are all part of the ongoing equity bull market. Facebook did go through three mini-bear markets of its own since 2013, but all three were contained to less than 30% (even if we take into account the mini-flash crash that occurred in August 2013). Should a major bear market occur over the next year or two, it will probably drag Facebook's price lower.
Conclusion
Facebook's risk/reward still looks good despite the stock reaching new all-time highs last week. The potential upside over the next two years is between 10% and 80% while the downside should be limited to 25% to 30% in the worst-case scenario (absent a brutal bear market). I am considering using options for this trade in order to limit the downside risk.
Disclosure: I/we have no positions in any stocks mentioned, but may initiate a long position in FB over the next 72 hours.
I wrote this article myself, and it expresses my own opinions. I am not receiving compensation for it (other than from Seeking Alpha). I have no business relationship with any company whose stock is mentioned in this article.