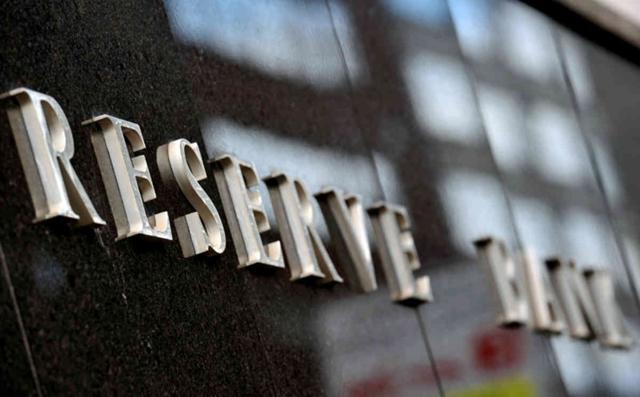 Click to enlarge
Despite all the global uncertainty of recent months the Australian dollar (NYSEARCA:FXA) has been incredibly resilient and held firm in or around the 75 U.S. cents mark for some time now. This has not been at all helpful for the Australian economy and in our opinion a poor reading at next week's inflation report could be the catalyst to a Reserve Bank of Australia rate cut. We see now as an ideal time to short the Australian dollar with a long-term price target of 65 U.S. cents.

Click to enlargeSource: ASX.com.au.
The futures market is pricing in a rate cut.
As you can see above, at present the futures market is pricing in a 70 percent chance of the Reserve Bank of Australia cutting its cash rate by 25 basis points at its August 2 meeting. Whilst this is still far from a foregone conclusion, we feel signs are pointing to a disappointing inflation reading which will almost certainly bring the Reserve Bank and its outgoing governor into action. Consumer price gains have been predicted to slow to an annual 1.1 percent in the first quarter of 2016, according to the median forecast of economists surveyed by Bloomberg. Importantly, core inflation is predicted to drop below the Reserve Bank's target range of 2 to 3 percent for the first time this century for the three months ended March 31. If ever there were a time to act, it is now in our opinion.
Although there are many contributing factors to this, we believe the strong Australian dollar is the biggest hindrance. Governor Glenn Stevens has warned at the previous four Reserve Bank meetings that an appreciating exchange rate would complicate the Australian economy's transition away from mining investment. Australia's largest bank, Commonwealth Bank of Australia (OTCPK:CBAUF), believes there will be two before the end of this year. One at the August 2 meeting and the other at the November meeting. However, analysts at the bank have warned that a weaker than anticipated inflation reading could mean the second cut to 1.25 percent comes sooner.
Fuel prices could ruin the party.
It should be noted though that fuel prices have been rising as the year goes on, as have fruit and vegetable prices. We don't believe it will be enough to bump inflation up to a satisfactory level, as Westpac Banking Corporation (NYSE:WBK) does, but we certainly wouldn't dismiss it entirely. Westpac's economists see Q2 CPI coming in ahead of consensus at +0.5 percent.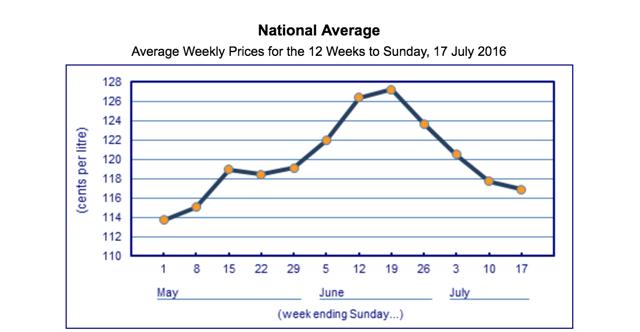 Click to enlargeSource: AIP.com.au.
The New Zealand and Australian dollars are both great shorts.
Just like the New Zealand dollar (Pending:NZDS), we feel a series of rate cuts are coming to knock the Australian dollar down to a much lower level. We believe a rate cut in August could send it to around 70 U.S. cents and ultimately toward our 65 U.S. cents target price for the year end.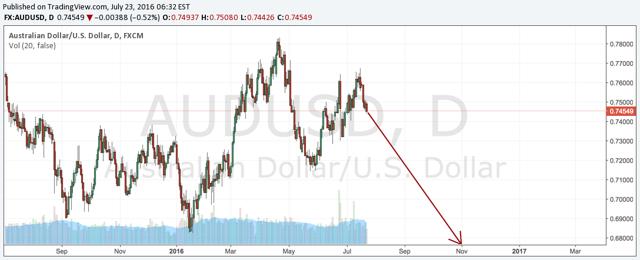 Click to enlarge
Sourced from DailyFX
This makes both the New Zealand dollar and the Australian dollar great short opportunities for traders at present in our opinion. The Australian dollar closed the week at 74.5 U.S. cents. If it were to drop as low as 65 U.S. cents this year as we expect, this will mean a return in the region of 13 percent. Which considering the fact that we see little by way of there being any substantial risk of the currency getting much stronger, makes it a great trade. As the U.S. economy strengthens, we expect the U.S. dollar (NYSEARCA:UUP) will do so also. Although rate rises do look to be off the table this year, if economic data allowed for one then it could push the Australian dollar down even faster. So we think now is a great time to short the AUD/USD pair. With a little patience we expect that traders will be rewarded handsomely from this one.
As always, best of luck with your trades. We'll keep you posted with any changes to our positions or thoughts as and when they happen.
Disclosure: I am/we are short FXA.
I wrote this article myself, and it expresses my own opinions. I am not receiving compensation for it (other than from Seeking Alpha). I have no business relationship with any company whose stock is mentioned in this article.