Back on June 13th I wrote an article highlighting why I sold half my shares of AT&T (NYSE:T). For me, AT&T had long been a staple in my income portfolio. I began adding shares in early 2014. In that article, I said I sold half my shares because AT&T had languished at a relatively low valuation for quite some time, but had appreciated to the point where it was no longer at much of a discount.
I said that I would sell the rest of my shares if AT&T continued grinding higher. Last week AT&T posted its second-quarter earnings. This article looks at the company's latest quarter and provides some ongoing commentary about AT&T's valuation.
Digesting acquisitions
Last year AT&T announced acquisitions of DirecTV and two other cellular carriers in Mexico. There continues to be a possibility that AT&T will be the successful bidder for Yahoo. In previous articles I stated that "digesting" these acquisitions (by realizing synergies and deleveraging) would be the primary occupation of management for the following couple years. I continue to believe that. For that reason, I expect dividend growth to continue to be slow, at just one penny per year or so.
In any case, AT&T's revenue and earnings number continue to look great, with double-digit growth from both categories. However, this is due to comparisons to last year without DirecTV and the other acquisitions. The reality beneath the surface of these events is less exciting.
For example, wireless EBITDA grew only about 1.5%. Yes, postpaid churn rates fell to 0.97%, the second-lowest on record, and service margins hit a record 49.8%. However, total wireless subscribers only increased from 77.3 million to 77.6 million versus last year. US Wireless revenue actually shrunk by about 2%. One quarter does not make a trend, however. I suspect that data traffic will continue increasing, and hopefully that growth can continue to be successfully monetized.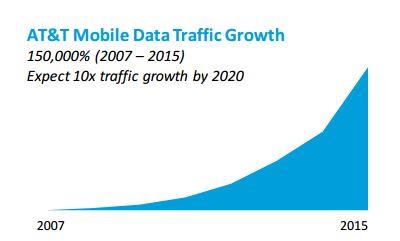 Courtesy of AT&T Investor Relations.
Entertainment group revenue was also stagnant, as legacy cable revenue dropped, but was evened out by IP Voice and video ad sales.
International results were much better. In Mexico, wireless revenue increased 13%, and wireless customers increased 780,000. Revenue for DirecTV Latin America increased 8% sequentially, with 87,000 net TV ads.
Overall, the company is on track to reach its acquisition-integration goals. Importantly, adjusted EPS is on track to grow 7% on the year. Margins are stabilizing even with the Mexico ramp-up, and dividend coverage is on track to be in the 70% range. Although management hasn't updated us on acquisition synergies in the last call, it's safe to assume that AT&T will still realize about $1.5 billion in synergies.
Valuation and conclusion
So, AT&T continues to do well, but valuations have also continued to grind higher.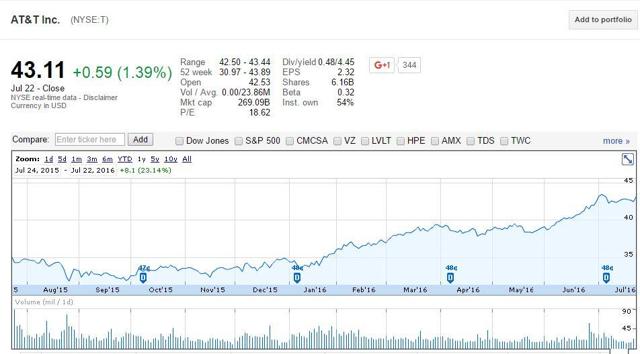 Click to enlarge
One-year chart of AT&T. Courtesy of Google Finance.
Shares of AT&T are now at a high not seen since 2007. That should give investors at least some pause. However, earnings are considerably higher versus that time, and so is the dividend itself. So, let's look at price-to-earnings. AT&T trades at 15.3 times right now. I think that's still fairly reasonable. However, according to FAST Graphs, AT&T's average price-to-earnings is just 13.8 times over the last ten years. That's about a 10% premium to its average valuation. The dividend, accordingly, is now down to 4.45%.
Is AT&T expensive? I don't believe so. It's above the its ten-year valuation, but still not that expensive in an absolute sense. I sold half my shares a few months ago, but that was only to lock in some gains and rebalance my portfolio. I have decided to continue holding onto my shares for at least another 10% higher, maybe more, depending upon circumstances, and I recommend other income-minded investors do the same.
If you're interested in AT&T, feel free to follow me on Seeking Alpha. I am personally long the stock and provide periodic updates. I will continue to write update articles when doing so is material and relevant.
Disclosure: I am/we are long T.
I wrote this article myself, and it expresses my own opinions. I am not receiving compensation for it (other than from Seeking Alpha). I have no business relationship with any company whose stock is mentioned in this article.