Leading equipment-rental vendor United Rentals (NYSE:URI) rallied strongly after Q2 earnings, as investors cheered better-than-feared results on key metrics like rental rate and time utilization.
From my perspective, the good news, fundamentally, is that construction demand continues to be robust, judging from both URI's results and broader industry data sets such as the Architectural Billings Index. Digging deeper, however, there are three key takeaways - two negative and one positive - that I think investors following URI should keep in mind.
1. Pricing Power Is In The Rearview Mirror
URI's performance on rental rate could, through one lens, be seen as good - the company now expects rates to fall 2-3% for the full year vs. a previous expectation of 3-4%.
Although that's an incremental positive, I think the bigger picture here is that for the rest of the cycle, rates will likely continue to be below the cost of equipment inflation - perhaps significantly. While guidance for 2017 is obviously initial and speculative, it sounds like rates will once again be flat to down, driven by some of URI's smaller local competitors being less disciplined in constraining capex than the big players in the industry.
Particularly interesting is URI's move to combine time utilization and rate guidance going forward. While the explanation is that it manages the two together - i.e., it may choose to push on rate and let up on utilization, or vice versa - I'm not buying it. Why? URI has always had industry leading utilization...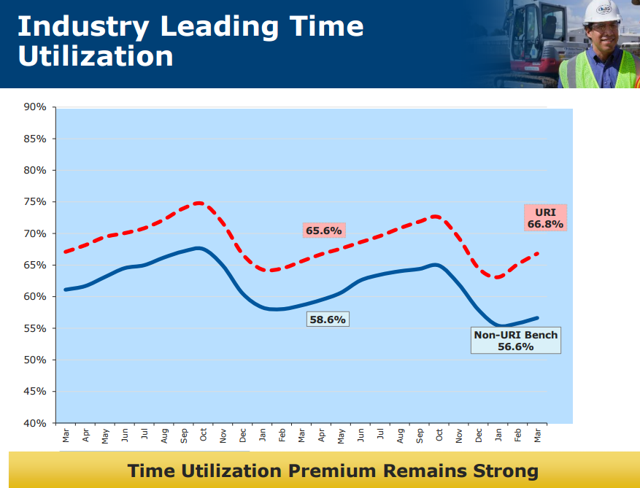 Click to enlarge
Source: United Rentals Q2 Investor Presentation
... but it has always been able to push rate alongside price. The change in guidance policy, along with the continued rate weakness, confirms my earlier suspicions that pricing power is in the rearview mirror.
The explanation is pretty simple: equipment rental is as much about capital availability as it is about end-market demand; later in the cycle, smaller local companies are better able to access credit at banks (which was frozen during the early part of the cycle, allowing major players like URI/HEES/NEFF to aggressively build fleet and take share).
2. Demand Is Robust... But Still Sensitive To Downside Shocks
It's interesting that many investors view stock prices as a leading indicator of business performance; I usually don't find that to be the case. URI and equipment rental peers have fallen significantly since mid-2014 despite a construction market that continues to be robust: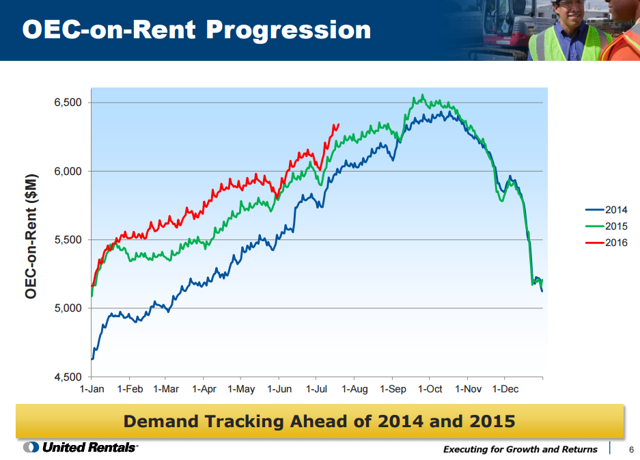 Click to enlarge
While I don't have any particularly cogent thoughts on URI's valuation at this time, I do think that the construction cycle still has legs - something that many (myself included) were worried about earlier this year.
That doesn't necessarily make URI a good investment, though. Remember that this is an industry where modest supply/demand imbalances can wreak havoc. Take note of what's going on in Canada - United Rentals saw rates in Canada drop 8% despite merely a 3% decline in fleet volume.
Obviously, a lot of this is driven by oil-related weakness in commodity-heavy provinces like Alberta, but big players like URI have been pretty aggressive about moving fleet out of oil-impacted markets into robust construction markets like the Sun Belt (and time utilization confirms this). While the outlook for construction continues to look good, it wouldn't take much to drive prices (and thus EBITDA margins) down materially.
3. URI Using Scale To Its Advantage
On the bright side, I'm glad to see that URI continues to pull levers other than price. Its focus on specialty rentals continues to pay off, with niche businesses like power and HVAC up mid-teens on strong same-store sales growth.
Perhaps most interesting is the company's new e-commerce platform. As CEO Michael Kneeland explained:
I also want to mention an announcement that will be coming out in the next few days, about the expansion of our digital customer service platform. The launch of a true e-commerce capability will give us more ways to connect with customers and engage in new markets. Our system is the first in North America to fully automate the rental transaction process end to end, and the first to offer online ordering to all commercial renters and consumers. We are always looking at ways that walk in our customers' shoes, and while many of our customers want a consultative approach, there are always customers that know exactly what to order, and prefer to operate in a more digital manner, and we are excited to get those customers a more streamlined way to transaction with us.
This is a great way for URI to utilize its scale to provide value beyond price. Without directly cutting price, if it can decrease customers' administrative overhead related to equipment rental, it is providing value - such that even if Mom And Pop Equipment Rental down the street has the same Cat dozer renting for a 1-2% lower rate, you might still prefer to choose United.
It will be worth watching whether or not smaller equipment rental companies can replicate this convenience by using SaaS marketplaces such as Yard Club (profiled in the Journal a year ago). Nonetheless, the e-commerce initiative is an example of how United is using its scale to its advantage, to drive value for customers (and returns for itself) without going down the dark road of price competition.
Conclusions
End-markets continue to hold up for United, and management seems to be handling the challenging conditions well. However, with pricing power gone at this point in the cycle - and the risk of downside shocks clearly present - it's hard for me to view URI as a compelling investment opportunity; precise valuation is challenging given that it's basically a directional bet on the construction cycle.
Disclosure: I/we have no positions in any stocks mentioned, and no plans to initiate any positions within the next 72 hours.
I wrote this article myself, and it expresses my own opinions. I am not receiving compensation for it (other than from Seeking Alpha). I have no business relationship with any company whose stock is mentioned in this article.