New England Realty (NYSEMKT:NEN) is a Massachusetts Limited Partnership that was formed in 1997. As a company NEN is engaged in acquiring, developing, holding for investment, operating and selling real estate. Moreover, the company owns and operates residential apartments, condominium units and commercial properties in Massachusetts and New Hampshire. As of the most recent quarter, the company owned 25 properties, including: 17 residential buildings, 4 mixed-use residential (retail and office), 3 commercial buildings and one individual condominium complex. Finally, the company owns a 40-50% interest in 9 residential and mixed use properties.
Note: All tables were prepared by myself, directly sourcing information from New England Realty Associates, unless otherwise mentioned.
Investment Thesis
"Every person who invests in well-selected real estate in a growing section of a prosperous community adopts the surest and safest method of becoming independent, for real estate I the basis of wealth." - Theodore Roosevelt
"Landlords grow rich in their sleep." - John Stuart Mill
"Ninety percent of millionaires become so through owning real estate." - Andrew Carnegie
NEN is an attractive real estate company which is undervalued, unnoticed and untouched by the majority of investors in the game. The reason for the persistent undervaluation and overlooked nature of the company is a function of a few different reasons. First, the company doesn't screen well due to Yahoo Finance, Google Finance and even Seeking Alpha errors (all three sources grossly misstate the company's market cap; market cap is $211,874,029). Secondly the company is a micro-cap with low liquidity; allowing most astute/professional investors to miss the opportunity. Finally, if found, the company has a boring yet more complex business model, which in my opinion, most retail investors will not spend time modeling.
However, if an investor spends time studying the business and valuing the company, I am sure the investor will see clear value in an unheard of stock. Spending time studying the company has led me to believe that an investment thesis in NEN is based upon undervalued assets, a good management team and an increasing NOI in the near term and long term. Let's elaborate…
NEN owns a significant amount of real estate that is held at cost and is in an attractive market. Furthermore, the company utilizes equity method of accounting for their unconsolidated joint ventures-hiding a good chuck of their prime real estate in almost plain sight. In addition, the company has depreciated ~87 million of their assets. Typically real estate appreciates overtime. However, according to GAAP accounting rules, companies must depreciate assets as time passes. This is a high suggestion that NEN's assets have appreciated in value, rather than depreciated as shown by accounting.
Management is also a quality team, shareholder friendly and which one of my friends, Nat Stewart, has dubbed to be value investors (I suggest you read Nat's write-up here). The management team of NEN has stuck with what they know (boring apartment complexes), buying them with absolute low fixed interest rates. Furthermore, the management team has continued to refinance the complexes, bringing the average interest rate down from 7.18% in 2006 to 4.67% today. Finally, the management team has bought back 32% of the units outstanding since 2007 and continues to aggressively buy more.
Finally, the NOI has increased at a 79.78% rate since 2006. Interestingly, the NOI will increase in the near term due to a new property purchased in the back-half of 2015, which will have a full-year of earning power in 2016 and also from 8% and 20% of the leases rolling off in 2016 and 2017, respectively.
Leases rolling off will allow the company to increase leasing prices, leading to high NOI growth and giving the company further operating leverage. Interestingly, property taxes continue to soar in the MA area. This has prompted rental increases every year since 2009. This further means that assets value have continued to increase, along with rental prices. Fascinating enough, NEN has much lower rental prices than the average apartment complex, meaning, they have ample room to raise rates going forward.
Based upon my valuation model, I believe that the company has 23-40% upside or a price target of $72-82/share. Furthermore, the company has asset-backed downside and near term downside protection due to an aggressive repurchase program. All in all, NEN has potential to have a record breaking year-providing for near term upside-and long-term runway for real alpha generation.
Valuation
NEN wholly owns 2,506 apartment units, 19 condo units and 108,143 SF in commercial property. In addition, through the investment properties, there are 789 units, in which the company wholly owns 394.5 units. All in all, the company owns 2919.5 units and 108,143 SF in commercial property.
According to FIXR, the cost to build an apartment ranges from $64,575 to $86,100 per unit. This price assumes a normal foundation, a full basement, efficient doors and windows, appliances and the typical turnkey finishing. Based on the 2919.5 apartment units wholly owned, the replacement value of the property ranges from $188,526,712 to $251,368,950.
The replacement valuation does not take into account the value of the land, the commercial property or any expected cash flows the property currently assumes on a 'going concern' basis.
NEN becomes very compelling when looking at the company's ten-year expense structure, asset value growth, revenue growth and NOI growth.

Source: All bottom-line percentage calculations done by Nick
Sure asset values have nearly doubled and income has tripled in the past ten years, making for a great case that you should have bought NEN ten years ago instead of today. However, rental prices continue to rise, vacancy rates are at historical lows and the company has more than enough ability to continue to raise rates. Furthermore, management is aggressively buying back stock and they are getting to that age where they may sell the company completely. Even though asset values have doubled and income has tripled, the company is still undervalued.
What makes for an interesting case is the company's potential for real NOI growth in the next few years…

Click to enlarge
In 2017, 20% of the annual base rent(s) will roll off giving the company potential to increase renting prices. In addition, in four short years, 69% of the annual rent(s) will have rolled off, allowing the company to increase rents, leading to NOI growth and more cash inflows.
I compiled data in regards to the rental rate increases, for the buildings that increased rental prices, in the past five years and the most recent quarter below.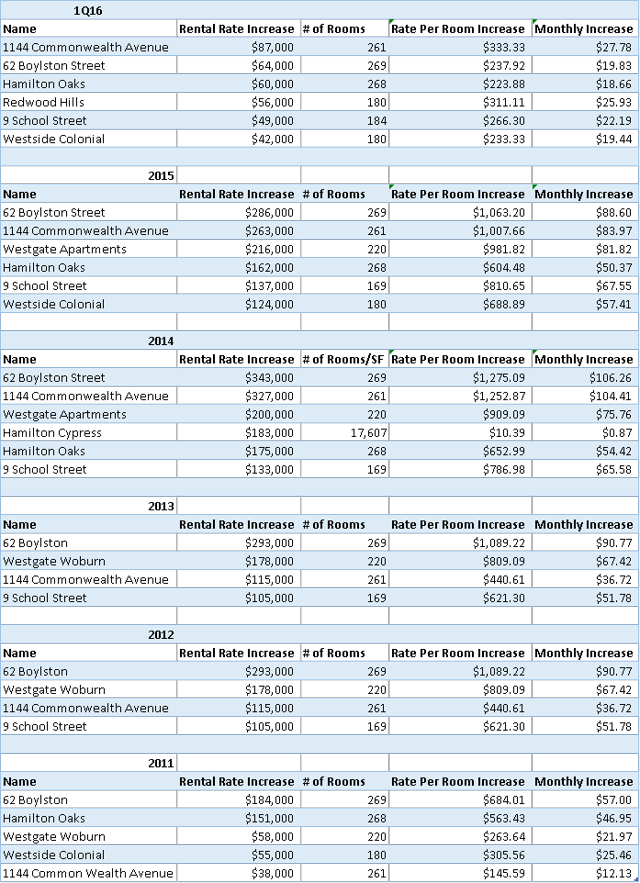 These properties are seeing regular annual increases in rent: 62 Boylson, 114 Common Wealth Avenue, 9 School Street and Hamilton Oaks. Rental increases from the former complexes or not, it is very likely that we will continue to see an uptick in rental prices, leading to higher NOI and more attractive cash inflows.
The valuation can be a little bit tricky with NEN and is in my belief one of the many reasons why this opportunity exists. Let me elaborate…
First, if you are an astute investor/analyst, you will notice that I have not included the unconsolidated joint-venture(s) within my NOI table above. Remember, the company owns a 50% interest in nine properties (also a 40% interest in one of those properties). I have provided below the NOI table for the unconsolidated joint-ventures…

Source: All calculations done by Nick
For simplistic reasons, I have modeled out the NOI ownership at a straight 50% rate; on an aggregate basis. Thus a 50% ownership in the $15,216,451 unconsolidated NOI, at a 5.0% cap rate and subtracting the net debt (found by taking total unconsolidated net debt of $136,253,447 and dividing by 2) of $68,126,723.50, gives us an unconsolidated NOI ownership of $84,037,786.50.
My valuation model below gives us a price target of $72-82/share or an upside of 23-40%.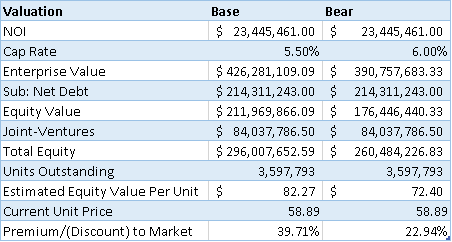 Source: All Calculations done by Nick
There are a few items that should be noted about my valuation model.
First, the company ended up buying Captain Parkers, LLC on September 18th, 2015, for $31,500,000. Captain Parkers, LLC is a 94-unit apartment complex located in Lexington, MA. Based upon the recent annual report, there were only four empty units. Given that I am using 2015's NOI of $23,445,461, this only accounts for three and one half months of rental income for Captain Parkers, LLC or an increase of $677,000.
Assuming that Captain Parkers, LLC does $700,000 per quarter or $2,800,000 in 2016, and with an operating expense of 48%, we could intelligently assume that NOI should increase by $1,344,000 for 2016, ceteris paribus. It should also be noted that 8% of the rents roll off in 2016 and 20% roll off in 2017. This will give an added boost to the overall NOI YOY growth as a whole.
Secondly, I have nicknamed NEN ' the cannibal of Massachusetts.' Since 2007, the company has bought back ~32% of the units outstanding and continues to aggressively buy back the Depositary units, Class B units and General Partnership units. The company's aggressive repurchase program will not only act as a 'downside protector,' but will also continue to increase the overall valuation of the business. Moreover, the repurchase programs shows that management is shareholder friendly and also shows that management recognizes that the share price is undervalued-which they have taken action on.
Thirdly, one area where I think a lot of investors will get tripped up is the overall units outstanding. For an example, based upon the most recent quarterly filing, the company stated that they have 99,939 shares of Class A unit or 2,998,161 depository units. There are also Class B units and General Partner units as well, not taken into account. The table below shows the fully diluted units outstanding…

Fourthly, the cap rate of 5.50-6.00% was used given that the average national cap rate is around 5.0-5.5%.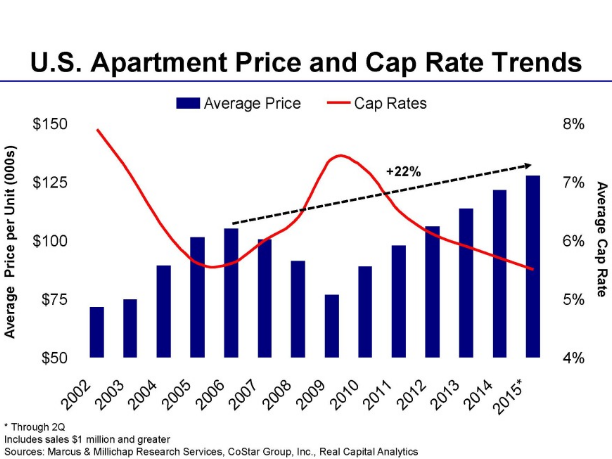 Source: Multi-Family Executive
Finally, if we are at a peak in this economic cycle, a recession shouldn't hurt the company too much. This is based off of historical results from the 'Great Recession.'

During the Great Recession the company had a low vacancy rate within their residential or apartment units and a zero percent vacancy rate for their commercial property. This is due to several reasons. First, management charges below market prices for their apartment units-helping to retain renters.
ROA would be higher if management charged higher prices for their rooms, however, I believe there are benefits to charging lower prices. First, lower prices will keep vacancy rates low. Secondly, lower prices will allow management to continue raising prices if needed. Finally, if management does sell the business, an acquirer can realize value right away by raising prices.
Secondly, the company doesn't buy fancy upscale buildings, but sticks to boring and predictable units. Both of these measures have allowed the company to withstand the Great Recession and should further help the company hold-well in any upcoming economic contractions.
My target price of $77/share is found by taking the average of the base and bull price targets in the valuation model. Based upon the current share price of $58.89/share, this represents a 30.75% upside potential. I believe the underlying business valuation will continue to grow as management continues to aggressively repurchase shares, debt gets paid down, and NOI increases-from a full year of Captain Parkers, LLC on the income statement and rent increases as a whole. Overall, NEN has decent upside, asset-backed protection, combined with a sort of floor price from the aggressive repurchase program and continual valuation growth.
Attractive Demographics
The state of Massachusetts is a growing economy with attractive economic statistics.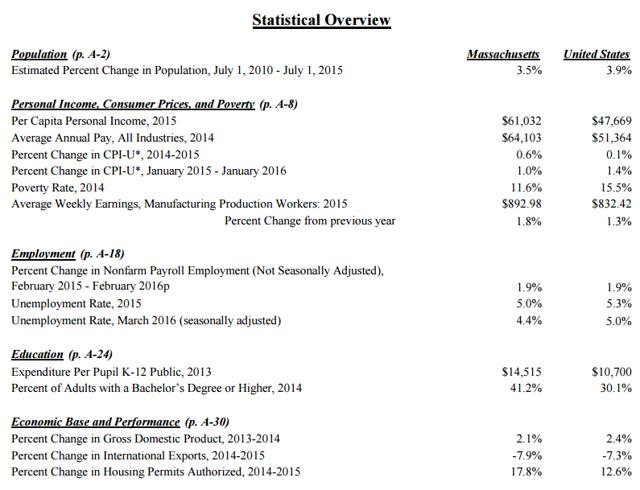 Click to enlarge
Source: MassBenchMarks
Furthermore, the most recent economic report for New Hampshire states that the state will see some of the highest economic growth in 2016, it has seen in the past years. Here is a brief synopsis of the economic report…
"The year 2016 will be a very good year for the New Hampshire economy with strong employment growth, driven by a continued recovery in the housing sector and low energy prices overall. In the forecast presented one year ago, we noted that New Hampshire and Vermont were in a foot race to see which state had the second fastest job recovery in New England. Massachusetts had already recovered all of the jobs lost in the Great Recession. At this writing, New Hampshire is back to the level of employment last seen before the beginning of the Great Recession. New Hampshire has a low unemployment rate (3.4 percent in September 2015 compared to the U.S. 5.1 percent), and state job growth has been gaining strength. About half of the jobs added in the last few years pay an above average wage".
The strong and attractive economic growth in the states in which NEN operates suggests that the company will continue to see low vacancy rates, continual lease increases and further property value appreciation. Given that I don't want to spend too much time delving into the Massachusetts and New Hampshire economic development, I will instead provide a prime example of just one, of many, assets the company owns. The asset is the Dexter Park apartment complex.

Click to enlarge
Source: The Hamilton Company Dexter Park
Before you read my summary on the Dexter Park asset, I once again suggest you read Nat Stewart's article on New England Realty, for he does a great job giving an overview of the Dexter Park asset.
Dexter Park is a 40% owned joint venture, in a 409 unit residential complex. The purchase price in 2009 was $129,500,000 and the current mortgage is $84,902,925. After the purchase, the following was stated in regards to the asset…
"It has one of the best locations you can get." - Cushman & Wakefield Executive Director Simon J. Butler
In addition…
"We were happy to pay what we paid for it," he says, praising its "irreplaceable location," plus $20 million in upgrades to the 35-year old building by owner UBS Global Asset Management Real Estate and the ability "to buy our competition." In addition to three million sf of commercial space, Hamilton owns 5,000 residential units, including a large swath in the neighborhoods surrounding Dexter Park. Downtown Boston is just two miles west from its new holding, and the apartment building serves employees working in the nearby Longwood Medical Area. Boston's subway network is close by, as are educational institutions such as Boston University." - Carl Valeri, COO of NEN
The Dexter Park asset is in a prime location: the population is inherently wealthy, there is limited capacity/space to build and it is in the growing city of Brookline, MA. Here are a few pictures of one of the units within the asset…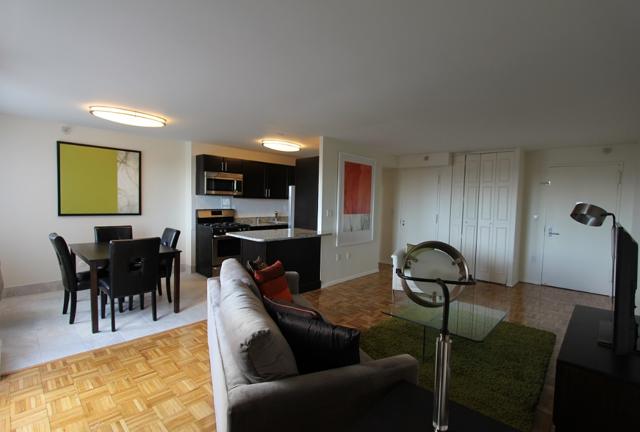 Click to enlarge
Source: Dexter Park 6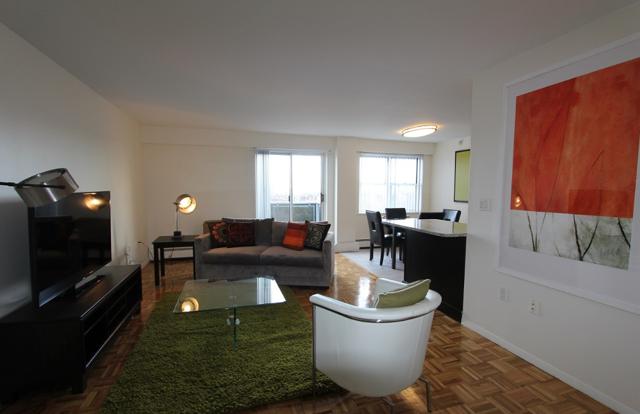 Click to enlarge
Source: Dexter Park 7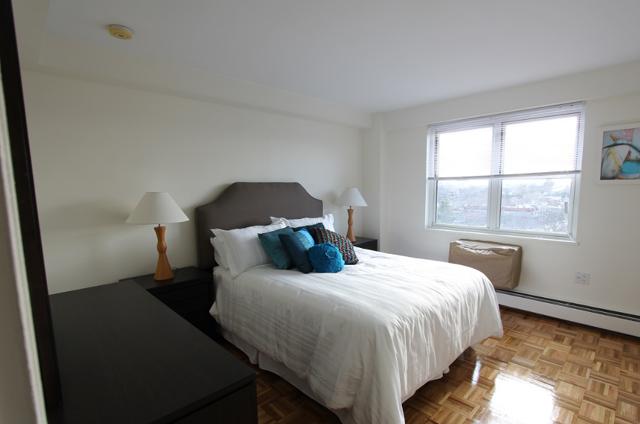 Click to enlarge
Source: Dexter Park 9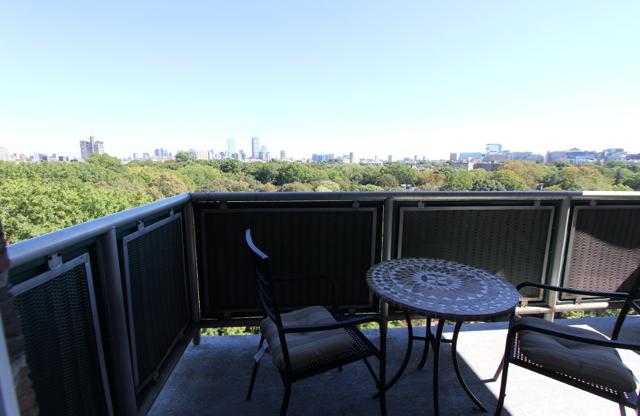 Click to enlarge
Source: Dexter Park 10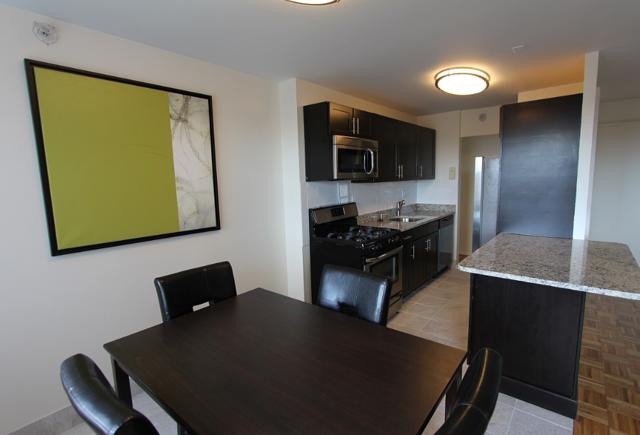 Click to enlarge
Source: Dexter Park 12
What I find fascinating is that Dexter Park was purchased in 2009, which was during one of the worst contractionary time periods for the real estate market. Furthermore, the real estate market has recovered, suggesting that the asset value of Dexter Park should be north of the purchase price.
Even more interesting, in 2015, Dexter Park brought in $14,409,910 in revenues. If we apply a cap rate of 5.0-5.5% we arrive at an asset value between $288,198,200 and $261,998,363.
Dexter Park is just one of the many examples of the many assets the company owns.
Making for a compelling case, the rent prices in the Boston, MA, areas have continued to increase in price every year since 2009 and every single quarter since 2012.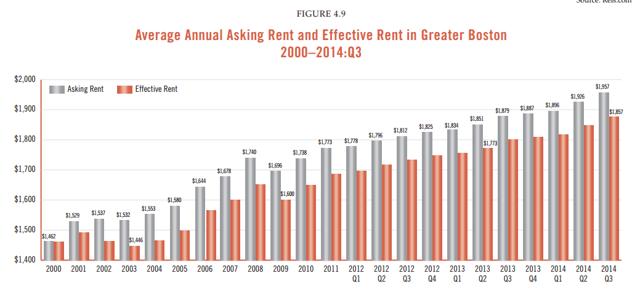 Click to enlarge
Source: Northeastern EDU
The reason for the dramatic increase in renting prices in the MA area is due to rising property taxes. This is interesting for a few reasons. First, higher property taxes means that these apartment units have continued to appreciate in price since 2009. Secondly, higher property taxes means higher rent prices and stronger NOI growth for NEN going forward.
What is even more interesting, 67% of 1-bedroom apartment complexes have rent prices higher than $2,000/month…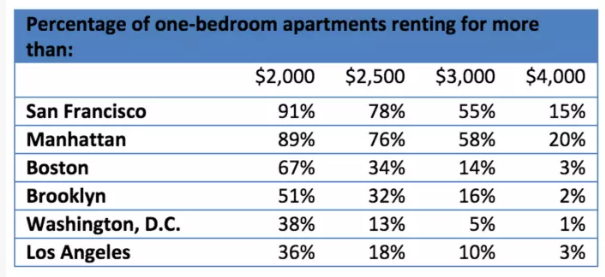 Source: Bloomberg
NEN's average one-bedroom prices are well under the market, as shown in the prices per complex in the appendix section of this report. Furthermore, they have plenty of two-bedroom units well below $2,000/month. This means that NEN will not only have a lower vacancy rate going forward, but has very ample room to raise rates and grow their NOI.
Risks
There is a substantial amount of debt on the balance sheet that matures, on average, in 2023. However, the company has enough, forward looking, cash inflows to pay this debt off.
Management owns a controlling stake in the company - through a weird ownership structure - giving the company a somewhat 'private' status. This will allow management to do whatever they please. This risk is offset due to the fact that management has been shareholder friendly via repurchase program(s).
A fire broke out at the Westgate Drive Apartment complex in Woburn, MA, in the MRQ. This resulted in ten apartments being damaged, which will continue to remain unoccupied for an extended period of time. NEN does have insurance coverage on the repairs and rental losses until the units are available for rent. However, events such as this are risks that investors should keep in mind.
Catalyst
Ronald Brown, the President and Harold Brown, the Treasurer, are majority owners and founders of the company. Ronald and Harold are 80 and 91 years old, respectively. Both Ronald and Harold are getting to the age where they may look to sell the company.
Conclusion
The target price(s) of $72-82/share or an average price of $77/share is found using an NOI valuation model. These price targets give investors an upside of 23-40% or an average upside of 30.75%. I believe that the underlying business value of NEN will continue to appreciate in value from an aggressive repurchase program, an increasing NOI-combined with a tight expense structure, and continual payments on the low interest rate debt. Furthermore, the downside is protected due to the asset-backed protection and the repurchase program. Overall, I believe that NEN is a great business to hold for the long term and has high potential to generate alpha.
The thesis for an investment in NEN is based upon:
Assets are significantly understated and undervalued. Additionally, assets have continued to increase in value given the rising property taxes in areas where the company operates.
NOI growth will continue well into the future based upon rising rental prices in the area. Moreover, the company charges rental prices well-below the market average - giving the company a low vacancy rate and ample room to increase prices.
Management will continue to buy depository units in the open market, giving the company a type of downside protection, while increasing the overall per share basis of each unit. One day, investors may catch on to this investment, giving it a skyrocketing share price like Texas Pacific Land Trust (NYSE:TPL) experienced in 2013-2015.
Finally, not many professional or institutional investors will be able to take advantage of this opportunity due to the low float. This effectively gives retail investors an upper edge.
Appendix
I have compiled a significant amount of historical data on the company's assets and decided they would best fit into an appendix section of my investment report.
Apartment Complexes
NEN owns 21 apartment complexes in Massachusetts and New Hampshire.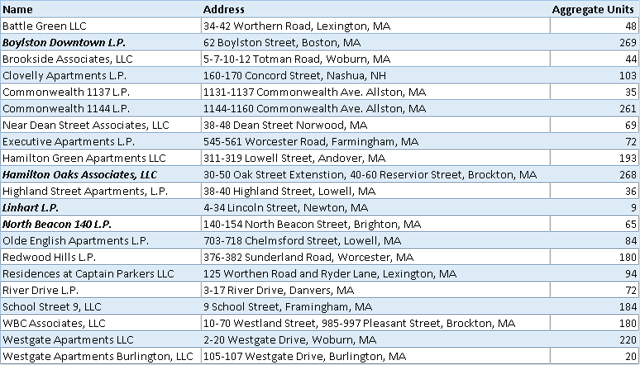 Click to enlarge
The 'bold' and 'italic' complexes are mixed-use residential units, containing commercial tenants as well as individual renters. The rest of the buildings are straight apartment complexes.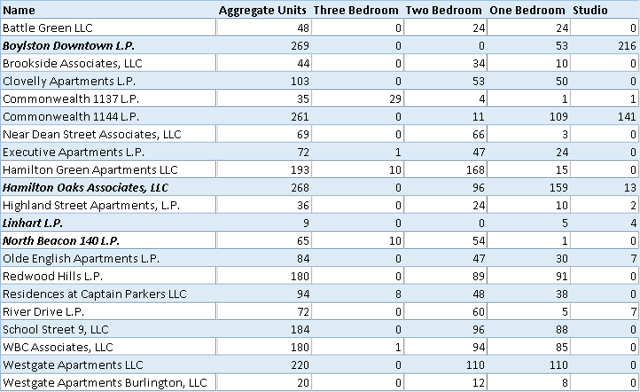 Click to enlarge
The number of rooms per complex can be seen above and the rent ranges and vacancies per room can be seen below.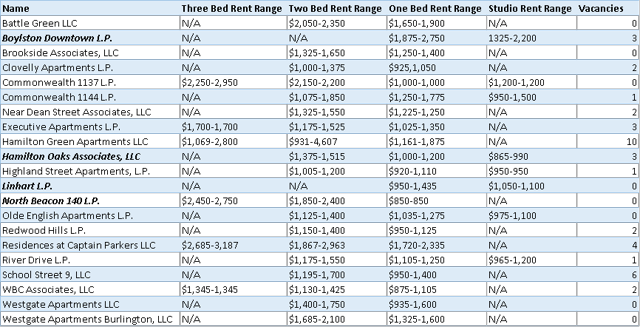 Click to enlarge
Historically, the company has done well in regards to their vacancy rate, with an average vacancy rate in the past ten years of 1.94%. Furthermore, during 2007-2010 (recessionary period), the average vacancy was 2.53%.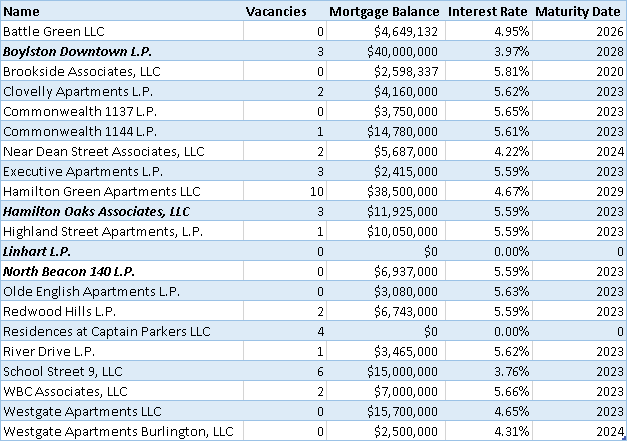 The company owes $198,939,469 in mortgages. The average interest rate on the mortgages is 4.67% and the average maturity date is 2023.
What is most interesting is management's ability to bring the average interest rate down from 7.18% in 2006 to a low of 4.67% in 2015. Here is a table depicting the historical interest rates for the apartment complexes.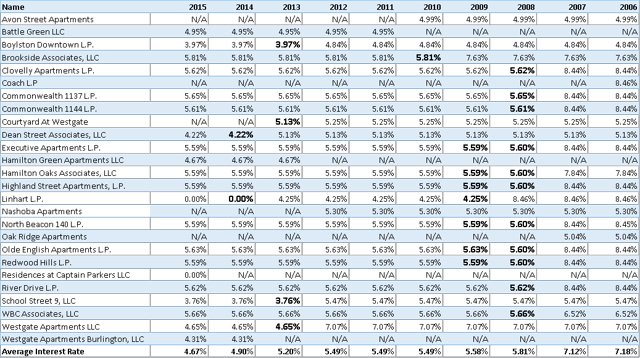 Click to enlarge
It should be noted that all of the apartment complexes above have fixed rate debt. If management continues to lower interest rates on their mortgages, the risk profile of the company will continue to decrease going forward, with cash inflows increasing.
Condominium Unit
The company owns one condominium unit in Watertown, MA.

Click to enlarge
Source: The Hamilton Company Condo

Within the condominium, there are twelve two bedroom units, five one bedroom units and two studio units.

Here is the condominium's price range per bedroom.

Click to enlarge

The condominium has one vacancy with zero debt outstanding.
Commercial Buildings
NEN also owns three standalone commercial buildings.

Click to enlarge
Remember, the company also owns four mixed-use apartment complexes (as noted above) which have commercial space attached.

Click to enlarge
Overall, the company owns 108,043 SF in commercial real estate. Interestingly, the only standalone commercial building that has a mortgage is the Staples Plaza with a $6,000,000 mortgage, an interest rate of 5.97%, and maturing in 2018.
Typically, I would assign a higher risk premium to commercial buildings. However, NEN is different. In the past ten years, the vacancy rate for the commercial buildings was 0%, in all years except 2013 and 2014; in which the vacancy rate was 5.10% and 1.00%, respectively. Furthermore the standalone commercial buildings the company owns are all paid off, except for the Staples Plaza, which has a low-end interest rate of 5.97% and a manageable mortgage of $6,000,000.
Investment Properties
NEN has a joint partnership in nine properties. The company owns a 50% interest in each of the properties except Hamilton Park Towers, in which it owns a 40% interest. It should be noted that the Hamilton Essex Development is commercial property, structured as a parking lot.

Click to enlarge
The investment properties are apartment complexes, with rooms for rent ranging from three bedroom units, all the way to studio units.

Click to enlarge
Here are the rent prices per room.

Click to enlarge
The next table represents vacancies, mortgage balance, interest rate and the maturity date on the mortgages for each investment property.

Click to enlarge
The average interest rate on the nine properties is 3.65% and the aggregate mortgage balance is $136,253,447. What is most interesting in regards to the average interest rate; in the past ten years the average interest rate has fallen from 5.71% to 3.65%.

Click to enlarge
Given that the investment properties are recorded using the equity method of accounting, the investments in the unconsolidated joint-ventures only account for a $7.4 million dollar value on the balance sheet. However, the monetary value of the partnership is actually $68,596,184; a substantial increase to the reported value on the balance sheet.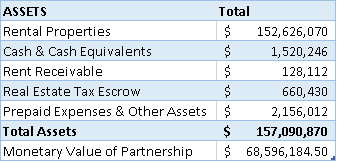 Disclosure: I/we have no positions in any stocks mentioned, and no plans to initiate any positions within the next 72 hours.
I wrote this article myself, and it expresses my own opinions. I am not receiving compensation for it (other than from Seeking Alpha). I have no business relationship with any company whose stock is mentioned in this article.
Editor's Note: This article covers one or more stocks trading at less than $1 per share and/or with less than a $100 million market cap. Please be aware of the risks associated with these stocks.