Over the past week or so, oil prices have headed south, largely out of fear that the glut is continuing to grow in some places. In particular, the market seems to be fearful of the motor gasoline glut which is, indeed, facing a glut as we speak. In what follows, I wanted to lay out my thoughts on the motor gasoline market as it stands today and tell you what I believe it would mean for investors in companies like Memorial Production Partners (NASDAQ:MEMP), Approach Resources (NASDAQ:AREX), and Legacy Reserves (NASDAQ:LGCY), as well as for the United States Oil ETF (NYSEARCA:USO) and other oil-related ETFs.
Are we really in a glut?
In the graph below, you can see historical weekly data for motor gasoline storage. In it, you can see that, dating from January of 1990 through July 15th of this year, motor gasoline stocks are, indeed, elevated. However, with 241 million barrels of motor gasoline in the U.S., stocks are just 13.8% (or 29.14 million barrels) above their historical average, and they are actually 17.69 million barrels below their record high (covering this timeframe at least) from February of this year when they peaked at 258.69 million barrels.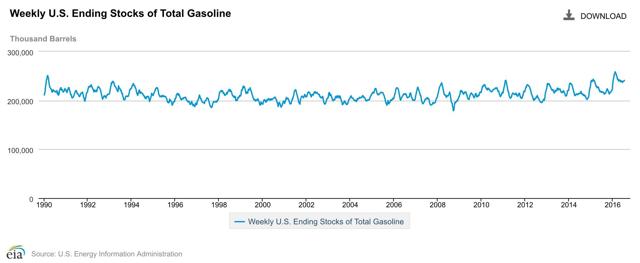 Click to enlarge
At a very quick first glance, this may seem like a simple and closed case but we need to consider the fact that motor gasoline stocks are, indeed, seasonal in nature. Throughout the year, they tend to increase and decrease accordingly, based in large part on driving patterns and refinery activity. In the graph below, for instance, you can see that the motor gasoline stocks for the first 28 weeks of the year have a tendency to rise in the first few weeks of the year but to then fall to some degree by now. This trend started off in a very positive light but has since corrected itself this year and is not showing signs of declines like it should be.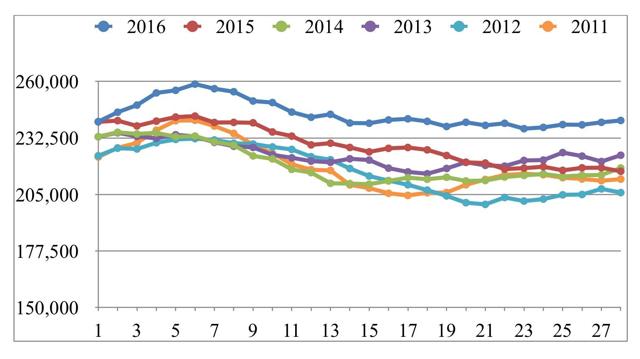 Click to enlarge
This lack of a trend has led to some rather unfavorable pricing for investors so far this year when it comes to motor gasoline prices. In the graph below, for instance, you can see that prices this year are down materially from last year. While on July 18th of last year, average motor gasoline prices came out to $2.802 per gallon, they are just $2.230 per gallon today. This represents a decline of $0.572 (or 20.4%) year-over-year.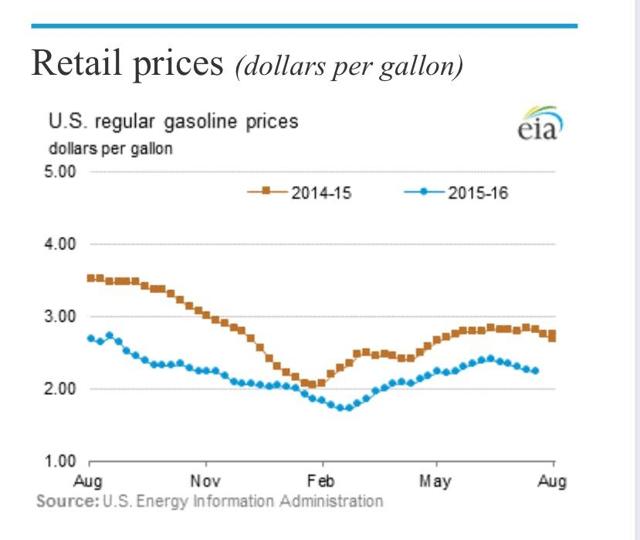 Click to enlarge
Because of this nature, it's important to keep in mind that, while total motor gasoline stocks do matter, what matters more is what they are today compared to the same time a year ago. For instance, I looked at storage levels over the past six years and compared them to this year. I essentially averaged up the gluts for the five years ending in 2015 and, for those who think that 2015 shouldn't count given the global oil glut, I looked at the five-year average for the period ending in 2014. My findings suggest that the glut today comes out to between 24.51 million barrels and 25.68 million barrels.
How bad is this?
There's no denying that any sort of glut anywhere in the oil space is a net negative for long-term oil investors, but we should put the size of the motor gasoline glut into perspective. If, for starters, we assume that the rest of this year looks like the rest of last year in terms of demand trends, it wouldn't be unreasonable to expect U.S. motor gasoline demand to average around 9.47 million barrels per day.
With the glut standing at the size it is today, we would need to see extra consumption totaling between 2.6 and 2.7 days before there is no glut. If we just want to hit the high point seen over the prior six years to be satisfied, we would need to get rid of about 2 days worth of production. Overall, this isn't a great deal of a glut in the grand scheme of things but it has been estimated by economists that, in order for demand to grow by 1%, prices need to fall by between 25% and 50% from any prior price. This is the price elasticity of demand for motor gasoline according to the EIA (Energy Information Administration).
Overall, this seems to cast a bearish signal for long-term oil investors, but it's important not to overlook the larger picture as well. Beyond any doubt, we do have a motor gasoline glut and, absent an increase in demand, it's highly probable that it will hang over the oil market for a bit, but what will ultimately determine motor gasoline stocks (besides demand) will be the amount of crude that's being supplied. In the graph below, you can see that commercial crude stocks in the U.S. are down to 519.5 million barrels, representing 9 straight weeks of declines and sitting 23.9 million barrels from their highs.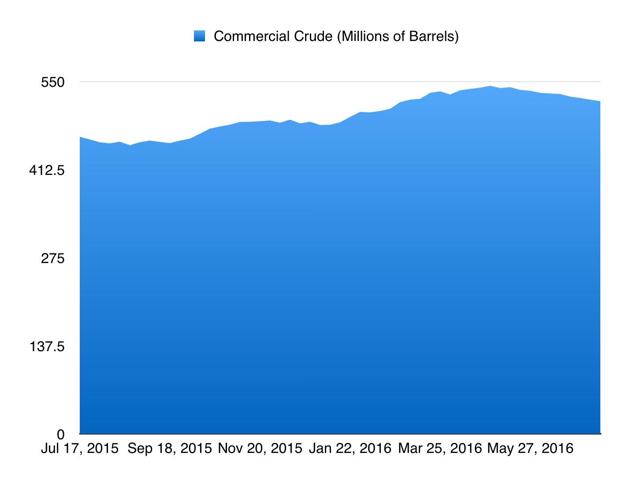 Click to enlarge
Although oil imports are keeping some pressure in the U.S, the fact of the matter is that falling U.S. production will eventually lead to crude stocks falling lower moving forward. If the EIA is correct, crude inventories will fall to 482.5 million barrels by the end of this year (so about 37 million barrels still) and motor gasoline stocks will drop a modest 4.1 million barrels to 236.9 million. During this timeframe, total crude plus petroleum products will fall from 1.32 billion last year to 1.306 billion by the end of this year.
Takeaway
Based on the data provided, it's clear that the motor gasoline market is facing some challenges and it's certain that this is impacting the overall oil picture, but we need to be cognizant of the fact that the glut really isn't that large and will likely fall before the year is out. Aided by higher demand, I believe that long-term oil bulls will still be proven right moving forward.
Disclosure: I am/we are long AREX, MEMP, LGCY.
I wrote this article myself, and it expresses my own opinions. I am not receiving compensation for it (other than from Seeking Alpha). I have no business relationship with any company whose stock is mentioned in this article.
Additional disclosure: I own LGCYO, not LGCY
Editor's Note: This article covers one or more stocks trading at less than $1 per share and/or with less than a $100 million market cap. Please be aware of the risks associated with these stocks.