Three Convertible-Securities Funds Paying 11-12%
Every now and again I write about a fund that's in rehab. When I do the good folks in SA's readership let me know their displeasure. Last week it was Miller/Howard High Income Equity Fund (HIE), but I'm not going to beat that horse again. A few months ago it was AllianzGI Convertible & Income Fund (NYSE:NCV) and its sibling, AllianzGI Convertible & Income Fund II (NYSE:NCZ). At the time both had just dropped sharply from the lofty peaks they had been inhabiting, and left some angry shareholders behind. I want to do a couple of things on the AllianzGI funds today, concluding with an introduction to NCV and NCZ's new little sister. But before I get to that introduction I'd like to review history on the funds during their time in rehab because I think there are some instructive lessons here for those new to CEFs. I'll emphasize NCV because it was my choice of the two, but everything here applies equally to NCZ at the big-picture level with some minor differences in the numbers.
The Backstory
In 2015, NCV carried a double-digit premium. It was a high flyer in the deeply discounted, fixed-income CEF world. Too high a flyer for my taste so I never really gave it much attention even as I liked the idea of adding convertibles to my CEF holdings. At the end of April 2015 its premium was 10.1%. What was driving that premium? Easy, the usual: It paid an outstanding 13.03% yield on NAV. So, even with the premium, buyers were getting 11.38%. That's high enough that there were willing buyers to sustain the fat premium. That premium had been running over 10% for most of the previous year. There were occasional dips to near 5% but these were promptly bid back up (see chart below from cefconnect).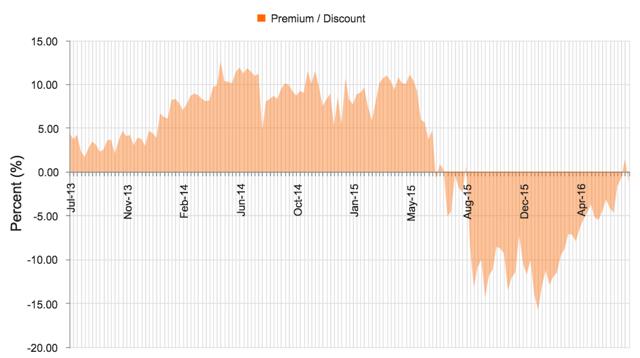 Click to enlarge
But the high-yield space was overextended, NCV's NAV was falling and the distribution was getting harder to maintain. In September the axe fell hard. The fund cut the distribution from $0.09 to $0.065/share, a -27.8% cut, and the premium dropped to a -14.4% discount by the end of September. That's a -24.5 point change. It was a monster blow to anyone holding the fund.
But what about the rest of us? Those who hadn't been burned in the fund's crash. Take a look at those numbers. Distribution fell 28 points. The premium fell 25 points. Z-scores lit up like a pinball machine. How does that move the yield to a buyer? Well, at the new $0.065 monthly payout, yield at NAV moved to 11.52%. With the fund now discounted to -14.4%, a new shareholder would receive a 13.45% yield, a full two points better than the April rate when buyers were willing to pay a 10% premium. That's right, the fund went from an 11.4% market yield for a 10% premium to a 13.4% market yield at a 14% discount. And the payout's sustainability was markedly more secure after that massive cut. Yet again we see the irrationality of closed-end fund investors. It looked good to me. I jumped on it and pointed it out here at the time. At the end of September, I asked readers, "Should You Buy The 13% Yields From AllianzGI Convertible Bond Funds?" and described why I felt that the answer was "Yes."
In November little had changed. I posed the question again, "How Much Longer Will This 12.2% Yield Be On Sale?" and bought some more. But the discount kept falling through the year's end with a lot of tax-loss selling driving selling. I bought some more. By spring it started to turn around. Today, the discount has disappeared and NAV has seen some recovery from the lows of last autumn. The current market yield is still hanging at 11.9%. At market price, the fund is up 19% for the year.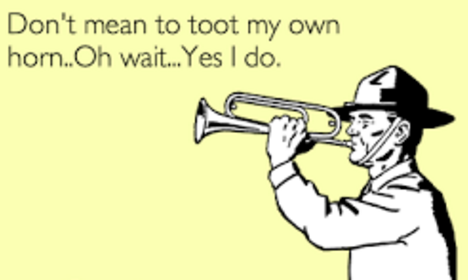 Ok, so a cautionary tale on paying premiums for yield, an illustration of how bargains can arise in the premium/discount swings of a closed-end fund, and - might as well admit it - a bit of horn-tooting on my part for a good call.
This was an opportunistic buy, so maybe it's time to sell? I tend to hold my income positions, but in my own portfolio I have made a large commitment to NCV, too large for the fund. There's a nice profit to be taken, but it's still churning out a sweet 11.9%. If I sold it to take those profits, the question may be how to replace the income. My plan is to begin winding that position down over the coming weeks, maybe holding a modest allocation more appropriate for the fund. It's not that I've lost confidence in it, it's just that I'm over allocated to it. I hold in an IRA, so the prospect of taxes on the short-term gains is not an issue.
NCV's sibling fund, NCZ, followed an essentially identical course. As the funds have recovered, they have shown an essentially identical trajectory on NAV, but NCZ's price has lagged. You can see that in the next chart (from Yahoo) showing NCV and NCZ price and NAV (xNCVx, xNCZx) YTD. The two overlapping lines at the bottom are the NAV price lines.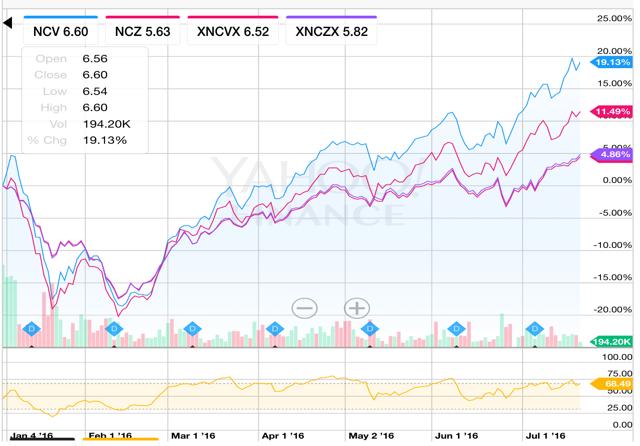 Click to enlarge
With NCZ's price underperformance it still has a discount. It's discounted -3.26% vs NCV's 1.23% premium, so it's paying shareholders 12.38% at market price to NCV's 11.89%. It could be a better choice for a new buyer. Both funds have, by taking that massive distribution cut last autumn, shored up the distribution's sustainability, so the payout looks to be stable going forward. At those high yields, one might expect even further movement of the valuations into premium territory, particularly from NCZ.
What's In These Funds?
NCV and NCZ hold two security types and target equal allocations to each: convertible securities and high-yield corporate bonds. From the crash of 2008 until last year's collapse of high-yield sectors, they had been steady performers. If you have some confidence in those investment choices, and are looking for high-yielding CEFs, you could consider one or the other. Or, you might want to look at the sponsor's newest offering targeting convertible securities, AllianzGI Diversified Income & Convertible Fund ((NYSE:ACV)), the little sister I told you about earlier.
ACV: Similar But Different
The funds differ in some fundamental ways. ACV is smaller and carries less leverage than the older funds.

Click to enlarge
Like NCV and NCZ, ACV normally holds at least 50% of its assets in convertibles. Unlike the older funds, it holds equities as part of the other 50% in addition to high-yield bonds. Additionally, it writes covered-call options on the equity portion of the portfolio. The present allocation is about a quarter of the portfolio to equities and high-yield bonds. The management team includes the two managers for NCV and NCZ plus two additional mangers.
ACV is another new CEF that has adopted a limited-term structure (HIE is another). From the prospectus: "The Fund will terminate on the first business day following the fifteenth anniversary of the effective date of this registration statement, May 22, 2030, unless such term is extended by the Trustees." At that time the fund will distribute all net assets to shareholders. The prospective describes an expected process whereby the fund begins liquidating its holdings in a wind-down period beginning a year prior to that termination date and cautions that there is are risk factors associated with the liquidation of the fund's assets.
ACV
Here is ACV's premium/discount history since its inception (May, 2015). We see the typical pattern following CEF IPO's: the fund opens at a 5% premium and falls into discount territory within a few months. ACV fell to a discount below 10% by July and has remained at a double-digit discount since.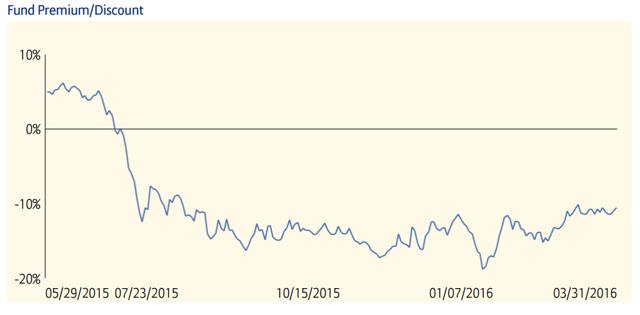 Click to enlarge
The fund is now paying a 10.83% market distribution yield.
If we look at its NAV performance relative to the older funds, we see it's been outperforming them. This one-year Yahoo chart shows ACV's price movement and NAVs for NCV and NCZ (those overlapping lines at the bottom again) and ACV (the green line at the top).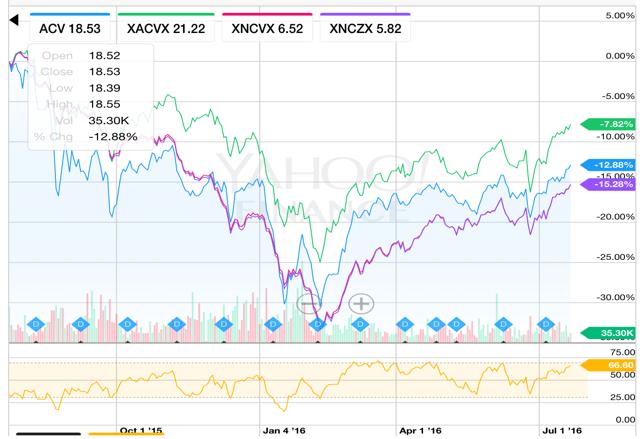 Click to enlarge

Click to enlarge
ACV's allocations as of the end of June are split thusly: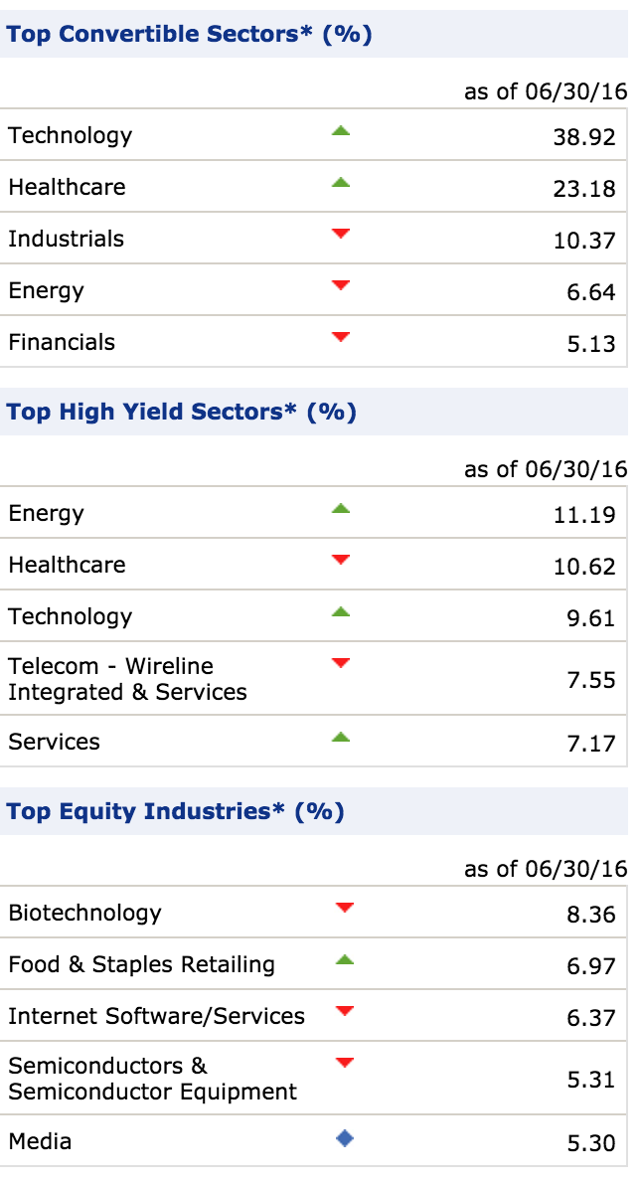 Click to enlarge
The top holdings in each of the three asset classes:

Click to enlarge
It's not clear how the mixes of asset types might affect fund volatility. I looked at some large ETFs with fair history as rough, but imperfect, proxies for the categories. Far from ideal, but an indicator of sorts. For convertibles there's SPDR Barclays Convertible Secs ETF (NYSEARCA:CWB), for high-yield bonds there's iShares iBoxx $ High Yield Corporate Bond ETF (NYSEARCA:HYG), and for general equity I went with SPDR S&P 500 ETF (NYSEARCA:SPY). Since April 2009, CWB's correlation with the high-yield bond fund is 0.65. With the S&P 500 it's 0.84. So ACV may prove to be more somewhat volatile that NCV/NCZ. On the other hand the lower leverage may tend to moderate volatility to some extent. I'd not anticipate much difference.
The income from these funds does come with tax implications. One might expect ACV to be slightly more tax efficient than the older two funds as a portion of its income comes from qualified dividends and option-writing on the equity portion of the portfolio. But, so far that has not appeared to be the case. For 2015, perhaps too early to get a good sense of what to expect from ACV over time, ACV's payouts were about 16% qualified dividends; there was no return of capital. NCV paid 33% in qualified dividends. For NCZ it was 31%. Neither paid any return of capital. None of the three funds reported any capital gains for last year.
Summary
To wrap this up, if you like the idea of moving into convertibles, AllianzGI offers three options for convertible security CEFs, each balanced with another asset class that may help moderate volatility somewhat. NCV and NCZ may be running out of steam on their recovery from their post-distribution-cut losses, but they are paying near 12% today. That yield may push them a bit further into premium territory if investors continue to bid up those returns. ACV offers a different approach, adding equity and option-writing exposure to the convertibles in place of high-yield corporate bonds. It is paying just shy of 11% and has a double-digit discount. All three funds have been on an upswing at NAV since the beginning of 2016.
Thanks to Steven Bavaria for drawing my attention to ACV in his latest summary of his Savvy Senior strategy.
Disclosure: I am/we are long HIE, NCV.
I wrote this article myself, and it expresses my own opinions. I am not receiving compensation for it (other than from Seeking Alpha). I have no business relationship with any company whose stock is mentioned in this article.
Additional disclosure: I have no ties to the financial or security industries in any form. My interests are strictly personal. The banker part of the nym has absolutely no relationship to the profession of the same name. Readers should be aware that I am an investing novice, some might say dilettante. I do not give advice; what I publish is an annotated version of my research notebook. Anyone who finds any securities to be of interest will necessarily want to do his or her complete research and due diligence before acting on that interest. It would be foolish to rely on my conclusions without having done so.