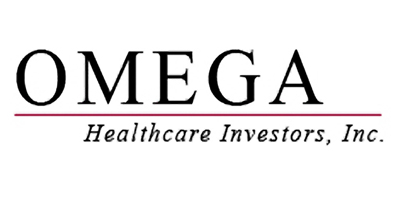 Omega Healthcare Investors (NYSE:OHI) is on a roll right now. Year-to-date, the healthcare REIT's shares have advanced 2.2 percent, which doesn't look like much on first glance. But measured from February lows, Omega Healthcare Investors' turnaround has been impressive.
Like most income vehicles, Omega Healthcare Investors was kicked into the bargain bin at the beginning of the year. Eventually, on February 9, 2016, shares of the healthcare REIT crashed to a new 52-week low on the back of a large market drop and deteriorating investor sentiment toward income vehicles. Since February, however, income vehicles have regained their composure.
Omega Healthcare Investors has staged a strong comeback, too, with shares advancing ~33 percent in value from their lows, which is good for those investors that took a risk and bought into the market weakness at the time.
See for yourself.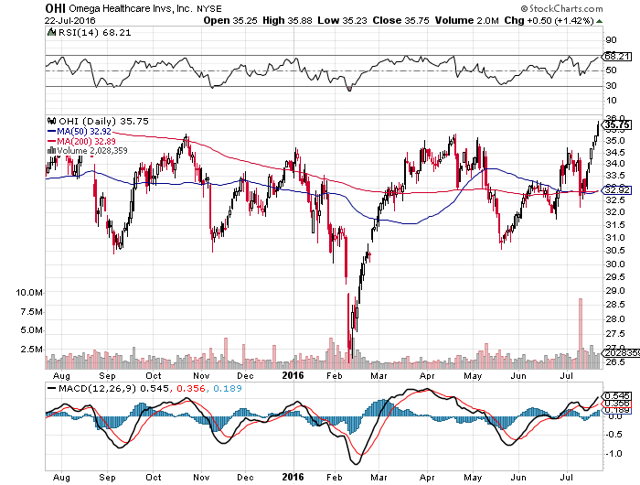 Click to enlarge
Not As Cheap As At The Beginning Of The Year, But Dividends Continue To Trickle In
A short while after falling to new lows, at the end of February, I penned a piece on Omega Healthcare Investors, "Buy Omega Healthcare Investors For A 7%+ Yield", urging investors to buy the correction for two reasons: valuation and yield.
Fast forward five months and Omega Healthcare Investors has recovered all YTD losses, and the healthcare REIT remains an income vehicle that I hold in very high regard.
One reason for that is that the company recently gave investors yet another dividend raise. Omega Healthcare Investors informed investors in July that it would raise its quarterly dividend from $0.58/share to $0.60/share, reflecting an increase of 3.4 percent. What's more, the increase in dividend payout was the sixteenth consecutive increase for Omega Healthcare Investors, which explains a lot of the REIT's popularity with income investors.
Based on the new dividend payout, an investment in Omega Healthcare Investors yields 6.71 percent.
Omega Healthcare Investors' consistent dividend growth remains the prime reason for income investors to buy the healthcare REIT, even though it is not as cheap as it was at the beginning of the year. In February, Omega Healthcare Investors' shares were selling for ~9.3x estimated 2016 AFFO. Since the company reaffirmed its 2016 AFFO guidance of $3.25-$3.30/share in May, investors are now paying ~10.9x expected 2016 AFFO.
Your Takeaway
Omega Healthcare Investors' latest dividend increase is a testament to the REIT's commitment to steadily grow its dividend payout. The $0.02/share quarterly increase exceeded my expectations because I estimated the company would raise its dividend by $0.01/share, the way it used to in the past.
Though Omega Healthcare Investors' valuation has expanded quite a bit since February, thanks to improving investor sentiment toward high-yield income vehicles, and the REIT's shares are now changing hands for almost ~11x 2016e AFFO, the reward-to-risk ratio is still attractive at today's price point. Buy for income and moderate capital appreciation moving forward.
If you like to read more of my articles, and like to be kept up to date with the companies I cover, I kindly ask you that you scroll to the top of this page and click 'follow'. I am largely investing in dividend paying stocks, but also venture out occasionally and cover special situations that offer appealing reward-to-risk ratios and have potential for significant capital appreciation. Above all, my immediate investment goal is to achieve financial independence.
Disclosure: I am/we are long OHI.
I wrote this article myself, and it expresses my own opinions. I am not receiving compensation for it (other than from Seeking Alpha). I have no business relationship with any company whose stock is mentioned in this article.