A summary of the news headlines for a mainstream financial media outlet delivered the following report across the airwaves this morning. Corporate earnings, after several quarters of decline, were poised to turn a corner and meaningfully improve through the remainder of this year into next. Wow, this is great news! And for those who may not be following the earnings data all that closely, this headline coupled with word of so many companies beating expectations on a daily basis might be enough to make the casual investor decide that it's time to get back into the market before the next train leaves the station to the upside. But here's the problem. Nothing as of yet actually confirms that corporate earnings are turning a corner. In fact, the corporate earnings outlook became measurably worse in the past week.
Worse, Not Better
I don't rely on the news headlines to understand how corporate earnings season is progressing. This is due to the fact that this information is largely rubbish. Instead, at the start of the quarter, I took note of what the consensus earnings expectations for the current quarter as well as the forecasts for the remaining two quarters of the year were projected to be. Any earnings forecasts into 2017 should largely be disregarded at this point as the world could be entirely different a year from now versus what we currently expect (I remember in 2007 the earnings forecasts for 2008 and 2009 - needless to say they came in a bit below initial projections).
This is where we started the quarter with annual as reported earnings per share projections for the S&P 500 Index as of June 30, 2016:
2016 Q2: $89.79
2016 Q3: $94.60
2016 Q4: $105.31
Of course, time passes and initial forecasts start to give way to reality. Through July 13, just over 7% of companies in the S&P 500 (NYSEARCA:SPY) had reported. And in the process, we saw the forecasted numbers starting to come down a bit already.
2016 Q2: $89.33
2016 Q3: $94.37
2016 Q4: $104.50
But it was the results from the past week that started to raise some eyebrows. No, unlike what the news headline I heard this morning said, we are not seeing signs of corporate earnings finally turning a corner. Instead, they deteriorated rather notably over the past week. The following is the latest reading on corporate earnings as of July 20 with nearly 30% of companies having reported.
2016 Q2: $88.53
2016 Q3: $93.01
2016 Q4: $103.42
In short, the latest EPS projection for the current quarter came down another -0.90% and is now setting up to come in at -6.72% below previous levels from a year ago.
As for projections for the third quarter, what had been projected to be a +26.35% increase in year over year earnings at $107.55 less than seven months ago at the start of 2016 was whittled down further by another -1.44%. As a result, what was once a projected +26.35% increase for Q3 is down to just +2.59% and falling fast. This is a concrete example as to why any corporate earnings forecasts beyond the next six months should be taken with a massive block of salt and the mere mention of valuations based on forward earnings projections should be all but ignored.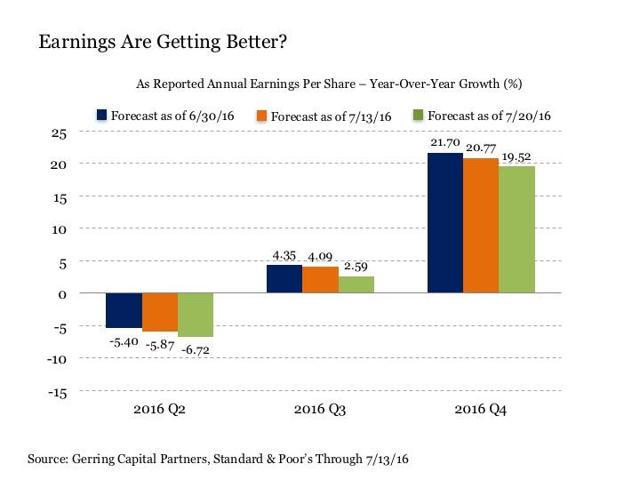 Click to enlarge
With regard to the still far away fourth quarter, estimates here also took a meaningful hit in the past week, dropping more than -1%. The current reading is still for a robust +19.52% year over year earnings increase, which would be awesome if it actually came to pass. But this is still more than half a year away. And in the meantime, it continues to rise steadily from its once lofty projection of $118.50 at the start of the year.
Bottom Line
Maybe corporate earnings are actually turning the corner as the financial media headline suggested this morning. But if this is the case, it is not showing up in the data. In fact, recent trends in the data are showing the exact opposite. And this is problematic because it means that stocks are getting even more expensive than they already are even if they move no further to the upside from here.
All of this raises a key point. As investors, we hear and read a lot of headlines with all kinds of information on any given day. But before acting on any of this information, it is always important to check for yourself to verify the validity of what you are hearing. Your take on what is actually taking place may be very different than what you might be hearing at any given point in time.
Disclosure: This article is for information purposes only. There are risks involved with investing including loss of principal. Gerring Capital Partners makes no explicit or implicit guarantee with respect to performance or the outcome of any investment or projections made. There is no guarantee that the goals of the strategies discussed by Gerring Capital Partners will be met.
Disclosure: I/we have no positions in any stocks mentioned, and no plans to initiate any positions within the next 72 hours.
I wrote this article myself, and it expresses my own opinions. I am not receiving compensation for it (other than from Seeking Alpha). I have no business relationship with any company whose stock is mentioned in this article.