This past Friday, Forbes Contributor, Tara Nurin, reached out to me to discuss Boston Beer's (NYSE:SAM) $25 point leg up. Perhaps, equally as impressive was that Friday's $25 point ascent was confirmed by massive volume, with 1.15 million shares traded. After having written 134 articles here on Seeking Alpha, it was nice to be contacted, for the first time I might add, by a member of the financial media. As an objective journalist, Tara understood the bearish case, but was interested to get my bullish perspective on why the stock was moving up so strongly on news that at face value appeared modestly positive.
I have written about many different companies, here on SA, and Boston Beer is a pretty sleepy name when it comes to both readers' commentary and page views. I certainly wouldn't rank my SAM write ups as my best stuff, but I own the stock in my retirement account and have been following the name somewhat closely since the fall of 2015.
For the few interested SA readers that are the long the name, enclosed please find my thoughts and explanations for Friday's 15% move higher.
Leading into Friday's results, the stock was down roughly $100 points from its 52 week high of $260 made in October 2015 ahead of its Q3 2015 results. Stocks that trade at somewhat elevated multiples tend to move in and out of favor based on near term results and investor sentiments, including the buy side institutions, sell side coverage universe, and to a lesser extent retail investors.
Here is the backdrop and why expectations simply got way too negative.
After the bell, on July 15, 2016, Goldman Sachs' analyst, Judy Hong, put out negative commentary ahead of Q2 results suggesting depletions and volumes could be down as much as 6%.
After anemic Q1 2016 results, Fidelity, the largest institutional holder disclosed on June 10, 2016 that they sold upwards of 577,000 shares during Q2, reducing its stake from 1.176 million shares down to 600,000 shares.
Finally, according to the most readily available public data, there were approximately 1.735 million Class A shares short.
In terms of evidence, the link on Fidelity's website to Goldman's negative note, is no longer available but readers can look at the tape as the stock was down over about $6 points from the July 15, 2016 close through the July 21, 2016 trading day.
Here are Fidelity's holdings as of March 31, 2016. As you can see, they were then long 1.176 million shares.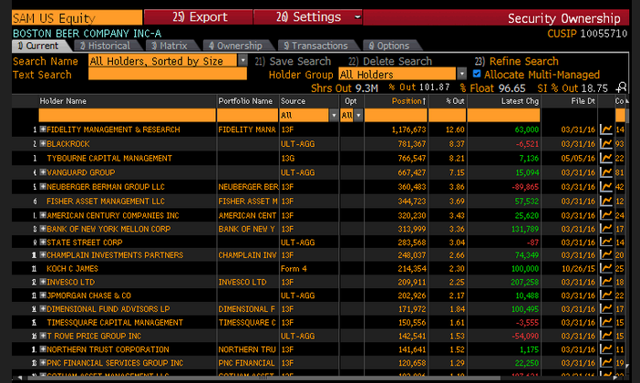 Click to enlarge
Source: Bloomberg
Here is Fidelity's SEC filing on June 10, 2016, where the firm's Class A stake was reduced to 599,300 shares.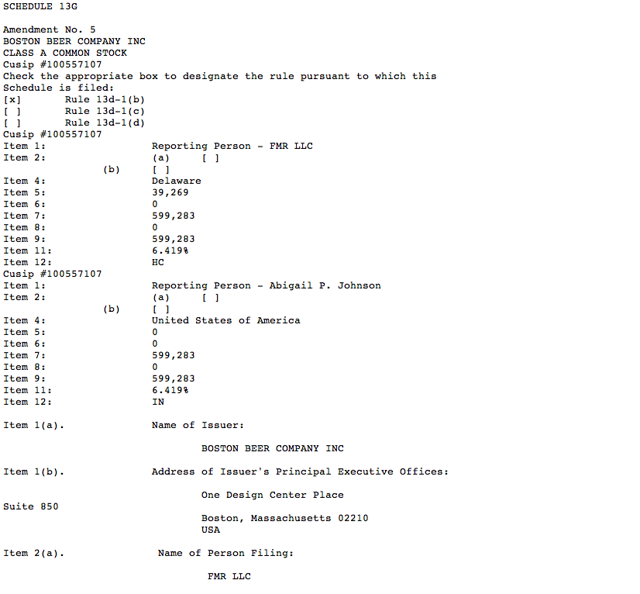 Click to enlarge
Here is the snapshot showing SAM's recent short interest, measured at 1.736 million shares.

Click to enlarge
Source: Fidelity
To put this short interest in proper context, we learned Friday, when SAM filed its 10-Q, driven by share buybacks, the share count of its Class A shares outstanding was 9.05 million, as of July 15, 2016. So in effect, from a technical perspective, 19.2% of SAM's Class A stock was short as Mr. Koch's 3.367 million Class B shares aren't readily available.

Click to enlarge
To wrap up the pre earnings negative sentiment and technical backdrop, according to publicly released company reports, Boston Beer bought back 415,000 shares during Q1 2016 and 328,000 shares from April 15th - July 16th. So despite SAM's 328,000 share buybacks, during Q2, with Fidelity selling 577,000 shares during Q2, in isolation 249,00 shares (net of buybacks) needed to be absorbed for a company that averages trading volume of less than 200,000 shares per day. This created downward pressure on the stock and partially explains the 52 week low of $146 reached in mid May 2016.

Click to enlarge

Now that we covered the negative sentiment in excruciating detail, let's turn to the conference call and guidance. Management moderately took down full year earnings guidance to a new range of $6.40 - $7.00. So the mid-point is now $6.70.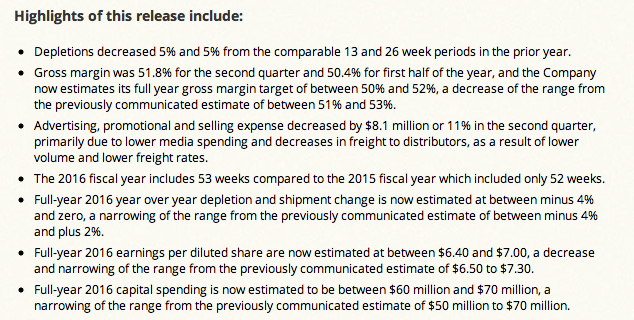 Source: Boston Beer
Lo and behold, consensus estimates were $6.67, so the street already anticipated lower results. Moreover, and as important was management's guarded optimism on the conference call.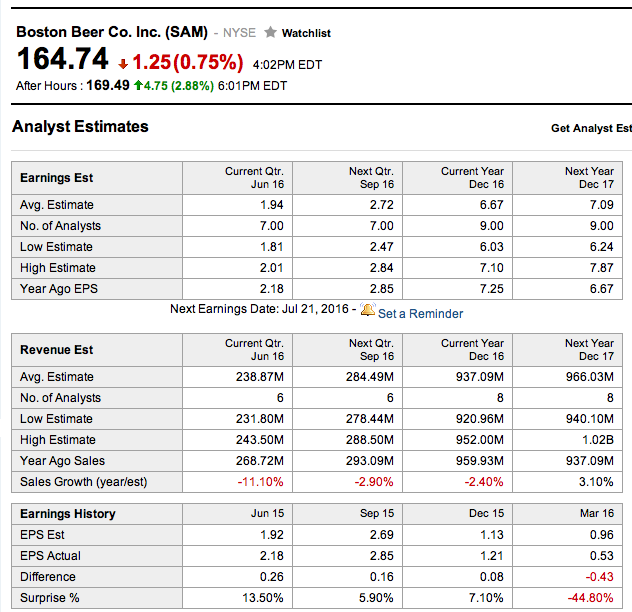 Source: Yahoo Finance
Here is some of that guarded optimism from the Q2 conference call, compliments of Seeking Alpha's earnings transcripts.
Paraphrasing CEO, Martin Roper, said the following in the prepared remarks. We have easier comparisons for Angry Orchard in Q3 and Q4 as this was when volumes fell off. Trends are looking better since the middle of June and Truly Spiked & Sparkling (which I wrote about here on May 23rd) is performing well.
Here are two of Martin's excerpts:

Click to enlarge
In the Q&A session, they said the depletion numbers are rounded, so without knowing the numbers stated as tenths of a percentage, it is hard to precisely work out how strong the three week period was compared to the down 5%. However, the fact that three weeks of results moved the needle (maybe by three or four tenths of a point) does indicate a better near term trend.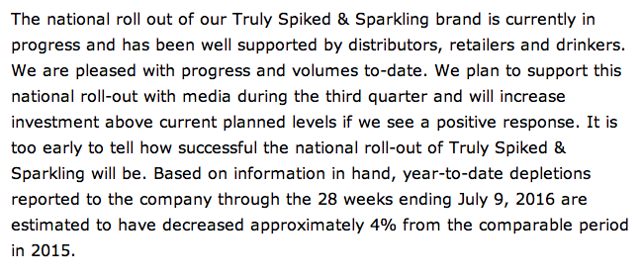 Click to enlarge
Next let's look at the positive exchange between Caroline Levy from CLSA and Martin. This is important and highlights easier comps for the cider category in Q3 and Q4.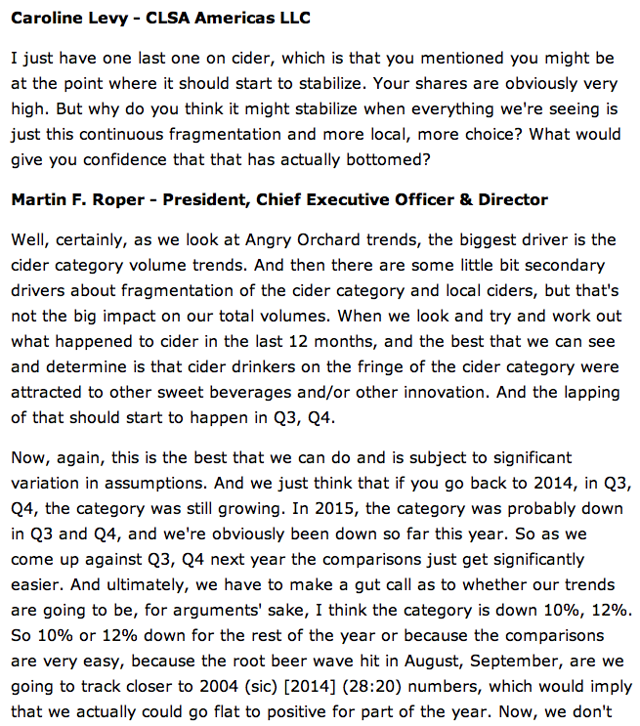 Click to enlarge
Moreover, as Mr. Koch states directly after, he enhances Martin's comments and explains Angry Orchard's market share is still 50% to 60% depending on which data source you track. So the overall category slowed due to the explosive popularity of hard sodas, but the loyal drinkers remain committed to the Angry Orchard brand and cider volumes maintain a core following.

Click to enlarge
Finally, as I am sure most longs have read the call themselves, I wanted to point out the exchange between Vivien Azer from Cowen and James Koch. Yes, rapid growth in the craft space has made it harder to grow sales, but Boston Beer, on an absolute basis, is maintaining its on premise tap lines and off premise shelf space. I would argue that this is a scale business, therefore the smaller and thinly capitalized companies simply aren't financially viable as there are only so many different brands you can support on and off premise. The book The Paradox Of Choice: Why More Is Less by professor Barry Schwartz comes to mind.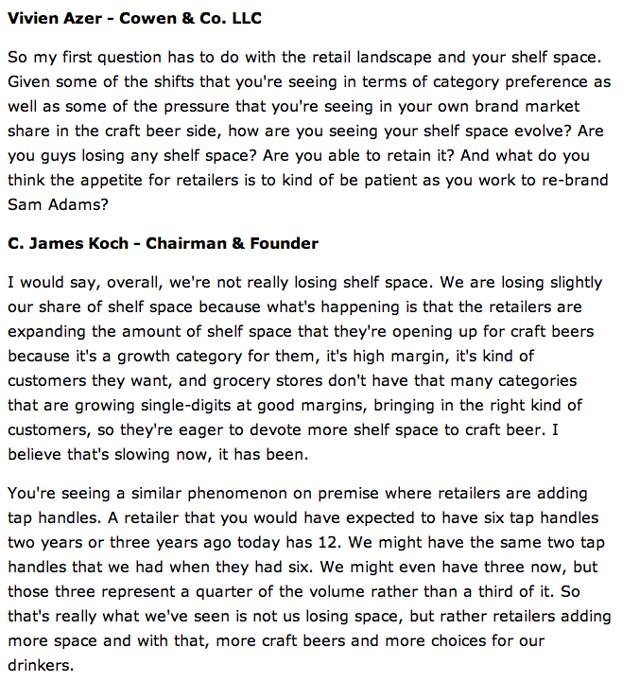 Click to enlargeConcluding thoughts: The simple narrative that 4,144 breweries would siphon away most of Boston Beer's sales and destroy its margins is overly simplistic and overstated. No question the competitive landscape makes it harder to compete for sales and it slows growth, but Boston Beer owns and controls great brands, has strong distributor relationships, and continues to innovate. Shorts appear to have gotten way too greedy and extrapolated recent weakness in perpetuity. I was aggressively adding more shares at the $147 level. I am not sure why shorts didn't cover during the late April and mid May share price weakness.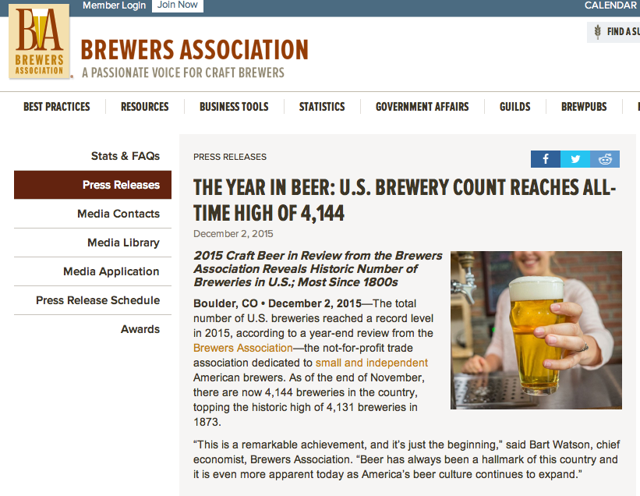 Click to enlarge
In the interest of full disclosure, I am long 200 shares with a cost basis of $177. It is hard to gauge how much of this move was a short squeeze and how much was based on a better outlook. Longer term I think the company's stock marches higher.

Click to enlarge
Disclosure: I am/we are long SAM.
I wrote this article myself, and it expresses my own opinions. I am not receiving compensation for it (other than from Seeking Alpha). I have no business relationship with any company whose stock is mentioned in this article.