It's a foregone conclusion that Apple (NASDAQ:AAPL) will report a y/y decline in iPhone sales for the June quarter (fiscal Q3), in keeping with its fiscal Q2 guidance. The only real question is how much of a decline. Here, analysts may be overdoing their pessimism. But in the end, what really matters about the earnings report is the guidance Apple provides for fiscal Q4, when the next iPhone is expected to be launched.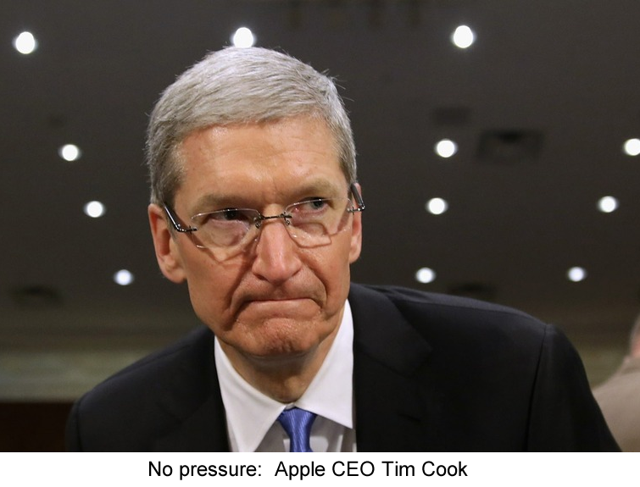 Click to enlarge
Source: 9to5mac
Contradictory Estimates
Every quarter I assemble my own set of predictions for product unit sales and fold them into a financial model for the company. I often compare my estimates to "consensus" estimates to see where I stand relative to the prevailing view. This quarter, I've noticed something a little odd about the consensus estimates. Unit volume estimates for Apple's most important products, Mac, iPhone, iPad, and Watch, don't seem to correlate very well with the consensus revenue estimate of $42 billion.
Philip Elmer-Dewitt assembles what I view as the most reliable consensus estimates for unit sales every quarter. If I plug in the average estimates for Mac, iPhone, iPad and Watch, my model spits out about $39.8 billion in revenue, as the table below shows: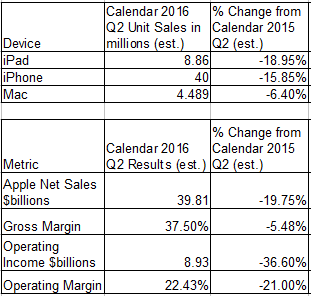 The table doesn't show Watch unit sales, but the consensus is for about 2.3 million in the quarter. I don't break out Watch sales yet since I have no hard numbers from Apple to compare them with. The consensus number is actually quite a bit higher than IDC's estimate of Watch sales for the June quarter at 1.6 million, so it may be a bit generous.
Generally, the model is pretty accurate if the unit volumes are correct, so it seems that pessimism regarding iPhone and iPad unit sales has outstripped reasonable expectations. I seriously doubt that Apple's revenue for the quarter will drop below the low end of its guidance at $41 billion.
Using an average of the already published estimates for Mac (from Gartner and IDC) at 4.489 million, and the IDC estimate for Watch, leaves just the iPad and iPhone sales to account for. My estimates for these are a little less pessimistic than consensus, but roll up to a fairly conservative $41.7 billion in revenue for the quarter, as summarized below.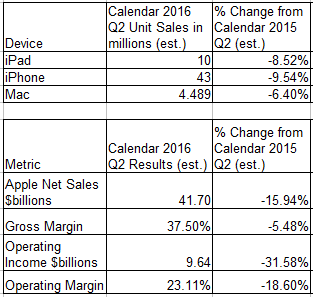 Basis for Expectations
Why do I think iPhone and iPad sales are better than consensus? First of all, I'm still booking significant y/y declines in unit volume of 8.5-9.5%. I believe that the iPhone SE, which remained back ordered through much of the quarter, has moderated the declines. The price of this was that Apple sacrificed some gross margin and operating margin.
Another factor I'm considering is what Hon Hai Precision (Foxconn) reported for revenue for the June quarter. Foxconn assembles most of the iPhones and iPads and reports its total revenue on a monthly basis. Foxconn has already reported its revenue for June, so we know what Foxconn's June quarter revenue was, despite the fact that Foxconn hasn't reported June quarter earnings.
Foxconn's revenue for the quarter was $28.607 billion, converted from NT$ at the current exchange rate. Foxconn's June quarter revenue has only fallen about 5% y/y. There are of course difficulties in relying on Foxconn as an indicator of iPhone and iPad sales. Despite receiving the majority of its revenue from Apple, there's still a significant non-Apple contribution which varies from quarter to quarter. On average, the non-Apple contribution appears to be about $14 billion for the past several years.
In the chart below I graph Foxconn quarterly revenue less a fixed $14 billion and an estimate of revenue derived from iPhone, based on Apple's reported unit sales, ASP, and gross margin.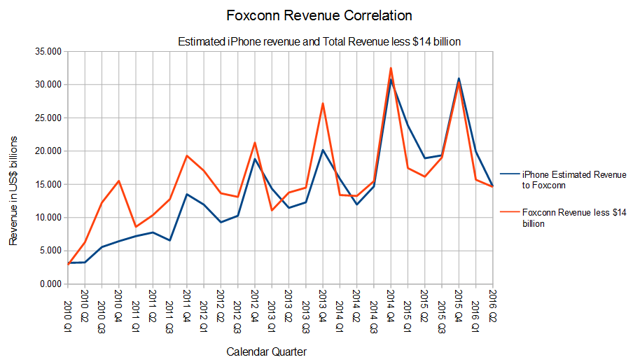 Click to enlarge
As the reader can see, the two lines correlate very well, especially for peak iPhone sales in calendar Q4. My current estimate of iPhone sales (and therefore revenue due to iPhone at Foxconn) also agrees very well with Foxconn's reported revenue for calendar Q2 less $14 billion.
iPhone derived revenue at Foxconn is predicted to fall about 9.6% y/y. I expect Apple's iPhone revenue to decline much more drastically by 25% y/y due to a lower ASP of $546. As I pointed out in my review of the March quarter earnings, Apple has decided to become more cost competitive.
Investor Takeaway
The declines in iPhone have been baked into the June quarter earnings for some time. It's really the guidance that Apple offers for the September quarter that will determine how the stock moves post earnings.
Y/y revenue growth for fiscal Q4 will be interpreted as Apple's confidence in the next iPhone launch. There could be other factors that enter into the guidance. Apple is long overdue for refreshes of the Mac product line as well as the Watch. New models for both are expected before the end of the year. If Apple releases other product updates in addition to iPhone in the September quarter, it will give a boost to revenue and be reflected in September quarter guidance.
If Apple guides to another y/y decline, that will probably send the stock down pretty decisively. Angela Ahrendts' sale of Apple stock is being viewed as indicative of the direction the stock is likely to take. That may not be fair. She got a good price at $100/share, and Apple's stock price could drop post earnings regardless of how well Apple does or its guidance.
The consensus view is not to expect too much from the next generation iPhone, but wait until 2017 when supposedly everything gets better. As I made clear in my Sifting the iPhone 7 Rumors article, I don't really buy that. I expect Apple to have plenty of innovation to offer in the next iPhone as well as updates to the larger iPad Pro, Macs and Watch which will probably arrive by the end of the year. I remain long Apple and recommend it as a buy for investors with a 3-5 year investment horizon.
Disclosure: I am/we are long AAPL.
I wrote this article myself, and it expresses my own opinions. I am not receiving compensation for it (other than from Seeking Alpha). I have no business relationship with any company whose stock is mentioned in this article.