NeoGenomics (NASDAQ:NEO) is set to release its 2Q'16 earnings report Tuesday morning July 26, 2016. NEO made a huge splash in the Cancer diagnostic world last year when it acquired Clarient. However, this year, the company has been very quiet. I penned an article in April titled NeoGenomics: The Cancer Diagnostic Company No One Seems to Be Talking About. It has been three months since I wrote that article. This past quarter has seen larger macroeconomic problems such as May's dismal jobs report and the sudden impacts of the surprising Brexit. These events have contributed to allowing NEO to remain flying under the Market's radar despite its impressive growth during a difficult reimbursement atmosphere.
NEO's Core Base Growth
Organic revenue growth has been instrumental to NEO's emergence as an elite competitor in the cancer diagnostic industry. Customers are continuously choosing NEO over its larger competitors. To quote Robert Wasserman from his article on The Street: NeoGenomics Deal With GE's Clarient 6 Months Later: Boom or Bust?
NeoGenomics grew from one small esoteric clinical laboratory in Fort Myers, Fla., to its current multi-location size primarily through internal growth, fueled by research and development innovations in the diagnostic-service and product areas.
An important component of NEO's internal growth and its top line has been the amount of tests it has performed. The growth in the amount of tests performed by NEO's core base over the past 6 years has really taken off. Although, NEO's top line revenue growth has grown substantially, it has not paced the growth in tests performed. This can be seen in Figure 1.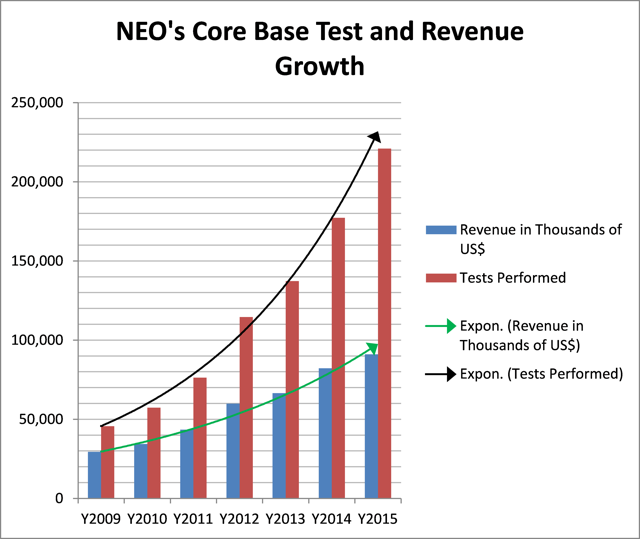 *Figure 1.
As Figure 1 clearly shows, the amount of tests performed by NEO's core base is significantly outpacing its top line revenue growth. This issue is largely due to a decrease in NEO's revenue per test and decline in reimbursement rates. NEO has been able to offset this imbalance and keep its margins steady by continuously reducing the costs per test and making its business more efficient. However, the reimbursement environment rate is on pace to steady itself, as CEO Douglas VanOort pointed out in NEO's 1Q'16 conference call.
In addition to the strong sales performance we also benefited from a stable reimbursement environment in quarter one. This is a welcome relief from the situation we faced over the past six years."
Now that the reimbursement rates have stabilized, NEO should see a large jump in its gross margins. I will be looking to make sure management is continuing to decrease its average cost per test in order to increase the company's efficiency and profitability.
Things to Look for with the Combined Company
Synergies:
Keep in mind that NEO is now a combined larger company, and management will have a lot on its hands to ensure the Clarient acquisition is staying on track. Management needs to be capitalizing on the access to all of Clarient's products and relationships. However, it also needs to focus on trimming the fat and making the combined companies run together as efficiently as possible.
Biopharma:
Now that Clarient is under the hood of NEO, the company has exposure to the biopharma side of the diagnostics business. This may have been a reason why NEO was interested in Clarient in the first place. In 2015, Clarient had roughly US $21 million in revenue from biopharma clients. Because of the insecurities in the reimbursement environment, some of NEO's smaller competitors have made a stronger emphasis on biopharma relationships over clinical testing. Cancer Genetics, Inc. (NASDAQ:CGIX) is one of those companies. Its CEO, Panna Sharma, has stated in CGI's Q4 2015 Conference Call that:
First, we're going to continue focusing on biopharma partnerships and new contracts. We think that very importantly this industry is going to continue to change because the pace of innovation is continuing to increase.
CGI has a very intriguing strategy, and it will be great to watch how its strategy will unfold in the future. Regardless, I believe CGI is onto something and it is important for NEO to adapt to the changing scene in cancer diagnostics and get its hands into the biopharma arena.
Risks
As of Friday's closing price, NEO's stock price is sitting only 2.41% off of its 52-week high and almost 77% above its 52-week low. This is a significant gain and is outpacing the S&P 500 by almost 50% since its low in February.
One of NEO's largest competitors, Quest Diagnostics Inc. (NYSE:DGX), has made a renewed focus on its diagnostics business by divesting itself of less profitable portions of its company. This renewed focus could create more competition and spell for reaching revenues less than for the smaller NeoGenomics.
Conclusion
Even with the risks from increased competition and recent strong gains in NEO's stock price, I believe strongly in NEO's management team. They have proved themselves extremely capable and savvy time and time again - evidenced from their past performance and NEO's two consecutive earnings report beats.
Disclosure: I am/we are long NEO.
I wrote this article myself, and it expresses my own opinions. I am not receiving compensation for it (other than from Seeking Alpha). I have no business relationship with any company whose stock is mentioned in this article.
Editor's Note: This article covers one or more stocks trading at less than $1 per share and/or with less than a $100 million market cap. Please be aware of the risks associated with these stocks.