Taiwan Semiconductor Manufacturing Company (NYSE:TSM) recently reported some spectacular results this last second quarter that beat analyst expectations. It had guided to only moderate earnings growth of 5% YoY, but had actually gotten 8%, not too shabby for a chipmaker with $26 billion in sales.
Earnings were also pretty good, with net income coming in at $2.2 billion, and gross margin and operating margin beating analyst expectations even at the high end, with operating margin coming in at 41.2% vs expectations of 40.5%, and gross margin coming in at 51.5% vs expectations of 51%.
The reason for all of this is because recently, TSM landed a larger contract for a larger proportion of Apple chips than before. Apple has also recently started production for the iPhone 7, and this has all been affecting TSM manufacturing at the high end.
Everything seems to be going well for TSM, until you take a step back and consider the wider picture. Smartphone sales growth has been dynamic and huge in the past. And because TSM manufactures a large proportion of the silicon that goes into a smartphone, it has benefited enormously.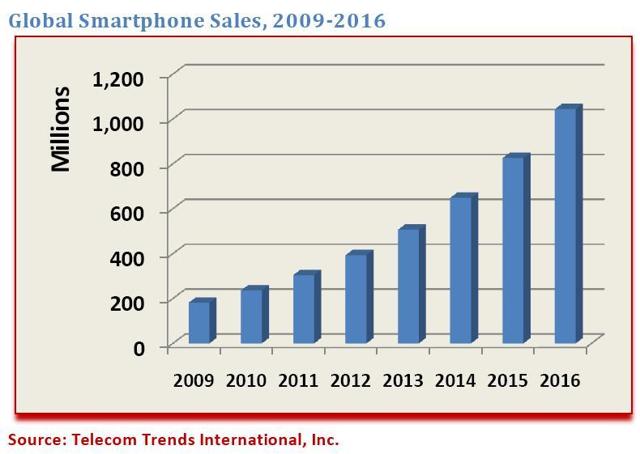 Click to enlarge
The problem is that this is the year that smartphone demand hits a ceiling. Worldwide smartphone sales are only expected to grow 3.1% in 2016, a large slowdown from 2015 numbers. This is also part of the caveat with the Apple win; while TSMC may win in the short term by making more chips, there is less pie to go around in total, as annual Apple iPhone shipments are set to decline for the first time.
TSM has also invested heavily in smaller 10nm and 7nm production processes and it is currently unknown if with the currently lackluster demand, they will be able to pay for themselves. TSM is slated to spend $10 billion in capex in 2016, including a new $3 billion plant in China, just the minimum cost of doing business in a brutally competitive capex intensive industry.
Finally, with TSM being the most expensive it has been in 2 years when looking at net income, comparable to back when growth prospects were much better, I'm not sure that an investment now would be a sound choice. This last quarter may be the last hurrah of a slowing semiconductor industry, and it seems that now, an investment may not be a wise choice.

Click to enlarge
Disclosure: I/we have no positions in any stocks mentioned, and no plans to initiate any positions within the next 72 hours.
I wrote this article myself, and it expresses my own opinions. I am not receiving compensation for it (other than from Seeking Alpha). I have no business relationship with any company whose stock is mentioned in this article.