Schlumberger (NYSE:SLB), the world's leading oilfield services provider, has recently released its second quarter results in which posted a large loss, driven by one-time charges. But more importantly, when compared against the first quarter, the company has markedly changed its tone regarding future outlook.

Click to enlarge
Quick earnings recap
Revenue fell 20.5% from last year to $7.16 billion.
The company booked $2.57 billion charges related to asset impairments and job cuts (Schlumberger has laid off 16,000 employees in 1H2016).
The company swung from a profit of $1.12 million, or $0.88 per share, a year earlier to a loss of $2.16 billion, or $1.56 per share, in the second quarter of 2016.
Excluding the impact of one-off items, Schlumberger reported a profit of $0.23 per share.
The company ended up beating both earnings and revenue estimates of $0.21 per share and $7.13 billion, as per data from Thomson Reuters.
Schlumberger continued to struggle due to persistent weakness in energy markets, particularly in North America. Note that on a reported basis, North America revenues were up 19% and international revenues were up 8% sequentially, but the growth was driven by the acquisition of Cameron International. Excluding the impact of acquisition on 2Q results as compared to 1Q (by assuming that the purchase were made in the 1Q) reveals that revenues in North America and international markets were down 20% and 9% respectively.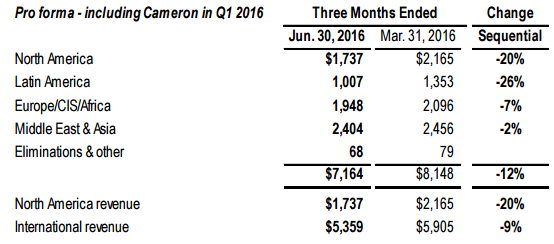 Schlumberger earned $1.6 billion in cash flow from operations and spent $449 million as capital expenditure, $132 million as investment in Schlumberger Product Management (SPM) and $166 million as multiclient client seismic costs, resulting in free cash flows of $885 million. That was enough to cover $31 million of buybacks and $626 million of dividends.
Review
The second quarter of 2016 turned out to be one of the best three months for oil prices, with West Texas Intermediate climbing by more than 26% on a sequential basis. That was the best gain in seven years. The WTI remained mostly between $40 and $50 a barrel in the second quarter, significantly higher from ~$26 a barrel seen in February. But the strength in oil prices was not followed by a corresponding increase in drilling activity.
In fact, in the second quarter, the drilling activity fell to new record lows. Meanwhile, oilfield services companies continued to face pricing pressure from oil producers. In this backdrop, oilfield services companies were expected to struggle, and this was evident from Schlumberger's results in which it posted weak revenues and earnings.
In addition to this, Schlumberger also reported pretax operating margin of 10.4%, down from 13.8% in 1Q-2016 and 19% in 2Q-2015, which shows that the company is still facing pricing pressure from its clients.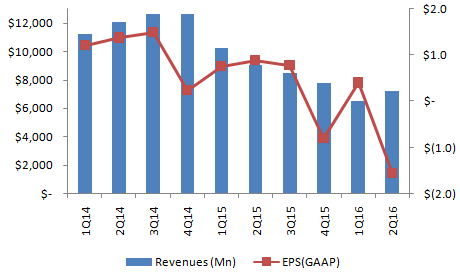 Considering the tough environment, Schlumberger actually delivered a decent performance. That's because firstly, it managed to beat analysts' estimates for revenues and earnings. Secondly, the sequential decline in revenues in North America, on a pro forma basis, wasn't as bad as the significant decline in drilling activity witnessed in the same period. Exploration and production work in Canada slowed due to Canadian spring break-up while the land rig count in US fell 25%. Thirdly, Schlumberger has made a great recovery when it comes to free cash flows, which should please investors.
Historically, Schlumberger has generated the best-in-class levels of FCF in the oilfield services space. But in the first quarter, the company reported weak operating cash flows of $1.2 billion while its investments in SPM were considerably higher (up 5.5x than the prior year). As a result, it ended the first quarter with negative FCF of $103 million. The fact that Schlumberger failed to generate enough cash flows to fully fund its capital spending may have worried some investors. But Schlumberger has come back strongly in the second quarter. It not only generated enough cash flows to cover the capital spending, but also buybacks and dividend expenditure. This should quash investor's concerns regarding Schlumberger's ability to continue generating strong FCF.
More importantly though, Schlumberger's management, much like its peer Halliburton (NYSE:HAL), now sees light at the end of tunnel. Previously, in the first quarter, Schlumberger's management said that the industry was going through its worst downturn ever and ruled out the possibility of any meaningful rebound in drilling activity in 2016.
But Schlumberger's closest rival Halliburton has recently released its quarterly results in which its CEO David Lesar said that the North American market, which has borne the brunt of the downturn, has finally turned. Following in Lesar's footsteps, Paal Kibsgaard, Schlumberger's CEO said during the conference call that despite the "operational and commercial headwinds, we have now reached the bottom of the cycle."
It appears that Schlumberger might not see a significant rebound this year, but at least now, it seems to think that the worst might be over. I believe this sounds reasonable given oil prices have gained by more than 70% since bottoming in February and we've been witnessing an increase in rig count in recent weeks. As per the latest report from Baker Hughes (NYSE:BHI), the shale oil drillers added 14 new rigs in the week ended July 22. That was the largest increase we've seen this year and fourth gain in a row. Buoyed by these positive developments, Kibsgaard said that Schlumberger is now focusing on scaling back pricing concessions. If the company manages to secure better prices by renegotiating contracts and only accepts lucrative jobs, then that should have a positive impact on its earnings and profit margin.
Note from author: Thank you for reading. If you like this article, then please follow me by clicking the " Follow" link at the top of this page.
Disclosure: I/we have no positions in any stocks mentioned, and no plans to initiate any positions within the next 72 hours.
I wrote this article myself, and it expresses my own opinions. I am not receiving compensation for it (other than from Seeking Alpha). I have no business relationship with any company whose stock is mentioned in this article.
Additional disclosure: I own shares of funds that may hold a long position in SLB, HAL.